Happy Monday everyone, I hope you are all fit, well and rested after a lovely sunny weekend. I am starting off the week with this beautiful bohemian wedding full of gorgeous details and the most beautiful bride. Victoria is an avid reader of the blog, so when she sent me the picture from her big day I knew straight away that I just had to share it with you all. A stunning celebration, including touches of bush and gold, which is always a wining combination in my eyes, as well as so many homemade touches, including the flowers and the cake! Check out that dessert stand, oh my, pure perfection! A truly fabulous wedding with so many Boho touches, captured perfectly by Sophia and Giulia from On Love and Photography.
'A big, boozy, foodie party, full of laughter and joy with our best friends and family'
Victoria and Michael were married on 14th August 2015 at Styal Lodge, Cheshire. 'As neither of us are religious, it felt hypocritical to marry in a church. We knew we wanted a space that would work for both the ceremony and reception, that didn't feel to stuffy or formal. As soon as we walked through the doors on our first visit, we knew it was right for us and committed there and then. We had 70 day guests, with an additional 10 in the evening. Planning took around 18 months; we were keen for it to be a slow and steady process, rather than a rushed and stressful one. As I knew I wanted to make a lot of the decorations myself, allowing enough time to enjoy it was important.'
How they met
We met in 2011 at the end of a rather wild night out in Manchester. Not somewhere I imagined meeting my future husband! I was visiting my best friend for a holiday, as I lived in Brighton at the time, and rounded up the night in a bar in the wee hours. Somehow I ended up talking to Mike and we hit it off. We talked through the night, finding we had all sorts in common, until I had to get my train home in the morning. We then spent hours on the phone every day, doing the long-distance thing for 18 months, until I moved up to Manchester and we settled in our own little home.
The Proposal
Mike took me to Manchester House for my 30th birthday and at the end of the meal, when the macarons and coffee were brought out, there was a ring snuggled in-between the macarons. It wouldn't be our style for him to make a scene and get down on one knee, so it was perfect. He didn't actually ask me at all, just grinned at me while I cried out of excitement and told him 'yes!' The staff at the restaurant were lovely and brought us some champagne to celebrate.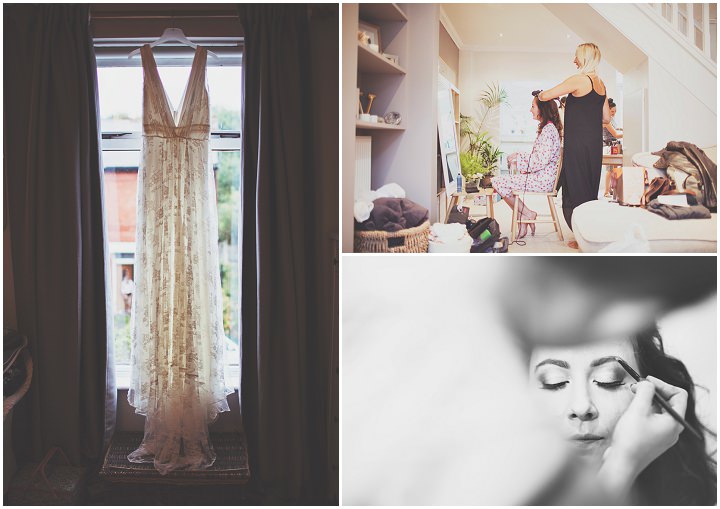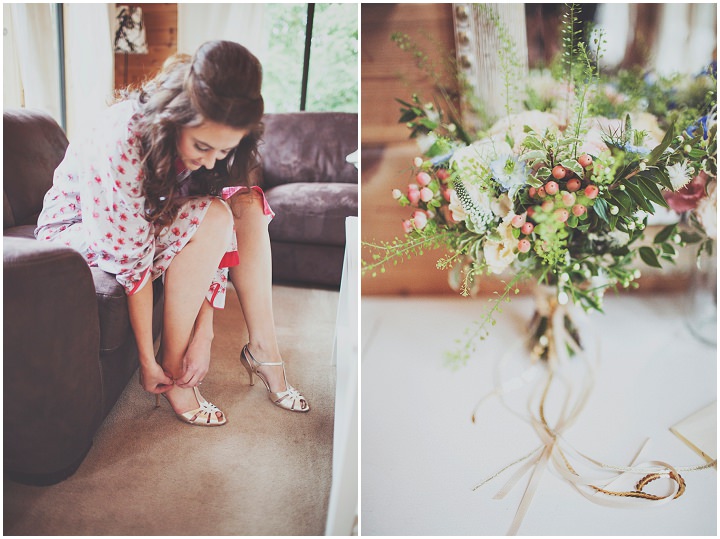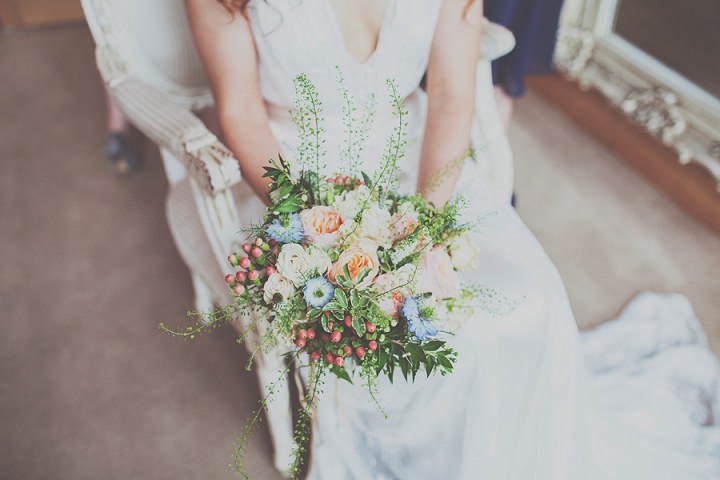 How did you allocate your budget
We knew that food and photography would feature high on the list, so made sure that they were prioritised. Apart from that we just made it up a little as we went along, making sure we weren't being silly and frivolous. The DIY elements weren't necessarily to save money but to add personal touches, as I love making and crafting. However, we saved a fortune by doing so much ourselves.
How did you choose your photographer
I came across On Love And Photography after trawling through blogs to find something that fitted our aesthetic. We were very clear about the look and feel we wanted from the photographs; nothing too formal or staged. Guilia and Ben had exactly the right look, happened to be local and were really lovely people. Despite being someone who loathes having their photo taken, I felt totally at ease.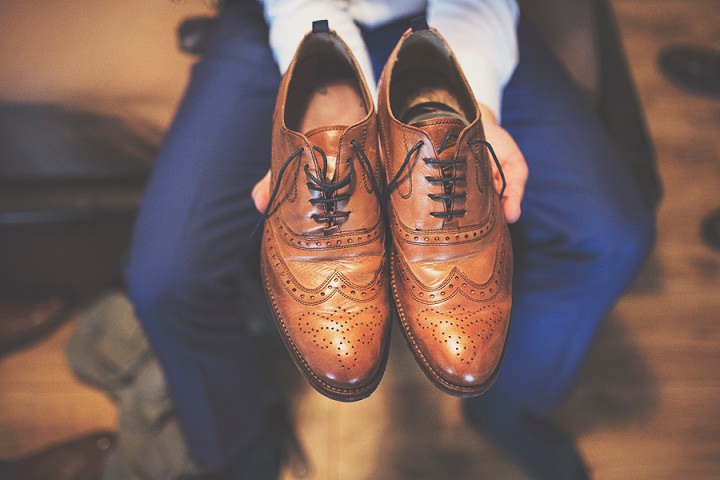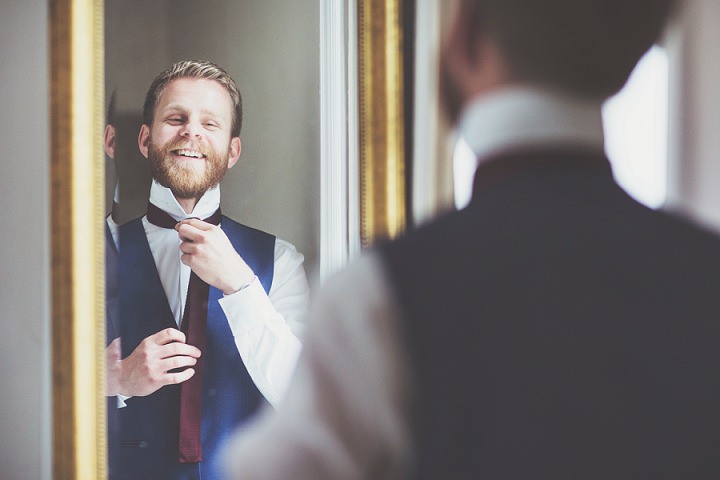 The Dress
I actually had two dresses, both by Charlie Brear, one worn over the other. The ladies at The White Closet helped with their fabulous knowledge, as all I knew was that I didn't want anything typical; no structure, corset, stiff fabric etc, and that I liked lace. I had a satin sash for the day made by Boutique Alterations and I made my own embellished sash for the evening. My shoes were Rachel Simpson 'Ginger' in a lovely soft gold.
I made the flower crown myself and, despite planning something small, as it grew larger I loved it more. My 'something blue' was a beautiful jay's feather that Mike found on a walk together, which I incorporated into the crown. I wore my Alex Monroe bumblebee necklace, which was a gift from Mike from our first Christmas together as my 'something old' and a pair of my mum's pearl earrings as my 'something borrowed.'
The Suit and Bridesmaids
Mike's suit was from Reiss. It was the fist one we saw that stood out as a little different, but very wearable. I was keen for the Best Woman and Bridesmaid to wear something they felt comfortable in (especially as my sister was heavily pregnant at the time) and could even wear again. They decided on both the colour, navy blue, and the styles themselves.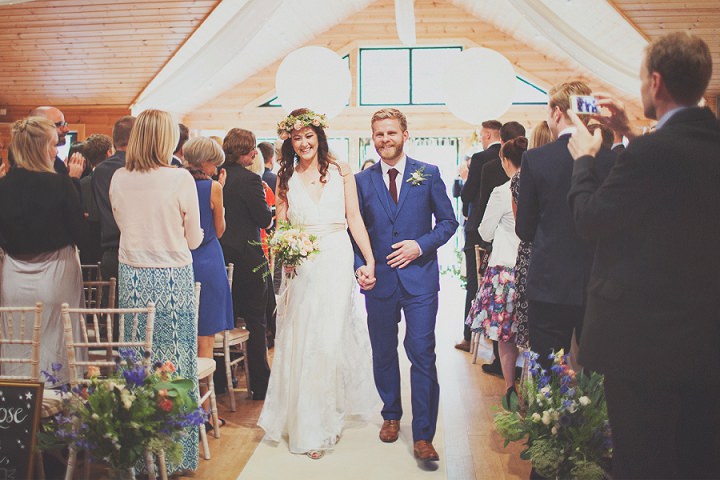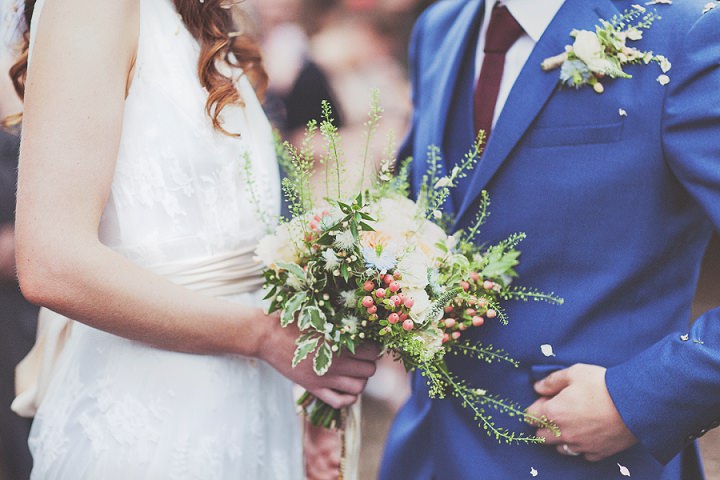 Theme or Colour Scheme
We didn't have a theme as such, we just wanted a natural and bohemian look. I have always loved soft blush and gold, so they were the natural choice alongside Mike's suggested blue elements.
Flowers
Having been brought up a keen gardener and flower lover, flowers were the first thing that came to mind when planning the wedding. I knew I wanted soft, country-style flowers in blush, cream and blue and it was important to me to have the joy of choosing and arranging all the flowers with my mum. We bought from Triangle Nursery, who were brilliantly helpful. The David Austin roses were a palaver to get hold of, but totally worth it. My mum had been growing a myrtle bush from a cutting taken from Queen Victoria's plant, which came into bloom just in time to be a very special addition to my bouquet.
Decoration
Emma from Special Days dressed the venue with lots of pea lights, muslin drapes and gold and white lanterns. I spent a long time on blogs and Pinterest, gathering ideas for handmade elements. We went for chalk board signs, giant balloons, sparkly photo booth, ribbon backdrop, pillar candles, giant 'LOVE' sign and lots of flowers everywhere.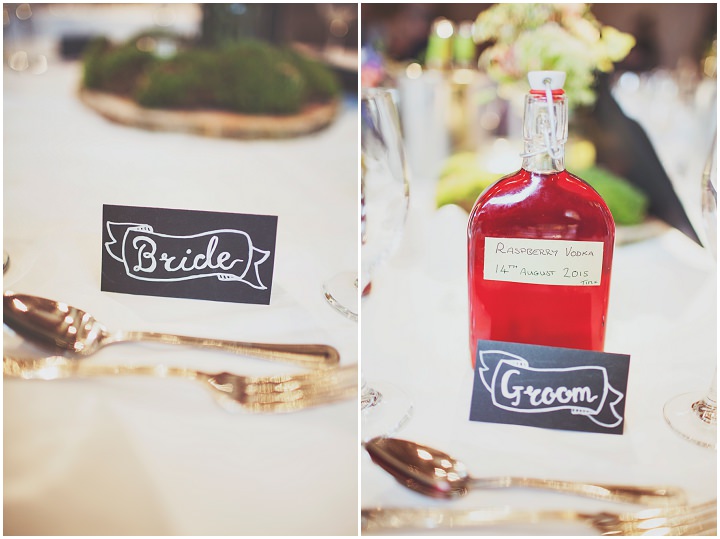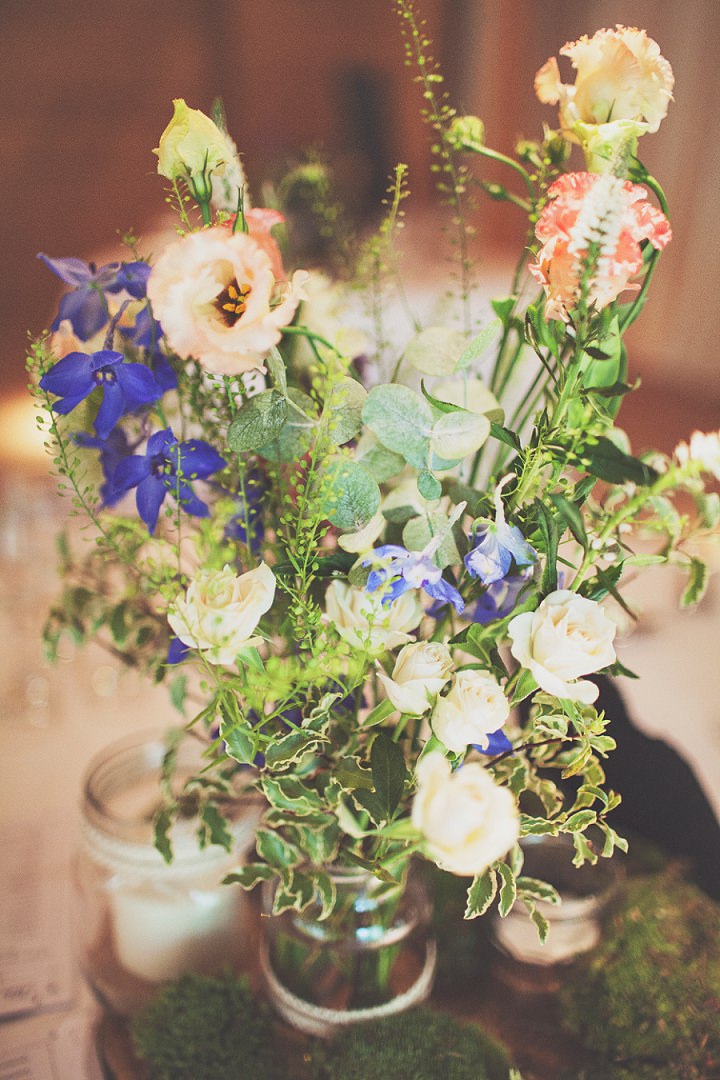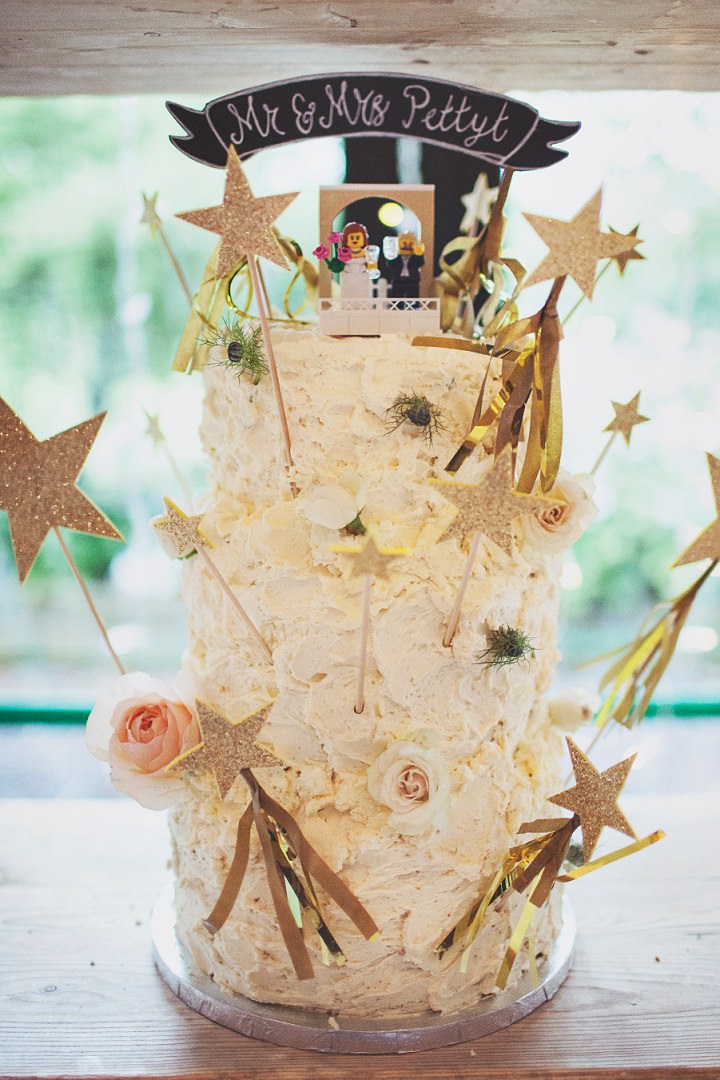 Food
We are both real foodies, so we knew that sad, dry chicken breast with half a dozen green beans wasn't for us. Luckily, Styal Lodge had a few caterers to choose from and Pink Pepper were brilliant. We were told by so many guests that it was the best wedding food they'd ever had. We went for our favourite kind of food: Middle Eastern.
To start: mezze plate of babaganoush, hummus, esme, feta and caramelised leek borek served with a rocket, olive and red onion salad and pitta bread.
Main: lamb shawarma with Israeli salad, mejadra rice, beetroot and leek salad and baby leaf and spinach salad.
Dessert: a selection of cakes and desserts, made by myself and guests, from our cake table.
Midnight snacks: pulled pork rolls with apple sauce and stuffing.
Wedding Cake
As a keen baker, I made the main cake myself. It was three tiers: chocolate with chocolate mousse filling, carrot cake with lime cream cheese filling and lemon drizzle with lemon curd and blackcurrant jam. All covered in vanilla frosting and fresh flowers. Mike put together the Lego topper, which went perfectly with the chalkboard topper and stars I had made.
Entertainment
We were quite picky about our live music, as we'd both endured so many awful cover bands before. We found The Kick Thrills online and they were brilliant. They performed our first dance 'You Make Lovin' Fun' by Fleetwood Mac and had everybody dancing all night long.
We also designed a quiz and 'wedlibs' which, along with giant Jenga, kept guests entertained during those inbetweeny times.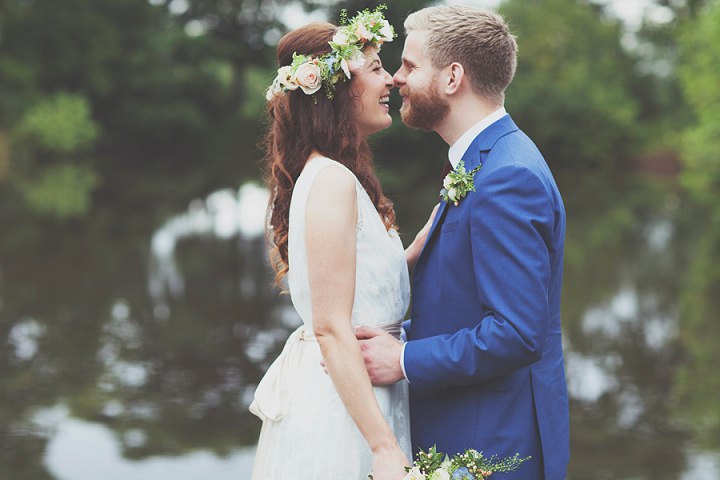 The Stationery
We designed and made all the signage and stationary ourselves, from the 'save the dates' which were drinks coasters, to the menus. Instead of having a standard paper invitation which was not very 'us', we made a video invite which showed our silly personalities more.
Personal or Handmade Touches
There were so many personal and handmade touches, from our personalised vows to so much of the decor, to the handmade wedding rings. Our wonderful guests helped to set up the venue, contributed cakes and even brought sparklers for the end of the night.
As I don't subscribe very well to tradition, It was important to me that my wonderful mum walked me down the aisle. I also had my best friend of 24 years to be my 'Best Woman' who, along with our Best Man, delivered fabulously hilarious and touching speeches.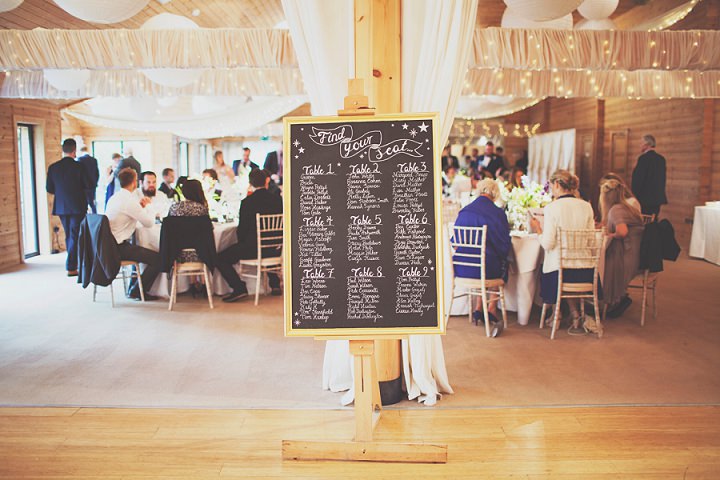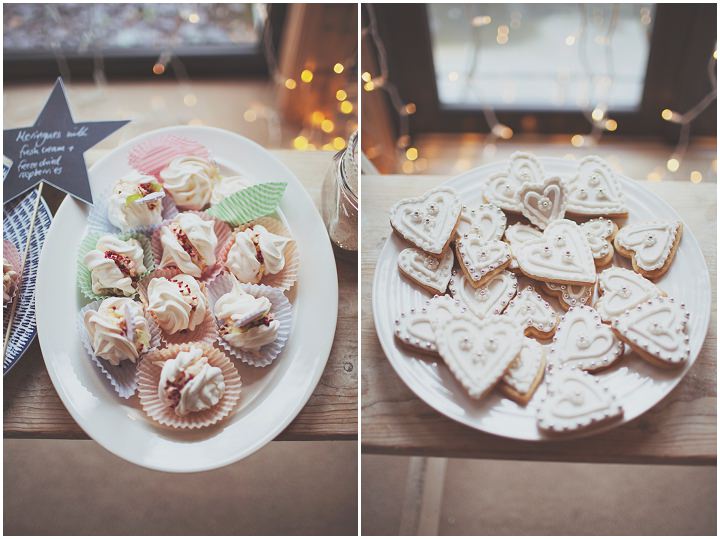 Special Moments
The ceremony was very emotional. Mike managed to make everybody cry with his beautiful words. Having a short time together after the ceremony, just the two of us, to take it all in was amazing too.
Advice to other couples
Being super-organised really helped me, as did allowing enough time. Everything can become stressful if you cram it all into the last-minute. Also, make sure you make decisions together; it's not just down to one of you to sort everything, you're in it together. Oh and don't get hung up on the weather, we had torrential rain but it was still a wonderful day.
Biggest surprise
Unbeknownst to me, Mike had edited an 'outtakes' reel from our invite video, which he played after the speeches. It had everyone literally crying with laughter, myself included.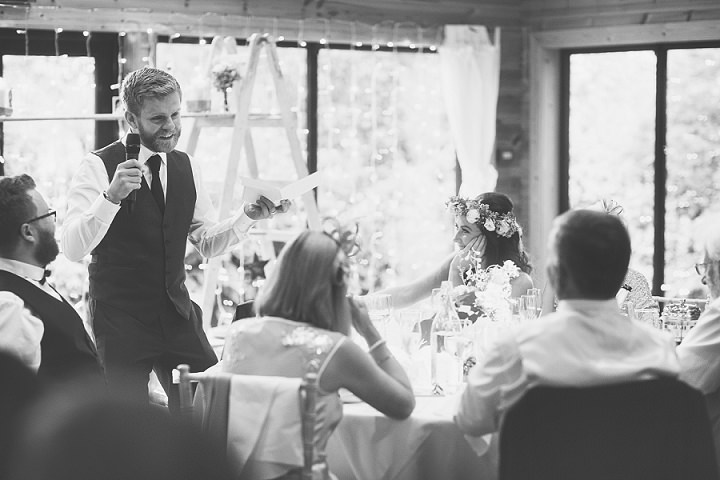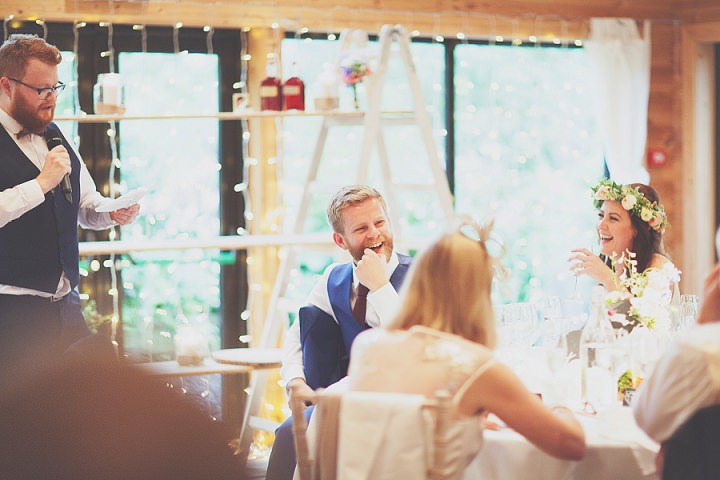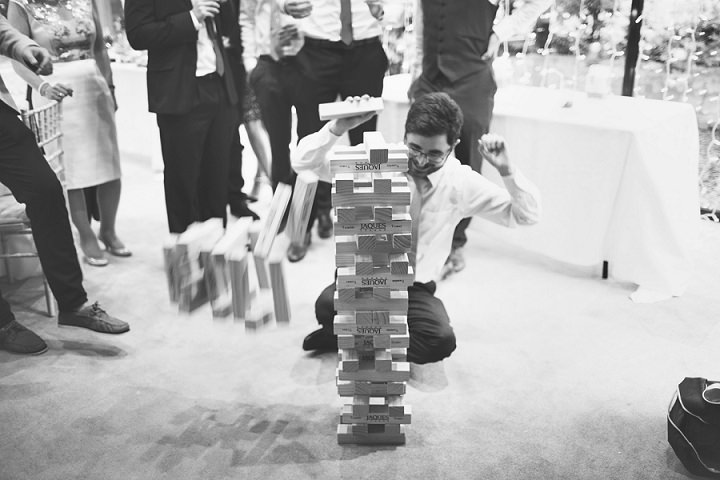 Supplier Shout Outs
For more information on On Love Photography go to: