Happy Monday everyone and welcome along to another fun packed week on the Blog. I have a cracking wedding for you today, the perfect way to kick-start monday morning in style. This stunning Sri Lanka Wedding is absolutely beautiful and filled with so much love and happiness. With the most gorgeous bride and groom, coupled with the most amazing dress from Grace Loves Lace, this wedding is oozing style, mixed with a laid back bohemian vive. Deshani and Stefan both worked hard on creating all the little details for the day, creating design projects themselves to make sure that the wedding was perfectly 'them'. A totally stunning day, that is sure to brighten up your Monday morning. Big thanks to Cloud Attic Photography for the beautiful images and to Deshani the stunning bride for sending me in her amazing wedding.
'Our wedding day was everything we hoped for and more, a reflection of who we are and what we wanted it to be; simply a celebration of our love, with the people we love'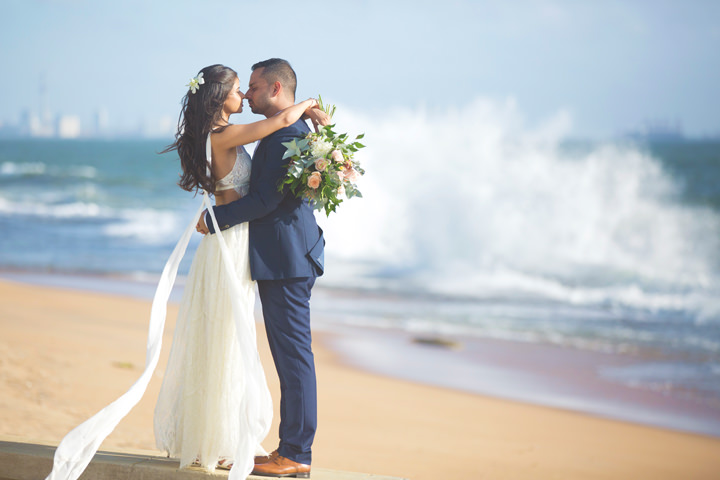 Deshani and Stefan were married on 22nd August 2015 at Reefs Edge, Sri Lanka. 'We were a couple living in two different parts of the world; Stefan lived in Sri Lanka at the time, and I in Australia, but we both wanted to have our wedding celebrations in Sri Lanka as it not only is a beautiful tropical destination but it is where our roots lie and where our parents and grandparents live. We fell in love with the surroundings at Reefs Edge resort. ur ceremony was by the sea and we were the first couple to have our wedding reception at their newly opened Hamilton deck. We had 60 guests to the ceremony and 200 to the reception. Planning our wedding became a fun and exciting project for Stefan and I. Although the initial stages of planning was challenging being miles apart from each other, technology these days is pretty amazing! I'd say it took us around 8 months and I went over to Sri Lanka 2 months prior to make bits ad bobs, organise decor and get everything done! We did all the prep and styling ourselves and our parents were instrumental in helping us put this all together and went over and beyond to make this day the perfect one.'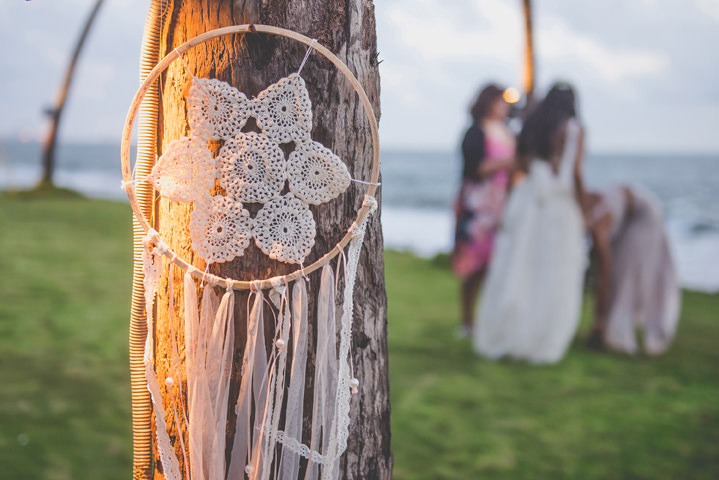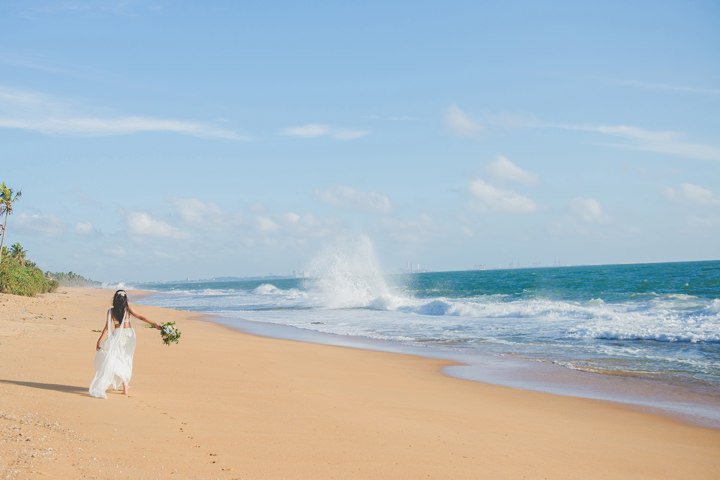 How did you allocate your budget
The first thing was putting together our guest list and allocating a budget on the reception. We also talked to a few of our friends who had just got married, and they gave us advice on where and what they spent a lot on which helped. We did some research and calculated a rough estimate on everything before making purchases and we ended up being under budget!
Where did you splurge and where did you save
I guess we splurged on catering as we had 200 people for our reception, however the hotel offered us a really great package for the entire buffet.
As the majority of decor was recycled and handmade and also the fact that we had flower pots and plants as our main table decor saved us heaps!  With the idea of take home decor it created less waste, and some extra money for the flower lady down the street too!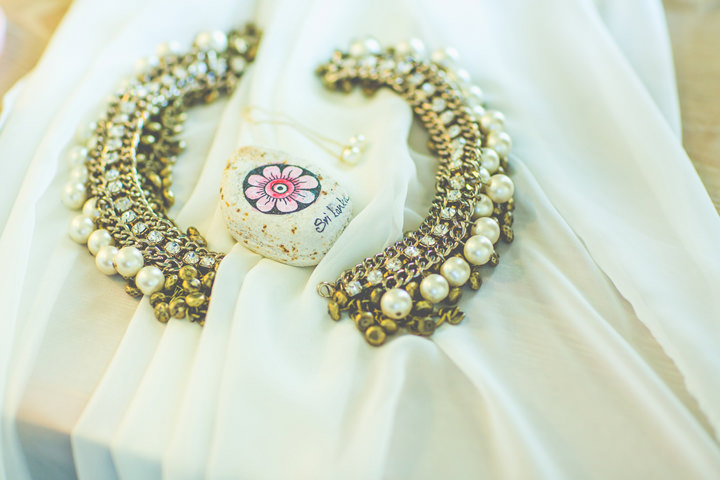 How did you choose your photographer
The owner of Cloud Attic Photography was actually Stefan's friend. He photographed our engagement/signing and we loved the photos, he also asked us what style and details of photos we liked before the big day to make sure he and his team captured them.
The Dress
My gown was from Grace Loves Lace, handmade in Australia. It actually had elements that reminded my mum and I of her wedding Saree which was so special! I never imagined myself in a super glamorous, stiff wedding gown. I wanted to be a boho bride, able to run and dance freely and just be me! and this beautiful bohemian two piece ticked all the boxes. I wore pearl earrings, a gold armlet and a 'nalal patiya' (head piece) to fuse a bit of tradition and it all went perfectly with the gorgeous gold thread detailing on dress. My mum made me a blue garter and my dad made me a pair of awesome anklets from a few necklaces I had! I was barefoot at the ceremony but wore Charles and Keith Pearl ivory heels at the reception. I am not a big fan of heels but these were pretty good to me!
The Suit and Bridesmaids
Stefan's suit was from Politix. He knew he wanted a navy suit and loved their style. His blush feather boutonniere was from PompAndPlumage. The bridesmaids, my beautiful sisters, wore a soft nude/blush two piece to match my dress. With so many gorgeous fabrics at the markets in Sri Lanka, it was difficult to pick just one! I eventually chose two colours and let them make the final call. It went perfectly with the bouquets and complimented the groomsmen's navy attire.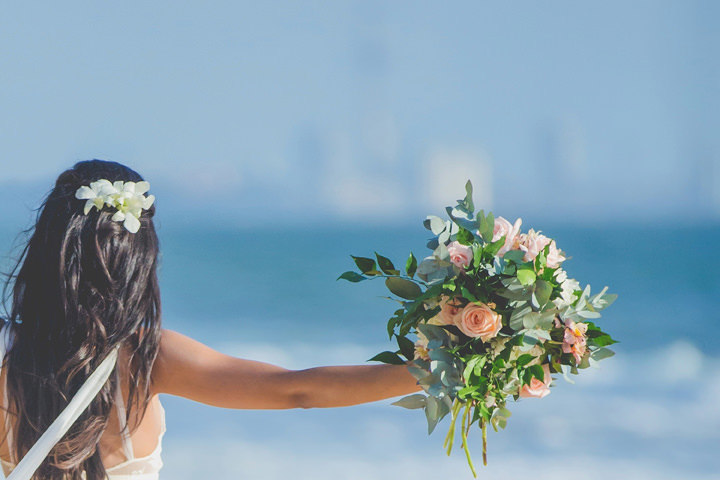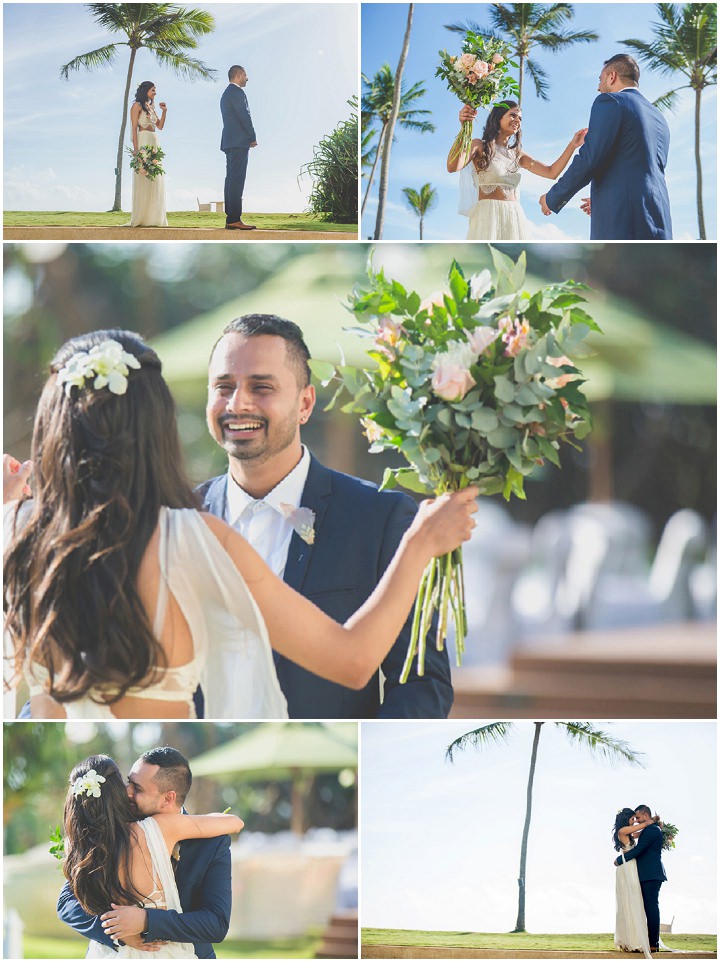 Theme or Colour Scheme
We drew inspiration from each other being Creatives (Stefan and I both Designers and I am also a Ballet Dancer & Teacher) and wanted elements of our celebration to reflect our personalities and our love for art. We wanted the day to have a fun, bohemian laid back feel. We started with designing our wedding invitations together, initially painting with watercolour then transforming it digitally with graphics; the watercolour theme was carried through to the cake and place cards. It was great to have the watercolour theme as it didn't restrict us with colour and paired perfectly with the wild, boho style.
Flowers
Inspired by ballet I chose blush roses for my bouquet, and it brought a beautiful softness to the wild bouquets. Bougainvillea's also really stole the show bringing gorgeous colours to the long rustic tables. Everyone loved the idea of take home décor that you can actually grow in your home! We had a few pink and white lotus flowers placed in long coconut spathes too.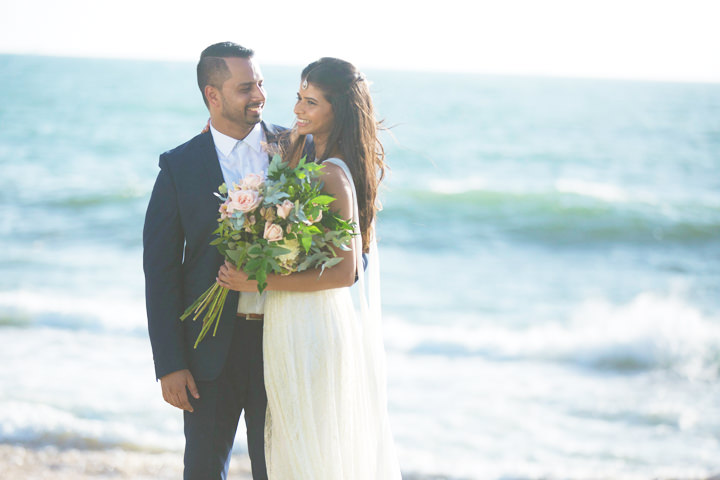 Decoration
To sum it all up it was handmade/ boho/ creative reuse. For our ceremony, my dad made us a simple but beautiful wooden tepee with my mum's saree draped over it and strings of white flowers. The isle was decorated with pink and white flower petals. We stood on a rug made locally, and have now converted it to a wall hanging. We had flower pots and plants in handmade cloth bags for our guests to take home. They were our main table decorations and definitely didn't go to waste! They were in handmade pot covers/holders which we stitched on with Aztec patterned borders and a hand written note by its side "Everything grows with love, please feel free to give a plant a home" :) I loved that an abstract of our ceremony was painted on canvas by a fine art student. He painted the beautiful colours of nature on our wedding day. We now have this piece of art in our home.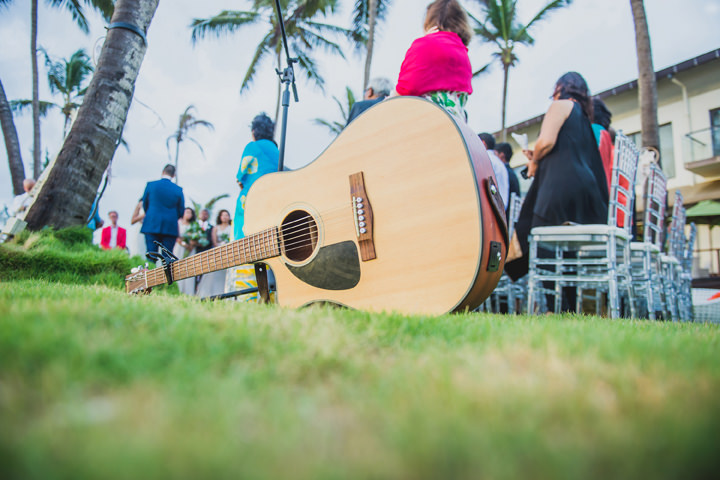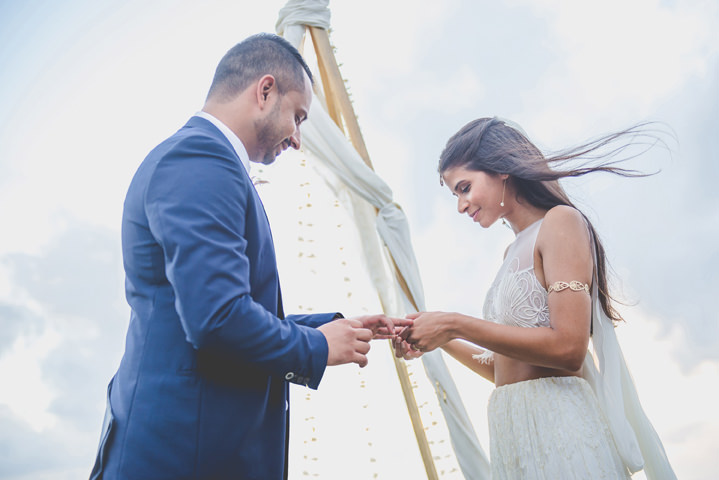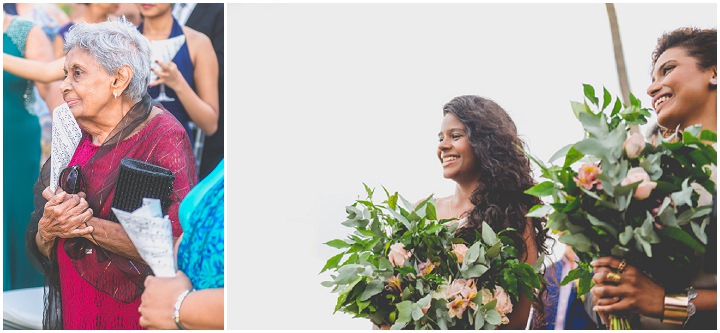 Food
We wanted to support local street vendors so we had them give out special treats that are popular in Sri Lanka- spicy mixed fruit, manioc chips and King coconut juice to our guests in between the ceremony and reception. For the reception we had a dinner buffet catered by Reefs Edge Resort with over 25 dishes, it was delicious!
Wedding Cake
Our cake was a three tiered, triple flavoured cake with a splash of watercolour.
Stefan and I decided to place two mini art mannequins that we had, as our cake toppers. My sister made a cute little bow tie and a flower crown to give it that extra personal touch! Our friends kept saying to us "the cake was so you guys!"
Entertainment
My dad, sisters and friends sang for us, which was so special! We also had a band and DJ.
The Stationery
We designed our own wedding invitations, mini His & Her Vow folders and hand made the place cards ourselves, using watercolour paints and paper.
Personal or Handmade Touches
Almost all of our decorations were handmade with the help of family and friends. Stefan and I are all about creative reuse, so we tried to up-cycle as much as we could. We collected tins, jars, string, lace and Aztec patterned borders, cut up mum's old table cloths, made dream catchers with doilies and fabrics lying around, used up old manuscript paper, and made favour bags from material off cuts. Turquoise beads on twine with mini pegs were used to clip the place cards on to serviettes. Luckily I was able to fly over to Sri Lanka two months prior to get this all done! Hand-making these little things not only saved us heaps, but ended up being fun DIY projects with family and friends adding that personal touch!
Special Moments
Stefan and I both agree that our most special moment was our first look! It was so exciting to see each other and say whatever we wanted to say in the moment, instead of worrying about people around us. And the best part.. the hug! It also gave us sometime together to take it all in before the ceremony and celebrations began. We ran down to the beach, kissed, hugged, laughed and danced around, just us! It was so much fun! You will probably be able to see it in the photos! Stefan says it was his favourite moment too.
Advice to other couples
Be yourselves, do it your way and you will never regret it. Remember this day is about you and the love of your life. Don't let the weather worry you, you cannot control it! If it rains, dance in the rain- there is nothing quite like it!
Biggest surprise
A few surprises on the day actually! My amazing mum had organised a gorgeous cluster of little ballerinas to give us a horseshoe for good luck. I have no idea how mum managed to organise this while doing so much for us already. It was so surreal seeing them in their little tutus by the sea! The second surprise was how we ended up dancing outside the marquee, in the garden, as it rained just after midnight. I cannot even begin to describe how amazing it was to be dancing in the rain with the love of my life, my mum, sisters, cousins and friends….you have to try it!

Supplier Shout Outs
For more information on Cloud Attic's work please go to:
Due to an email issue if you have emailed me between the 2nd & 9th of December, please resend it.
X