Today I have a beautiful wedding for you from Mozambique, a boho beach wedding with an ethereal ceremony set a clearing just off from the beach. The wedding not only looks amazing, with some beautiful little touches, but you can feel there is so much love and sentiment there as well. I just love all the design details put together by Aimee who studied graphic design. The geometric additions to the soft beach theme, along with some wonderful DIY details from all of the friends and family who helped pull the wedding together. As for the 'Burger Bar' what a fab idea! Big thanks to Stacey from The Shank Tank for the lovely images.
'Perfectly laid back! All our family and friends pitched in and made it a perfect party'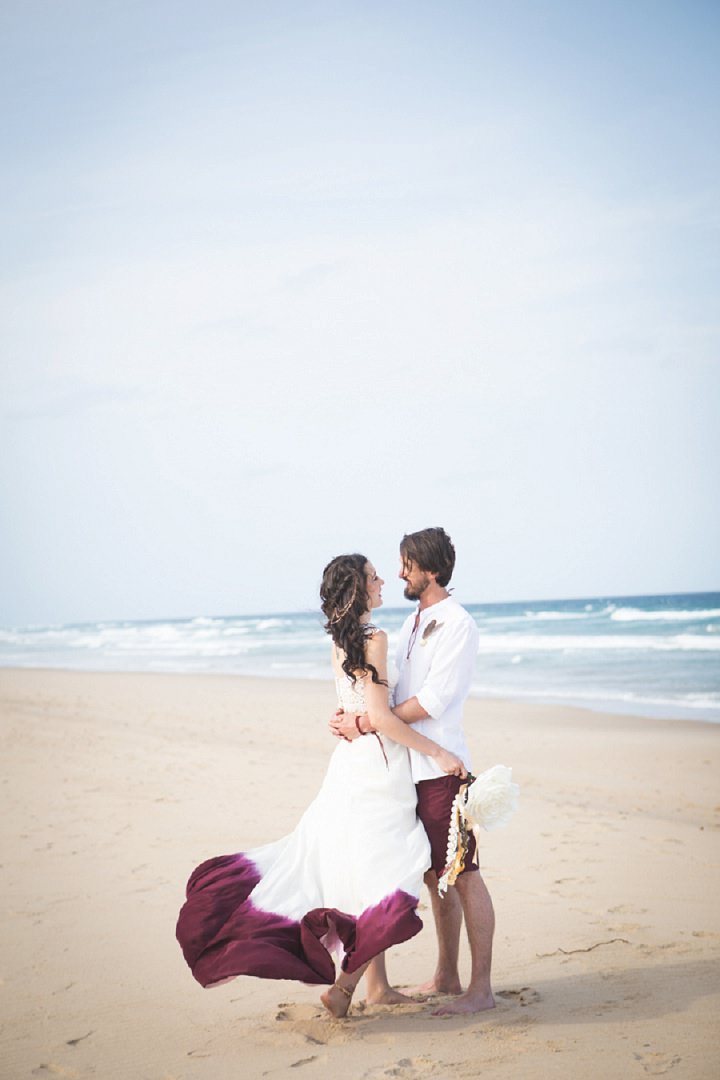 Aimee and Gideon's were married on 24th October 2015 at Mozambique, Tartaruga Venue. 'We Met in Mozambique and thought that it would be quite symbolic to return for our wedding. We decided to have an intimate wedding of 32 close family and friends. Well, we were engaged for 3 years! Being WAY too creative for our own good it took us 3 years to make final decisions on what exactly we wanted and it was totally worth the wait!
How they met
We met in Mozambique 8 years ago and instantly became friends. We have been together for 4 years now.
The Proposal
We are both adrenalin junkies and absolutely love off road motorbikes… Gideon's mom gave him a stunning Opal ring (with a note she had written when he was a little boy, saying that she would want him to give it to his wife one day) he impulsively insisted on us going for a ride, even though I could see the weather picking up! Nonetheless he insisted we go… We ended up on a train bridge over looking farmlands when the rain started. Before I knew it, he was on one knee and all I could think about was that his knee must be getting so sore on the rough gravel! I eventually managed to splutter out a yes.
How did you allocate your budget
We were so blessed with friends and family! Every one pitched in. From décor, food, drinks, the list goes on and on… Everything was a team effort to work around our limited budget.
Where did you splurge and where did you save
Photography and venue! We decided that a small intimate wedding with a great venue and photographers would be more important than having a huge event that makes us feel like we need to impress
How did you choose your photographer
We were suuuper picky with choosing a photographer and did endless research! Until we came across The Shank Tank ,We felt that they truly embodied what we were looking for with their natural, moment capturing style. Stacey also got married in Mozam and before she became a photographer she used to be a wedding planner in the area. She was always so keen on offering up any helpful info.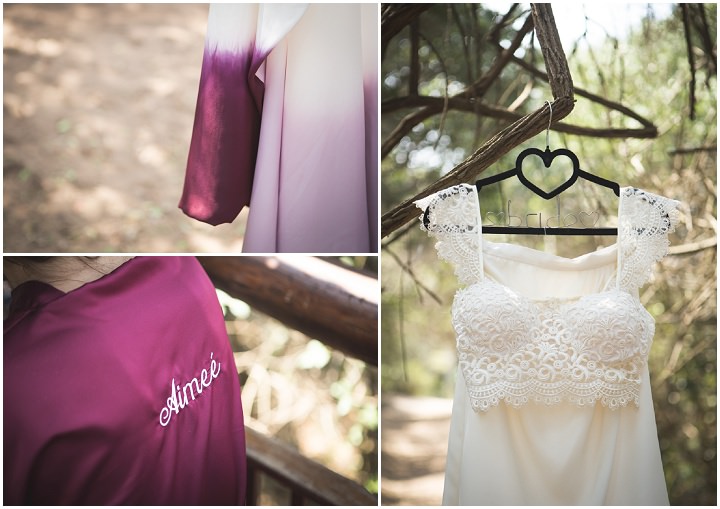 The Dress
My dress was made by a family friend Connie Arndt, she was so amazing at making my dress vision come true. The colouring of the dress was done by Colors-4-U. All my accessories were either borrowed or things that I already had. I decided on a barefoot wedding and had some feet henna done by Jorietha
The Suit and Bridesmaids
Gideon wore a pair of Marsala colour shorts and a cotton top from Edgars
The bridesmaids designed their own dresses and we had their dresses made all in white.
Theme or Colour Scheme
We just wanted a very laidback Boho themed wedding. All our guests wore white and we brought in some Marsala as a pop of colour other than that we tried to keep it as natural and etheral as possible.
Flowers
It's quite tricky and expensive to bring flowers into Mozambique so we had big foam flowers as bouquets and used twigs and feathers as accents.
Decoration
We spent a year collecting beer and wine bottles to use as decor; these were filled with feathers, twigs and candles. My grandfather made bread boards out of wood & a family friend had our logo engraved on them, these were used as table decor and given as favours.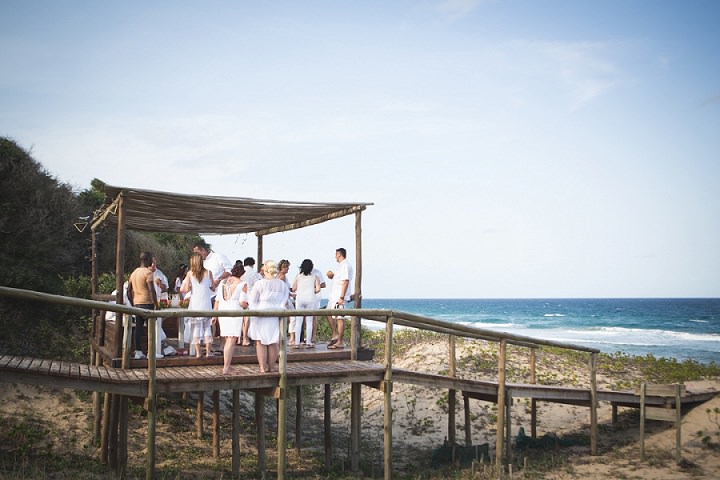 Food
We built a gourmet burger bar. Our aunt & uncle donated a large part of the food and some guests cooked the meat options before the ceremony started.
Wedding Cake
My mom made us an amazing naked cake. Yay for no Fondant!!!!
Entertainment
Gideon's best man Fanie is an amazing sound engineer. He provided the good vibes for the evening.
The Stationery
I studied graphic design and spent some time working at a stationary company specialising in weddings so we were in the privilaged position of doing ALL our own stationary.
Personal or Handmade Touches
Everything! We had no wedding planner or great amounts of service providers. All of our friends and family helped us make the whole day special and personal. We wrote each guest a personal letter thanking them for their specific donation to our wedding. Every one helped set up the day before so each person added their own personal touch. I have also studied make-up so I did my own make-up on the wedding day. A few weeks before the wedding I did a little crash course on make-up for the bridesmaids so they also did their own make-up on the day. A good friend of mine, Milla is a hairdresser and she did our hair for the wedding. Another amazing personal touch was my garter, which my sister made for me. It the most beautiful garter that I have ever seen and suited my personality to a tee! We also asked all our guests to wear white to the wedding!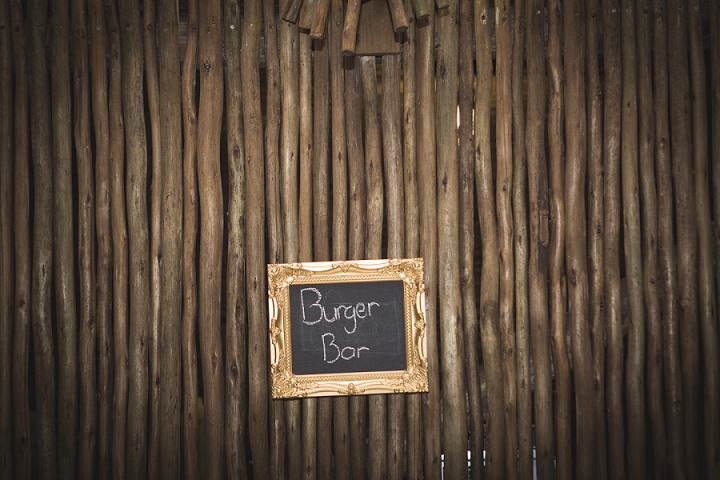 Special Moments
Our first look was super special to us both. We met up before the ceremony and walked down the aisle together while the best man played "Nothing else matters" by Metallica.
Advice to other couples
It is your day, so do it your way! Don't let any social pressure or tradition pressure you to do things a certain way. Relax, Breathe and don't be afraid to ask for help.
Biggest surprise
When we got back to our room that evening, the bridesmaids had covered our bed in glitter, inside and out! We had heart shaped glitter stuck to our legs for the next 2 days!
Supplier Shout Outs
For more information on Stacey's work please go to: