Good Afternoon to you all, How are you all today? With outdoor ceremonies becoming more and more popular it's great to have some inspiration to guide you in your planning. Today we have a totally stunning styled shoot for you courtesy of Blue Fizz Events and Mckenzie Brown, alongside a team of truly amazing and inspiring suppliers. It is filled with the most stunning backdrop, delicious food, beautiful details, the most gorgeous couple and an amazing laid back bohemian vibe, perfect for any Boho beach wedding.
'

More and more couples are choosing outdoor ceremony's and are drawn to the surf sands and sunsets that are all part of this natural environment. We wanted to celebrate the stunning location in which we live and work, set against the magical backdrop of Croyde Bay.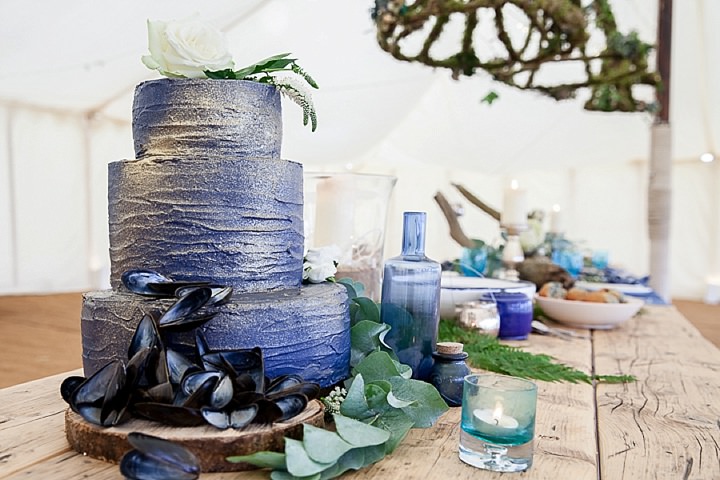 Bridget at Blue Fizz Events and Natalie at Mckenzie Brown tell us more about the shoot
What made you decide to do the Shoot
The North Devon coast holds a very special place in my heart as I spend quite a bit of time surfing here (or trying to!) The skies and sea can change so dramatically over the period of a few short hours bringing with it an array of colours, so I have been desperate to photograph a beach styled shoot for some time. When Tracy and Bridget from Blue Fizz Events approached me with their idea, I was overjoyed! The shoot's inspiration came from the fabulous mind of stylist Bridget from Blue Fizz Events as she explains,
What was your inspiration behind it
The inspiration for the shoot very much came from the love of the North Devon coastline and the raw beauty of a wedding by the sea. The addition of soft candlelight, moss-covered chandeliers and delicate calligraphy created a very organic, warm feeling perfect for a summer's night. The addition of driftwood, shells and exotic blooms finished the look perfectly for a real Boho vibe.
What did you want to get out for the shoot and do you feel you accomplished this
For me, I really wanted to create something a little different with the shots. I wanted to use the natural light and colours as much as possible, often shooting into the sun. I also wanted to reflect the power and beauty of this space, infusing the images with a bit of drama. I loved that the model really threw herself into the shoot and as we waded out into a rather choppy sea, we had to really concentrate on keeping upright!
Bridget explains 'Alongside the inspiration for the shoot I had a vision of our couple in the surf so we used one of my own designs for our bride as we could then literally get the gown wet and capture the energy and elements we wanted overall.'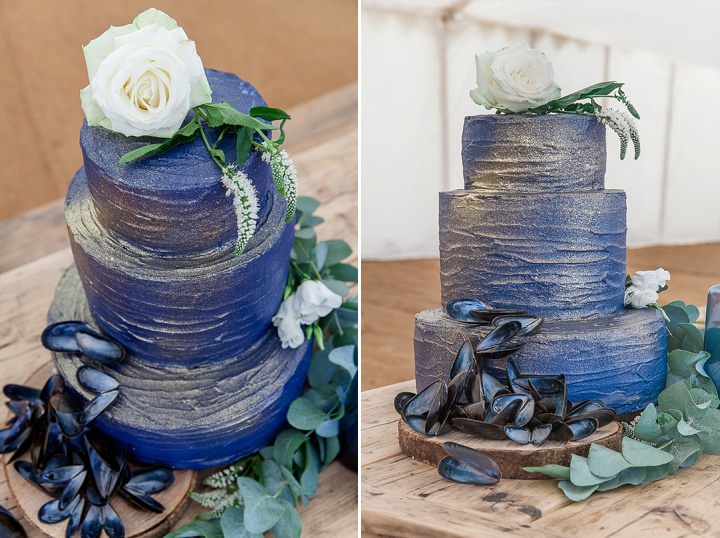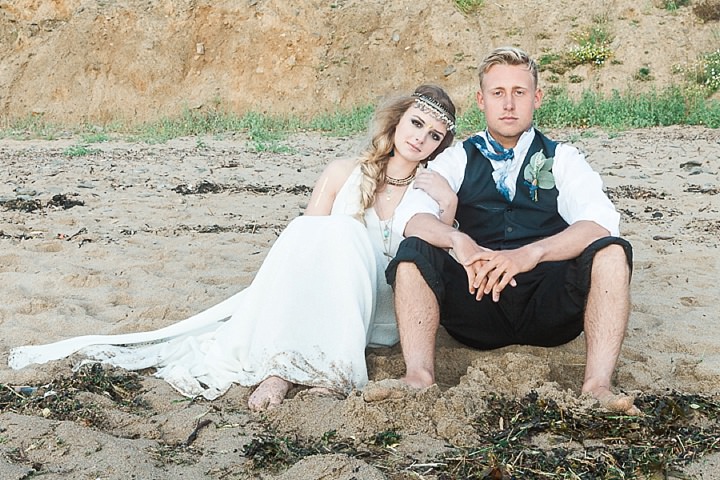 The suppliers who made the shoot possible
Photography
www.mckenzie-brown.com / www.mckenzie-brown.com/blog / [email protected] / FACEBOOK / T:@mckenzie_brown / I:mckenzie_brown / PINTEREST
Blue Fizz Events Details
www.bluefizzevents.co.uk / www.bluefizztentsandevents.co.uk / FACEBOOK / I:Bluefizzevents / PINTEREST