Yay it's Friday, bring on the weekend! Even though I am working all this evening and all through the weekend I am still excited for the weekend. As of Monday it is officially Christmas week and that has to be a reason for celebration, so I'm sure a few glasses of mulled wine will be sipped while I am busy getting my last bits of work finished. To finish off the week, I have this beautiful bohemian wedding from Kentucky. It's a simple day, set at a camp location that gives the wedding a really great rustic feel. Mix this with some lovely homemade details and decorations and you have a wedding worthy to close the week. Big thanks to Brandi Potter Photography for the images.
'Our wedding day was so surreal. It was a day we will always look back on fondly'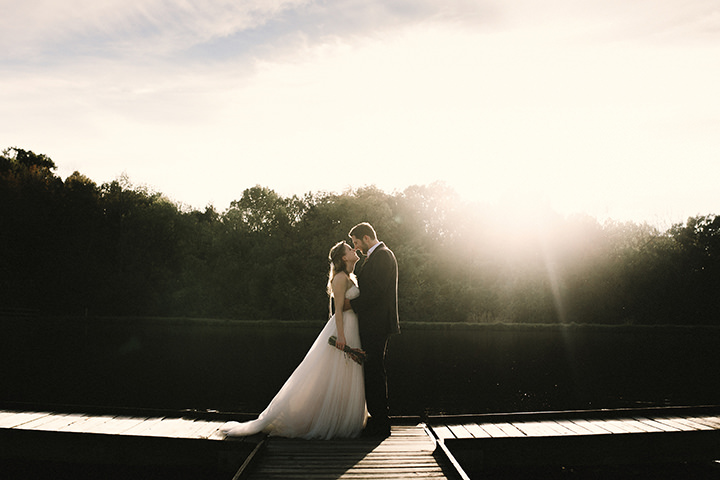 Ami and Josh were married on 4th October 2015 at Cedar Ridge Camp, Louisville, Kentucky (both ceremony and reception). 'Through middle and high school, I (Ami) attended many retreats and events at Cedar Ridge Camp. When we started talking about getting married, I immediately thought about the camp. It's quiet, rustic, simple but yet so beautiful. We had approx 60 guests attend. We started planning around January, although we slacked off quite a bit during the spring and summer'
How they met
Josh and I used to work together at Dick's Sporting Goods. I was actually engaged when we met. We met in July, I broke off my engagement soon after, and Josh and I started dating in December. That was 6 years ago.
The Proposal
We did things a little backwards. In January, we decided to get married, even though Josh hadn't proposed yet. He officially proposed in August (two months before the wedding). I came home from work, changed into sweat pants and sat down on the couch to eat. He told me he wanted to take me somewhere, but I needed to put on a nicer outfit. Once I got changed, he blindfolded me, drove me to my favorite park, and took off the blindfold. When I opened my eyes, he was down on one knee in front of me. After the proposal, I turned around and saw my two of my friends and Brandi, our wedding photographer! We spent the rest of our evening having our engagement pictures made.
How did you allocate your budget
I knew there were certain things I absolutely wanted for our wedding, and those were the things we took care of first. We spent the most on our photographer, wedding dress, and food. Everything else sort of trickled into place.
Where did you splurge and where did you save
Our photographer was our biggest splurge. Then food, and then my dress. We saved money on our venue, due to our developed relationship with the director of the camp. I made our wedding cake, which saved us a lot of money. We also opted for dried flowers instead of fresh flowers in order to save money, but also to have something we can hold onto forever.
How did you choose your photographer
I probably searched for about a week for a photographer. I knew I wanted someone with an artistic, editorial type style. I didn't want the traditional, bright, cheesy photographs you typically see from weddings. When I found Brandi, I immediately fell in love with her style. After meeting her, I knew we had made the right decision. She's since become a very dear friend.
The Dress
Dress was by Wtoo. I wore my grandmother's necklace. My shoes were some sandals I found at Journey's
The Suit and Bridesmaids
Josh's suit was from Jos. A. Bank. The bridesmaids wore dresses from Altar'd State and Modcloth. I bought necklaces for my bridesmaids from a shop on etsy.com called TRaewynJewelry. All three of us have the same necklace, but each one looks a little different.
Theme or Colour Scheme
We wanted a bohemian feel, but still classic and simple. Our colors were lavender, coral, and sage green. Since we live in Kentucky, we also wanted to tie bourbon into our décor
Flowers
The flowers were from Paula Jean's Garden, a shop I found on etsy.com. The flowers were one of my first finds when planning the wedding. Everything else was inspired around the flowers. All the bouquets and boutonnieres were made with dried lavender, dried larkspur, and wheat. I wore a floral crown made of dried lavender. The lavender scent helped to calm my nerves before the ceremony.
Decoration
Josh and I made centerpieces out of old bourbon bottles. They sat on top of cedar planks provided by the camp. There were also bourbon barrels set up around the reception hall.
Food
Our reception was catered by Dickey's Barbeque. We had pulled pork, brisket, cole slaw, macaroni and cheese and potato casserole.
Wedding Cake
Our wedding cake was an apple spice cake (made from apples I picked myself) with cream cheese buttercream and bourbon caramel
Entertainment
We hired a DJ through Triangle Talent, a local vendor.
The Stationery
My mom and I designed our wedding invitations and had them printed at Staples. This saved us so much money! They were simple and to the point, much like our wedding. We didn't have any programs or any other stationary.
Personal or Handmade Touches
The invitations, centrepieces, and wedding cake were all made by us. I made the sign that our ring bearer carried. My mom also put together mason jars with candles in them to decorate the ceremony area. My mom and my great-aunt made our aisle runner as well. I had a puzzle made from one of our engagement pictures and used that as our guest book. It was really fun to see people picking out which puzzle piece they wanted to sign. Josh and I enjoyed putting the puzzle together and reading what everyone had to say. It's now hanging in our living room in a custom made frame with an open back, so we can look at the signatures whenever we want to.
Special Moments
Josh's aunt hosted a brunch for me and my bridesmaids, as well as the other women in my family. It was a great start to our day. My dad read a poem by e.e. cummings ("I carry your heart") during our ceremony, and before reading it, said something privately to me and Josh. It was a very touching moment that made us both tear up. Josh's best man flew in from California in order to stand by his side at the wedding, and my grandmother, great-aunt, and great-uncle drove in from North Carolina. Being surrounded by our dearest friends and family members made the day extra special.
Advice to other couples
Take it easy. Relax. The less you stress about the minor (or major) details, the more enjoyable your day will be and the more of it you'll remember. Remember, the wedding ceremony is one day. Your marriage will last a lifetime.
Biggest surprise
My mom and step-dad had champagne flutes and dessert plates etched with an "F" on them for us. After everything our families did for us, I don't think either of us was expecting any gifts for our wedding. The weather was also a great surprise! The day before, it was raining and cold outside. The day of our wedding, there were no clouds in the sky, the sun was shining bright, and it was in the high 70s. Talk about great luck!
Supplier Shout Outs
For more information on Brandi's work please go to:
www.brandipotterphoto.com / [email protected] / I:brandipotterphoto / FACEBOOK / PINTEREST
Based in: Lexington, Kentucky, USA. My photography style is more moody, editorial side. I love shooting bride and groom portraits and really making them different than what others are doing. On wedding days I shoot things as they happen and more of in a photojournalism way. I don't stage or fake things if they don't happen or I miss something. My main goal is to be able to travel and shoot different types of weddings all over the states/world, and just experience different customs and traditions at weddings.