Happy Monday everyone, I hope you are all having a fabulous Monday so far. It's a hectic one here at Boho HQ as I am busy getting everything finished before we break up for Christmas. I am planning a few days off over the Christmas break which means lots to get done now, but it will all be worth it to spend some quality time with friends and family over the festive period.
This afternoon on the Blog we are talking photography with Michelle Huggleston. Michelle is relatively new photographer to the wedding industry but she brings with her bags of enthusiasm and lots of fresh ideas. She is based in South Wales and describes her work as 'Fun, a little bit quirky, relaxed, with a touch of a cinematic twist.' She takes lots of influence from the cinema, So why not check out her website and see if she could be the right person to shoot your wedding. She also has a special offer running for 2016 which you can find at the bottom of this post.
'I have always loved photography, it isn't just taking photographs for me, it's how I see this crazy beautiful world. I'm at my happiest when on a shoot whether it be a personal project or a wedding. I love creating and my aim is to create beautiful and forever lasting photographs. I want my photographs to evoke an emotion, so when you look at them, time and time again they take you right back to the day, reliving those precious moments.  I also love cats, collect buttons and film stills' 
We asked Michelle to tell us more about her business
How long have you been taking photos for?
At the age of 17, I decided to take photography as an A Level, but this was to be in the same class as my school friends. However… we ended up in separate classes, but one session in the darkroom and I was hooked.
When did you start your photography business and what made you start
In late 2014, I took a leap of faith and thought if I don't try, I'll never know!
Where are you based
I'm from Swansea, but I've just moved to Penarth in South Wales.
How far will you travel for a wedding
I've just made a bucket list for weddings, so I'm hoping this will take be anywhere and everywhere
How would you describe your style
Fun, a little bit quirky, relaxed, with a touch of a cinematic twist. I'm inspired by films and I think that comes through in my work. From classic Hollywood romances to modern indie films it's all about telling stories in a unique way and capturing beautiful scenes. I worked as a projectionist in a cinema for 8 years, handling film reels and viewing all kinds of films, I think this has really influenced my work.
What is your favorite bit of technical kit
Probably one of my Polaroid cameras (I'm a massive Polaroid fan!!) or my Sigma 35mm Art lens, it's a beauty!!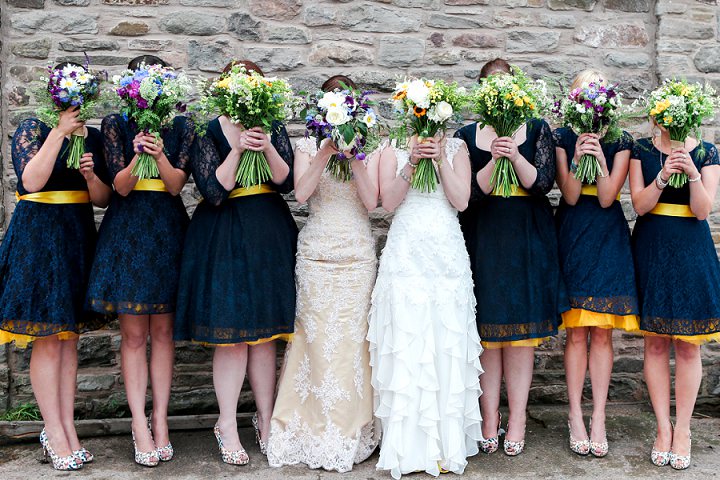 What makes you different to your competitors
I love photography, all different types of photography. I love creating it, I love reading about it and I love seeing other people's work. So I guess this is what makes me different, for me this isn't a job.
What do you enjoy most about your job
I enjoy meeting people, having a glimpse into their lives and family and being with a couple on the happiest day of their lives, it really is something else, I absolutely love it.
What is your biggest achievement so far
My First Class BA (hons) degree in Photography. I still can't quite believe it! But also believing in myself and having the courage to pursue photography on my own.
What sort of couple do you think you attract
I think I attract relaxed and easy going couples. They all have unique tastes and interests and like things a little bit different.
What would be your ideal wedding to work on
A retro cinema or a vintage fairground themed would be amazing. Or a Hitchcock inspired wedding, a film noir wedding would be epic!!
Which celeb would you like to photograph
Goldie Hawn, Keira Knightly or Bill Murray.
Who is your favorite photographer and why
I have an endless list of favourite photographers, they all influence my work. But during a hiatus from photography, my partner showed me a photograph by Tamar Levine, this was a turning point for me. It made me want to pick up my camera again, and I haven't looked back.
What in your opinion makes the perfect photo
Something beautiful, I know that sounds crazy, but I just want to create beautiful photographs, and if these evoke emotion, then I think that is a job well done.
What is your favorite photo that you have taken
It's actually a snapshot I took at my sister's wedding over five years ago. It is a photograph of my other sister and my grandfather. It's a beautiful photograph, of a beautiful day of someone I miss very much. And I think it shows how precious photographs are.
What advice would you give couples when choosing their wedding photographer
Make sure you meet for a consultation, you need to look through the photographer's previous work, you have to like their style but also you have to get along really well. They're with you for a big chunk of your day, so you have to click and have fun together.
Can you give me some information on your pricing structure
Prices start at £595 and range up to £1295 depending on the package. Most prices are bespoke depending on length of time, distance travelled and additional things like albums and my pop up photo booth.
At each wedding I also take a couple of Polaroids for the couple to keep, this comes with the finished package I send to the Newlyweds.
What is your ideal way to spend a day off
Doing nothing! Wearing my cat pyjamas all day and binging on films or the latest TV show I've become addicted too!
What can you never leave the house without
My notebook, It contains all my ideas for different shoots, from locations to quotes.
Who would be your 5 dream dinner guests dead or alive
Grace Kelly, Goldie Hawn, James Stewart, Alfred Hitchcock and Wes Anderson.
What would you do if you won the lottery
Travel around the world, with my Polaroid camera!
If you weren't running your business, what would you be doing
As cheesy as it may sound, I couldn't imagine doing anything else right now, this is exactly where I want to be and what I want to be doing.
SPECIAL OFFER
There are so many themed weddings I want to photograph and venues I want to shoot at, so I'm offering £200 OFF 2016 full day wedding packages.
A full day wedding photography package with me includes:
Me for the full day, covering bridal preparations up to first dance and a little bit after.
All of the edited high resolution photographs on a wooden USB.
Full printing and sharing rights.
An online password protected gallery so you can share with family and friends.
A consultation before the big day.
Choose between either an engagement shoot or my pop up photo booth for the evening of your wedding.
A couple of instant Polaroids.
A 12×10 enlargement of one of your wedding photographs.
You'll get all of this for my special offer price of £795!
To find out more about Michelle Huggleston Photography
www.michellehuggleston.com / www.michellehugglestonphotography.zenfolio.com/blog / FACEBOOK /  @MHuggleston / I: mhuggleston / PINTEREST