Happy Friday everyone, I hope you are excited for the weekend? I certainly am! Today we are back with our good friends Alex and Lisa from 2 People 1 Life. It's been a few months since we have joined them for a wedding, so it's great to see them again and carry on their worldwide wedding journey. Alex has been poorly over the last few months which has put their wedding planning on hold for a while, so I'd like to wish him all the best and a speedy recovery.
Last time we met up with them both it was for Wedding 66 – A Beautiful Ceremony in Pakistan and it really was a stunner! Today we are in New Zealand and this is one of my favourite weddings to date, The views are outstanding!
(In case you have missed the whole story, Lisa and Alex have spent the last two years travelling round the world getting married in every country they visit, you can read more about their adventures HERE.)
The morning of the wedding got off to a flying start with a radio interview,Chatting with Henry and Margot at MoreFM was actually very relaxed and easy and by the end of it we were pleased to be up and about. The next stop was Hush Spa to have my nails painted and as we all tried to decide whether 'marsala' was more red than purple I once again realised that the nerves were beginning to build in my tummy.
As we drove along the only road in and out of Queenstown we pondered living there. Nestled among the mountains, perched on the edge of the most mesmerising blue rushing river and surrounded by indescribable beauty… we decided that the laid back pace had an incredible draw. We popped into the Supermarket to stock up on New Zealand booze, not hard to do as they make all manner of the stuff.
Trying not to look like I thought I might be about to die of a panic induced heart attack it was time to get into my dress. Trudy and her team at Nemo Workroom had made me the most beautiful dress, simple and elegant with a stunning dusty pink vintage lace skirt and what can only be described as a Disney Princess neckline and I loved it. Alex was dapper as always in his Omen Suit and tan boots and I opted for a pair of Trudy's worn in boots to accompany my dress too…all in the name of staying rustic of course…not at all because I was about to get in a chopper! Alex waited for me in the garden and I crept down the stairs and hid behind a tree as he turned for the 'first look' at my dress clutching his 7th coffee of the day. It was such an exciting, emotional moment.
A first for myself, Alex and Joe we sat in nervous silence until our pilot came over and tried to take our minds off the entire thing with a quick safety briefing. Strapped in to what can only be described as the front seat of a goldfish bowl with glass above, below and in front of us we adorned our head sets and within minutes we were in the air. I immediately forgot my sick bags and mints and that I had ever been worried, it was so damn cool!
It was quite honestly the 'coolest' experience in the world ever and as we dipped and turned, skimming the top of a mountain to land on the putting green I couldn't have been more in my element! We spent an hour drinking in the views all around us, clambering up on the precarious rocks and whacking a few balls as the world below us carried on with its business. I couldn't wait to get back in for another go in the helicopter and as we landed back at the airstrip I was ready to sign up for flying lessons…alas, we had a wedding to get to!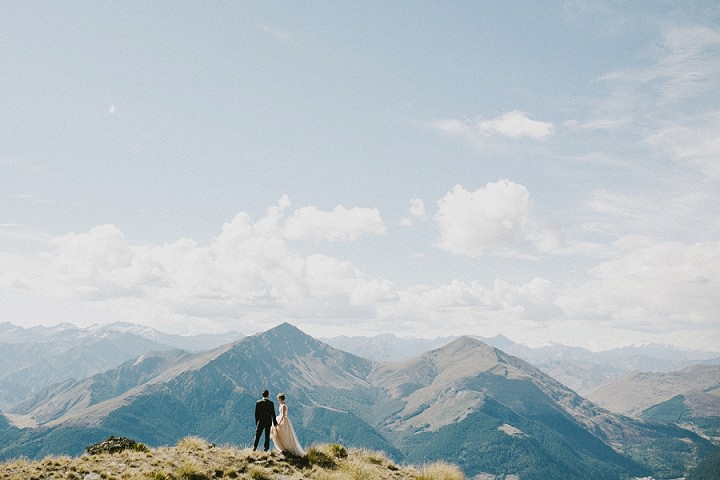 I would normally be worried about the boat thing but after being in the chopper I felt like I could walk on water so I looked forward to the crossing as we boarded and were greeted by our guests, our saviours…the fair people of Queenstown that had made all of this happen.
A huge bonfire of gorgeous driftwood had been erected, strung along with lights and an arch stood firm, waiting to accept us as we exchanged our vows for the 67th time.A stunning wedding in Queenstown New Zealand. After 56 countries and 66 ceremonies you would think that not much could shake us but experiencing Joe's welcome, the Maori 'Mihi Whakatau' at the beginning of our New Zealand ceremony brought all of our senses to life. The hairs on our necks stood to attention, our eyes prickled with tears and even the wind bowed down and took a back seat for a while.
We felt that us being welcomed with the 'Mihi Whakatu' was the most natural and beautiful blend of two cultures we have ever experienced. It was an awakening and at the same time a perfect encapsulation of what we are doing. As Westerners we were being welcomed to NZ and invited to learn, love and partake in a small part of Maori culture. Nothing more, nothing less. Just a respectful and powerful welcome that we could feel all the way to our bones.
We had had somewhat of an epiphany during our recent 6 month sabbatical which had given us the time we needed to reflect on our trip, to revisit and remind ourselves what we are doing and why. We are trying to experience wedding cultures and traditions as close to real life as possible so as to further understand the meaning of the importance of two people committing to spend the rest of their lives together. It was with this in mind and after much research, discussion and talking it over with Emily that it became evident that having a solely Maori ceremony would either become very touristy or a kind of diluted version of the real deal. As is the case in many cultures, the Maori ceremonies are for the Maori and we absolutely understand and respect that.
With all of this in mind, Emily and the Queenstown team had realised our dream of a wedding in Queenstown New Zealand including beautiful heartfelt elements of Maori culture with style and aplomb. They just 'got it' and they absolutely nailed it.
Alex and I had decided to walk down the aisle together and as we clutched each others arms the wind whipped around us on our path to the aisle. We made it to the arch where Joe was waiting to welcome us Maori style and as he raised the Putatara to his mouth and began to play, all of the malice dropped out of the wind and a gentle breeze took the haunting  melody over the water and into the surrounding mountains…I'm sure you could hear it for miles. It raised the hairs on my neck and arms and as Joe began to welcome us in Maori the tingling continued. His voice commanded the attention of all; the guests, the water, the wind, the spirits and that lump you get in your throat when you are on the verge of happy tears. The Mihi Whakatu was compelling and as Joe translated it for us I realised the privilege we had been offered.

The welcome complete we were offered Maori inspired cloaks to wear for the rest of the ceremony. Alex's was a Hieke-Whakatipu (dress rain cape) and mine a Korowai ( a formal feathered cloak ). Mine was absolutely the BEST! It was covered completely in beautiful feathers and had a heavy embroidered band and I never wanted to take it off!

We were pronounced 2people1life to cheers from our guests, giggles from us and Emily, bleeting from the sheep and the melody of Milly's voice as we walked back up the aisle. The wind seemed to realise that Joe's hold over it had lifted and picked up with true force all over again. We were greeted and hugged by everyone as they went inside to shelter from the brewing storm and Joe took  Alex aside to shake his hand, but in the Maori way; with the 'Hongi'. The Hongi is atraditional Maori greeting where two people touch their noses and foreheads together. During this interaction, the 'ha' (or breath of life), is exchanged and intermingled. The breath of life can also be interpreted as the sharing of the two peoples souls. Alex and Joe both closed their eyes and breathed in the same breath and as they parted Joe explained that through the exchange of this physical greeting, Alex was no longer considered 'manuhiri' (a visitor) but rather 'tangata whenua', one of the people of the land.
With our eyes once again filled with tears…ahem, I mean sand, and our hearts filled with love and acceptance, we retreated into the wool shed where tables were covered with freshly sheered wool, adorned with beautiful  flowers, candles and the most incredible cake you have ever laid eyes on! The uber stylish amazing travelling photobooth was well under way and we made a beeline for the silly hats, moustaches and glasses while the wind dropped so that we could take a few pictures and shoot some epic footage without disappearing Mary Poppins style.
We whiled away the evening cutting and devouring Jaimies incredible naked cake and swapping stories with everyone who had come together to make such an incredible experience possible. The bonfire was lit and we all laid on blankets under twinkling lights and watched the sun drop behind the mountains to go bring everyone else in the world the day we had just had. Milly sang a welcome to the stars and finished our perfect day with a fire dance dance by the waters edge.

Everyone had worked so hard and had succeeded in creating such an incredible wedding in Queenstown New Zealand. The blend of Maori and Kiwi culture felt right, the venue was just perfection and like New Zealand itself, the whole day was just beautiful and relaxed. As we sailed back towards Queenstown under a blanket of stars we realised that the wedding perfectly reflected our entire New Zealand experience. Beauty around every corner, a heartfelt welcome and a laid back approach to a celebration of love and commitment.
What more could anyone ask for?
Supplier Shout Outs
Dress – Nemo Workroom | Suit – Omen Suit | Make-up – Road to Beauty | Cinematography – Humdrum Films | Photography – Emily Adamson | Flowers –  The Vase Fesh flowers and Foliage | Nails – Hush Spa | Helicopter – Over the Top Golf | Celebrant – Kathryn Omond | Boat transport – Southern Discoveries | Wedding Venue – Mount Nicholas Station | Stylist – One Fine Day | Naked Cake – Cup and Cake | Photobooth – The amazing travelling photobooth | Music – Milly Bea | Fire Dancing – Flame
TO FOLLOW LISA AND ALEX'S JOURNEY GO TO
www.2people1life.com / http://2people1life.com/blog / FACEBOOK / PINTEREST / T:@2people1life / I: @2people1life
If you have missed any of the previous weddings you can catch up HERE