Todays wedding is a real cracker and it's one that is quite personal to me. As you know I got married in Ibiza over 6 years ago and this is the location of todays wedding. Strangely though when Nik, Dexter and I were on holiday in Ibiza in May we stumbled across a rather gorgeous beach bar where we had a late lunch one day. While we were there we discussed that the venue would be a lovely place for a wedding, right by the sea, off the beaten track and lovely food. Well a few months later I was looking though my blog reader and up pops this particular wedding from my good friend Jon from S6 Photography, which low and behold took place at this particular beach bar. Straight away I emailed Jon and told him I had to feature it! Such a small world, it turns out this wedding tool place only a month after our holiday. Such a stunning venue and an equally stunning wedding. Great work as ever from Jon.
'It was the most amazingly happy emotional and joyful day. It was relaxed and chilled out to begin with a cool soul / disco vibe in the evening'
Lisa and Ian were married on Thursday 18th June 2015 at Ses Savines Restaurant and Beach Club, Santa Eulalia, Ibiza. 'We decided to get married in Ibiza because we both LOVE Ibiza and met there in 2013. We had 75 guests in total and it took around 12 months to plan.'
How they met
We actually met on Ibiza in 2013 so knew each other for 2 years before we married. I had been working and studying part time for a Masters degree. I literally handed in my dissertation and then flew out to Ibiza with 5 girlfriends to relax and party (yes, we somehow managed to do both)! I met Ian on our last night in Café Mambo. He works away in Iraq and so we really go to know each other over the phone for the first month as he flew to Iraq the week after we met.
The Proposal
We went back to Ibiza the following year (I did say we both LOVE Ibiza right) and Ian proposed in café Mambo where we had met. If I am honest I somehow thought that time would stop, there would be a romantic type of silence and you would hear the other person slowly and clearly … but honestly it just wasn't like that! It was wonderful of course and I said yes without hesitation.
How did you allocate your budget
We had a rough idea of a budget and knew straight away that we would spend the most money on the food, drinks (as our friends and family had travelled so far to be with us we didn't want them to have to spend any money on the day), the photographer and the music \ DJ. The reason I don't mention venue (and this was very important) is that the price for this was tied up in the food and drink spend.
How did you choose your photographer
The lovely Jon at S6photography! I was looking on Instagram one day and a post came up from a florist with picture called 'A Beautiful Disaster'. It was of a bride and groom at their wedding, with their feet in 6 inches of dirty rainwater and looking so utterly happy and unaffected. I loved how this had been captured (to me it was really saying that nothing else matters on the day but to feel happy) so I immediately Googled the link to the photographer, S6photography and found Jon. I loved his work straight away and it was also important that he was local (kind of – Jon is based in Sheffield and we are Nottingham) as we wanted to use suppliers local to us as well as Ibiza suppliers. When I got in touch he explained that the picture I had seen had just gone viral and he was going to be on GMTV that week! It really wasn't his new found celeb status though. Jon came across and warm, genuine and clearly very talented so I knew immediately he was the one we would go with and I didn't look at anyone else before or after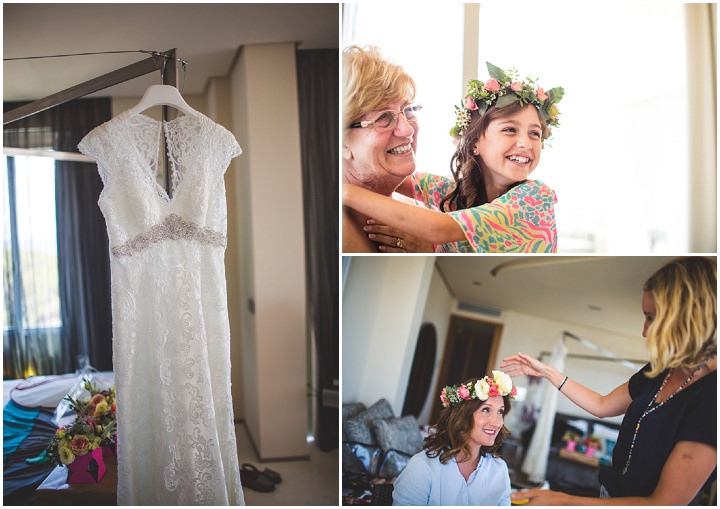 The Dress
My dress was by Private Label by G, Kenneth Winston. My shoes were handmade / bespoke by a company called Pretty Small Shoes. I have tiny feet and find it difficult getting every day shoes never mind special ones! I chose a really simple satin court shoe. My flower crown was made by a local florist in Santa Eulalia. I kept my jewellery accessories really simple and wore a silver heart shaped necklace, which Ian had bought me when we first started dating and a very delicate handmade silver bracelet that my friend Andrea had made me which said 'happily ever after' hand embossed on little tiny silver discs.
The Suit and Bridesmaids
Ian's wore separates from Hugo Boss, a light blue linen jacket, white cotton shirt, coral tie and natural linen trousers. Even his stripy socks were styled by the Hugo Boss guy Lee Honey (what a fabulous name)!
Catherine my Bridesmaid had her dress made for her by a lovely local lady called Kay. It was a bespoke design based on something Kay had designed before incorporating a mermaid theme, which Catherine wanted as she loves mermaids and would love to be one! I wanted her to be involved in how she would look as I wanted it to be special for her. Watching Catherine go through the process of seeing her dream dress being made and then seeing her so happy on the day was one of the most special parts of the whole thing for me.
Theme or Colour Scheme
I just wanted it to look fresh and in keeping with the beautiful environment we were surrounded by. I thought the colour scheme would take me ages to decide on but after looking on Pinterest I knew almost immediately that we would have coral, peach, crisp white and green / light blue. I understand that details and themes are incredibly important for some people (and rightly so, it's such a personal thing organising your wedding) but for me it was just about the whole day feeling 'like us'.
Flowers
I sent a picture of the flowers I loved to the wedding events coordinator and didn't see them until the day. I had no idea if they would be right or if I would be happy with them but I decided I wasn't going to worry about it. I needn't have worried though as they were absolutely gorgeous. I am not sure what all the flowers were but I know there were peonies in there! Lots of soft coral peaches and green. I LOVED them!
Decoration
We didn't go for lots of decoration as the venue and location were what made the look and feel of the day. It was such a beautiful spot. We did have silver hurricane lanterns, glass tea lights and retro light-bulb style bunting lights in and around the trees.
Food
We had several different canapés served straight after the ceremony including Iberian ham, Coca bread with tomato, Cured sheep's cheese, Veal Carpaccio with foie and truffle oil and Spanish style prawn cocktail. The starter was homemade tomato soup served with fresh bread. For the main course we had Beef fillet with spicy pepper sauce, gratin potatoes and Mediterranean vegetables or grilled fresh tuna with soya reduction and vegetable tempura. For dessert we had fresh fruit salad with tangerine sorbet.
Wedding Cake
We chose tiny cheesecakes decorated with gold glitter in keeping with our disco theme! But despite not having a cake we had the most wonderful cake toppers. Little wooden hand crafted versions of Ian, Catherine and I created by Gail at LittleThem. They were awesome! We love them so much. We gifted Catherine's to her as part of her gift for being our bridesmaid and had another emotional moment when she said with such sincerity 'I am going to keep this for the rest of my life'. It really is like holding a little version of you. So unique and special.
Entertainment
We had a fabulous Spanish Acoustic Guitarist called Dan who did two sets just before and just after the ceremony. We then had the most amazing DJ Louise Yellowlees who did a really funky, soul disco set for us.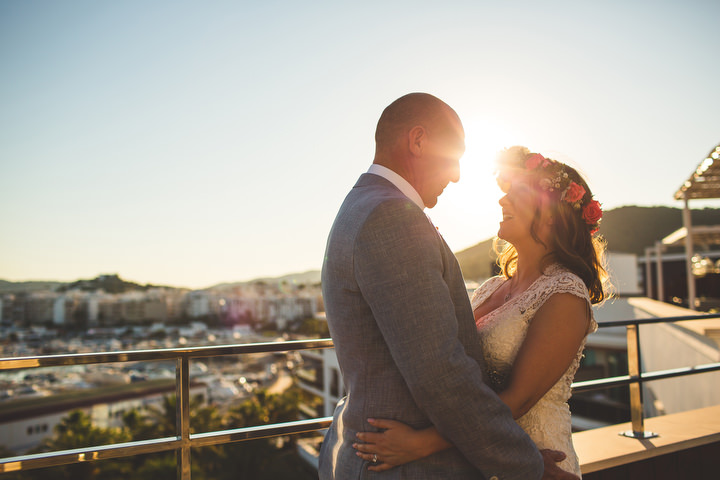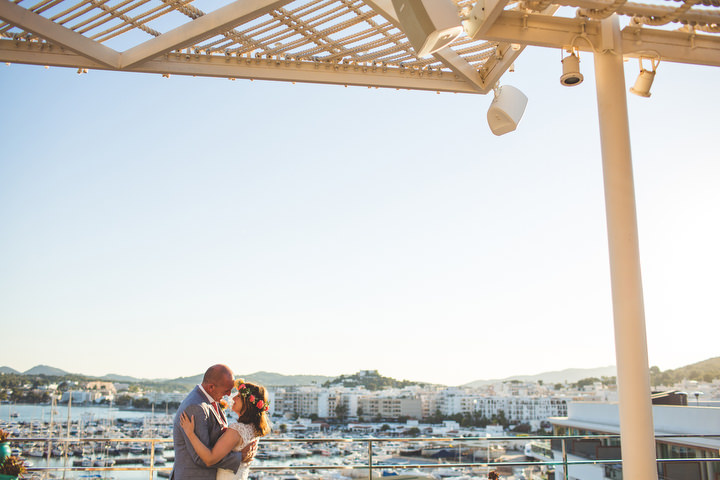 The Stationery
I sourced the stationery designers / developers at the Birmingham NEC show and they turned out to be based a couple of miles away from my home! This was really important as I wanted to stay local with having the wedding so far away. I have to say Eaton Stationery were amazing and I can't overuse that word enough with them. I liked a hand drawn design of theirs and they worked this up to make it personal to us. They designed and developed a bespoke set of stationery including invites, maps, place settings, super duper handmade glitter table numbers and then eventually the thank you notes (they even sourced the boxes for this, the tissue and tape for me). Everything was personalised to each guest.
Personal or Handmade Touches
We really didn't go big on the little details as I mentioned before. For us it was about a fabulous location, great quality food, plenty to drink and amazing tunes surrounded by our family and friends. That isn't to take away from anyone who makes such an effort with the details though as I personally love to see them. The Little Mr&Mrs were one of the most special touches (see above)! I think everyone was as taken with them as we were. We did send out little maps, which were hand drawn highlighting where we met, where we kissed and where we were getting married. For our thank you's we sent everyone an inconspicuous little brown box which had inside a Sal de Ibiza salt shaker wrapped in gold tissue and bespoke cards for each person with the map saying that we got married! We wanted our guests to have a lovely reminder of the day and for them to receive a gift to say a huge thank you for coming so far to see us get married. It was without a doubt our friends and family who made the day feel special.
Special Moments
Oh there were so many! Waking up with Ian on the day and spending a few moments together thinking about the day ahead before we separated to meet again at 5pm (we didn't feel we had to stick to tradition on this). Seeing my Brothers (who both gave me away) in the morning and (me) having an emotional moment and them lovingly but awkwardly patting me on the back and giving me one of those stiff Bro type hugs whilst checking that I still wanted to go through with it! Seeing the sheer joy and excitement of Catherine all day from start to finish, she made my day. Seeing all my family and friends turn round to wave at me as I waited to walk down to where they were. Looking into Ian's eyes and knowing what love really feels like, like nothing I had felt before.
Advice to other couples
I got some great advice from my lovely hair and makeup artist Lianne at Dream Reflections, our photographer Jon S6photography and our stationery expert Lucy at Eaton Stationery. They really are the people to listen to as they have so much experience but they were all so cool, kind and wise at the same time.
So best bits of advice to pass on would be …
Don't try to control everything – it's not possible. What will be will be. People don't notice the details as much as you think they might.
Don't think so much what 'theme' to go with but think of who you are as a couple, what do you love, what epitomises you two and then go with that.
If it's possible don't surround yourself with lots of people when you get ready. I had my Niece, my Mum, my makeup artist and our photographer. It was calm, chilled and relaxed and just what was needed.
Try to take the time to take in as many moments as possible. The day goes so quickly (ours started at 5 and finished at midnight – well 3am by the time we moved from the rooftop bar) so we wanted to make every moment count.
Take time to be with your Husband / Wife on the day but don't underestimate how much you will be apart making sure your guests are having a great time. We were sure we would be glued to each other all day and weren't at all. Spending the time together in the morning and then having a nightcap together on the rooftop terrace of our hotel was lovely.
Biggest surprise
Feeling so relaxed and happy! It might sound odd but I wasn't sure I would really enjoy being the centre of it all, having the 'laissez-faire' approach helped with this. When I saw my friends and family waiting by the sea and they looked up I automatically waved (no traditional keeping out of sight for me clearly!). It was lovely to see them all smiling at me and it immediately put me at ease. Oh and how many people said yes to coming all the way to Ibiza to see us get married, we were blown away by how many people wanted to be there.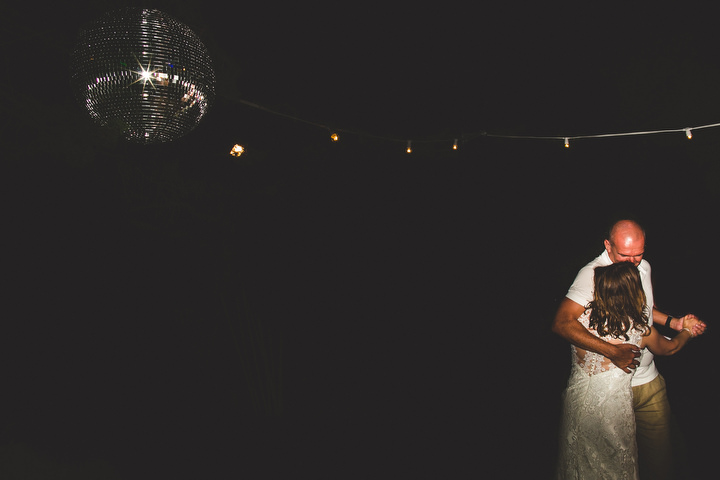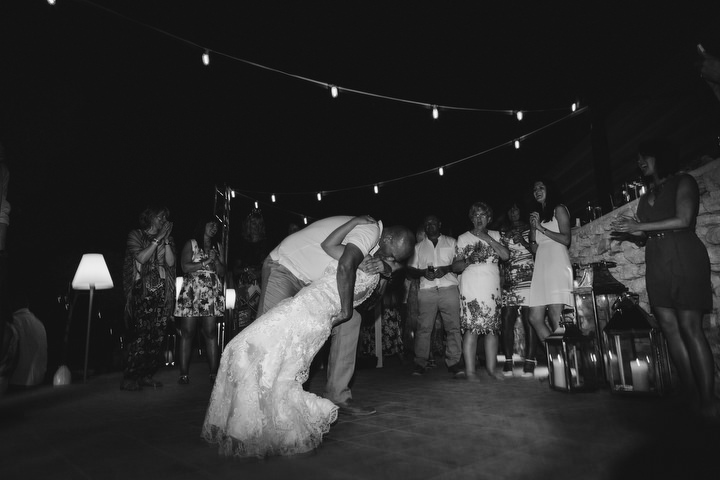 Supplier Shout Outs
For more information on S6 Photography go to:
www.s6photography.co.uk / www.s6photography.co.uk/blog / FACEBOOK / T:@s6photography I: @s6photography