Todays wedding is a 1950s extravaganza, a gorgeous mixture of fun, colour and DIY projects. Helen and Sam are big fans of everything rock and roll, from the clothes to the cars, to the music and they wanted to reflect this love through their wedding, and so they did! With amazing outfits, fantastic entertainment, a gorgeous Chevrolet, and so many little vintage touches and handcrafted projects, this wedding oozes personality and 50s style. Thank to Kirsten Platt Photography for the images.
'We had a 1950's hoedown! A day filled with all the people we love, sunshine, good music, doughnuts and whiskey'
Helen and Sam were married on 27th June 2015 at Kendal registry office followed by a reception at the Bryce Institute in Burnside.  'We live in Kendal and both love it here, we're surrounded by hills and countryside. We wanted a venue for the reception/party that would allow for dancing and live music and our local village hall seemed perfect.  We had 140 guests and it took a year to plan.'
How they met
We met soon after finishing art school in Norwich in 2007. Two mutual friends thought we might get on well and introduced us at a BBQ,we have been together ever since! Just over 7 years in total.
The Proposal
After a night of dancing and good times at the Rhythm Riot 2013 (rock n roll weekender) in Camber Sands, E.Sussex, we'd just arrived back at our chalet and Sam surprised me with a ring and a question!
How did you allocate your budget
The main priorities were good food and good music.
Where did you splurge and where did you save
Splurge: the catering. Save: I'm an illustrator and screen printer by trade and produced the invitations and name cards for the tables and colouring in sheets for the kids. I sewed 500ft of coloured circles together to decorate the hall, dried flowers for confetti, made fruity gin for favours and screen printed little labels for the bottles. Where possible we did as many tasks ourselves as we could!
How did you choose your photographer
We've know Kirsten for a couple of years and have seen so many great photos that she's taken. Kirsten's partner Ray plays upright bass in a band called the Del Rio Ramblers, we see them play live regularly and have a good catch up with Kirsten when we do. I am not so keen on having my photograph taken, quite camera shy! Kirsten is such a natural I just felt completely at ease in her company/in front of the lens, and the wedding photographs prove this!!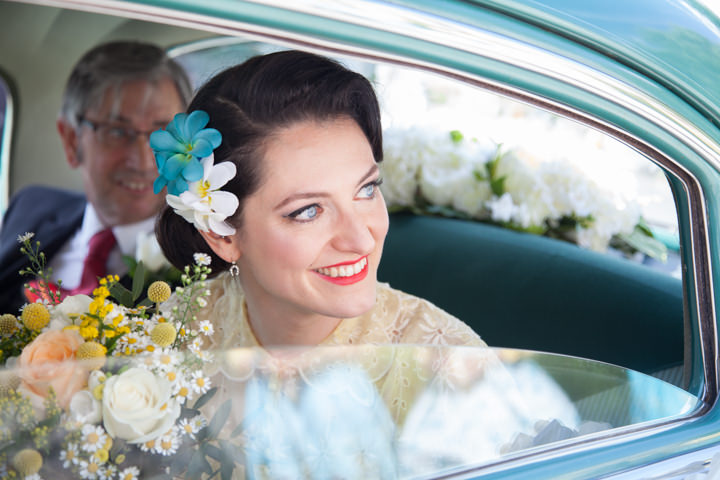 The Dress
My dress is a vintage number from the 1950s that I found on Etsy from 'SusieQsFlashback.' I had a matching 50s yellow handbag also from Etsy from 'PartyPoodlesVintage'. Made to measure petticoat, Hair flowers. Jewellery, I wore a pair of my Grandma's earrings, little silver horseshoes. I had a beautiful pair of turquoise leather heels.
The Suit and Bridesmaids
Sam's suit came from Ebay, an early 1960's western suit. He also had a pair of shoes, two tone brown brogues. For himself and his best men Sam had a western neck tie made in a pale brown silk with a 'H' embroidered on one side and an 'S' on the other with little music notes all in turquoise thread. The ties were made by Fort Lonesome in Texas.
The bridesmaids each wore a dress from an Australian company called Retrospec'd who produce really nice quality 1950s reproduction clothing. Catherine, Kate and Nat each had a similar dress in a different printed fabric, in various shades of blue, with a pale yellow cropped cardigan. The girls chose their own shoes.
Theme or Colour Scheme
With my dress being yellow and my shoes turquoise (I bought my outfit quite early on) yellow and blue seemed to inform what the bridesmaids wore and the choice of flowers we had. The car and bus we hired happen to match too! For the stationery and the hall decorations we opted for lots of colour, the more the merrier!
Flowers
I asked a good friend of mine Jess Jenner if she would prepare our flowers. Jess has completed a number of courses in forestry and is keen to make a career in the field of event forestry. We spoke several times about my preferences, yellow and white became the theme for the bridal party flowers with roses, freesias and daisys amongst others. For the hall we asked if Jess could make the colours vibrant and varied, I'd been collecting large glass jars for a while to put on the tables. Jess made some fantastic displays of colour, with dhalias, sweet williams, roses and many others.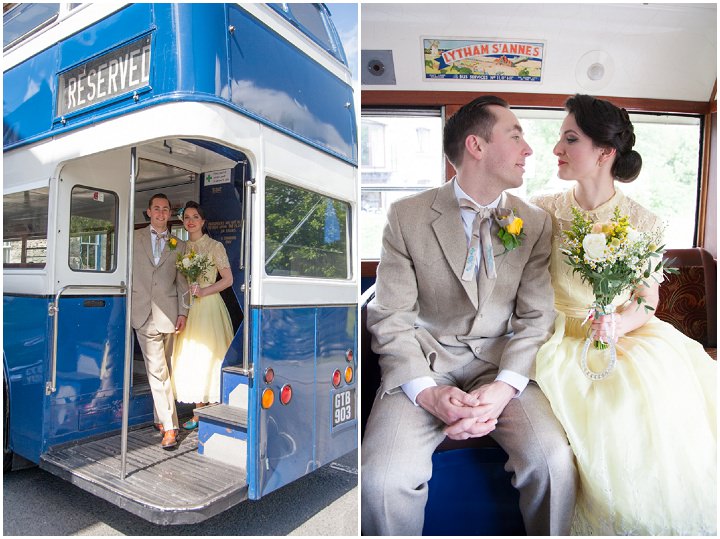 Decoration
The night before the wedding a big group of our friends and family helped us dress the hall with the colourful tissue paper garlands I'd stitched together, lots of colourful balloons hung on the walls and colourful paper fans hanging from the balcony. We had long strings of fairylights in the entrance hall and two bright turquoise planters at the main doorway that I planted up with lots of colourful flowering plants. In the main hall there were various ledges along the side walls, to fill these spaces I filled empty bourbon bottles with fairy lights and tied a large helium balloon to each bottle to float in the air, we had cacti, cowboy boots and horse balloons, and more of Jess's lovely floral jars. For the tables I bought cotton bandanas in every colour to use as napkins, these worked well with the colours of the paper hanging decorations. Later on it was fun to see people wearing the bandanas as neckerchiefs, headscarfs and banditos!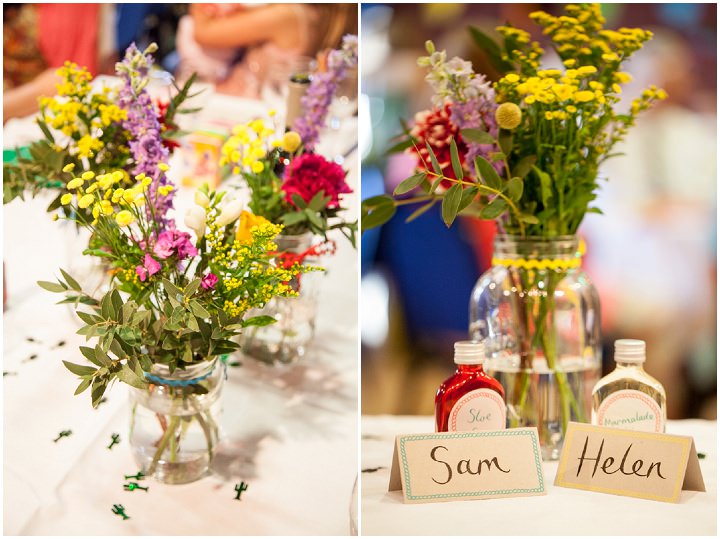 Food
We had a BBQ with lots of tasty salads. In the evening we had pizzas.
Wedding Cake
A tower of doughnuts, lots of different flavours! Served with a shot of Jack Daniels Tennessee Honey in a cowboy boot shot glass.
Entertainment
The Del Rio Ramblers played for us with Mitch Humphries as guest singer. They're a great band, one of our favourites, playing western swing, 50s country and hillbilly music, they were fantastic! A good friend of ours Danny Horigan also dj-ed in between sets playing lots of 1950s rockabilly, rock n roll and hillbilly tracks, with a few classic rock numbers thrown in for good measure.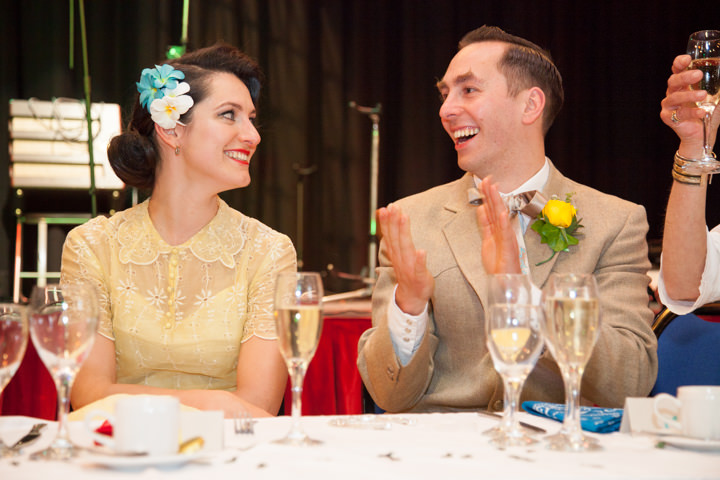 The Stationery
I work as an illustrator and designed and hand screen printed all of the stationery, including western themed invitations with matching envelopes, labels for the homemade fruity gin favours, name cards for the tables and cowboy boot colouring in sheets for the children.
Personal or Handmade Touches
We did it all ourselves! Alongside designing and printing the stationery I really enjoyed stitching together 500 tissue paper circles in lots of bright colours, to decorate the reception hall. I also spent 6 months drying rose petals to use as confetti and made 5 litres of damson, sloe and marmalade gins and blackberry vodka.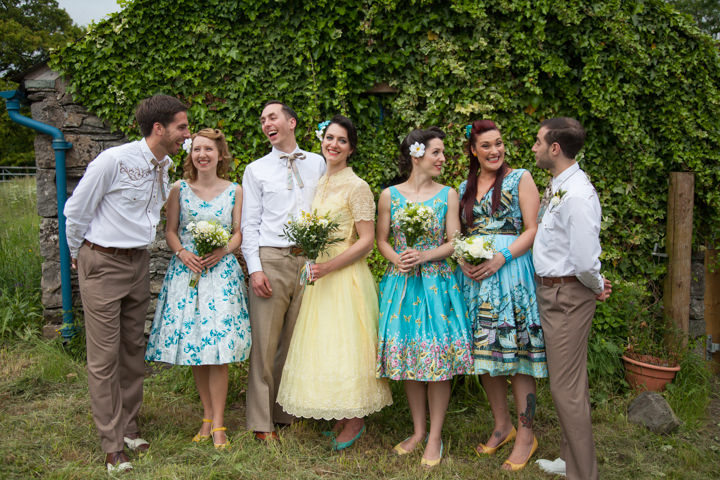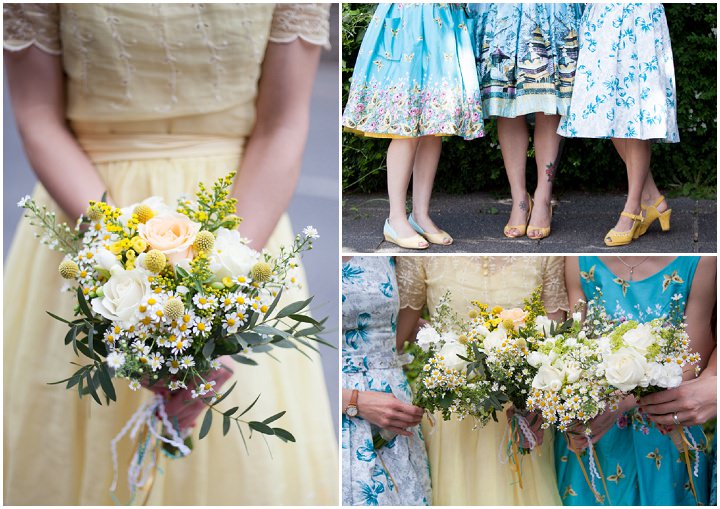 Special Moments
The entire day was very enjoyable, but I especially enjoyed the ceremony and the drive in the beautiful blue 1954 Chevrolet that we'd hired as a wedding car. The live music and dancing with all our good friends in the evening was also a highlight. It was very special to have all our family and close friends together for such a fun party.
Advice to other couples
Our wedding was not a particularly traditional wedding, we included elements that we thought were important. At the beginning we sat down and worked out what we'd like the day to involve and what didn't seem relevant to us. I think it should be a day to reflect the couple and their personalities and interests. Sam and I are both creative, we both went to art school and enjoy making things ourselves, I think this had a big impact on the day. On the actual day I would recommend standing back from it all from time to time and just taking it all in, it will fly by in no time at all!!
Biggest surprise
The weather!! It was a beautiful sunny day, the week previous and the days following were all grey and rainy. We were extremely lucky!
Supplier Shout Outs
For more information on Kirsten's work please go to:
www.kirstenplatt.co.uk / www.kirstenplatt.co.uk/blog / [email protected] / 07779950599 / FACEBOOK / T: – @KirstenPlatt1 / I: – @kirstenplatt / PINTEREST