Happy Monday everyone and how are you all? Did you have a good weekend? I am back from a rather eventful holiday in Ibiza and ready to get cracking on the blog again. The normal scheduling is back so we are on to our normal 2 posts a day! I am starting off the week with this cracking punk chic wedding. Cristina and Luigi chose a red and black wedding day with cup cakes a plenty and beautiful black and white cake. As Cristina has bright red hair she chose to use this in part of the decor. With retro touches, and the wedding guests dressed in vintage attire, this wedding really is something special. Thanks to Maria Bryzhko for the images.
'A party with friends, cocktails and cupcakes, punk rock music and lots of fun – and a wedding, too. A punk-chic, retro inspired jump in time that I would do a million times again.'
Cristina and Luigi were married on 19th October 2014 at The Oak Tree of Peover – Lower Peover, Knutsford, Cheshire. 'We instantly fell in love with the lovely ceremony room they have, because you can just get the perfect light in there! Also, it feels amazingly cosy and welcoming with all the wooden details, and the green outside is just the cherry on top. We had 72 guests in total and it took five months and three weeks to plan (don't try this at home.)
How they met
We met at AMC Empire Cinema, Times Square – New York, queueing for the première of 'Inglorious Basterds' by Quentin Tarantino. The fact that we are both Italian and from two different parts of the country just adds up a touch of awesomeness to the matter, I guess. We have been together for five years and six months now, which start from just a bit less than couple of months after that night.
The Proposal
Yes, you might want to hear about this. We were in Tokyo, April 2014. The groom thought about this epic romantic thing where he declares himself (in japanese, with the help of google translator's vocal recognition) in the middle of Sakuradori -cherry tree avenue-, in Ueno park. Except that there were no cherry blossoms left on the trees, and Sakuradori is actually a pretty creepy graveyard inhabited by ginormous and evil looking crows. A sign tells to not leave any stray cat there, because crows will eat them (true story). Very cross at the events not cooperating with his plan, he then resorts to propose in a maid cafe in Akihabara (which is an absolutely frightening experience for a number of reasons, by the way) and proceeds to the part of the plan where he asks google translate the question in Japanese so that I could read it translated in English on screen. Except he forgets the pretty useful interrogative particle, and the screen quite imperatively tells me 'You marry me.' – how could
I say anything but 'yes' to all that?
How did you allocate your budget
Venue, flowers and catering for the reception took the most of it, since I went almost full on diy for decorations and all the other bits.
How did you choose your photographer
Other than being two very good friends, they are two amazing artists who can create wonders with their camera and incredible way of looking at the world. As a photographer myself, I would not have trusted anyone else for the day. Need I say more?
The Dress
Half of it belonged to my late grandmother, who used it for her wedding in 1960 and was not altered at all. The top bit was handmade for me by a very good friend to replicate the same model of the original in the right size to fit me.
The Suit and Bridesmaids
my one fantastic bridesmaid wore a 1950s style dress that matched the colour scheme and the retro theme of the wedding. The groom went for a formal dinner suit which made him look classy as heck
Theme or Colour Scheme
When your hair is fire red, and you are in love with anything 50s, the rest follows pretty much accordingly. We asked the guests to wear 50s inspired clothes and accessories too, to make it even more a jump back in time.
Flowers
Red roses, ivy and white orchids, basically both in my bouquet and on the tables
Decoration
Retro-looking bird cages filled with flowers on the tables, tealights for the evening. Lots and lots of vintage props on sticks for lovely silly photographs, red ribbon on white covered chairs, vintage crockery for the afternoon tea reception.
Food
Vintage inspired afternoon tea with lots and lots and lots of very yummy savoury and sweet bites, sandwiches and great drinks provided by the incredible Vanilla in all Seasons, Macclesfield. Later in the evening there was a wonderful red velvet cake with hand-piped lace decorations and about a hundred cupcakes by Cherry Blossom
Bakery, Macclesfield. Oh, and even later a fantastic meat carver service with handmade baps
Wedding Cake
As mentioned, a true work of art by Antonia and her mum at Cherry Blossom Bakery, Macclesfield. Three-tiered red velvet cake with three different fillings (vanilla, chocolate and raspberry and lime) with the most gorgeous hand-piped black lace decoration! Oh and don't even let me get started on how yummy all those cupcakes were.
Entertainment
An incredibly vibrant live band that made us all dance until we dropped
Buy or DIY your Stationery
With the help of amazingly skilled friends, every bit of stationery starting from the invitations down to the pieces for the table was diy
Personal or Handmade Touches
We designed the table markers with drawings of cats that have been important to us so far, in adventurous or glam situations. DIY printed and mounted, as well as the table setting tableau, the invitations and the name markers for every guest. Playlist for the day, before the band arrived (including the theme From 'neverending story' because we are geeks like that.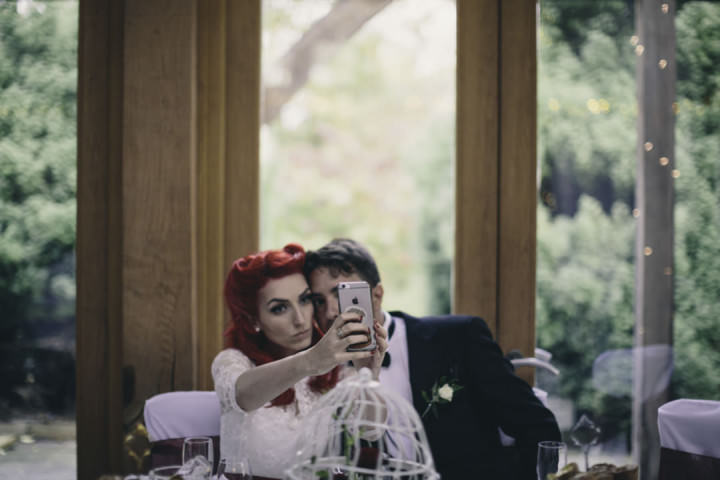 Special Moments
I just simply cannot choose a special one, the whole day felt like daydreaming and living an incredible emotional rollercoaster with all our families and friends.
Advice to other couples
Do it yourself as much as you can, as it's incredibly fun and rewarding. Don't try and do it in leas than six months, because it will most likely drive you to insanity and back
Biggest surprise
You know when the groom gives you the ring, right? I wonder how many of them ever chose a quote from the Zelda videogame, to do that.
Supplier Shout Outs
For more information on Maria's work please go to:
www.carpuccia.com
[email protected]
FACEBOOK 
I'm based in Milan, Italy. I consider my photography kind of storytelling, I love telling stories about these couples. I want to show how I see them, how beautifully vulnerable they are during such a confusing day and the emotional storm everybody is in during a wedding.