A lot of my posts are the results of my brides asking for advice, this one is no exception. This particular bride has asked me for idea on her seating plan, she doesn't want the normal board on an eisel so I have done some research for her and come up with a bit of a selection. I started adding in a couple of escort card ideas, but realised that was a post all on it's own so I will cover escort cards another week.
I hope you like my section, if you like any in particular then leave a comment or if you have any other ideas then let me know about those as well.
Suitcase seating plan
This is one of my favourite ideas, and so quirky…yet easy to do if you have an old suitcase and a creative streak!

(image source rock my wedding photo by Robbins Photographic)


(image source grace and tailor)
Black Board
Thsi idea is perfect for anyone with last minute changes to their guest count!…plus it's cheep and easy to do.

(image source wedding chicks photo by emily faulknor)
Mirror seating plan
This along similar lines ot the blackboard, again it can be changed last minute (if written in the right pen) there are companies that do this for you, or you c0uld pick up you  own mirror in a 2nd hand shop and do it yourself!

(photo by anna clarke)
Washing Line seating plan
This is another great option if you are looking for something you can do yourself, you cab do it in many different ways, fabric, card, paper? I love this fabric option.

(seating plan made by vicky trainor at The Vintage Drawer)
Birdcage seating plan
Burdcages are verwhere at the moment, so why not incorporate this theme into your seating plan.

(available from Elle is for Love)

(photo by Jon Rouston)
A twist on the classic
These are seating plans are more of a variation on the classic idea, but each with their own quirkiness

(photo by Adrienne Gunde)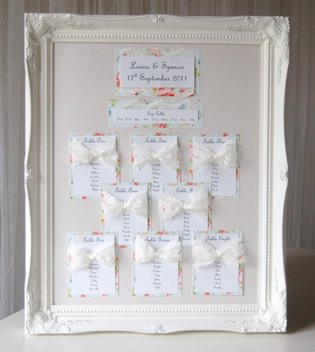 (available from made with love designs)

(hand painted designs available at knots and kisses)
Origami seating plan
This is definitely one if you are artistic or know someone who is artistic, very delicate and very very pretty!

(image source love and lavender photo by we love pictures)
Luggage tag seating plan
This idea can be worked in many different ways, this one in particular was to fit a village fete themed wedding.

(image source english wedidng photo by Jon Rouston)
Mirrored Acrylic seating plans
These works of art are made to order by Cutture the graphic has then been etched onto mirrored acrylic.
Button/sewing themed seating plan
This is a very DIY seating plan and could be made quite easily, it works for anyone having an arts and crafts style wedding

(image source green wedding shoes photo by Clayton Austin
Music Themed seating plan

(image source love and lavender photo by Lauran Murray)
Customised chest of draws
I think this is my favourite! and a great one if you want to add your won stamp on your seating plan. ld furniture is great at doubling up as a sering plan, you can really go to town or keep the styling simple.

(image source rock my wedding photographer unknown)
Photo Frames
This is another one of my favourites, easy to do and looks fab! collect photo frames, to match or go for a more eclectic look.

(image source Country marquees photo by Sarah Gawler)
A wish tree that doubles up as a seating plan
wish tress can start off as a seating plan before the guests start to write you their good luck messages.

(available to buy at paperbird design)
Themed and styled seating plans
You can really go to town if you have a theme or want to create a really styled look. All of the last three ideas are available for hire from  fine and funky events who work with purple peacock stationery

(photo by Karen McGowran)
So there you go I hope you like my selection of alternative seating plans andI hope you find it useful for your own wedding. Do let me know which one is your favourite.