This afternoon we are back talking about flowers with our resident flower expert, Tracey from Campbells Flowers. Flowers are such an important part of the wedding they really can add so much beauty to any wedding venue. However these days it isn't just the church, venue or tables that can be adorned with flowers, these days wearing flowers in your hair has grown increasingly popular. For that reason Tracey is going to be giving you her expert advice on different ways to make the most of this trend and create a look that works perfectly for your style.
I'll pass you over to Tracey……….
My heartfelt thanks to Kelly for giving us the opportunity to talk flowers with all you lovely Boho brides out there. Here at Campbell's HQ we're loving getting stuck into a busy wedding season, working with so many wonderful couples and crafting beautiful 'just picked' floral pretties to adorn our brides tresses on the big day.
Whether it's a simple selection of blooms woven into a relaxed up do or a ring of roses perched on a veil, the trend for rocking wedding flowers in your hair is undeniably on the up.
As a wedding florist we are increasingly creating hair designs for our brides. There are so many ways to do this, which can all be really personalised to you and your wedding choices. For us, the trend seems to go hand in hand with the move towards more informal, outdoor ceremonies and the whimsical, romantic look that has seen wedding flowers become much softer and less structured.
Nostalgia plays a big part too. Quite often a Granddad's allotment or a Nan's cottage garden are starting points for a lot of bride's wedding looks when it comes to the flowers. Woodland style floral crowns bursting with meadow type flowers and dried additions like wheat and barely work wonderfully with this look.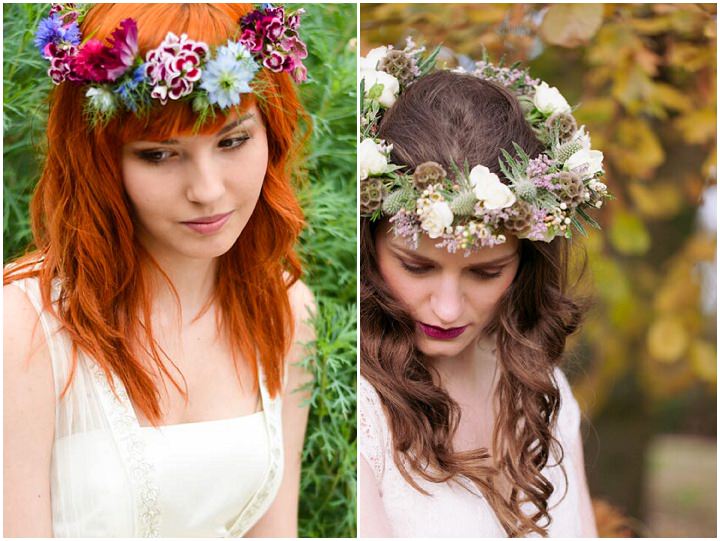 If you are looking to steer away from the woodland, whimsical nymph look, but still love the idea of adorning your hair with something floral a showstopper crown or headpiece with supersize exotic blooms like King Protea adds colour and drama. To really make an impact rock this over a veil- the contrast between the vivid colours, strong shapes and a delicate, ethereal veil is just stunning.
Or for a touch of the exotic on a smaller scale you could try a cascade of one stunning bloom to add texture and colour, such a cymbidium orchids. This makes for a glamorous, but still very pretty and feminine look.
Increasingly bridal hairstyles are also leaning towards a boho look that is ideal for flowers. Tresses that are perfectly topped off by a crown include long, soft beach waves, while messy up dos can really come alive with a selection of wired blooms that hairdresser can work into the do. If you work with your florist to carefully choose a selection, they can help you pick flowers that will really compliment and mirror your bouquet and other floral arrangements.  It's particularly important to chat to a florist if you are choosing beautiful British meadow style flowers as not all of these will 'stand up' well out of water. You need to have a good idea of what will work well and last. After all, droopy blooms are not a good look!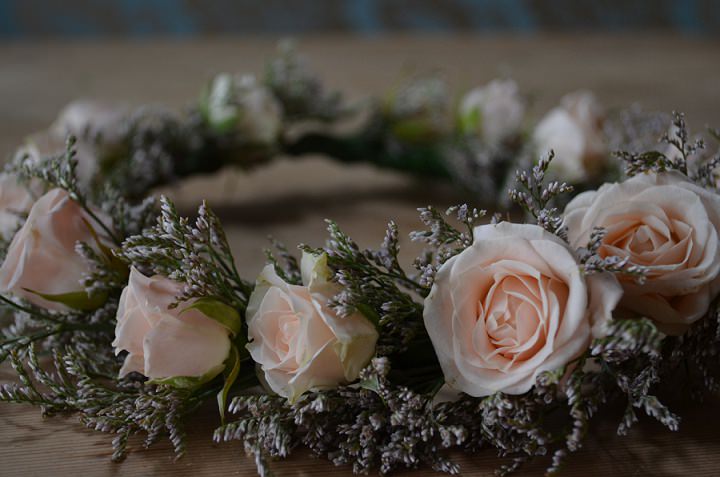 It's not just brides that can add a floral look to their locks either. Hair flowers look amazing on bridesmaids and flower girls. Just a simple ring of stunning white or pink gypsophilia can really ramp up the cute factor for a flower girl, and can really tie up the look if your bridesmaids are carrying bunches of gypsophilia too. Or if you are plumping for a veil on your big day, simple floral crowns of daisies can or even something a bit more dramatic can work really well on bridesmaids.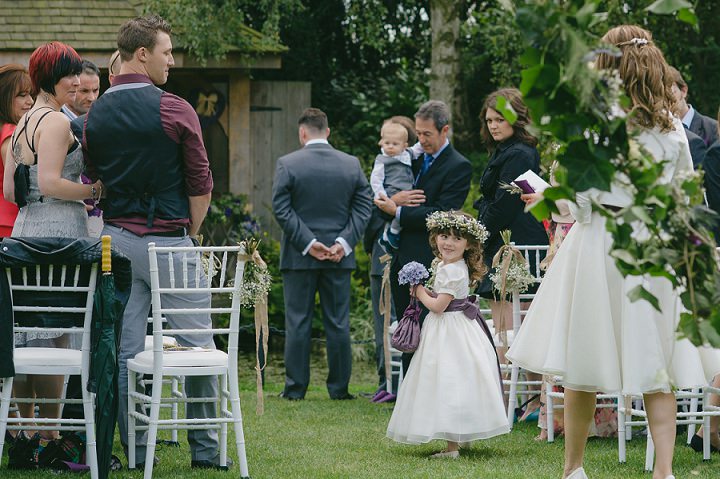 We hope our thoughts on hair flowers have given you some ideas. There really are so many wonderful ways you can incorporate floral hair designs into a wedding, so it's worth having a play and see what you and your florist can come up with.
That's it from us for now, I do hope you've found this post helpful, if you have any questions or want some specific advice on seasonal blooms which will work with your chosen colours, then do leave a comment at the bottom of this post and Kelly and I will be sure to get back to you as soon as possible.
You can find Campbell's Flowers in various ways:-
www.campbellsflowers.co.uk / www.campbellsflowers.blogspot.co.uk / Facebook / Twitter / Pinterest / YouTube