Todays wedding is a real beauty, an eco-friendly wedding set in the most gorgeous of surroundings with a really ethical outlook. The couple, Cecilia and Alaric, chose Braziers Park in Oxfordshire due to the freedom they were given and the enchanting ancient woodland surrounding the grounds. With camping on site, bonfires, locally sourced food and the most gorgeous of marquees, this wedding is a totally beautiful laid back affair that just oozes Boho elegance. Big thanks to the wonderful Craig and Kate for these gorgeous images.
'Refreshingly balanced mix of traditional elements wrapped up in a boho outdoors wedding along with perfect weather. The celebratory spirit and surroundings happily led us and our guests throughout the festivities with everyone throwing themselves into energetic dancing as well as enjoying merriment around the large bonfires, well into the night.'
Cecilia and Alaric were married on Saturday 6th September 2014 at Braziers Park, Ipsden, Oxfordshire. 'Its run by a community, quite alternative which makes it liberating in many ways as they are open to ideas and letting you get on with organising in the lead up.. They generally gave us the space to do what we wanted, however it also meant we needed our own team of mates/family in the days leading up to it to ensure everything was running to schedule (being there for a few days beforehand was fun too though, it really was an experience we will never forget!) Braziers Park are very ethically/eco minded which is why we chose them too-they only have a few weddings each year which makes it feel even more special. They also run small festivals over the summer (we'll be going to wood festival there in May). They had allocated areas for us to have bonfires which was something we had hoped for since it gave to the outdoor, country feel we wanted to create. It's a beautiful site with enchanting ancient woodland surrounding the grounds, a lovely old barn (where we partied in) a 'pottery' shed, wood carving, organic fruit and veg (they even had pigs when we first went to visit) and is conveniently located in Oxfordshire, a central point in the country for friends and family to get to. Another big plus is you get free camping for friends (including wood heated showers and compost loos) and 15 rather old fashioned quirky bedrooms in the atmospheric gothic house over the wedding weekend for family. We had 155 guests in total and it took 6 months to plan.
How they met
8th March 2013. It was at a friend's party in London.
The Proposal
It was very romantic and unexpected. We went to Jordan over Christmas 2013 and while travelling we stayed at an eco-lodge with amazing views across the rift valley towards the Dead Sea. On the way back from a long hike along the canyon, Al pointed to a stack of large rocks in the distance and insisted that we go there for the final sunset view. Until this point I had been very good humoured and now was quite keen on returning to the hotel for a G&T (which had become a bit of a routine whilst on holiday ;) However, Al was so persistent that I gave in and trudged through the undergrowth with him for another 45 mins to the rocky outcrop. Just as the sun was setting and a chill was setting in, Al suddenly swiped my gloves out of my hand as I was putting them on, got down on one knee and, getting my full name right I'm glad to say;), asked me to marry him! I was so shocked, I was speechless for a moment but quickly said yes. Just after all this happened, a hawk dived down past us, over the ledge into the canyon and sunset. A good omen we thought! We were really excited and thrilled and couldn't wait to let everyone that we subsequently met know (as well of our family and friends of course). It was a wonderful feeling!
How did you allocate your budget
We had a budget in mind and listed out all the costs with help from friend's previous wedding planning experiences. We were conscious of the value of individual items against what they would usually cost and visited several sets of suppliers for our main expenses to make sure we negotiated the best deal. Part of this also involved ensuring we were using local, organic and ethical suppliers where we could.
How did you choose your photographer
We started out with an idea on the style of photography that we liked which was very relaxed and informal, quite different from the typical wedding shots. We came across Craig & Kate's website and loved what we saw. They capture so well the spirit of the moment and people's expressions and the colours that emerge out of their photography is breath taking. We loved the way they work as a couple, on the day it worked really well as they were able to capture the 'his and her' moments of the day, like us both getting ready, with my bridesmaids and me up in my room having our hair and make-up done with while Craig was down at the campsite getting shots of Al emerging from a tent in his mourning suit. They stayed for the dancing too and took some great evening pics of everyone going a bit wild. Not only are they super talented but they are both awesome people and made everyone feel comfortable and relaxed on the day.
The Dress
The lovely Elizabeth Avey for my wedding dress (vintage/second hand) Vintage Wedding Dresses London | Elizabeth Avey I had a great appointment with her after work where she offered me wine and made me feel very relaxed, gave me good advice and was genuinely wanting me to be happy with what I chose.
Ethical wedding veil and other accessories from this lovely ethical wedding supplier.
Shoes were from a vintage shop in Hornsey and cost £10. I didn't want anything too fancy and knew I'd want to kick them off as soon as I had the chance.
The Suit and Bridesmaids
Al wore his old and trusted morning suit –he's quite a traditional lad at heart and wanted to include this element in our not so traditional celebration. His best men and ushers, my dad and brothers also wore morning suits (first time my brothers ever had I think!)
My best friends (The bridesmaids) bought their own dresses in a coral colour theme – luckily they matched as they bought them completely separately.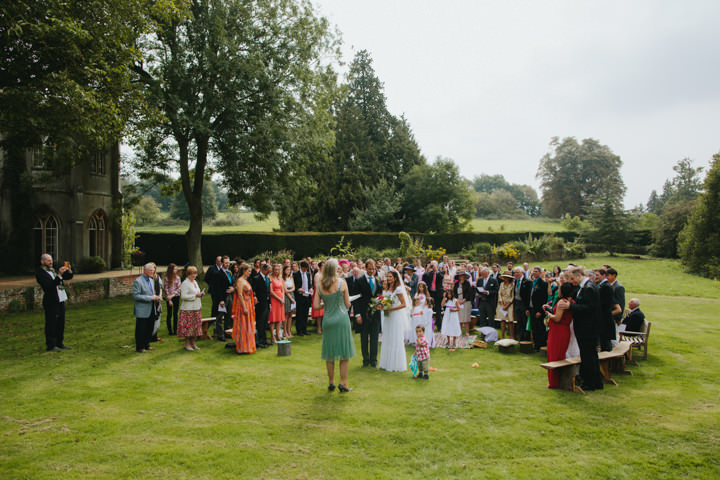 Theme or Colour Scheme
Initially no theme although we liked the idea of a colourful country garden wedding. We were inspired by the amazing printed marquee lining from LPM Bohemia (the marquee company we used) and they were happy for us to use this print on our wedding invites. Closer to the date we thought it might be best to tie colours together and selected some strong complimentary colours from the design, coral for the bridesmaids and a peacock blue for the men's cravats and handkerchiefs. When it came to choosing the flowers, we picked these out again, adding a dollop of yellow and purple for the buttonholes.
Flowers
We were lucky to find an organic and ethical flower farm, Green & Gorgeous, within a few miles from Braziers Park and chose a variety of flowers, herbs and grasses.
Overall look: informal, country, just­picked style, mixed colours both soft and bright. Lots of variety of size, shape and texture.
Flowers: roses, dahlias, zinnias, berries, grasses, asters, ammi, scabious. Hydrangea, clary, antirrhinums.
These were supplied in buckets a couple of days before and a member of the family did all the flower arrangements for us which was an amazing gift. Green & Gorgeous created my beautiful bouquet which I asked to look quite wild and trailing, as well as the button holes.
Decoration
The decoration we had was generally very free flowing, creative with individual touches, for example my brother decorated our post ceremony wooded walk with ribbons hanging from the trees, as well as the wedding yurt we slept in and the campsite. Tea lights were dotted along the walk ways. Branches were decorated and attached to the support poles in the marquee. The barn doors were covered with fairy lights and adorned with bunting. Flowers and lavender was scattered on the ground, along benches and in trees for the ceremony. Hawthorne branches with berries were laid against the marquee entrance. We wanted a really natural feel.
Food
Our caterer friend who lives locally in Oxford provided a buffet of locally sourced, free range dishes; Of which included; fresh salad of parma ham and figs, Slow cooked, free range Chicken in Red wine, tomatoes, olives and garlic, Butternut and chickpea tagine with fresh herb salad sprinkled with edible flowers. A few of our guests were gluten free so we made sure as much as possible could be eaten by them (and we had options for our vegetarian friends too). We had a pudding table made up of friend's and family's cake offerings (more about that in DIY section below)
Wedding Cake
This was made up of 5 tiers of cheese rounds, some of which were bought by friends from France. This was beautifully decorated on the day by my brother and his wife in their own style with flowers, fig leaves, figs etc. It was a lovely surprise when we came to cutting it.
Entertainment
We hired a band to play cover songs as thought that was likely to keep everyone dancing. They were a great success. We also had some garden games, skittles and tug of war.
Buy or DIY your Stationery
We kept things simple, sent a 'save the date' email and created our own invites which were sent out 6 weeks before the wedding. Al's dad carefully wrote out all of the individual place settings in purple ink in calligraphy and we printed our own order of service for our guests.
Personal or Handmade Touches
The personal touches defined our wedding so this may be a long list!
-All the flowers were provided by local ethical company Green & Gorgeous but it was my dad's cousins Ginny and Richard with the help of other family members who did all the flower displays and the individual jam jar displays on each table which gave the country feel. They also did some fantastic flower/leafy wreaths and hanging features in the marquee
-All the food was locally sourced, free range or organic and the salad and starters sprinkled with edible flowers from an organic farm in Devon
-The red wine was from a small organic producer who lives in the same village as bride's brother in S.W France –we had fun with the wine tasting earlier in the year and asked brother to drive it up to England in his van
-The organic sirop de frambroise (specifically for Kir which we both love) was brought over along with the cheese from the Haute Savoir by our friend, also from a small organic producer
-The huge rounds of cheese for our wedding cake from a farmer's market in Vallorcine and delivered by car by friends
-The heart shaped crackers and other culinary treats were made by bride's friend Rosie @ 'A little Lusciousness'
-We wrote the ceremony/order of service ourselves and with the help of our friend Nynke who conducted the service for us.
-We spent 3 days setting up the entire site with family and best friends. All the decorations were a family effort from both sides and we couldn't have done it without them
-As I have a very sweet tooth and love puddings, we decide to have a cake table and asked 10 of our best cake making friends and family members to double up on the desserts they made (155 hungry mouths to feed!) This went down really well.
-We decided to sleep in a yurt in the campsite, alongside our friends and partied into the early hours. One of my bridesmaids brought us breakfast of warm brioche and coffee in bed the next morning which was wonderful. Family prepared bacon butties and coffee for our camper friends the following morning
Special Moments
The intimate ceremony out in the garden conducted by our good friend Nynke –it felt very special because of this and because we had written our own vows
Being welcomed and cheered into the marquee by everyone (and being smiled at all day, everyone was so happy and positive for us)
Those special pauses throughout the day and evening when we were able to step back and take it all in just the two of us –magical!
Advice to other couples
Tips for the day itself: stay together. It's easy to get diverted off as so many people to talk to and who want your attention but this is your day, to celebrate being together so make sure you enjoy those moments.
Having an excellent master of ceremonies (Al's good friend Alex who is a comedian) to keep everything moving, fun and energetic.
Not getting too attached to details on the day, relaxing and going with the flow
For planning: Make sure you have a good plan with options in case things change and a flexible time frame to allow for things to overrun. This means you'll be less stressed.
If you're paying anything in cash, make sure it's counted for on exchange so there are no mis-understandings
Biggest surprise
For the groom; seeing the bride in her dress and veil walking down the grassy aisle
For the bride; the crazy improvised first dance which involves lots of swinging about
Supplier Shout Outs
For more information on Craig and Kate's work please go to:
Essex Wedding Photographers
www.craigwilliams.net
[email protected]
07540778797
TWITTER
FACEBOOK
INSTAGRAM