Hello to you all. I hope Monday is treating you well so far. Today we are back with our regular DIY feature and today is a gorgeous but very easy one. Have you ever thought about how you will ask your best friends to be your bridesmaids in a special way? Today we have this lovely DIY post that is the perfect way to ask them. It's very easy to follow and won't take up too much of your time either! How fantastic!  Massive thanks from Claire at Waterbaby Flowers for sending us this great DIY post to the blog.
'Here is a sweet and thoughtful idea for that special moment when you ask your best friend to be your bridesmaid for wedding. A simple bouquet with the all important question written on the tag – Will you…be my Bridesmaid? Choosing flowers to match the colour scheme of your wedding will give your girl some inside information about the big day, kicking of the wedding planning in beautiful style!'
STEP 1) Take the group of the longest stemmed flowers from your selection (I've used Irises) and lay them flat on a table fanned out slightly to the right
STEP 2) Take the next group of flowers (these are Stocks) and lay them to the left of the Irises.
Always tuck the stems of the left side groups under the stems on the right like this:
Always lay the stems on the right over the top like this:
This gives the bouquet a nice full shape.
STEP 3) Add the next group of flowers just below the Irises on the right (I've used Chamomile here)
STEP4) Add the next group of flowers just below the Stocks on the left (these are Tulips), then continue this pattern until all of the flowers have been added (in this case Ranunculus and Muscari). This is your bouquet!
STEP 5) Open out the tissue paper and lay flat on the table. Lay your bouquet on top, angling the flowers just over the top right corner of the tissue.
STEP 6) Write out a tag for your bridesmaid with the all important question!
STEP 7) Wrap the sides of the tissue across the front of the bouquet and tie in place tightly with twine.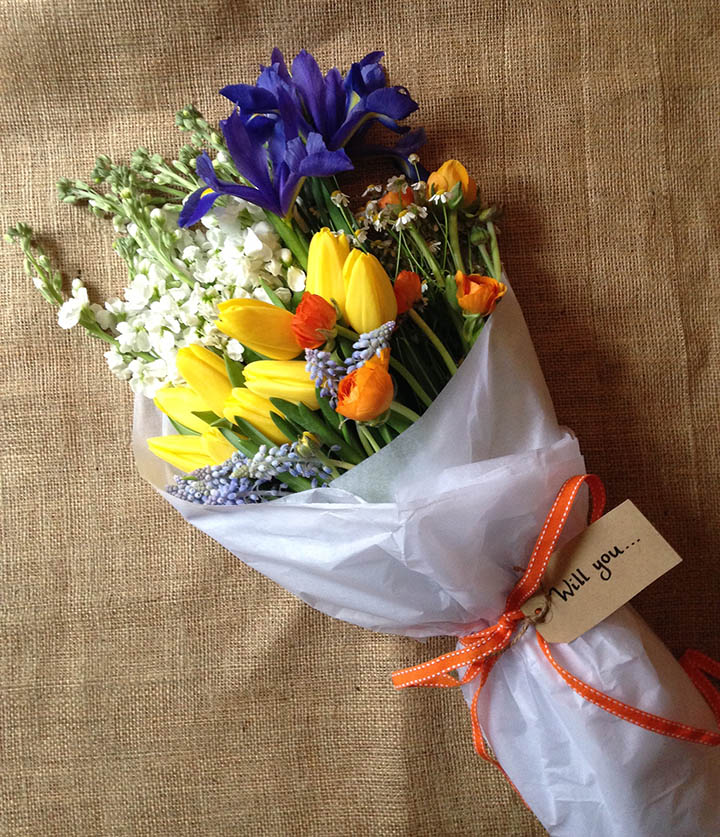 STEP 8) Thread the tag onto the twine and finish with a coordinating ribbon tied in a bow
Congratulations, you made a beautiful bouquet fit for a special bridesmaid-to-be!
For more information on Waterbaby Flowers go to
www.waterbabyflowers.com
[email protected]
FACEBOOK
@WaterbabyFlower