Happy Friday everyone and yay for the weekend! How are you all and what have you got planned? My mum is coming up from Cornwall to visit this weekend which I am very excited about, she hasn't seen Dexter since October so it will be great for her to see how much he has grown and developed! To end the week I have this gorgeous sunny destination wedding all the way from Cyprus. As we are in the deepest depths of  cold and wet January I thought we could all do with seeing some sun and this wedding is full of sunshine! The lovely couple Andrew and Nicola decided on a gorgeous colour scheme of aqua and white which I think looks wonderful against the Cyprus backdrop! Thanks to Phil Smith Photography for the images.
'It was something I have never felt before, absolute pure happiness; I was overwhelmed, speechless and so very grateful for my wife and guests. I was immensely humbled by the occasion'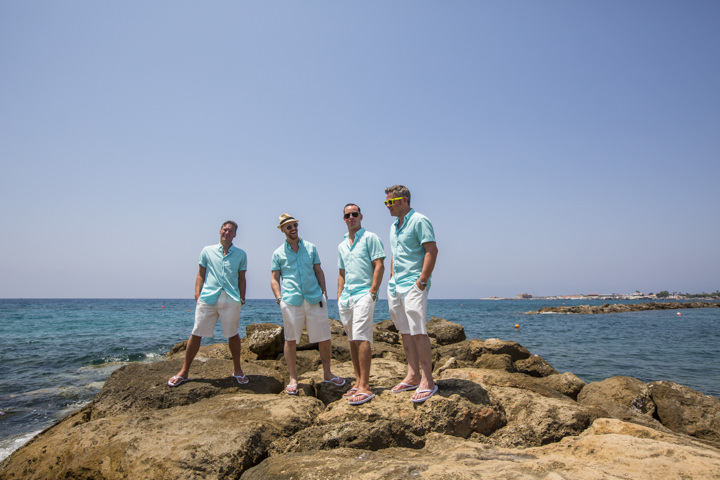 Andrew and Nicola were married on 1st August 2014 at Vasilias Nikoklis Inn, Paphos, Cyprus. 'Glorious sunshine and memories of our wedding with family and close friends all on holiday together. There were 40 guests in total and planning took 18 months from deciding to get married on our tenth year together. All in all if we were to put it all together not long at all, a few emails here and there, it was really easy, especially for me the groom with the occasional "yes love" in agreement.'
How they met
A blind date. Ten years.
The Proposal
Sat at the bar in Prague. I asked Nicola to marry me out the blue putting her in total shock. I repeated the question, she said yes, we kissed, and then celebrated with the barman who had instantly poured us all shots… We drank and laughed and danced for hours.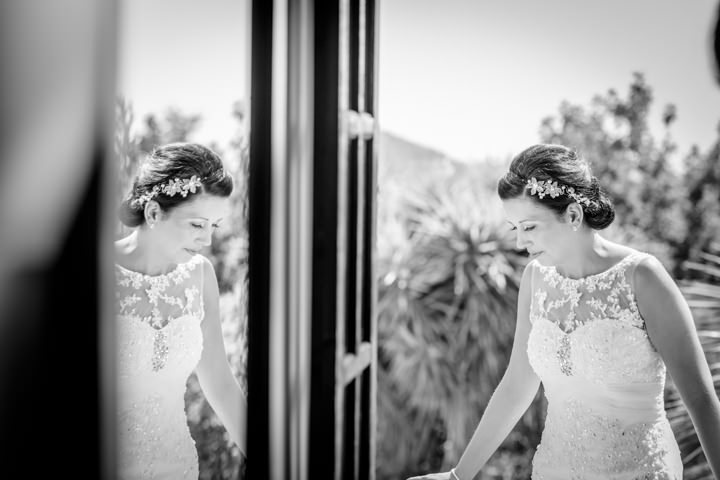 How did you allocate your budget
The wife did it all
How did you choose your photographer
We had seen his work on his website after a strong recommendation from a friend and it was stunning, very creative in how he capture's the day. After reading all the excellent reviews from couples that had used him before we decided to arrange a meeting. Once we had spent five minutes with Phil we knew instantly he was the man for the job, extremely professional and personable in his work. Very open and knowledgeable with his advice and experience. His work is simply superb and elegant. We barely noticed he was there at the wedding taking photographs but we certainly noticed the quality and admire his finished work.
The Dress
My dress was not designer but still beautiful, shoes and accessories were gifts from parents
The Suit and Bridesmaids
We did not have traditional suits for the groom; we opted for a casual aqua shirt and white shorts. The bridesmaids wore chiffon aqua dresses.
Theme or Colour Scheme
Our colour scheme was aqua and white which looked so bright and crisp in the Cypriot sunshine.
Flowers
We had an artificial white posy for the bridesmaids; I had a beautiful hand crafted broach bouquet.
Decoration
We had a gorgeous canopy over the dining area which we decorated with bunting and hanging lanterns which looked really pretty.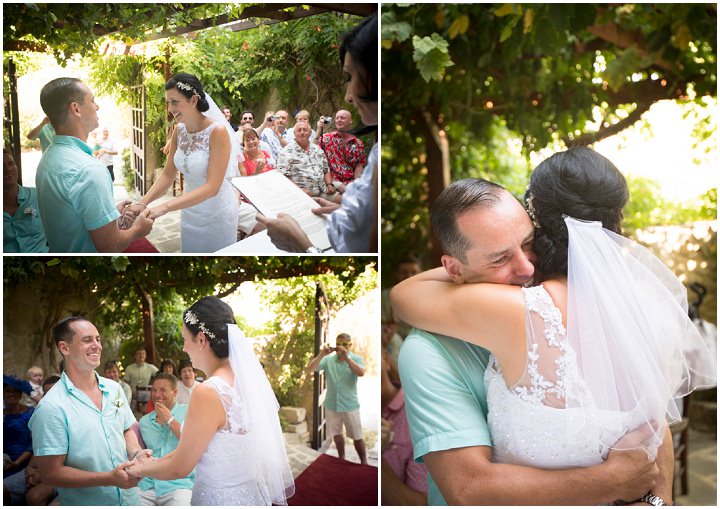 Food
Guests enjoyed a mezze of starters, either traditional Cypriot lamb kleftico which fell off the bone or grilled sea bream and cheesecake for dessert.
Wedding Cake
We chose a plain sponge cake with aqua and white decoration.
Entertainment
We hired a DJ who played a playlist we compiled ourselves. We knew exactly what type of music we wanted and the DJ played it all night creating an amazing pool party atmosphere.
#
Buy or DIY your Stationery
Stationary was bought from various places.
Personal or Handmade Touches
We took our own decorations and gave these to the venue who dressed the place perfectly.
Special Moments
When my bride walked down the stairs which was the isle, I cried, she was so beautiful. The speeches were amazing (apart from mine as I was a bit shell shocked and forgot most of my speech) we had lots of laughter and tears. There was any amount of special moments over the two weeks in the sun with everyone involved in hilarity, festivities, and great memories. The kids loved the holiday and we loved the kids. What a hoot.
Advice to other couples
Don't be afraid to get married abroad. There are amazing companies in places like Cyprus that do everything for you like our wedding planner did for us. It was a stress free process that I would highly recommend.
Be sure to take everything in on your wedding day as it is over in a flash. Take time to take each other away from everyone else just for five minutes and just sit together and watch. Take it all in. Look at all your friends and all your family enjoying themselves, you will love every minute of it. A good friend advised us to do that, best advice we ever had
Biggest surprise
We had 2 special surprises which were my best friend Jenna and Brother Brian turning up for the wedding as we thought they couldn't make it. (That was the hardest secret I have ever had to keep for months but the best ever result seeing Nicola shake with excitement when they turned up!)
Supplier Shout Outs
Photographer – www.philsmithphotography.co.uk
Phil Smith made absolutely sure he understood exactly what we wanted, made it happen, and then completely surpassed our expectations with his finished work. He is an absolute gentleman and a great professional. Outstanding work, a true art. We will certainly be using Phil again and again over the years to come. We cannot recommend Phil enough. Flawless.
Wedding Planners – www.paphosweddingsmadeeasy.com


[email protected]


Arranged everything for us. The service was amazing, we never had to worry about a thing, and everything was taken care of and ran smoothly all to our wedding planner Cat's credit.
Venue – 

[email protected]

– Vasilias Nikoklis Inn
It was beautiful. The staff we very friendly and the venue produced the finest lamb kleftico I have ever eaten. They had worked with our wedding planner (Cat as mentioned above) many times and this showed with the ease that they took the day in their stride. A stunning Cypriot countryside venue with superb hospitality.
Contact Christina Konstantinou Manager at Vasilias Nikoklis Inn.
For more information on Phil's work please go to:
www.philsmithphotography.co.uk
[email protected]
www.philsmithphotography.co.uk/blog
FACEBOOK
TWITTER
PINTEREST
INSTAGRAM
07766 742487
I am a creative documentary wedding photographer covering Newcastle upon Tyne, Northumberland, the whole of the UK and internationally. I would describe my style as storytelling with a flare! The day is often about those small gestures and glances that go unnoticed at the time but which speak a million words, and later, bring memories flooding back. For portraits, I aim to be fearless, having fun with the portraits and going on the odd adventurous endeavour or two!