Happy Monday everyone and welcome to another fabulous week here at Boho Weddings! I have a jam-packed week full of amazing real weddings and wonderful wedding inspiration. I'm sure you are going to enjoy. How was your weekend? Mine was good, pretty festive and full of family fun! What about you?
We kick the week off in style with this fabulous festival wedding that took place in Scotland over the summer. A wonderful outdoor ceremony with a totally relaxed and chilled out wedding reception. No table plan, instead a gorgeous array of finger and BBQ food set in a picnic style, with speeches outside. Kirsten and Gary took on lots of DIY projects for this weekend long wedding and it has been captured perfectly by the wonderful Zoe Campbell.
'It was like a giant garden party BBQ, laid back with little formality. Our wedding was known as Wedstock 2014 – we wanted the feel of a festival'
Gary and Kirsten were married on 21st June 2014 at High Wards House, Wards Estate, Gartocharn (near Loch Lomond) Scotland. 'We were looking for a holiday home rather than a venue, something that was big enough to hold both of our families from Thursday to Monday. We wanted a wedding weekend – not just one day! We chose High Wards because of it's impressive gardens (that were more like fields!) and beautiful interior, not to mention the heated swimming pool. It also had tennis courts, trampolines and a kids play park on the grounds for our guests to use before, during and after our wedding day..on the invite we encouraged them to be casual or bring a change of clothes! 160 guests were invited to the full day. We didn't have separate evening guests and it took 10 months to plan
How they met
We met at a mutual friend's wedding in 2011. Although, we have been hanging out in the same social circles since 2002, we had never managed to meet before then. Thinking about it, Gary was wearing the exact same outfit on our wedding day as the day we met! I knew very quickly I wanted to be with him forever – he's awesome.
The Proposal
We were holidaying in Brighton at the time – a town I have always wanted to visit. I had previously joked that I am not keen on diamonds, and if he ever proposed, to instead buy me a VW campervan (something I have wanted since I was a wee girl). So, he bought a model van and had it engraved with our names and the date and presented it to me back at our hotel room one night and asked me to marry him. The next day, we went shopping (with rather sore heads from all the champagne) in the Lanes in Brighton and had fun looking at all the vintage jewellers. Well I had fun anyway. On a more comical note, Gary (knowing I'd get continually asked for the details of how he proposed) thought it would be incredibly funny to strip when I wasn't looking and propose naked. The sole reason he did this was to embarrass me when I told the story to my family and friends. It worked.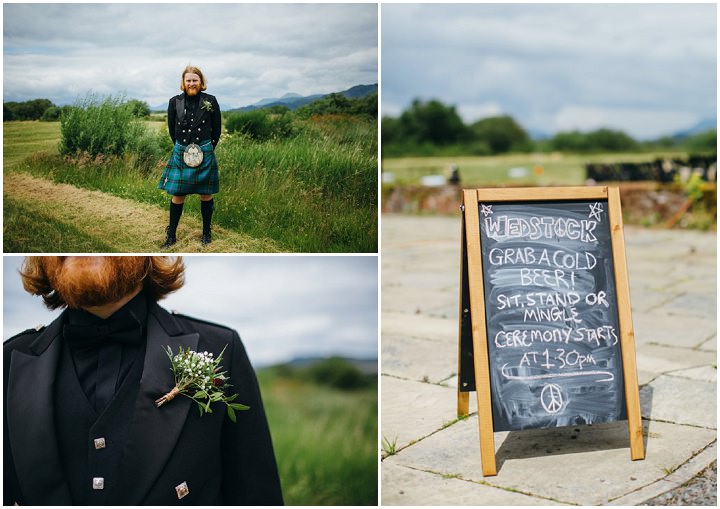 How did you allocate your budget
The greatest cost was the hire of High Wards, but for the same price of hiring a normal wedding venue for one day, we had a 4 day holiday for us and 20 of our friends and family – well worth the money! Also, we spent a lot of money on catering because we were feeding 160. The laid back BBQ style of the catering was perfect for us as it costs less per head which means we could invite more people.
How did you choose your photographer
I was very late organising my photographer, because at first I wasn't going to have one. But man, am I glad I did!! Zoe was recommended to me by another photographer and when at first I couldn't find the budget to pay for her services she was so lovely and understanding, and still offered to give me advice even if I didn't book her. I felt so unbelievably privileged that we had someone so talented at our wedding. Not only does every single one of her photos like a work of art but, she is a pleasure to have around and I didn't want her to leave at the end of the day! Her photos capture the way a moment feels, not just the way it looks. That is why she is amazing.
The Dress
My dress was £90 in the Vivian of Holloway sale. I ordered it online 2 weeks before the wedding because the wedding dress I bought back in January was altered so badly I couldn't wear it…! My shoes were £20 from ebay (2nd hand Irregular Choice silver heels), and a beautiful lace bolero from Fairy Goth Mother for £100, also bought about 10 days before the wedding. Nothing really matched as it was thrown together so hastily, but I think it turned OK.
The Suit and Bridesmaids
Gary wore his Davidson tartan. All the boys wore their own clan/choice of tartan. Natalie and Mhairi's dresses were by Jenny Packham from Debenhams (chosen to match my original dress which was silver and beaded, 20's style, but I still think they worked perfectly with the last minute dress)
Theme or Colour Scheme
Our invites were inspired by the original Woodstock festival poster (which I expertly altered on Microsoft Paint) and pretty much everything was picked because it felt 'Wedstock'. Nothing matched, I had about 4 different types of bunting (some expertly made by Shona, the MOG!) and picked up decorations here and there in the months running up to the wedding.
Flowers
Dark peony roses with splashes of green and white, beautifully made by Myrtyle and Bracken. Di even made the flowers for our hair that morning in her van because she wanted them to look so fresh
Decoration
Everyone chipped in on the 2 days before to decorate the house, including sticking giant incense in the grass and tying decorated jars to trees. We decided last minute to tie some ribbons to the tree we were getting married in front of…you can tell the women had that job as the ribbons don't reach very high! I think it turned out lovely in the photos.
Food
Hog roast, antipasti, corn on the cob, cous cous, mini tarts, burgers, salad, BBQ beans, mini tins of mac n cheese….so much food! Jam Jar got so excited about our wedding day that they designed and produced festival-style lanyards every guest, which had a 'line up' of the different food being served throughout the day. We had 3 different 'stages': antipasti warm up tent, main even hog roast, and hedonistic chill out cheese area later on! All served buffet style, nom.
Wedding Cake
We didn't have a cake, we asked our guests to bring along some home baking if they were nifty in the kitchen, instead of giving a present. It was a fantastic way of giving choice to guests, cutting down on the budget and adding to the laid back festival feel. We had cupcakes, brownies, empire biscuits, lemon drizzle cake, pavlova, coconut Malibu cake, and much more!
Entertainment
We made ceremony, daytime and night time playlists and played them though large amps in the garden throughout the day (complete with nu – metal hour which was very popular). The house had pool tables, a pool, swingpark, tennis court, and we also brought along swing ball, giant jenga, frisbes, footballs and hula hoops to keep people entertained. Dancing barefoot in the grass felt pretty apt for a summer solstice wedding!
Buy or DIY your Stationery
DIY, kinda – invites and thank you cards were Microsoft Paint/Zazzle creations
Personal or Handmade Touches
Something unique that I loved is that we asked our parents, grandparents and bridal party to provide a picture of them on their wedding day, and we made a beautiful collage to display for our guests to look at. It was amazing that I was wearing a dress so similar to my Granny's! We pretty much did everything DIY – I collected jars and tins which were decorated with ribbon and beads from Hobbycraft (with the help of a very crafty Mhairi), the paper pom poms in the marquee were assembled by our lovely guests the night before, bunting made by Shona from deck chair like fabric (a wee homage to Brighton). I did my make up myself, and Natalie did her own and Mhairi's make up. We are so lucky to have such crafty and laid back friends and family that were all so happy to pitch in!
Special Moments
I have loads! Dancing barefoot in the grass to a mixture of classic rock, Beyonce, and nu-metal. The pool party that lasted to the wee hours. The look on my Dad's face when he saw me in my dress. Walking down the aisle to Black Sabbath. Gary's vows (he promised to buy me a puppy, yass). Amanda from Jam Jar having a sixth sense about when my glass was empty and magically appearing with a fresh prosecco. The speeches. The Hog roast (I am actually a vegetarian, Gary's highlight was the hog roast and mine was the beans!)
Advice to other couples
If you have a short engagement, don't be pressured into making decisions thinking that it's too late to get what you want. I got the best photographer, the best caterers and the best venue. But definitely get your alterations done in plenty of time!! Also, if you are not a formal person with formal friends/family – don't have a formal wedding! Have a Wedstock and just have fun! Everybody loved our day and are still talking about it.
Biggest surprise
Jumping into the swimming pool at midnight in my wedding dress – I didn't plan on that! Also, the Wedstock festival poster that Gary had made and left outside my bedroom in the morning with 2 bottles of champagne. I cried my mascara off before I even had left the room..
Supplier Shout Outs
For more information on Zoe's work please go to:
www.zoecampbellphotography.com
www.facebook.com/zoecampbellphotography
www.twitter.com/zcampbellphoto
www.zoecampbellphotography.com/blog/

[jprel]