Happy Monday everyone, I hope you all had a good weekend? This week is going to be a good one I can just feel it, plus this week and next week are 4 day weeks due to the lovely Easter holiday which is always something to look forward to! To start off the week I have this lovely summer farm wedding from Kelly J Photography. It's a simple rustic wedding that took place on a gorgeous sunny day, complete with an outdoor ceremony and  a whole lot of hessian! The couple, Rhian and Billy decided that they didn't want the wedding to cost the earth so managed to plan the whole thing for under £7,000 which is pretty good going! With lots of DIY projects and help from friends and family the wedding came together perfectly and it looks like everyone had a marvelous day!
 There were no rules and no formalities. It was a team effort between amazing friends and family to produce a day where everyone could gather together, be themselves and simply have some fun. We had a sign saying  "choose a seat, not a side" as people arrived, which pretty much set the scene for the day.   
Rhian and Billy were married on 24th August at the Broncoed Uchaf Farm Guesthouse, in Nercwys, North Wales. It took just three months to organise and they celebrated in front of 100 guests.  "It's in the village where I grew up.  I really wanted to get married in North Wales and had searched high and low, but most places were too "weddingy" for us. We wanted somewhere original and natural.  We went to visit the venue during the winter when it was knee-deep in snow and we both loved it.  We thought, if we love it like this, we'll love it even more in the summer!  It was mainly the rustic barn and farm-yard that appealed to us.  We wanted somewhere "untouched" and authentic and it was certainly that…cobwebs and all!!. ….oh and obviously the huge Willow tree that we got married under, that just sealed the deal!"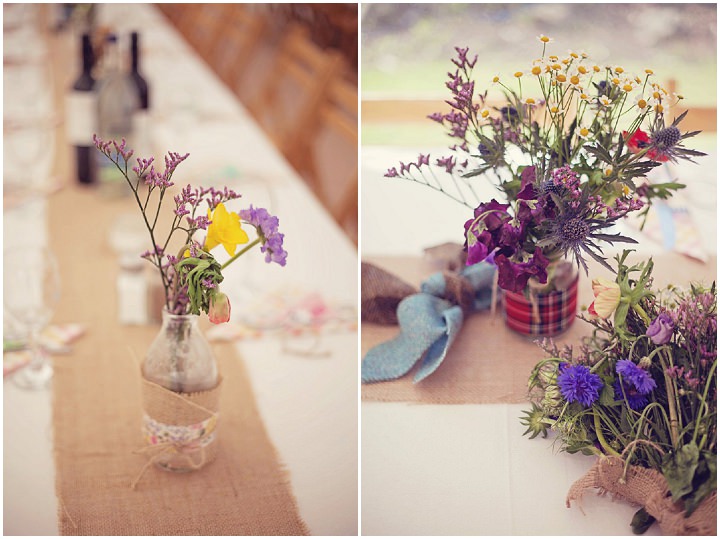 How they met
Billy and I met in Australia in 2005, so we've been together now for almost 9 years.  We were both travelling/backpacking around Oz and we met in a gorgeous, 'hippie' part of the east coast called Byron Bay………unfortunately it was in the awful tacky bar in Byron Bay that we actually met (but we usually leave that bit out!!). We spent the next 2 years living in a camper van and toured the rest of Australia together before returning to the UK.
The proposal
Billy is Scottish and we were living near Glasgow at the time.  He booked a weekend in Edinburgh (disguised by my approaching 30th birthday) and told me a table was booked in a restaurant for 8pm.  Instead, he walked me up to Edinburgh castle which was all lit up in the dark.  He had arranged for a local musician/guitarist to be standing under the castle playing our favourite song ("Heartbeats by Jose Gonzales).  I recognised the song so we walked up to him and stood to listen to the guy signing/ playing. As we stood listening I felt Billy move from behind me and when I turned around he was kneeling on one knee with a ring!!  (….we did go for the meal afterwards!)
How did you allocate your budget?
We immediately both knew we did not want to spend over the odds on anything and wanted to do it on budget.  We decided initially on £5000 all in for 100 guests but soon realised this wouldn't be possible for some things we wanted and raised it to £7000, which is pretty good considering the day we had.  We only really allocated the budget once we had done some research.  We had no idea how much things cost, so once we had quotes for thing that we considered the main things (food/band/venue), we then decided what we had left for everything else. We did A LOT of research and if there was a better value option, or a DIY option, we went for it.  We kept in mind what was important for us, and not just what "should" be done to keep our priorities right.
How did you choose your photographer?
We really didn't want a photographer that was bossy and "in your face", we wanted someone who could really just capture the whole day and the details and show the atmosphere without being too obvious.  After contacting several photographers, we saw Kelly J's Photography online.  Once we read her website, we loved her principles and ideas.  She seemed to really match exactly what we were looking for, and you don't get many photographers that do that!!  She really focuses on natural shots of guests, and I loved her portfolio online….and she was local, which is something we really wanted to aim at when involving people in the day. She was amazing…. we actually hardly saw her all day so I have no idea how she managed to get all of our great photos!!….I remember worrying half way through the day that she had not taken any photos yet, but she obviously was exactly what we were looking for!!
The dress
My dress was made by a lady called Anne-Marie Llewellyn Shaw.  She is a wedding dress designer and maker in Hawarden, North Wales.  I had tried on loads of dresses in fancy shops and did not look right in one of them!!  I wanted something simple, not too fancy and decided I wanted a low 'V' back.  I showed her a picture I found online and she designed and made the whole dress in lace for me for £450.  She made it completely as I wanted and was very patient!  I wasn't bothered by the posh shops, champagne and top designers but wanted something more personal, which Llewellyn Shaw definitely has.
My shoes were from Dune (mint green – I wanted a splash of colour!) and accessories were mixed between ones I had already and I bought a necklace from a local jewellers that matched my mint green shoes.
The suit and the bridesmaids
The six bridesmaids (plus one honorary seventh – my gran!) were given a small budget each to buy their own dresses, something that they could re-wear and were comfortable in. I wanted a more casual, mis-match look and it worked really well.  They all bought their dresses from various places and some wore one they already owned so did not need to buy one.  I gave them a colour code (neutrals or soft pastels, no patterns) and left them too it.  I didn't see most of them till the morning of the wedding.  I trusted their opinions and knew they would look lovely whatever they wore!
The men were all Scottish and they wore Kilts.  They decided to go for Harris tweed, rather than a tartan as it was more in-keeping with the 'natural' look of the day and something that they preferred. A friend of the best-man supplies tweed and so they first bought the material from him.  They did not want too much of a formal suit so decide only on waist-coats only, without jackets, which worked really well. We did our own measurements and emailed their measurements to a kilt maker in Scotland.  A tailor in Chester made their waistcoats with the same material.
Theme or colour scheme
No, we didn't have a theme.  Any colours were fine.  I suppose I leaned more towards pastels and summery colours, but that was just preference. I wanted a mixture of colours.
Flowers
We had a lady called Gill who did our flowers and I just showed her a few pictures on google of bouquets that I liked and left it to her.  They were all wild flowers of various colours.  We decorated small jars with hessian and ribbon and just placed a few small wild flowers in each of them.  We didn't have large centre pieces or flower arrangements.
Decoration
Simple handmade things really.  Some bunting we bought on Ebay and we bought a load of hessian from a wholesalers which we used everywhere!…table runners, fences, bar cover, table plan cover, etc etc!!  We ended up just saying "oh cover it in hessian" whenever we couldn't decide what to do with things!! Other than that, we bought a few little items, such as the lanterns hanging in the trees etc.  We made tissue pom poms (which by the way are very difficult to store!!) and tried to not to over-decorate as the garden/farmyard was so pretty anyway and we didn't want to come away from our natural/rustic look.
The food and wedding cake
Hog roast and buffalo, served with salad and hot potatoes, buffet/self-serve style in the day, we got a family friend to call up one table at a time to prevent huge queues! We got the meat from a from a local free range farmer who brought all necessary staff and tools to roast the full hog and the venue owner (Polly Gowler) did the rest of the food for us on site, which was lovely! We had a curry and chilli con carne with rice at night served on disposable trays…..it went down a treat.
I love cheese!  ….and I'm not fan of cake! …so it just made sense to have a cheese wedding cake.  We had a "cheese and wine" tasting night a month or so before the wedding to decide on the cheese types and the wine we were going to serve, which made a fun night! The day before the day we realised we the cheeses we had chosen did not actually make a cake shape but a quick last-minute trip to Tesco sorted that out quickly enough!! We then served the proper cheese with pickles and crackers as cheese board in the middle of the tables. (we made sure we had an ice cream van to arrive for those with a sweet tooth!)
The entertainment
A band called the Funky Monks, form Liverpool.  They were great, reasonably priced and got everyone up dancing and entertained.  We really wanted to make sure we had a good band so we were really pleased. The only thing we asked them is not to play Cheesy music – but once everyone started dancing and had plenty to drink, that went out of the window as people were requesting it!!  It was such good fun and I don't think there was anyone left sitting. My brother and the best man are both DJs, so they both played music till all hours of the morning once the band had finished.
We had booked an acoustic guitarist to play for an hour after the ceremony but he didn't turn up on the day so we just improvised and played some music from my brothers soundtrack instead…it worked out really well anyway and no-one noticed!!  It's one of the reason I liked not having too much of a plan.
Buy or DIY stationery
We made the name tags for the tables, which doubled up as their ice cream ticket (and favour) when the ice cream van arrived.  We made the table plan ourselves with a bit of invention and we didn't have much other stationary.
Personal or handmade touches
– We got hay bales to use as seats that we scattered throughout the venue and covered with scraps of cloth from a charity shop.
– The "champagne Bar" as it ended up being called sounds very fancy but it was actually a pile of old unused bricks that needed to be moved from the courtyard.  We decided a few days before the big day that rather than have move them (too much hard work!), we decided to tidy them up and stick an old sink in the middle of them (to use as an ice bucket).  We then found the sun umbrella fitted into the sinkhole and a few of the boys covered the bricks with planks of wood and 'hey ho'…we had a champagne bar!! ….well once we had filed the sink with champagne, and used this as a gathering spot after the ceremony.
– Games – we spent load of time coming up with plans for games/contests/prizes etc but soon realised on the day that people were having so much fun just picking up the games and having a go themselves that we scrapped the plan last-minute and just let people do their thing!  Again, this is something that brought different groups together and mingling and I think people liked the optional entertainment.
– Blackboard/signs –we made all of the signs ourselves. Things such as the menu was written on a blackboard, directions to the car park/field, and little signs such as for the toilets and self-serve coffee etc.
– Photo-book – rather than a book for people to write in, we set up a Polaroid camera and a load of replacement film next to a garden chair.  Next to this we placed a blank black board and chalk so people wrote us a message, snapped a photo of themselves holding it and posted it in a box.  We now have some hilarious and lovely messages from all of our guests holding their own personal messages that we are going to frame in a collage. This was one on the best surprises the next day when we saw them – especially the late night ones!
– Our bar was ran by our local village pub (Owain Glyn Dwr., Nercwys) who brought down local ales and cider to serve at local village prices. They did a fantastic job and we were pleased to keep the business local too.
– Oh and to make sure no one got chilly, we cut up large squares of fleece to make blankets and put them in a hamper for people to use as they pleased.

Special moments
The ceremony itself was probably my favourite part.  I think because we had taken such a risk arranging an outdoor ceremony in Wales in August (and didn't really have a Plan B!), so when the sun came out and it all went to plan, it was even more special!.   It was relaxed, funny and  personal.  We used a celebrant called Louise Burns, who was fantastic.  She made everyone laugh and got to know us really well before the day so she could talk about us during the ceremony and bring out our personalities.
Advice for other couples
I know everyone say it, but just enjoy the day.  Every now and again take a step back and watch people and take it all in.  It goes by before you otherwise.  No-one will care if things aren't quite in the right place, or don't exactly match, or even if plans change the last minute.  People just want to just have fun and the more relaxing you make it, the more relaxed they'll be.
Biggest surprise
The sun that came out 30 minutes before the start, as it had been raining all morning!! …and it stayed all day!
Supplier Shout Outs:
For more information on Kelly's work, go to:
www.kellyjphotography.co.uk
kellyjphotography.co.uk/blog
FACEBOOK 
@kelijphotography
07971 790106
Based in both Somerset and North Wales, my style is unobtrusive and relaxed with a little wackiness thrown in for good measure. Presenting people's personalities through their wedding pictures is my biggest priority and this has led me to taking a very natural approach.