Wow its Wednesday already! You know when you have a million things to do the time just goes by even faster! I'm off to Cornwall on Friday so have a ton of blog work to get done before I go and at the moment I could certainly do with a few more hours in the day. However, I have this gorgeous Swedish wedding for you today and it's an absolute beauty! The couple are truly stunning, like something out of a glossy magazine. I thought it may have been a styled shoot when it was first sent to me but no, they are for real! I am just loving the outfits, the amazing wedding dress, the leather bow tie…all just gorgeous. Big thanks to Fotografmatlida for the submission.
'Everything we hoped for and a truly magical day in every way'
T and J were married on the 7th June 2014 at Högbo Bruk, Sandviken, Sweden. We chose the location because of the beautiful surroundings and also both my husband's parents and grandparents were married here. We had 75 guests in total and the wedding planning took a year J proposed on June 8th 2013 and then we married one year later on June 7th 2014.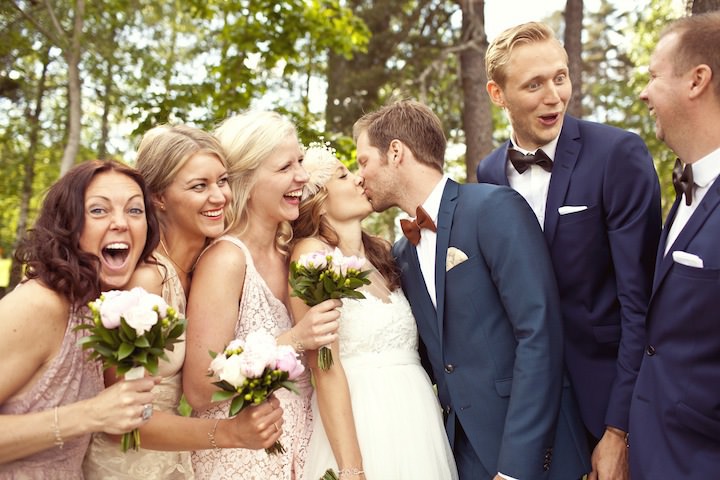 How they met
We met through our friends who are a couple and they were our best man and bridesmaid on the day. We met in 2006.
The Proposal
I had no idea that the proposal was going to happen. We arrived at our apartment and when I opened the door there were rose petals on the floor leading me to our guest room. The door was closed and inside was a wrapped big present with pink ribbons. When I opened the door I saw the "chair of my dreams" standing in the middle of the room. J knew that I am obsessed with designer chairs to add to the excitement he asks me to try it out. He then goes down onto one knee in front of the chair and asks the question…..
How did you allocate your budget
Most of our budget ended up in the food and wine area. We knew from the beginning that we wanted to have a live band playing so that was of high importance to us.
Why did you choose your photographer
I went online and looked at a couple of photographers websites and when I found Matilda I knew that I wanted her. We just loved her pictures!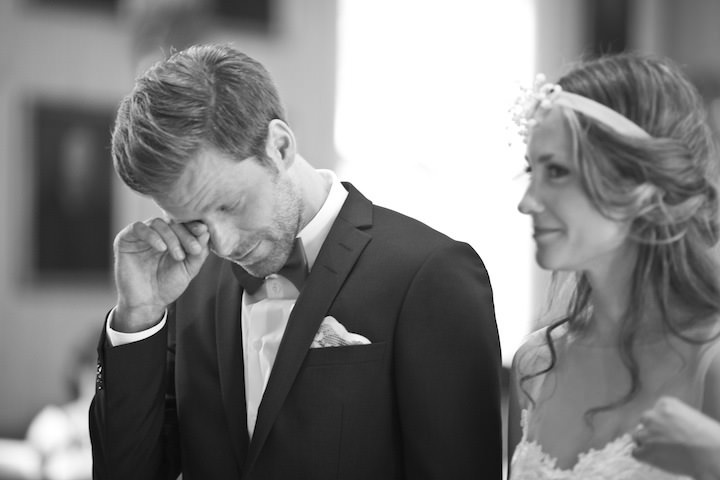 The Dress
I ordered the dress from "Grace Loves Lace" (Australia). They were so friendly and professional. Maybe I was a little bit crazy not to try a single dress before I ordered it but, what do you do if you have found the dress you like and they don ́t have any retailers in Europe? I was so relieved when it came 6 weeks before the wedding and fitted like a glove….My shoes were from "& other Stories" and the headpiece was DIY by myself
The Suit and Bridesmaids
The suit was from a Swedish brand "Tiger". Ordered the leather bow-tie and braces from Etsy a New York based company. As for the bridesmaids. All DIY. I did the design and sewed the dresses myself. We were so very happy with the end result.
The Theme or colour scheme
Pastels and vintage inspired. Washed pink and Beige. No definite theme just wanted vintage to be across the wedding.
Flowers
We had light pink peonies
Decoration
We had minimal decorations with pink peonies for the tables and then some home made flags made by the same fabric as the bridesmaids dresses.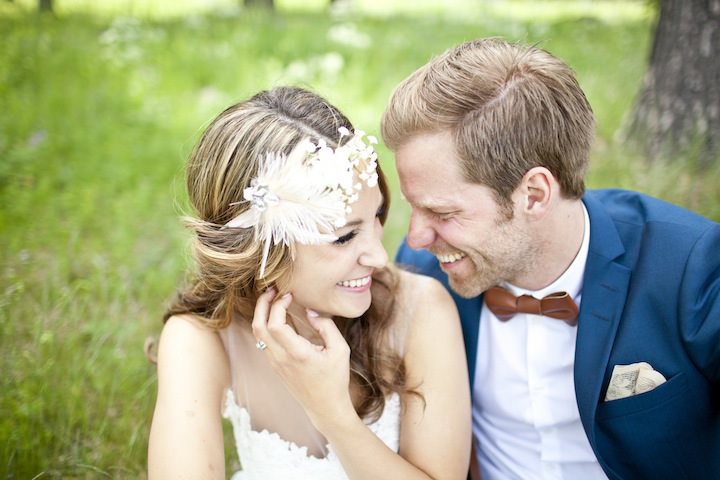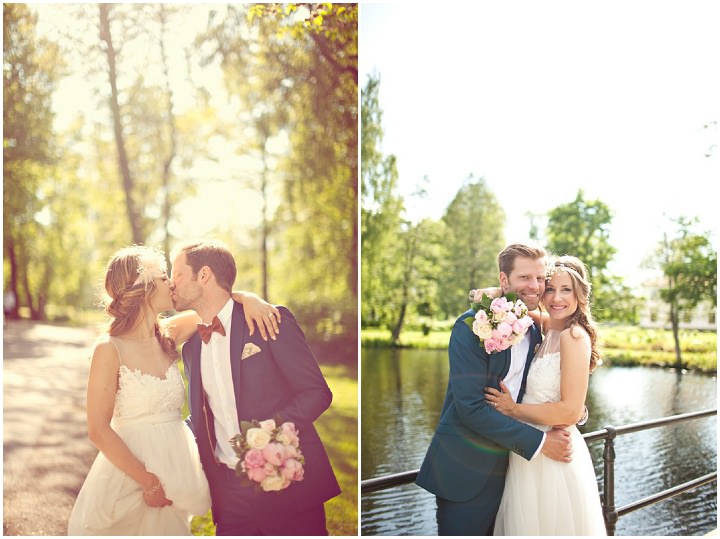 Food and Wedding Cake
We had such a great menu. Food was so important to us. Some of our guests even said that it was the best they have ever had. We decided not to have a dessert and added a another entrée/small main meal instead.
We had an entrée of beef carpaccio.
A middle course of fish and risotto.
The main course was deer and puree.
We skipped dessert and went straight to wedding cake. The Wedding Cake was white decorated with pink peonies
Entertainment
We had a live cover band after the dinner
Handmade or personal touches
We tried to make everything for the wedding.
I painted old wood boards and placed outside the church and to guide the guests to the place we were eating dinner.
We cut the pink ribbons (from the proposal) and hung them in trees leading from the church to the place we were eating dinner.
For every guest I did a little wallet with their names on instead of name cards. In every wallet we put a paper with a few questions and space for the guests to write a few lines for us and enter a date when it should be read by us. The day after the wedding we opened the first notes and it was so great to read! We have so many left that we will open in the future.
A Guest box instead of the standard guest book where the guests could put their little note in to us.
Special Moments or Highlights
It is so hard to choose as whole day was awesome. There were so many nice and warm celebration toasts in our honour. We felt so blessed. My lovely husband also learned to play the guitar and sang a beautiful song that he had written for me.
Advice for other couples
Everything takes more time than you think make sure you start well in advance with especially if you want a lot DIY items. If you can afford it, use a band instead of DJ. We invited everyone the day before for a small barbecue and "get together". This was very nice
I would say for everyone to meet before the actual day and for us to get a chance to talk a little bit more to everyone that had travel quite long to share our wedding day.
What was your biggest suprise of the day
After the ceremony when we had the champagne in the garden my family surprised us with a Swedish singer that came and sang one of her beautiful love songs. So cool!
We surprised our guests in the church by doing a "dirty dancing – Time of my life dance" wrap up/exit of the ceremony.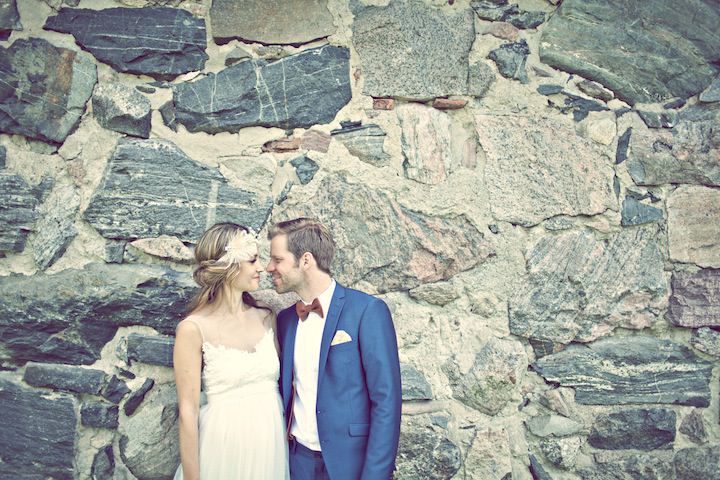 Supplier Shout Outs
Photographer – fotografmatilda
Reception Venue – Högbo Bruk
Dress Supplier – Grace Love Lace
For more information on Matildas work at Foto Grafmatilda go to:
http://fotografmatilda.nu
Facebook
Email
0046703651332
I am based in Sweden, mainly Stockholm with surrounding cities but happy to travel anywhere. My style is down-to-earth, trying to capture relationships as they are with a sense of humor, intimacy and real emotions. The most important thing for me is to create a comfortable atmosphere where my wedding couples and their guests can be safe to be themselves and trust me to give them the results they want.