Today I'd like to introduce you to a fantastic company dealing with all your wedding entertainment needs; The Professional Entertainers. The Professional Entertainers is an exclusive wedding directory featuring Britain's best wedding bands and entertainment put together especially for you to find the perfect option for your wedding or event. The website has been set up to make your search easier, and what makes them different from other directories is that they don't take any commissions from the bookings, they simply put you in contact with the band so you can chat to them your self.
Having had a look at the website, I found it bright, modern and very easy to navigate round. With lots of options to search under and lots of search results in each category, the site is FULL of wonderful bands, singers and entertainment. They each have their own mini website featuring pictures, a bio, video clips and testimonials. Will from the Directory has been kind enough to tell us a bit more about how it works.
I'll pass you over to Will………..
' The Professional Entertainers website is a completely new and unique way to search for, and book your wedding entertainment. Firstly, we only feature the very best, most professional wedding bands & musicians after very strict vetting. Secondly, we put bridal couples in direct contact with the featured acts (much preferred by professional musicians!) – which means no agency fees, commission or VAT on top of the acts fee. The only website of it's kind – The best bands, at the best price!'
What made you start your business?
Well, Will and myself, (being full time wedding musicians!) found there was something missing from all the other entertainment directories that were clogging up the internet. They all seemed to be full of any old band willing to part with money to be featured – and as a professional band, we would get lost in a sea of masses of wedding entertainment – the good and the very bad!! We wanted to create a website where Brides and Grooms could find ONLY the Best Live wedding bands – bands and musicians that had met a strict joining criteria before going live on our website. We wanted to create an industry standard – knowing that anyone searching to find the Best Live wedding bands, could use our website and find nothing but quality, vetted, professional entertainment, with the added bonus of not having to pay any Agency fees on top of the acts prices, as we are not an agency and have no dealings with bookings. This was when we came up with the idea of The Professional Entertainers, and some time back in early 2013 we set about designing and creating a website with the ingenious help of 'Caged Fish' in Market Harborough. After months of website designing and building we were ready to launch to the public in August 2013.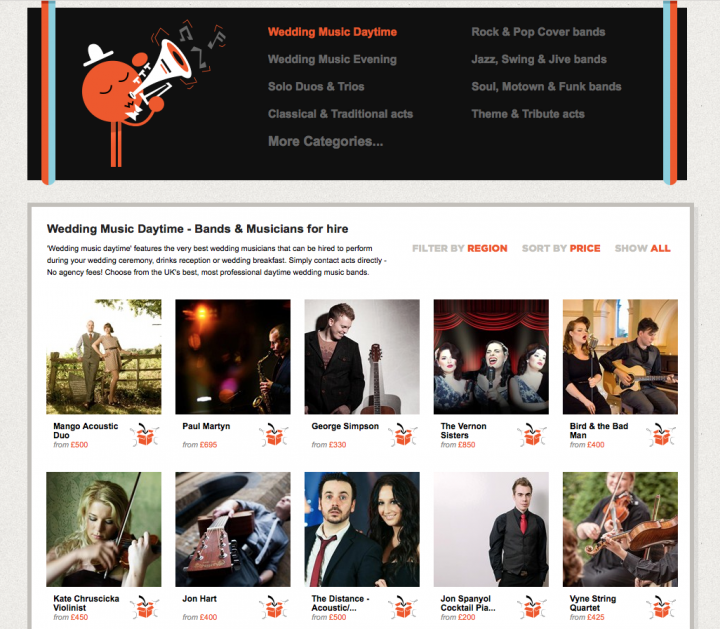 Where are you based?
Bands and Musicians that feature with us are based all over the UK, so covering Nationwide, but also acts receive occasional International bookings. We run the website from Market Harborough, Leicestershire
What were you doing before?
Currently full time wedding musicians for 9 years as 'Mango acoustic duo', previous International residencies on Cruise Ships & Dubai Nightclubs as a 5 piece band.
How would you describe your style?
Original, Uniquely superior to any Directories and Agencies, as we only feature the very best bands & musicians for weddings and events. T.P.E. Is the most modern platform for clients searching for quality bands – and they get to deal with them directly which saves clients agency fees.
What is your biggest achievement so far?
The number of Bookings and Enquiries the acts have received in our first year. Turning away over 300 acts that have requested to join so as we keep our standards extremely high. The number of prestigious Wedding Venues and quality suppliers who now recommend T.P.E. To their Bridal couples is testament to the quality acts we feature. Having a simple, user friendly website for clients to find their ideal wedding band.
What makes you different to your competitors?
Our website is a platform where Bridal couples can search and view each Act's Profile page, which includes demos, videos, photos, set lists, set up requirements, testimonials and areas they cover. The Clients can then add the acts they would like a quote from to their Enquiry box, fill out one enquiry form and send it to multiple Acts – who will then respond directly with their availability and a quote. Viewing an in depth Profile Page (which are really like mini websites) – means they can make an informed decision on who they would like to contact and book. We only accept the best wedding bands & Musicians to feature on our website. This means more paid work to the most professional bands, plus anyone booking wedding entertainment from our website will only be booking the best in the business. It's completely free to use as we don't charge agency fees, commission or VAT. Clients just pay what the Act charges. We charge a small yearly membership fee to the acts, which simply pays for the website upkeep and advertising.
What do you enjoy most about your job?
Putting Bridal couples in direct touch with the best, most professional bands. It's lovely being contacted by a band wanting to join us, as they can see it's uniqueness and quality – and we get very excited to feature each excellent band. It's great to hear such nice feedback from clients who use the website too, who enjoy the simple process of 'shopping for a band'!
What sort of couple do you think you attract?
Ones with good musical taste. Clients looking to save money by cutting out the 'middle man' by booking acts directly via T.P.E, instead of through an Agency.
Can you give me some information on your pricing structure?
We feature acts to suit all budgets ranging from £200 – £2500
What is your ideal way to spend a day off?
A nice day out in the sunshine with our little boy
What can you never leave the house without?
The keys.
Who would be your 5 dream dinner guests dead or alive?
Charlie wants to say the Spice girls, but I'm not having them round for dinner unless we cook them first! Dave Grohl, Brian Cox, Eva Cassidy, Ric Mayall, & Mr Tumble (to keep our boy entertained!)
What would you do if you won the lottery?
Give a lot to Charities, buy a bigger house, continue singing at Weddings, and running The Professional Entertainers. We love our work!
If you weren't running your business, what would you be doing?
Thinking of another self employed business model that would solve a problem no-one new existed.
We have a very useful 'Help & Advice' page on our website which answers all the usual questions associated with booking a band. Our Blog page also features some interesting news about our featured acts, Venues that recommend us etc. We also have a YouTube channel which has all the acts Videos on. There is some great feedback from our acts on our 'Entertainers sign-up page'.
For more information contact Charlie and Will Ball
www.theprofessionalentertainers.com
[email protected]
FACEBOOK 
@TPEntertainers 
[jprel]