I just love todays wedding, which features the cutest couple in the most adorable outfits, which were all hand-made by the bride, even the grooms suit! Both Samantha and Adrian live in Hong Kong but came over to the UK for the wedding so it could be held at Samantha's family church. From Hong Kong she managed to design and tailor make her own gorgeous 50s/60s inspired dress, as well a the six bridesmaids and Adrian's dinner suit, clever girl I'm sure you will agree! Adrian also gave a helping hand by designing the table decorations and what a fantastic job he did I'm sure you will agree. With a stunning venue and some amazing photos by James and Lianne, both in film and digital, I'm sure you will agree this is a fantastic wedding.
'A magical day among the cabbages with our closest friends and family. A magical night dancing our pants off in the moonlight.'
Samantha and Adrian were married on 9th August 2014 at St. Andrew's Church, Butterwick, Lincolnshire and the reception was held at Elms Farm Cottages, Hubbert's Bridge, Lincolnshire. 'We live in Hong Kong, but wanted to have our wedding closer to Samantha's family in Lincolnshire. Samantha grew up in the small village of Butterwick, and was even baptised in the church where we were married. Adrian's family are more seasoned travellers, and flew in from the US. We had 85 guests in total. It took a year to plan but most of the work was done in the eight months before.'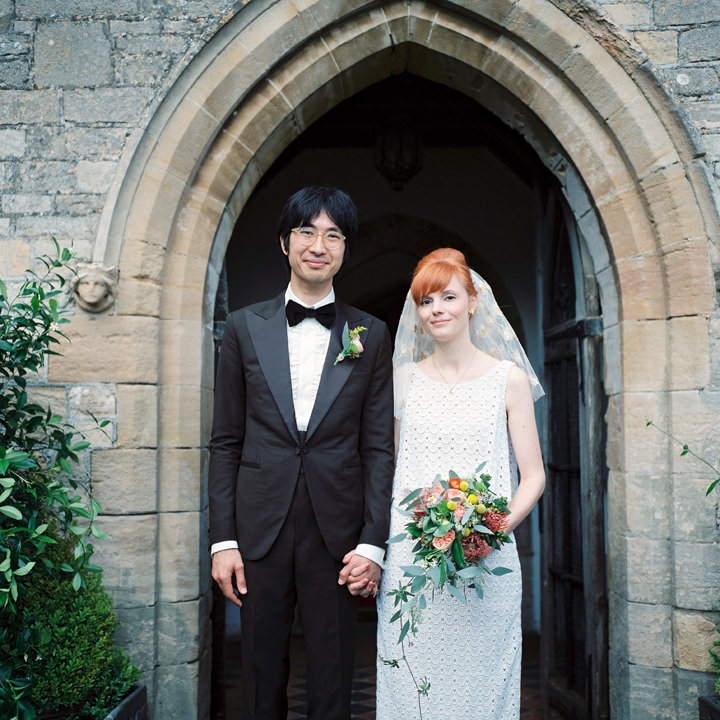 How they met
We met through mutual friends, and were together for two years and one month before getting married.
The Proposal
Apparently Adrian proposed in a very exuberant manner in the presence of several of our close friends after quite a number of cocktails. The next morning, we awoke to several congratulatory text messages. Though neither of us remembered the evening's events, we decided to go through with it anyway!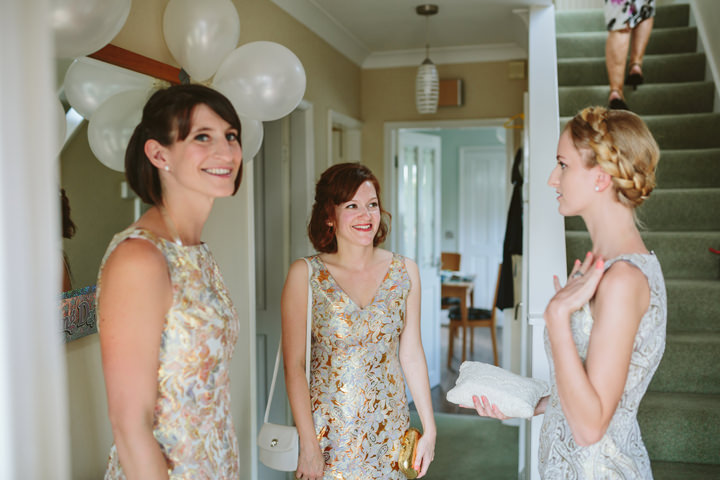 How did you allocate your budget
We decided that photography was very important to us, in order to capture memories of the day. We definitely wanted to use medium format, and that led us quite quickly to James and Lianne and their very impressive portfolio. Due to the nature of our work and the fact that we've worked on a number of projects together in the past, we also had specific ideas about how we wanted things to look. Samantha said that flowers were very important to her, so we spent a bit more on those. However, because she's a tailor, we saved a lot on the wedding clothes, all of which she made. Two dresses for herself, my tuxedo and shirt and six bridesmaids dresses! Although we put a lot of thought into how the decoration and tables looked, I don't think we spent a lot of money on it. Everything was bought or made in Hong Kong and travelled with us to the UK a week before the wedding. A lot of time and thought went into packing those seven suitcases!
The venue was our biggest expense, but with all the food being sourced locally and some of it even grown especially for the wedding by a farm just down the road, it was great value.
How did you choose your photographer
We were initially going to work with a friend of a friend who is a photographer in Hong Kong. She shoots exclusively on film, and we had already decided that we liked the look of film photography. However, at the last minute her trip to the UK had to be changed and the dates didn't match our wedding anymore. We were a little panicked about finding someone comfortable shooting on film, but after our first Skype conversation with James and Lianne, our worries were put to rest. They shot our wedding using both a Canon 5D and Rolleiflex, which allowed us the best of both—the spontaneity of digital and the timeless look and quality of medium format. We could not have been happier with their unobtrusive yet thoughtful and artful approach.
The Dress
Samantha designed and made her own dress. When she struggled to find what she wanted, she also made her veil. She wore a locket Adrian gave her for Christmas containing photos of our two dwarf rabbits, vintage earrings and a Wong family heirloom bracelet. Shoes by Rachel Simpson. As they are not available in Hong Kong, thank goodness for ordering online!
The Suit and Bridesmaids
All by Samantha, right down to the bow tie and cummerbund! Adrian's shoes by Church's, his cufflinks were a wedding gift from Samantha by Marielle Byworth in Hong Kong.
Theme or Colour Scheme
We built our colour scheme around a few vintage pieces of dishware that Adrian found in Hong Kong— deep greens, robin's egg blue, and safety orange. We didn't have a concrete theme, but we incorporated elements of our lives together— bespoke tailoring, Hong Kong, our pet rabbits.
Flowers
We built our flower arrangements around corals and oranges, using vuvuzalea roses, nutan pinheads, craspedia, and dianthus—as well as incorporating vegetal elements such as baby cabbages, eucalyptus berries, dill flowers and other herbs. They were masterfully arranged by Kerry Blackburn from the The Flower Shop in Kirton, Lincolnshire. Her attention to detail, knowledgeability, and communication with us every step of the way was amazing.
Decoration
Our decorations were minimal and were made to play off the venue and flowers. The main pieces that we designed were the table runners—which took their pattern from the fencing at the park where we had our first date, the custom seating chart, and tiny ceramic rabbits scattered between the vases and flatware.
Food
We had a traditional Lincolnshire hog roast accompanied by Bramley apple sauce, a variety of locally sourced salads—dandelion, watercress, shaved fennel, mint— roasted new potatoes, sausages, and cheeses. Dessert was berries and cream.
Wedding Cake
The cake was made by Samantha's best friend Peter's mother. Patricia finished the cake a month before the wedding, then topped it up with brandy each day until the big day. Both Patricia and her husband attended the wedding.
Entertainment
Samantha's best friends and former band mates Peter and Stephen were DJs for the evening
Buy or DIY your Stationery
We skipped most of this step, DIY-ing our Save The Date and invitation digitally, and sending them by email. We printed and posted a few to folks who don't have email though. Adrian also created a wonderful wedding website where people could RSVP and find all of the details of our wedding, without us sending it all in the post. As we live in Hong Kong, it made sense to do as much as we could online.
On the day, we had an order of service booklet designed by Adrian for the guests in church, and he also designed place name cards for the tables that Samantha hand-wrote with all the guest's names the day before the wedding. Samantha's brother David stayed up late the night before the wedding meticulously cutting and folding them!
Personal or Handmade Touches
We did a lot of things ourselves, just because it came naturally to us. Adrian is an artist and Samantha is a tailor with a penchant for the 60s/70s, so that covered pretty much everything.
– We started with a Pinterest board of course, then our Save The Date and wedding website www.reidwongwedding.com, then made our formal invitation.
– Samantha started on the clothes in November, shopping around for the perfect lace for her dress. She then went through a long process of making patterns and sewing mock-ups and trying them, until she got it just how she wanted it. Her bridesmaid Ida, who lives in Hong Kong, accompanied her on numerous trips to fabric markets to find the fabric for the bridesmaids dresses as well as her veil. The most difficult part of the whole process was making clothes for people who weren't in Hong Kong. Four of the six bridesmaids live in England, so Samantha made mock-ups of the dresses using their measurements, and brought them to the UK with her on our Christmas visit before the wedding. As we were planning the whole thing from so far away and would not return again until one week before the wedding, there was a lot of pressure on that trip to get things organised! She travelled around the country doing dress fittings in living rooms, and then made the real dresses when we returned to Hong Kong. Those were posted out a month or so before the wedding, and luckily none of them needed any more adjustment!
– That trip we met with the florist and caterer, and raided every charity shop in Samantha's hometown to source the 25 or so vintage vases that we used for the flowers.
– In Hong Kong Adrian worked on decoration for the venue, 3D-modelling the table layouts. He created die-cut table runners, and we went shopping in the Yau Ma Tei district of Hong Kong, which supplies almost all restaurants in the region with tableware, crockery and bamboo items. We came back with vintage plastic plates, cups and saucers, bamboo placemats and baskets, and ceramic knick knacks. In those months we continued the conversations we started with suppliers in Lincolnshire via email, to ensure that we were on top of everything.
– As we mentioned, we had a lot of help from friends and family too, with a cake by Samantha's best friend Peter's mother, and Peter and her friend Steve DJ-ing. A number of friends including the best man and bridesmaids were there the day before the wedding to set up the venue too.
Special Moments
Samantha: When my dad appeared at my mum's house to pick me up in a 1946 pale butter yellow Plymouth car. He had told me to leave transportation up to him, but I had no idea that he had something so special planned. It belonged to his friend and was just stunning! His friend drove us there, and those moments in the car with dad on the way there, and then with Adrian on the way back when he took the scenic route to give us some alone time together…I will never forget them.
Adrian: I'm not sure if this qualifies as a special moment, but one month before the wedding I took a work trip to England for an exhibition I had at the Saatchi gallery. When I mentioned that I was also meeting up with my future father-in-law on my trip, I was detained at the UK border for several hours and told that I needed to get a special marriage visa. They put a flag on my passport and said I would be deported if I tried to enter the UK again without a marriage visa! Throughout all of our meetings prior to that with the vicar and when applying for our special licence to marry with the Lincoln registrar (I am a US citizen), this visa had never been mentioned before. We had a complete meltdown! Samantha went to the British Consulate at 8AM the next morning to bang on the door and find out what we needed to do. The forms and documentation needed were epic, but we managed to get it done and paid a fee to expedite the visa, which appeared just a week before we were due to leave Hong Kong for the wedding. Phew!
Advice to other couples
Although planning our wedding from such a distance made some things difficult, it actually meant that we had to make decisions quickly, and focus on what was important. With just one trip to the UK the Christmas before to organise most aspects, there was very little agonising and deliberating, and we think that was a good thing. Most decisions do not need extensive research; how you both feel on the day is the most important thing that you're going to remember.
As most things were homemade, lots of it wasn't perfect. Samantha in particular had issues with her dress right up until the last minute that were never truly rectified, but she had to let it go and remember that no one else but her would notice. To be honest, the whole planning process was an exercise in letting go and letting others help us. We just could not have done it without Samantha's parents in England making arrangements for us in our absence, and without the bridesmaids, groomsmen and friends. Samantha's friends know that she is a perfectionist and forced her to delegate. Her friend Chloe even found her a make-up artist at the last minute when she decided that she was too nervous to do her make-up herself! On the actual day we just relaxed and put ourselves in other people's hands. Everything was arranged by that point, and Samantha had created a run-down sheet detailing the order in which everything would happen and who was involved. Friends and family followed this to the letter, and we didn't have to worry about anything. We would recommend being organised of course, but beyond a certain point you just have to let go and enjoy it!
Biggest surprise
The wonderful video that Adrian's sister and her boyfriend made for us. It was screened after the speeches, and featured photos and video they had gathered from various friends and family all over the world.
Supplier Shout Outs
For more information on James and Lianne's work please go to:
www.jamesandlianne.com
FACEBOOK
TWITTER
PINTEREST
INSTAGRAM