Today I would like to introduce you to Wedding and Accessory designer Frances Farmer the lady behind Calm Amongst The Chaos. Calm Amongst the Chaos is a vintage inspired collection of wedding dresses, bridesmaid dresses and evening wear, as well as offering a complete bespoke bridal service. If you are a lover of the Boho style, inspired by vintage fashion or have an interest in old hollywood glamour then Calm amongst The Chaos is the dress collection for you!
I qualified from Bournemouth College in 1984 with Fashion Design and Pattern Cutting. I worked in the industry with various company's including milliners and other designers. Having a family meant I was out of the industry for time but qualified as a professional Aromatherapist and worked for around 8 years until I felt it time to get back to sewing. I have two kids Agnes 17yrs and Isaac 15yrs as well as a fab Hubby who has helped me so much along the way.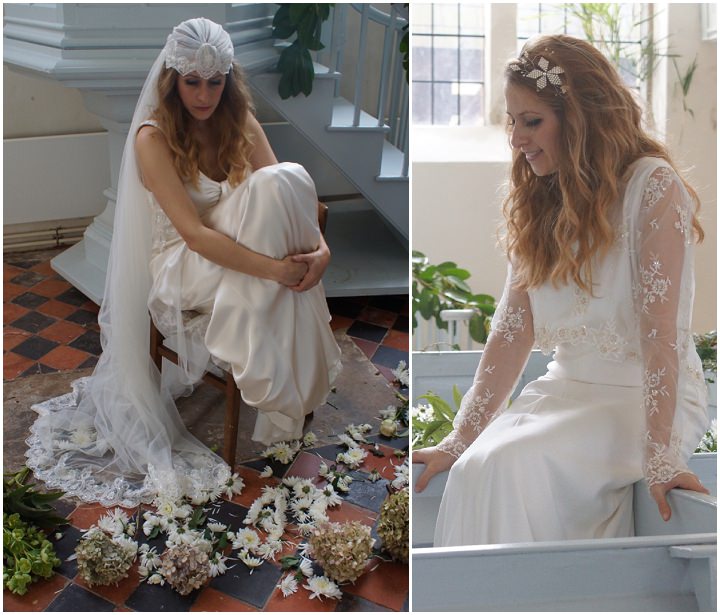 What made you start your business?
A burning passion to get back into fashion in 2003
Where are you based?
Ringwood, Hampshire, but I cover quite a wide area across the home counties and south.
How would you describe your style?
I have always liked the more individual styles and in bridal this seems to be the less structured styles.
Where do you draw your inspiration from? 
Inspiration comes from all around! As a team we create mood boards and collect cuttings helping to create our designs and ideas. Some of the great designers can be a great starting point for an idea. We also love retro styles and look at the past for glamour and classic designs. Our customers also can prove to be great inspiration as many have their own unique style and elegance that we can gleam ideas from.
Our bridal collection of dresses are named after movie stars. There is a natural progression from year to year and the individual dresses somehow evolve. I started the collection with just 6 dresses but now we have around 30 currently. I look at past designs for inspiration, current trends as well as considering other ideas and input from clients
What is your favourite style at the moment?
One of my main grumbles is that bridal gowns especially seem to be stuck in a style rut when it comes to current trends and brides fall into the first dress they try on without considering their options and getting something that really suits them.The bohemian feel at the moment is one of my personal favourites and quite a few of our current collection reflects this
What is your biggest achievement so far?
Starting Chaos and expanding from a sole trader to employing 4 staff to help me with the work load.
What makes you different to your competitors?
Just the fact we are quite individual and we make here at the studio in the UK. We work closely with our clients so they feel in the end that their outfits really reflect them.
What do you enjoy most about your job?
A day like today when all staff and myself are able to get on well with projects without too much distraction
What sort of couple do you think you attract?
The people who want to achieve that individual spirit for their event
What would be your ideal wedding to work on? 
Where we are involved right from the beginning and can make all outfits including bridesmaids, groomsmen as well as the bride! Currently we seem to enjoy events that are either out doors or in a rural location. Its great when brides have enough confidence in us to let us make some key decision in their styling.
Pricing Structure
Bridal -£1000-£2000, Occasion dresses start from £250 depending on design, Evening wear would be slightly more as they always seem to be more involved. We make a lot of Mother of Bride/Groom and these outfit average around £400-£500
What can you never leave the house without?
Phone and Ipad! Need to be able to get in touch with clients wherever I am. Brides often panic and that can sometimes be on a Saturday night or first thing Sunday mornings
Who would be your 5 dream dinner guests dead or alive?
My Father (deceased) Isabella Blow, Alexander McQueen, Philip Tracey oh! and Hubby Steve
What would you do if you won the lottery?
Expand my business and have a couple of great holidays with family
If you weren't running your business, what would you be doing?
No doubt something self-employed and creative 
For more information on Calm Amongst the Chaos go to
www.calmamongstthechaos.co.uk
www.calmamongstthechaos.blogspot.com
[email protected]
FACEBOOK
01425 839836 / 07904 294920
Design Studio and Shop
The Old Meat Store
69 Meeting House Lane
Ringwood
BH24 1AY