So the day has come AT LAST when we can all finally reveal to you the results of our Epic 'Big Fat Wedding Bloggers Photo Shoot' we all revealed our sneak peak – behind the scenesshots last week, but the final pictures are truly stunning!!
I was lucky enough to be asked by Kat the pink haired lovely from Rock N Roll Bride  along with Annabel Beeforth – Love My Dress, Alexis Cuddyre – OMG I'm Getting Married,  Charley Beard – London Bride and Amma Adjubi-Archibald – Beyond Beyond if we wanted to get involved in a UK Bloggers photo shoot………well I didn't need much persuasion (in fact I didn't need any persuasion) I think I may even have cried when she asked me!! BUT we weren't aloud to tell anyone…..which for anyone who knows me will understand that this was near impossible!!
Kat told us her reasonings behind the shoot:
'My inspiration for this shoot came from the fact that I had seen a lot of big brands in The States using fashion bloggers to model for and promote their brands. I loved the idea and thought it could really work in the wedding market. After all, wedding blogs are the new wedding magazine right?! I approached Rachel at Wimbledon-based Luella's Boudoir if she'd be up for letting us run wild in her shop and thankfully she loved the idea!'  
So I asked Annabel of Love my Dress (vintage bride), Charley of London Bride (quirky, British, cute bride), Kelly of Boho Weddings and Events (Boho bride), Amma of Beyond Beyond (modern bride) and Alexis of OMG I'm Getting Married (bridesmaid – Alexis is getting married this year and didn't want to be seen as a bride just yet!) if they'd like to come play dress up…and guess what? They all said yes!
So once we had all agreed Kat then got to work pulling what can only be described as the cream of the wedding industry together to help, photograph, style, and generally make us wedding bloggers look God damn gorgeous!
I have to say when I found out who was involved I nearly wet myslef!!
Dresses/accessories/location: Luella's Boudoir, Wimbledon, London
Photographer: Lisa Devlin of Devlin Photos Assisted by Amy Bartlam
Stylist: Kate Barbour
Hair: Severin Hubert of The Hepburn Collection
Hair: Elbie Van Eeden
Make up: Alison Cameron
Make up: Kaz Fernando
Video: Richard Wakefield of FX Films
Flowers: Alison Trickey of Pollen Nation
The day it self was amazing, I'm not just saying this but everyone got on SO well, it was fantastic to have so many truly lovely and hugely talented people in one building at the same time, I really did feel a little star struck and had to pinch myself to actually believe that I was part of it!
I felt like a movie star all day, in such a beautiful shop, with Kaz working her magic on my face, and Sev giving me the most amazing hair extensions I couldn't believe what he did with my shoulder length hair,  my wish for long flowing hair came true…..and for that I am truly grateful!!! The amazing Kate styling me, while Alison dropped flowers at my feet…..WOW how can anyone say that wasn't a magical day. BUT I think the most amazing part of all was having Lisa take my photos, how totally awesome is she by the way! a true genius!! I can't tell you how happy I am with the final pictures!
So here you are…………….my part of the shoot!……….Boho Bride!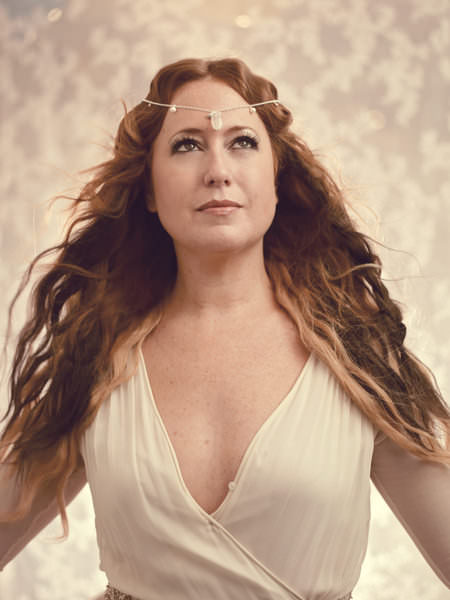 look 1: (main Photos)
Dress: Ava by Charlotte Casadejus £2400
Hair accessory: New rose small forehead chain by Yarwood-White £150
accessories: New Rose Bracelet by Yarwood-White £95
look 2: (group shot)
Dress: Maimuna by Charlotte Casadejus £2100
Hair accessory: New Rose Headband by Yarwood-White £205
accessories: New Rose Cuff by Yarwood-White £185
Everything is available for purchase through Luella's Boudoir"
The lovely Richard from FX Films filmed through the whole day, and this Video that he put together really captures what we all got up to.
The Big Fat Wedding Bloggers Photo Shoot (Behind the Scenes) from FX Films on Vimeo.
So that's me………BUT you have to see the other bloggers, they all look totally AMAZING!! Pop over to each of their blogs to see what how they were styled and their finished 'looks' Honestly you will not be disappointed!
Kat – The Punk Rock Bride
Annabel – The Vintage Bride
Charley – The Cute Bride
Amma – The Modern Bride
Alexis – The Bridesmaid
And if that isn't enough……………yes the group shots! How amazing to be in the company of such great women!
And one final word, I'd like to say a HUGE Thank You to Kat for asking me to get involved in the shoot, I had such an awesome day! and a massive THANK YOU to everyone involved, you are all amazing!!
Big BOHO Hugs
Kelly xxx