I just love a couple who really get involved with their wedding planning and make their wedding completely personal and all about their own personalities and today's wedding is just that! Captured beautifully by my good friends Jaye and Matt from Tux & Tales Photography this London wedding is fantastic. With a colour scheme of red white and black, Hayley and Mark really embraced the DIY life and created a whole host of stunning details for the day, including Lego place numbers, a huge amount of paper flowers for the bouquet and buttonholes as well as the table decorations, the invitations,  photo bunting, table pieces and the seating plans. I just love this wedding it looks like so much fun! Chilled out, relaxed, just what a wedding should be!
Our wedding was full of fun and frolics! It was all about us, not just the bride and reflected us as a couple.
Hayley and Mark tied the knot on 31st August at New Malden URC Church followed by their wedding reception at The Inn at Kew Gardens. "Mark has been running a youth group called Boys Brigade since he was 18 at the church. It was really important to us to have a personal wedding and we didn't want some random person we would meet on the morning of our wedding marrying us! Bruce, our Minister actually came out of retirement to perform our wedding so it felt really special! We had some of the kids and staff from Boys Brigade helping us on the day, they set up and served our drinks reception in the church gardens so it was really relaxed. Didn't want to be running around all day going from venue to venue with loads of hungry guests.
We both manage pubs so always wanted to have our wedding reception in a pub. Some hotel or stately home just wouldn't have been us. The Inn was an amazing venue and suited our need to have a down to earth, relaxed and informal day. It was all based on having fun with our friends and family. The staff we're amazing and they totally understood what we wanted. The extraction fan in the kitchen broke down the morning of the wedding but we didn't even know! Food was brilliant and they we're fantastically accommodating and let us do whatever we wanted. 65 guests joined us for the day and another 20/30 in the evening. We took around a year to plan but that was more to save up for it rather than sort out the details! We started off with what our 5 most important things were and just based everything on that. We decided food, flow of the day, photographer, music and being "us" trumped everything. Mark was heavily involved, probably more than most grooms!"
How they met
We meet 8 years ago at a pub we both used to work at. We flirted a little for a couple of months and Mark, being the perfect gent he is, used to walk me half way home from work. He lived nowhere near me! One night we stayed for a few drinks after work with some of the other guys. We walked back towards my house along the river and watched the sun come up together while arguing if there were birds or bats flying over us ( definitely birds! ) We snuggled up to each other and lay there for ages talking. When we went to leave I said "well I guess you should walk me all the way home tonight" and I guess the rest is history!
The proposal
It was a couple of days before my birthday and we had booked a table at Alan Ducasse at The Dorchester. I love food and was MEGA excited about it. We scrubbed up nice and had the best meal I've ever had. We had finished our cheese course and Mark started to look all fidgety in his seat. It took him ages to pluck up the courage but he finally got down on one knee. I cried and he tried to put the ring on the wrong hand! You can't understand the overwhelming feeling of pure joy and love you feel at that moment. It was incredibly special. The waiter noticed what was happening and brought out champagne for us. Mark told me after that he wanted to wait until the end of the meal so I could enjoy it. I told him afterwards I thought he was going to propose that night. We know each other too well!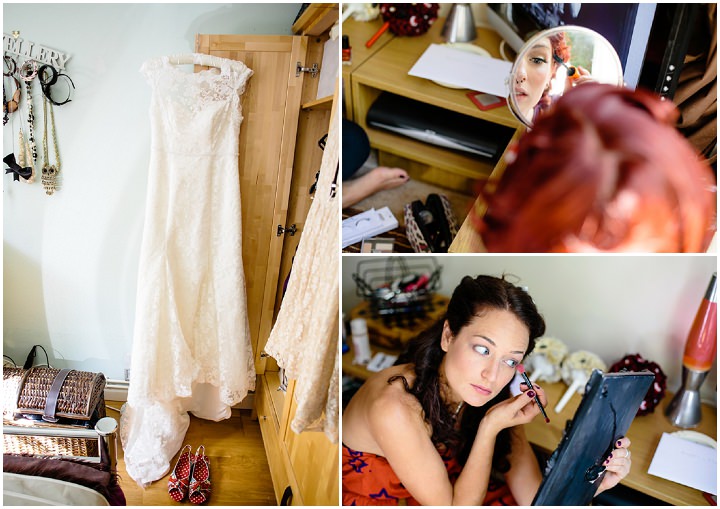 How did you allocate your budget?
We, as most people do, set a budget and then realised we had definitely under-estimated it! We hand-made most things, not for the budget but because we wanted everything to be as personal to us as possible. It's the best arts and crafts project you can ever set yourself! For certain things, the money didn't come into it as much as it being the right thing (photographers/band) Most of our budget was spent on food and drink, basically throwing a huge party. We didn't over spend too much after we had a more realistic plan but when you've spent thousands the odd £100 here and there to get it right was totally worth it. We didn't want to look back at anything and think " for the sake of £X" we missed out on something. By far the bargain of the wedding was the bouncy castle! Best thing we did!
Why did you choose your photographer?
I went though a few of the "alternative" wedding blogs to find photographers and I came across Tux and Tales pretty quickly. I'd love to say I poured over it and searched for ages but we knew what wanted as soon as we saw them. It was really easy. We organised a Skype chat and Jaye was lovely from the word go. We weren't sure about having an engagement shoot, but Jaye talked us into it and I'm so glad she did! On the day of our engagement shoot we went down our local pub and felt incredibly awkward. But with some time we both relaxed and got some gorgeous photos from it. It meant on the day we had already met Jaye and Matt so felt relaxed with them and didn't feel the need to strike a pose. I knew we had a total winner when I asked Jaye about doing our bridesmaid and groomsmen formals on the bouncy castle and she was all over the idea!
The dress and accessories
I'm definitely not the girl who's been drawing their wedding dress since they were little. When I started looking all I knew is I wanted lace. Started with a web search for style ideas and randomly found a dress from a company called Inspirational Bridal that I loved. It was only £250 so I thought this is too good to be true! I went to a few bridal shops to try on dresses, the first time I put on a wedding dress I was incredibly hungover after a staff party and was out the shop in half an hour to give you an idea of the kind of bride I was! Nothing matched up to this dress so without even trying it on I ordered it, which was a little scary. I always knew I wanted to make some alterations to make it 100% MY dress, I had beading added and a cap sleeve. It ended up being perfect. I had never intended on spending thousands of pounds on my dress but you can do it on a budget if your budget is tight. As long as it makes you feel special and comfortable, it's the right dress. I had 2 pairs of shoes, a pair of Iron Fist peep toe heels that I added bows and buttons to the front to match my bouquet and a pair of Irregular Choice flats for the evening.
The suit and bridesmaids
The suits all came from Next and the bridesmaids dresses came from BHS. We had a last-minute drama with dresses that had been made for the bridesmaid but the dresses that ended up with were actually much nicer!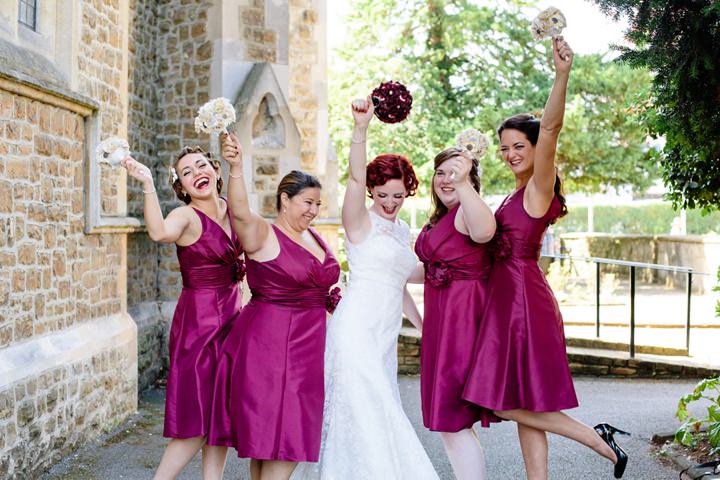 The theme
We didn't have a theme as such, our theme was us! If we liked it, it was in! We did decide on red, black and white as our colour scheme though.
The flowers
I made all my own flowers from the bouquets and button holes to the table decorations. A labour of love! My bouquet had tattoo style buttons which matched Mark's and the clip I had in my hair, which we now both have tattooed. Of all the things I made my bouquet is the one I'm really proud of, it came out amazing!
The decoration
Really simple stuff on the day. We had 250 photos of us, family and friends printed and hung from the trees at our drinks reception. I made all the table pieces which we're teacups filled with hand-made flowers and Lego table numbers. We picked a venue we loved so didn't really feel like we needed to change it heaps.
The food and the wedding cake
We had canapés and drinks in the gardens of the church straight after the service. We ending up serving food 3 times through the day as I hate going hungry! We only served 2 courses and all our friends baked cakes which we served as dessert. We had a very simple Red Velvet cake from Hummingbird Bakery; the best bakery ever!
The entertainment
We had a secret bouncy castle at our drinks reception that no one knew about which went down amazingly! We had organised with our photographer to do our bridesmaid and groomsmen shots on the bouncy castle, which are some of my favourite photos of the wedding!
We had a band called Cheesecake, who used to play at the pub Mark and I first met. Watched them for years in that pub and they have a great way with crowds. We even had a second "first" dance to tenacious d – f**k her gently, which everyone had a great old sing along to!
Buy or DIY your stationery?
DIY all the way! I had a really close friend help design the invites. We knew we had entered wedding world when it took us ages to find the right paper for the invites!
Personal or handmade touches
As I say I DIYed pretty much everything I could. It was a totally hands-on project for me and I really enjoyed being so involved. Mark made our cake stands and all the seat plan boards and guest boards. Basically if it involved drilling it was down to him!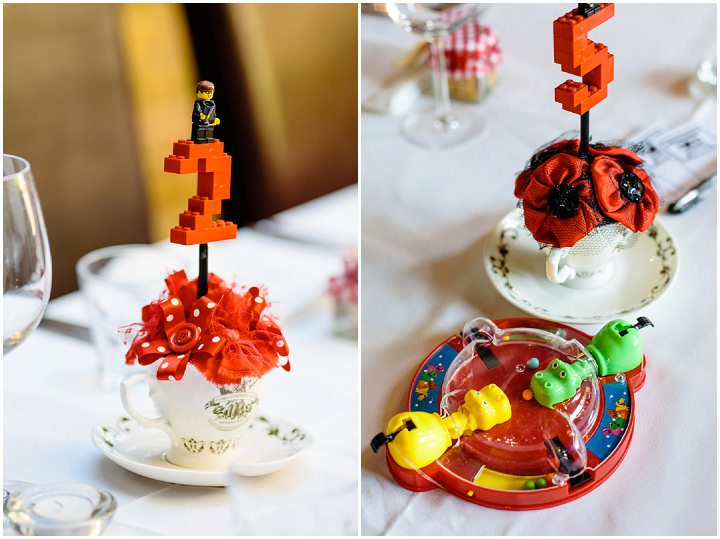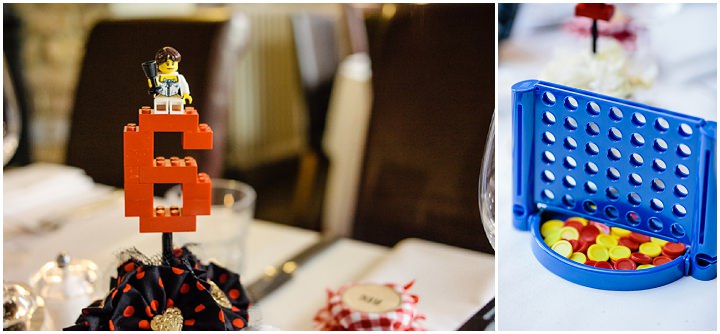 Special moments
Everyone tells you to make sure you enjoy the whole day because it'll fly by. I enjoyed every second of our day, I wouldn't change a single thing. My mum and bridesmaids twerking on the dance floor was pretty special! I don't think I could pin point one moment, but waking up the next day and taking a photo of our wedding rings together and knowing the day was amazing and we're now husband and wife was a pretty epic feeling.
Advice to other couples
We're both pretty chilled and that helped massively in the planning. I would say make sure you plan together and make sure the day represents what your all about. Don't worry so much about what other people are doing and don't over judge yourself because it will all come together on the day! The last 2 weeks will be stressful and you'll probably have a few snaps at each other!
Biggest surprise
How much everyone loved the day. We always knew we would enjoy it and hoped everyone else would as well. One of Mark's relatives told me he wished his wedding day was this fun, best compliment ever.
For more information on Jaye and Matt's work, please go to:
www.tuxandtalesphoto.co.uk
www.tuxandtalesphoto.co.uk/#blog
[email protected]
FACEBOOK
@tuxandtales
07590 410102

[jprel]