I have a gorgeous spring wedding for you today courtesy of Alex Dimopoulos from My Love Story. The wedding takes place in Petersfield in a gorgeous barn venue full of spring flowers and some very pretty lighting. The couple, Sarah and Tim worked hard at doing as much of it themselves to keep the costs down and brought in family friends to do things like the catering and the entertainment. I am especially loving this stunning venue and also Sarah's beautiful dress, absolutely gorgeous! I do love a barn wedding and luckily the weather was kind to them so they could carry though their garden party theme.
'Hectic and nerve wracking, but fun. Garden party feel, with just enough ceremony to make the day feel special.'
Sarah and Tim were married on the 5th of May at Tithe Barn, Petersfield. 'It was near our parental homes, and the barn looks church-like. Our parents are religious, whilst we are humanist. We had 105 guests and the wedding took 14 months to plan'.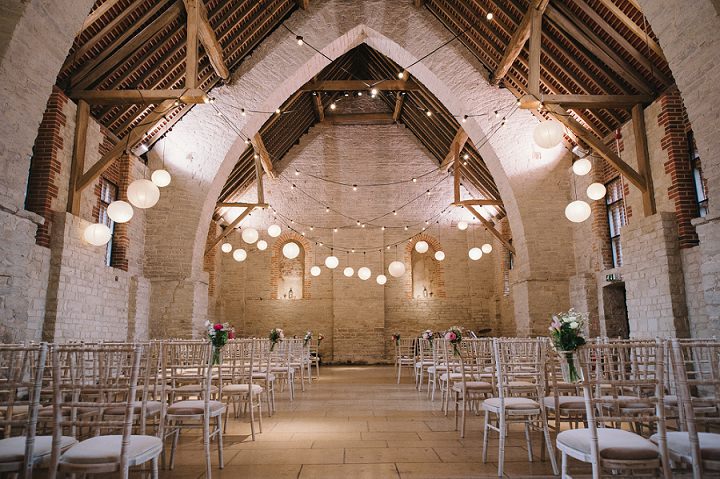 How they met
We met at Godalming College and have been together since March 2004.
The proposal
I took us on a surprise trip to Rome, a bit cheesy I know. Sarah had the flu and it rained. Great trip nonetheless.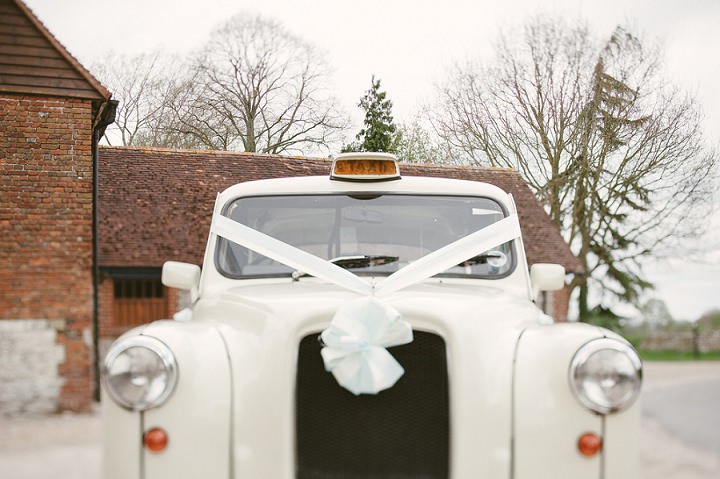 How did you allocate your budget?
Spreadsheets! I tried to have a central fund in order to control spending, but our parents unilaterally went and bought stuff. Lost track a bit, Sarah's parents paid too much, as did we. We had to do a lot ourselves, despite a generous budget of £12000 (increasing to £14000 by the end).
Why did you choose your photographer?
We liked the pictures on his website and were impressed when we met him. Has a similar ethos to us I think. He offered a more reportage style than prescriptive shots, which we preferred. Also, he offered a reasonable price. Some people wanted double, for standard looking photos, so I would recommend choosing carefully and try to negotiate based on your budget.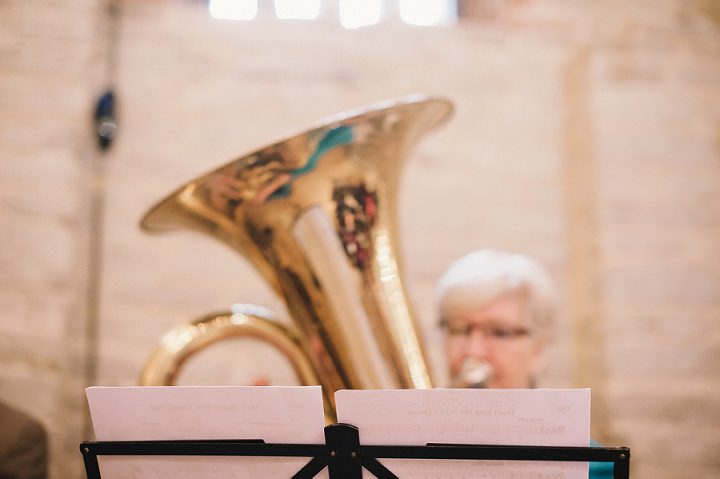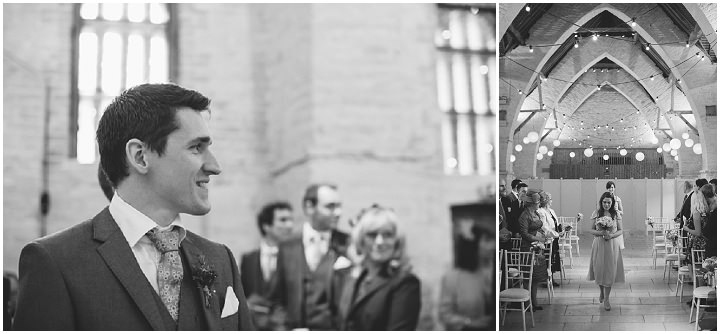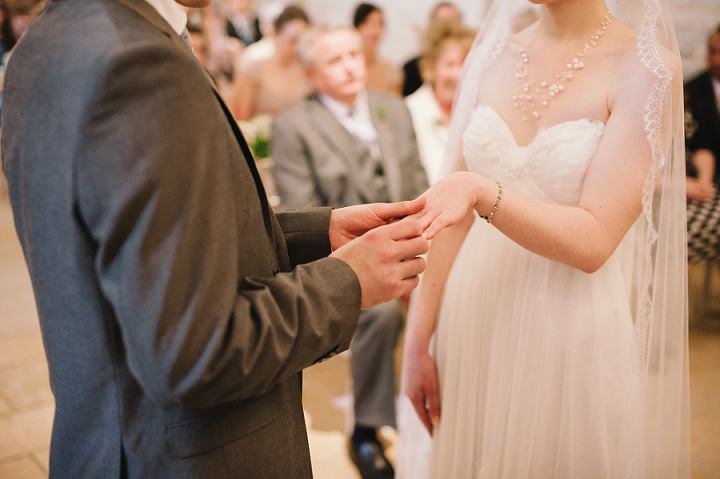 The dress
It was some expensive make and took up a big chunk of the budget, but it was important that Sarah was confident and happy in her dress on the day. Family heirlooms figured in the accessory department. Shoes were Monsoon.
The suit and bridesmaids
Suits were M&S, bridesmaids dresses were Monsoon.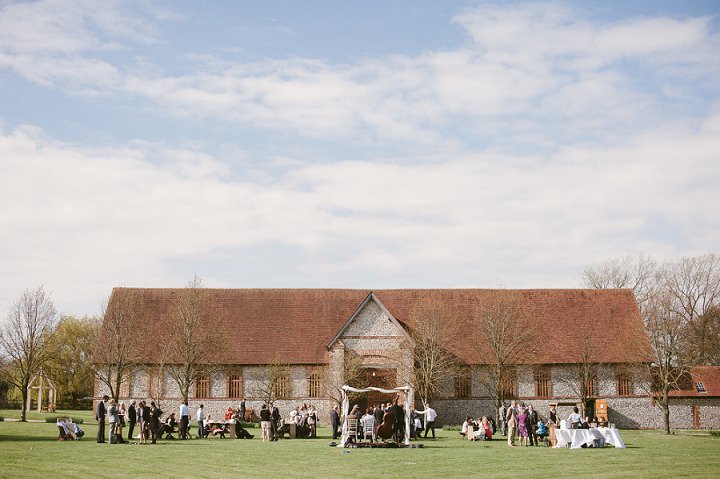 Theme or colour scheme
Summer garden party was the theme, so spring/summer colours. We settled on a colour palette early on and stuck to it as best we could.
Flowers
Mixed in-season flowers. Tried to go for summer meadow theme
Decoration
Mainly lighting. Done by CineMattAg. Cannot recommend highly enough. Throughout offered solutions and ideas whilst respecting our budget. Turned up early and was done quickly. They then took things down in the evening, after we had finished.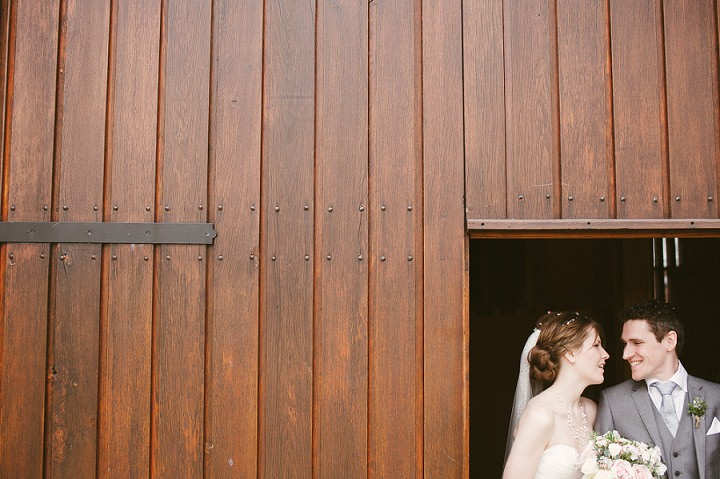 Food
Buffet-style done by a family friend. A whole roast hog was the main showpiece but there were loads of veg (griddled asparagus, pulse salads, mushroom salad, leafy salads) and fish dishes (mixed seafood salad and fresh whitebait). Parmesan lollipop chicken drummers were included to satisfy the meat eaters. The food was a big part of our day. Our caterers, a fine foods supplier and wedding venue caterer were fantastic. Their kids (now adults), who Sarah used to babysit, acted as waiter and waitress.
Wedding cake
Wedding cake was a massive stack of cheeses. Sarah's grandmother also made a traditional wedding cake for good measure.
Entertainment
Sarah's cousin is in a jazz band; they came down for the afternoon. They played on the bandstand outside, alongside and various games (pétanque and Spacehoppers) . My best man's speech after the meal, followed by DJ. Also, a free bar.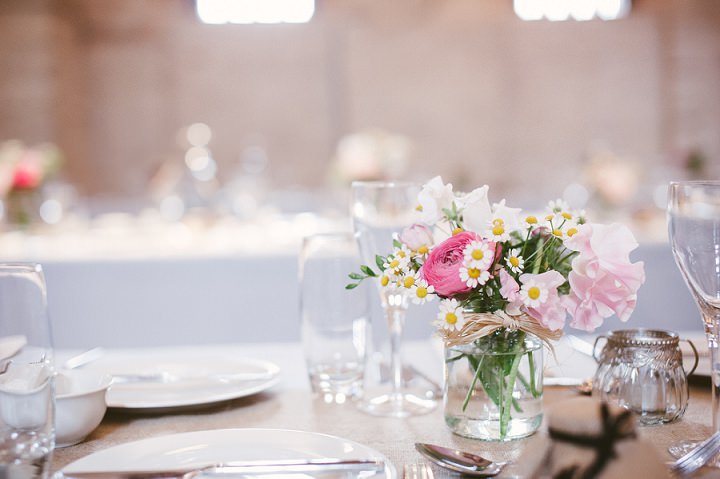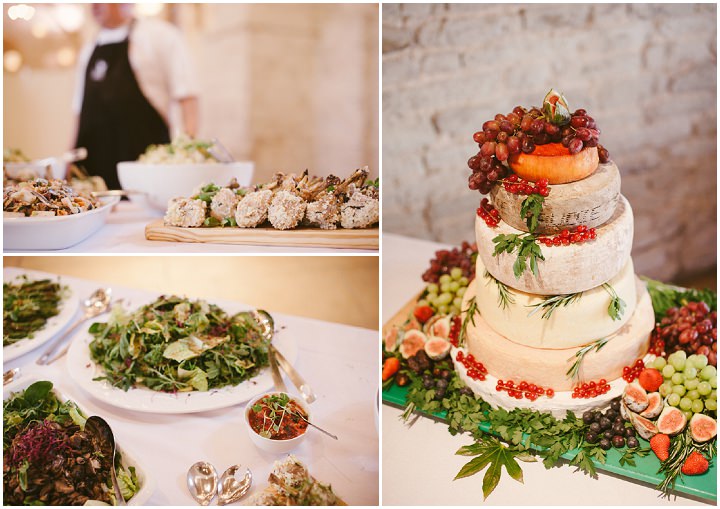 Buy or DIY your Stationery?
We did it all ourselves through various online suppliers. We shopped around and also went to local stationers in Haslemere. The bought stuff was astronomically expensive in our experience.
Personal or handmade touches
• Sarah's artistic vision, planning came to fruition through hard work from us, our families, friends and suppliers. I would also like make a special mention of Rick, who built the bar and bandstand. Sarah's family, who acted as the wedding brass band (with one of my best mates as a drummer) were great. Sarah's aunt also asked along two members of their band, who acted as composer and bass player (on the tuba). They couldn't have done a better job on the day.
• Sarah, Sarah's bridesmaid, and her partner James were great, in the days running up to the wedding especially. They helped get things finished. With me away on placement, we struggled and they really came through.
• My mum made the wedding favours (jam for girls, marmalade for boys).
• Sarah's nanny made a wedding cake.
• I am not sure in which section to mention this but the registrars were perfect. They were from Petersfield.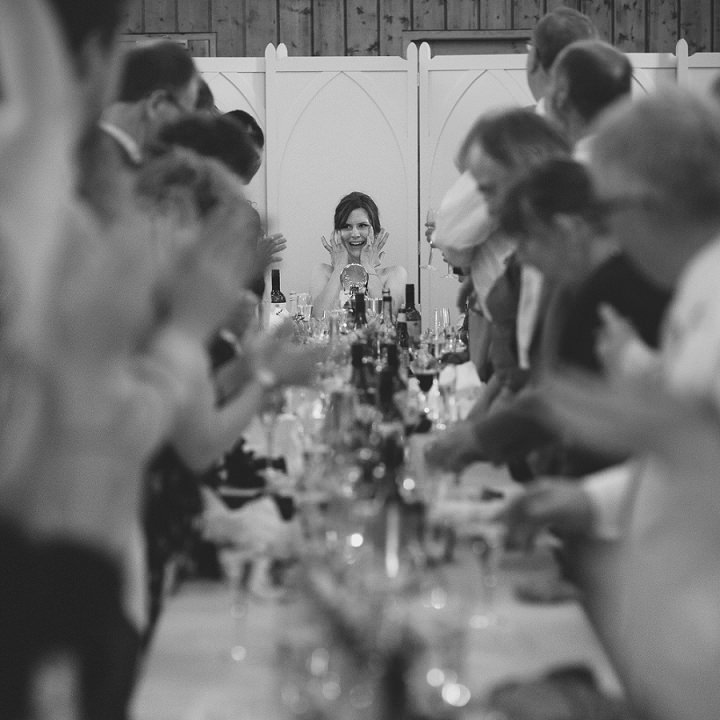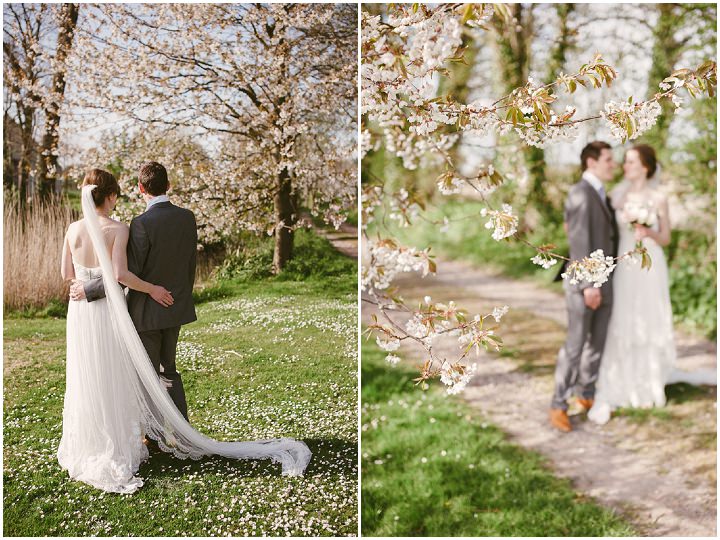 Special moments or highlights
The whole thing, of what I can remember. I loved how well the brass band played. Jurassic Park as the wedding march worked really well. The guests seemed to join in with the 'hymn' (Wet Wet Wet, Love Is All Around). The service led by the registrar was exactly what we had hoped for.
Biggest surprise
My brother pulled off his speech. The orange-ness of my shoes. There weren't too many surprises thanks to Sarah's spreadsheets and excellent work from the suppliers.
Advice for other couples
Don't go on work placement in the preceding days. Don't wear orange shoes. Get rest beforehand if you can. Delegate where appropriate, if your family aren't inclined to take over completely. We enjoyed doing a lot ourselves and we glad our family got involved as it made the day more personal. Whilst it is important to plan, try and be a bit flexible. As Alex (photographer) said, don't worry about minutiae of the decorations on the day, especially in a large venue and concentrate on the bigger picture.
Supplier Shout Outs:
For more information on Alex's work go to:
www.my-lovestory.co.uk
www.my-lovestory.co.uk/blog/
FACEBOOK
@MyLoveStoryFoto

[jprel]