Here at Boho Weddings we LOVE cake! and we especially love different ideas for wedding cakes! So many people these days are deciding to bake their own cake, with the rise of baking programs like the Great British Bake Off, the new trend for baking is big business! So if you are currently looking for new cake ideas for your wedding or party then todays post is just for you! I have enlisted the help of cake expert Jamie from Make Bake to tell us more about his fresh ideas for wedding cakes and to give us a few recipe ideas!  I hope you like them! I'd love to know what sort of cake you have chosen for your wedding, are you making your own? If so what have you decided on?
I'll pass the Blog over to Jamie from Make Bake………
Getting married will be one of the sweetest moments of your life (we hope)! If ever an occasion called for lashings of buttercream and booze-soaked fruit sponges, it's this one. Unless you can find a really unique wedding cake bakery, your big day is going to have a pretty normal, 'cut and paste' pudding. That's why we'd recommend baking your own and having fun with the design! Here are some of our favourite inspirational wedding sweets that are just a little bit special…
Red Velvet 
What could be more decadent than a deep, rouge, layered sponge, frosted with white icing? This showstopper won't last long, and it's perfect for 'grown up' receptions!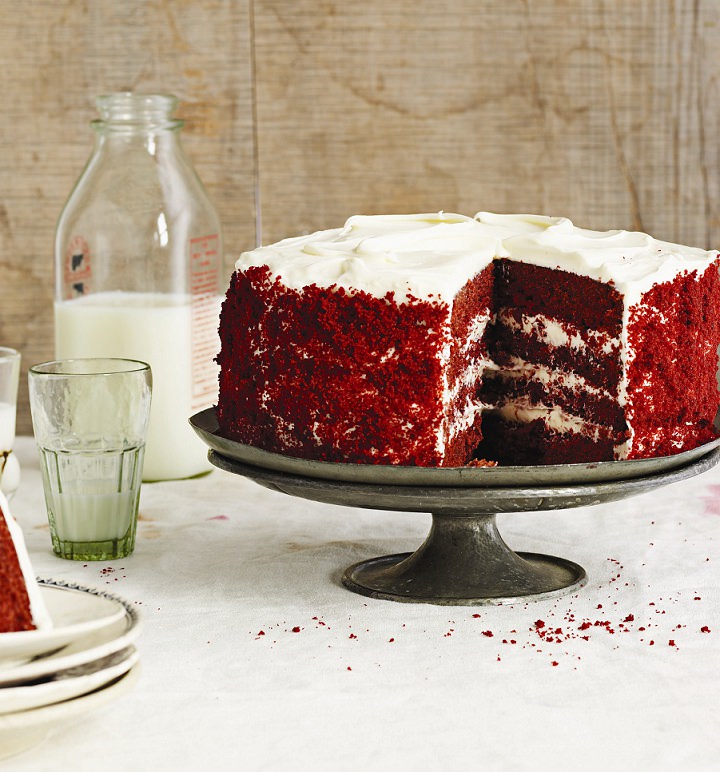 Recipe and image from Onewed.
Summer Fete Cake  
Summer love. It's cause for celebration! This cute bunting cake is ideal for outdoor ceremonies and is a beautiful, simplistic centrepiece. Very British too, if you're having your wedding at home.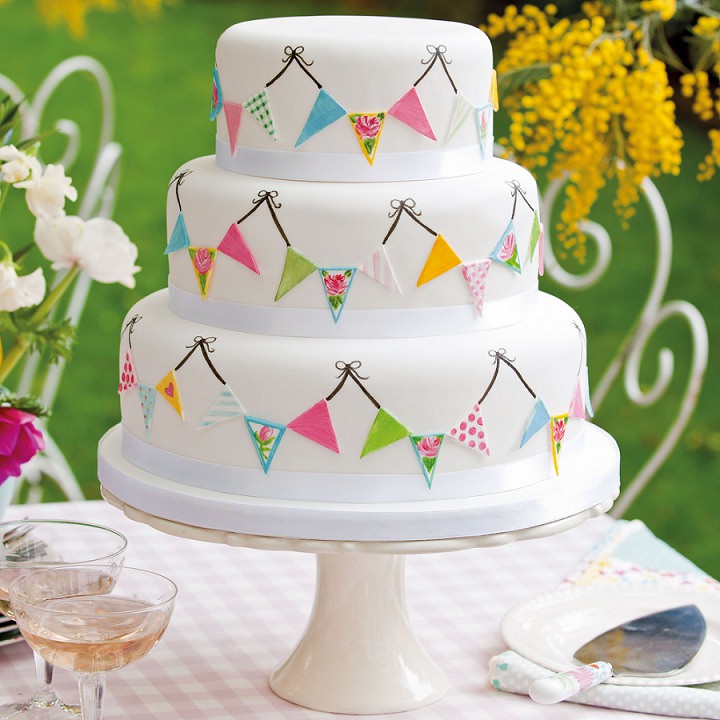 Recipe and image from Woman & Home
Pineapple Cream Cupcakes 
For a fun and novel combination of flavours, these adorable pineapple cream cupcakes will knock your guests off their feet and the little ones will love them. Their super easy to make, so you can even get your kids to help you with the baking! Many hands make light work…
Recipe and image from Twelve O Eight
Sugar Ruffles
You may already know these delightful bites as 'Viennese Whirls.' They're perfect, if you're looking for a delicious but light alternative to a traditional wedding cake. Stack em' up!
Recipe and image from Sugar Ruffles
Strawberry Shortcake 
Don't be fooled by the 'shortcake' title. To the Japanese, this means a lovely layered sponge, filled with whipped cream and frosting (this is what we were going for too) – it's so simple to assemble and bake that making your wedding cake will be a cinch. You can get some useful piping equipment from MakeBake, to make a more intricate design
Recipe and image from Happy Home Baking
Rainbow Cereal Cake 
Yes, you too could have this magical cake at your wedding – or so Betty Crocker says! If you love rainbows and cereal, you can't go wrong with this eyecatching treat. Who wants a normal cake anyway? With florist paste, you can make your own edible roses for extra decoration (it's easier than you think).
Recipe and image from Buzzaurus
Ruffle Rainbow Cake 
Continuing on the rainbow theme – because who doesn't love multi-coloured cakes – this pastel, ruffled layered cake will have your guests coming back for more. Although they'll need a big appetite to manage these tall slices!
Recipe and image from Bubble and Sweet
Vintage Lace Wedding Cake 
Have your cake mirror your wedding dress, with this lacy, floral beauty. It's a great option for a traditional, vintage ceremony, but you'll have lots of tiers to bake, so get the family to help! Assembly could be a little tricky, but with the right support, you should be fine.
Recipe and image from Bronnie Bakes
Lemon Meringue Tower 
This epic lemon meringue is the stuff of dreams. Imagine your guests' faces when they see this citrusy delight! It certainly is different. You will need the right pastry moulds, but baking this wonderful dessert is all plain sailing from there onwards.
Recipe and image from The Pink Whisk
For more information on Make Bake go to
www.makebake.co.uk
[email protected]
FACEBOOK
@Make_Bake



[jprel]