I'm not going to lie I am more than a little bit in love with today's wedding! I just love warehouse and industrial weddings right now, don't get me wrong I still love my woodland and rustic weddings, I will never tire of those, but something a bit more urban is always a pleasure to feature on the blog, so BIG thanks to the amazing Laura Babb for this awesome submission. The couple Laura and Karl decided that a traditional venue wasn't for them so they found this amazing warehouse venue complete with forest scene and vintage caravans to transform into their wedding venue. With giant balloons, a stunning cake table, gorgeous flower crowns and wonderful table decorations, this wedding is screaming out urban chic, as well as a whole lot of fun. More of this please for 2014!!
'We did it our way'
Laura and Karl were married at St Werburgh's Church followed by a reception at Camp and Furnace in Liverpool. 'From the start we knew that we didn't want a wedding in a hotel or a country house, so when we found Camp and Furnace in Liverpool (an indoor event space, bar and restaurant) we knew we'd found the place. We chose 'the Camp' area for our reception which is a huge warehouse space, with a floor to ceiling forest scene printed on the walls, vintage caravans, festoon lighting, olive trees, ping pong tables and a gigantic projection screen. The room gave us a blank canvas that we knew we could work with and provided us with the inspiration we needed to make it our perfect venue.'
The Dress
I went to one wedding dress shop under duress, I'd already chosen my dress on line but everyone was worried I'd regret not trying on some others, but once there everyone agreed a typical wedding dress was not for me, I felt like I was playing dress up. In the end everyone said I looked like the comfiest bride ever, and I was!
The suit and bridesmaids
Karl just wanted a nice suit rather than anything too formal and let all of the groomsmen wear whatever they wanted, there was no theme at all, the only thing they had to tell them apart was their buttonholes. I think it worked well, everyone was comfortable and stylish in their own way.
Decoration
We made, borrowed and collected everything that we needed for our day. Our families and friends were a great help, from tassel making to table runners, invitations and orders of service, everything was hand made. Jars and bottles were collected, even the Dad's DIY skills were put into action.
Entertainment
On the big screen we played Carry on Camping whilst everyone arrived and had drinks and canapes (which were amazing), we then had a very slow moving forest scene whilst we ate dinner and did the speeches. Then for the evening when the music started our friend cut together all the best dances from loads of movies. People thought we had organised it so each dance went with the music, but that was just a lucky coincidence.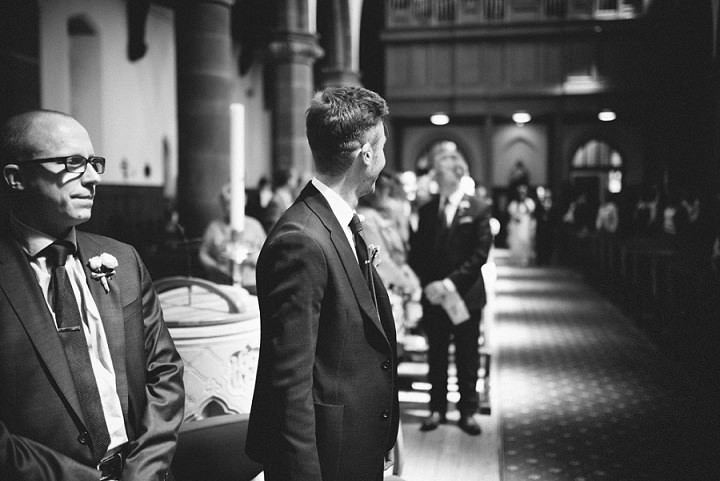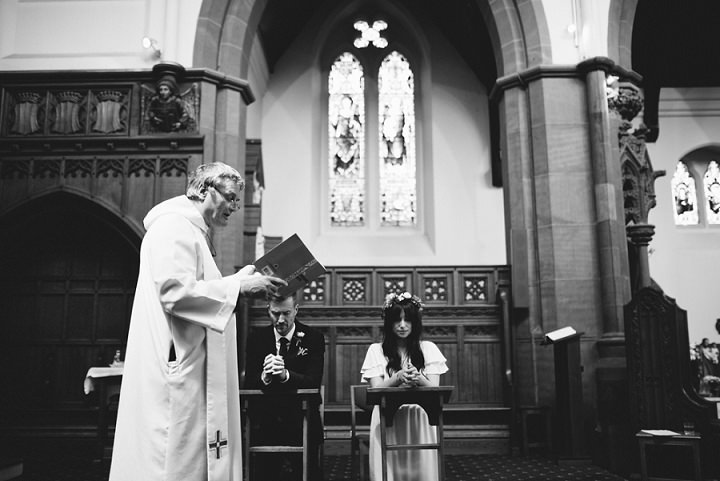 Food
For the meal we had a picnic which was brilliant, everyone got stuck in and shared things around, which was a great conversation starter. The food and the staff at Camp and furnace were great. We just wish we'd eaten more on the day, for some reason (adrenalin) we just couldn't eat.
Wedding Cake
We had a huge cake table as we love cake and couldn't choose just one! I really wanted to use the gold letter balloons, but didn't want to use the word love or anything like that so we simply went for CAKE. We also had a traditional cake form Marks and Spencer and personalised it with our custom Hinterfolk by the illustrator Jes Hunt, a bell jar and fresh flowers.
Personal or handmade touches
My best friend and maid of honour is a make-up artist, her sister in law to be did all of our flowers (2 days before she gave birth), my hairdresser is a friend, another friend made the music video that we played on the big screen as a back drop to the dance floor and very kindly, my boss brought his mobile bar in the form of a Citroen H van that served all of the guests their first drink.
Special moments
The entire wedding ceremony at St Werburgh's Church was brilliant from the first time we saw each other at either end of the aisle. We knew it would be good because our priest Fr. Paul could be/should be a comedian. He had people crying with laughter. Also towards the very end of the night, when a lot of people had slipped off to their hotel rooms the die hard party people and us kept the party going until the early hours dancing with the DJ to 'Jump in the Line' by Harry Belafonte, which has turned into our unofficial wedding song, as we decided against a first dance
Advice for other couples
If you're getting married in a church but don't go regularly then you should make the effort and go more often. This will allow you to get to know your priest and it makes it so much more personal. Although you can't help but be consumed by your wedding on the run up, try not to give yourself too much to do or spend money unnecessarily. Stick to your initial plan, and don't add things in just because you've been overloaded with ideas. We believe less is more. The best bit of advice from a friend was make sure you get a chance to dance, so that's exactly what we did, and if you don't want a first dance because you know you'll hate it then don't put yourself through it.
Laura and Karl – Wedding Highlight Film from YAY! Films on Vimeo.
Supplier shout outs:
For more information on Laura's work please go to:
www.babbphoto.com
www.babbphoto.com/blog
FACEBOOK
@BabbPhoto