This Competition is now closed and the winner is Kelly Armstrong
If you are planning a wedding and inviting children then maybe you should consider a Mobile Creche. A Creche can take away the stress of keeping the little ones entertained, after all weddings are pretty long for us adults, let alone children and babies. As well as being entertaining for the children, they can also be a welcome rest bite for the parents as it means they then get a chance to let their hair down and enjoy the day more.
Today I'd like to introduce you to Pots of Fun, who are a first class wedding crèche company covering the London and Kent area. Pots of fun are here today to tell you a bit more about the services they offer, as well as an amazing competition to win your own wedding creche for FREE!!
'We are Ella and Jen the 2 directors behind Pots of Fun. We knew there was a need for good quality childcare for everyday events but more often we were getting asked about childcare for weddings. With this in view we set up our mobile childcare service. We started in 2008 and are based within the Royal Borough of Greenwich.
'Between us we have over 50 years of childcare experience, from Childminding, nursery manager, out of school clubs, pre-schools, NVQ tutor and Assessor as well as bringing up or own children. We are Extremely friendly and flexible but very professional, our priority has always been and always will be the children.
We pride ourselves on being a creative style provider that encourages the children to use their imagination and creative side. Children will go away with a variety of items that they have made or decorated, fridge magnets, door signs, photo frames, wooden spoon puppet etc.  We are also traditional in our equipment and activities, which encourage children to play together and experience play without the use of computer games or the latest toy craze.  Remember Pin the tail on the donkey, pass the parcel, musical statues, that's us.'
Here's  all the questions you wanted asking about their Wedding Creche services
Who can pick up my child?
We are very security conscious and for this reason we have a couple of ways to ensure only a designated person picks up your child. One way is that we ask you to give a word that is only known by you and will be recorded on the registration form so when you or who ever you send to collect the child they will have to know this word, another method we have is that we will give one half of a laminated picture card and once again the person collecting will have to have the half of picture which will match the other half that will be once again on the child's registration form. We will also ask an additional question from the registration form, child's date of birth, mother/fathers first name etc.
My child has allergies/special needs. When will I be able to brief the team?
We will want your child to have the best possible experience whilst in our care, so you can contact us at any time by phone or email and discuss your child's needs and how best we can support them and we would ask you to access the crèche before the other children so again we can make sure we have everything in place.
How do I know the activities will be fun for my child?
Our staff has lots of experience working in a number of different types of childcare
environments: day nurseries, crèches, pre-school, child minding and out of school clubs. With their skills and knowledge we know your children will have a fun, enjoyable and memorable time.
We provide age appropriate toys, equipment and activities.
We also provide free surprise gift bags (age and gender appropriate) for all children booked into a Wedding Crèche*
Can you give examples of the types of activities?
We like to think of our company as traditional childcare, where we encourage children to explore and use their imagination, which is reflected in our equipment and activities, to give you an idea here are some of the activities they will experience and play with Books, puzzles, Lego, Duplo, Play dough, Cars & car mat, dolls, building block, singing, dancing, bubble dancing, pin the tail on the donkey, musical statues, drawing, Baby area.
There will also be a large section of arts and crafts where the children will make objects that they can take home, such as door sign, fridge magnets, mask, puppets, wooden pen pot.
All the above are just examples. We have so much more and we have never had a bored child yet.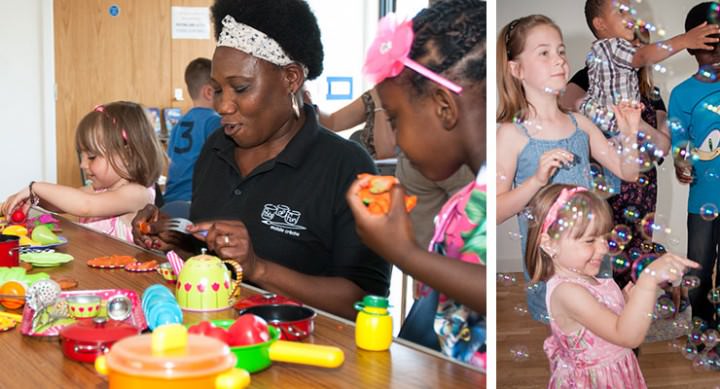 How do I know my child(ren) will be in safe hands?
We know how important your child is to you, and you will want to know that they are being properly cared for, that is why we strictly adhere to Ofsted standards to ensure all of the children we look after; receive the best possible and professional care.
All our staff hold a childcare qualification are DBS enhanced, first aided and attend regular training, in safeguarding, First aid etc.
Pots of Fun will supply electrical socket covers.
Will carry a first aid kit
Will wear disposable gloves whilst changing babies
Once your venue and room is booked, we will carry out a free risk assessment.
See also 'Room requirements below'
What do I need to do on the day?
There are a few things we would need you to do. They are listed below.
1. Organise a separate room for the crèche to take place. Ideally you should book this when you book your venue.
Most venues will have an area or side room where the childcare can be held. If you are
unsure, let us know and we can contact your venue provider on your behalf.
Further room requirements:
– As near to the toilets as possible, As near to the toilets as possible
– Suitable flooring(no splinters/torn carpets etc.)
– Windows that can be locked
– Doors that can be closed
– Any unused furniture should be taken out of the room if possible, or stacked safely in
accordance with the Health and Safety regulations
– Pots of Fun will supply electrical socket covers
– Be available at least 1 hour before and after the event for set up and pack down
2. A contact person for our staff to meet on arrival
3. The emergency procedure to be explained
4. Access to drinking water – if access to drinking water is not available then a supply of
bottled still water will be acceptable
5. Low tables and chairs (if available)
6. Registration of each child we will be caring for (registration forms will be provided at the
childcare event and can be supplied ahead of the event to be completed in advance)
to the staff upon arrival
7. Once you have the date of the event set, we will carry out a free risk assessment of the room
Will I need to provide food and drinks for the children?
Yes – we will only give food and drink that has been supplied or agreed by the parents/carers. This is of course because of allergies, culture and religious reasons.
Are people who look after my child qualified and CRB checked?
Each staff member has been through a stringent screening and holds at least one national childcare qualification and is enhanced CRB / DBS ((Criminal Record Bureau)(Disclosure and Barring Service) checked.
How many staff will look after my child?
The number of staff required is calculated on the number and ages of the children, which is set by Ofsted and is a legal requirement. We will always adhere to their requirements.
What happens if my child is injured, can staff provide first aid?
Absolutely. There will always be a staff member who holds a First Aid Qualification and will hold the First Aid Box. An accident/incident form will be completed which the parent will be shown and asked to sign.
Is there anything I need to bring? (or do I just drop off my child)
You can bring anything you feel would make your child's stay with us an easier stay. It is usually a good idea to bring their buggy as some children find that having that nearby is a comfort and will use that as a base. Any comfort items are of course welcome; the only thing we would say if possible is not to bring their favourite toy as usually this can cause upset when other children want to play with the toy as well. You will need to supply nappies and creams that are required for nappy changing, which our staff is happy to do.
Do I need to bring any money?
No money is needed
If my child gets upset how will I know?
Parent's mobile number is recorded on the registration form for the staff to phone should the child not settle or become distressed. Our staff will always talk to the parent to gain a little knowledge of the child and will use every possible means to settle the child, but if after 10 minutes the child shows no sign of settling then the parent will be called. We will never let a child become too distressed, the child's welfare is our number one priority
Do you accompany the children to the toilet?
Absolutely, every child is escorted to the toilet regardless of age.
What sort of insurance do you have in place?
We have public and employer liability insurance a copy of which is included in our Policy and Procedure folder, which is on the signing in desk.
Is there an area for my baby to sleep?
We always provide a quite area, with cushions and children's novelty sleeping bags where children can relax, read books or just full asleep. There is always a member of staff nearby who will oversee this area.
What happens in the event of a fire?
We will always on arrival ask the venue management their fire procedure and all staff will be aware of this. We will evacuate all of the children in the event of a fire. Parents may escort us to the evacuation point but this will depend on the fire evacuation procedure.
Can I stay with my child?
You can stay with your child for as long as you wish, but in our experience it is better to leave as soon as possible so that the workers can settle your child.
Is there a minimum number of hours booking?
We do require a minimum of 3 hours for weddings and 2 hours for any other function
Where do you hold the crèches?
At the venue of your choice, you would need to organize a separate room for the crèche to take place.
How many children can one staff member look after?
This will depend on the age of the children
Ofsted ratio is:
0-1 = 3 per worker
1-2 = 4 per worker
3+ = 8 per worker
What age range do you cover?
From 0 – 12 years old
Is there a register of all the children booked into the crèche?
Yes. A member of staff will ensure a registration form for each child is completed
Do you have a uniform?
Yes. All staff members are dressed with a black top with the Pots of Fun logo.
Win a Pots of Fun Wedding Crèche for your Big Day!
To enter – email [email protected]  subject line: BOHO COMP. Please include your full name, email address, contact number, wedding date and wedding venue.
Entries close at midnight on 15 December 2013.
The winners will be chosen at random from all valid entries. There will be ONE winner of the Pots of Fun Wedding Crèche prize.
There will be FOUR winners who will receive a 20% discount code to use for a Pots of Fun Wedding Crèche.
The children attending the crèche must be between the ages of 0 – 12 years old.
The prize is valid for weddings taking place between January and December 2014 only.
Pots of Fun are based in Greenwich, London; serving London venues and surrounding areas (we can only travel approximately 1.5 hours max by car to your venue). To check if your venue is within our catchment please click HERE 
A separate room will be required for the crèche at your wedding venue.
The winner must confirm the booking of the crèche within 30 days of winning the prize.
Open to UK residents only.
One entry per person.
Winners will be contacted via email.
The Judges decision is final and no correspondence will be entered in to.
The competition will run from 5 November 2013 until 15 December 2013.
The winners will be notified on 18 December 2013.
Potsoffun.org is compliant with the data protection act. Our policy is such that we will not pass on your details to any third party without your prior consent.
For more information, click here to download the Pots of Fun Wedding info pack 
For more information go to
http://potsoffun.org/wedding-creches
[email protected]
FACEBOOK
@PotsOfFunCreche