Happy Friday everyone! I do hope you are ready for the weekend and have something fun planned. It is of course Mother's day on Sunday, so happy Mother's day in advance to all you lovely mummys out there. Being a mum has been the hardest, yet most rewarding job of my life so far. It has changed my life for the better but in so many more ways I could never imagine possible! So go give your mum a massive hug, if she is with you on Mother's day, and make sure she feels appreciated! Going back to today's wedding, the last wedding of the week, and it's this super stylish Cotswolds wedding that took place in November last year. It is an elegant day filled with fairy lights, the most gorgeous Jenny Packham dress and a stunning barn location. Big thanks to Kevin Belson for these amazing images.
We wanted to be involved in our day, keeping it relaxed and fun. Our priority was that everyone had a good time.
Geraldine and Melvin were married on the 19th November 2016 at Cripps Stone Barn in Aldsworth, the heart of the Cotswolds.'Mel and I love the Cotswolds and it seemed like the perfect excuse to have the ultimate weekend there with our family and friends. Stone Barn was our 3rd venue viewing and we fell in love with it so much I cancelled the other 5 viewings we had that afternoon. We had 112 guests.'
How they met
We met in 2003 when Mel interviewed me for a job! Thankfully, I was the successful candidate and after 3 years as colleagues (our desks were side by side!) we decided to become an item in 2006. Being 9 years older, Mel didn't think he was in with a chance but it turns out we had a lot in common, one of those things being the only people under 50 to enjoy Midsomer Murders! We walked into our wedding breakfast to the theme tune!
The Proposal
The first person Mel asked was my Sister, Holly. She helped him all the way along the ring making process with secret trips to Hatton Garden. I was none the wiser! The proposal happened when Mel took me on a trip to Iceland for my 30th Birthday in October 2015, it was full of activities and Mel had the ring in his pocket for the whole trip he finally got on one knee in room 0 at Hotel Ranga on our last night. We spent the rest of the evening telling family and friends, despite the extravagant meal we had, we don't remember a thing about what we ate!
Why did you choose your photographer?
Photography was the first thing I looked into. It's one of the only things that keeps on giving from the day. You can look back at them on anniversaries and they're passed down in generations so I wanted to make the right choice. Kevin's work is exactly what I was after, capturing the emotions of the once in a lifetime moments in the day that you might forget over time. We can all smile and stare down the lens of camera but capturing that in the moment smile, laugh of tear doesn't happen often. We are so happy with our photos, they capture so much emotion and are like a story book of the events on the day. I loved the fact Kevin and Carol were a partnership, it opens up the opportunity of much more photos and the engagement shoot was incredibly helpful to feel more comfortable on the day. I researched our photographer more than I did anything else and I am so pleased I made the choice I did.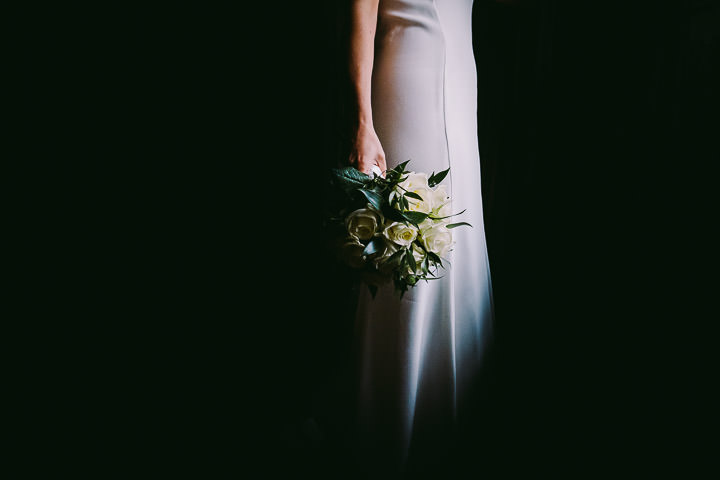 The Dress
I tried on 55 dresses over 5 shops, and after starting to despair that I'd never find the right dress, I tried on my beautiful Jenny Packham "Fern" gown in The Wedding Shop, Colchester. It was the perfect size and the striking, elegant style I'd been after all along. My shoes were Jimmy Choo and my earrings were borrowed from a work colleague who had worn them on her wedding day a year prior. They were the perfect complement to my dress.
The Suit and Bridesmaids
The suits were from Jack Bunney's in Barking, Essex. Mel's check waistcoast and tie were custom made. We gave the ushers and Dad's pocket watches as gifts so they could wear them on the day, they really topped off their look! The Bridesmaids were in multiway dresses from Victoria Lou. I went for Dove Grey Tulle to match the chaps' ties and pocket squares. The girls could wrap them how they wanted them and if they wanted a different look later in the day, then they could!
Theme or Colour Scheme
My theme was like my dress, crisp and elegant but you could say I used The White Company as my inspiration.
Flowers
The name Rose runs in my family, it's my Sister's middle name and white roses fit nicely with my elegant theme so seemed like a good choice for the bouquets and button holes. Not many people knew, but in my bouquet was a little Westie dog, a gesture to my families pet that is sadly no longer with us.
Decoration
The beauty of Stone Barn is that it doesn't need much decorating to look spectacular. We had beautiful ivy on the ceiling wagon wheel in the stone barn and cascading down the pillars in the dining area. All the rooms were awash with candles and of course the Dutch barn ceiling is a blanket of fairy lights. We said "I do" in front of the roaring fire and we had a vase of figs on the ceremony table.
The Food
The catering was on site provided by Cripps, cooked on the biggest indoor BBQ in the UK!
Wedding Cake
Our cake was a show stopper, a Krispy Kreme tower…218 doughnuts in total! People were pushing me out of the way to get a picture with it! Mel's parents erected it on the morning and did a fantastic job
Entertainment
Part of the reason we went for Stone Barn was the food option, we went for the Sirloin Brick, which gives you the option to nominate a carver at each table, we kitted them all out with an apron and hat and they all LOVED their role. It was great fun, and was a great ice breaker for people that didn't know each other. Music is very important to Mel, the one thing he wanted was a live band for the evening entertainment, we chose Electric Soul Club, they did a great rendition of our first dance song, Zoom by Fat Larry's band.
We had a dressing up box and Polaroid cameras flying around the dance floor…some of the photos were highly entertaining!
Stationery
My Dad is a printer so he was my first port of call when it came to the invites. He also printed our favour cards.
Personal Touches
There was no hesitation when it came to favours that I wanted a charitable donation made to Cancer Research UK. My Mum has battled cancer twice, along with Mel's Dad. We both feel incredibly lucky that they were there to share our day with us. 3 of the carvers Mel was best man to so we carefully selected personal aprons for them to take on their special role on our day.
I was driven to Stone Barn by my Dad in my own Mercedes SLK, getting out of it was a little tricky!
As we met in London and have worked there our whole adult lives, we named the tables after places that mean something to us, from the place we met, Temple, our first date in China Town, the London Olympics in Stratford to the train station we spend so many years coming in to…Liverpool Street!
Special Moments or Highlights
Mel loved the first dance, he felt like it was just us in the room. I was incredibly nervous about my entrance and vows but actually it was my favourite bit!
Advice for other couples
Always remember that it's your day, it can easily be forgotten in the planning and preparation. Photography is more important that you think, research, don't go for the first option, they are the only things that last from the day.
Supplier Shout outs 
Wedding Dress: Jenny Packham from The Wedding Shop, Colchester 
Shoes: Jimmy Choo
Earrings: Carat
Bride's hairdresser: Chris Fordham
Make up artist: Harriet Cook
Photographers: Kevin and Carol Belson 
Band: Electric Soul Club
Flowers: Beth Cox
Cake: Krispy Kreme
Favours:Cancer Research pins
Bridesmaid Dresses: Victoria Lou
Suits: Jack Bunneys, Essex
Catering: Cripps Stone Barn
Coach for the guests: Denwell Coaches
Table plan and table names: Project Pretty
Bridal party stayed at The New Inn, Coln St Aldwyns
For more information about Kevin's work go to:
kevinbelson.com / kevinbelson.com/blog / 01793 513800 / [email protected] / FACEBOOK / I: @kevinbelsonphotography / T: @KevinBelson / PINTEREST