When the wedding couple are Italian, the proposal took place in Thailand, the dress was bought in Paris and the wedding photographers are English, you just know its going to be an international wedding, full of style and panache! This wedding is just that, simple, yet full of charm and a whole load of Italian chic. I just love the location, the views, the amazing dress, the super cute Fiat 500 and the table runner covered with Bob Marley lyrics. Big thanks to Michael and Andrea from Bohemian Weddings for the gorgeous photos.
'A 'special moment' for us but also a greater vibe for everyone who participated – emozionante.'
Chiara and Ivan were married on 15th June at Venuta di Maria Vergine in Fornello, Piacenza with the reception in Torrefornello, Ziano Piacenza, Italy. 'Two years ago, during a wine tasting in the Piacenza hillside area, we visited a friend's vineyard, Torrefornello, and we fell in love with the amazing landscape and the whole location.We wanted to share our wedding with our closest relatives and dearest friends. We very quickly reached 64 people, but this is still very few people for an Italian ceremony! We planned the wedding 6 months in advance, at Christmas time we announced to families and contacted Enrico at Torrefornello, but the touch of retro and the black&white theme were inspired by the dress I found in Paris, and most of ideas came naturally along the way.'
How they met
We met fourteen years ago in Otranto, south of Italy during a bonfire on the beach; a never-ending summertime love!
The proposal
Very romantic! It was our anniversary, the 10th of august, the day of San Lorenzo in Italian calendar, which is said in Italian to be the night of the falling stars. Ivan asked me after a romantic dinner on a beautiful white beach of Koh Phangan, Thailand.
How did you choose your photographer?
We didn't want a static and too traditional photo album. We wanted something informal but still stylish, that represented our approach to the wedding. I made some research on the internet, and on a blog I saw some amazing pics from 2 English photographers that were available to travel and see different wedding traditions throughout Europe….This is how I got in touch with Bohemian Weddings, a bighearted, young couple, who really shared this amazing day with us emotionally. You can perceive this feeling through the images which tell you a story, in this case, our Love story.

The dress
The dress is from a fantastic designer from Paris, Suzanne Ermann. I wanted a short dress with a twist of retro as I could not imagine myself wearing a long siren lace dress.
I was in Paris for my job and I met my friend Marco for a quick dress hunting weekend; as soon as I saw it I knew it was perfect, in fact, this is the only dress I tried on! The black and white was the plus I was looking for! The shawl is also from Suzanne E., the tulle curls are her typical sign.
My flower shaped hair clip is an original piece in bachelite I found in an antique shop.
Last touch were the shoes: I saw them by chance in a magazine, they are from Elisabetta Franchi. I visited the boutique and it was the only size left, the very last pair, and it was My size!
The suit and bridesmaids
Ivan's suit is a Pignatelli. A classic! My bridesmaid, my sister Valeria, was wearing a dress from Ixos, pink shoes are Spelta.
Theme or colour scheme
It came out quite simply… we put together our personal taste with the idea of wedding we wanted to have: something that was like we are, not too sophisticated to seem fake, but a bit stylish though… An atmosphere as easy as a Sunday lunch with the family, a glimpse of retro…
And the black and white colours were suggested by the decoration of my wedding dress.
Decoration
We set up a very simple country style decoration leaving the greatest part to the beautiful landscape!
Hay bales were placed as seats around trees with candle lights.
From the beginning Ivan and I agreed for a single big table facing the hillside, very simple and neat, but difficult to set up. The main issue was to put together people who maybe didn't know each other without separating too much friends/ families! At the end our efforts were paid back by a relaxed and pleasant familiar atmosphere!
Another point was that we wanted to reflect in the decorations the reasons why we decided to get married after 14 years, our song is the famous Bob Marley's Is this love. We printed a 28 meters long runner for the table with the song's words and the Italian translation.
The dance floor was decorated by our friends with coloured lamps, vintage posters of famous couples, and heart shaped confetti.
Food
The menu reflects the same concept: spontaneous and sophisticated. We chose all local ingredients and most were traditional dishes of the Piacenza province, but revisited with a modern twist. This is why we did not hire a catering company, but a fabulous chef, Isa, who runs with her sister an amazing star rated restaurant called La Palta in Bilegno, Piacenza.
Entertainment
Nothing too edgy… to accompany the ceremony we called a gospel singer. For the party we invited a DJ friend who animated brilliantly until morning.
Main ingredients were: friendship, mixed with the desire to enjoy some time together.
Flowers
We asked a trusted florist, to create something simple but unique fitting the very small size of the church. He started from the bouquet mixing white lisianthus with dark purple calla lily and green leaves, recalling the theme in the church decorations. Easily, all was perfect!
Personal /DIY touches
• I had a short time and I was busy with my job, but luckily I could count on great people, partly on friends' side part on my family side, first of all my sister and bridesmaid Valeria, who gave a great contribution.
• As we chose a single table we did not do the Tableau au marriage but we placed single pins holding the guest name in front of each seat. These were made from laundry pins decorated as kissing bride and broom made by my daddy.
• The presents we offered to our guests were small bottles of wine. We added a label personalized with a picture of us and black and white ribbon hanging a simple confetti holder.
• My sister placed a Just married poster (Oggi sposi in Italian) on the car (Fiat 500 my 21st birthday present) made of recycled sacks.
• My friends decorated the location with hay bales, set up the dance floor and put flowers in the church.
• A great teamwork and good results. This allowed a great saving with suppliers (no delivery) and no wedding coordinator. Plus, an original personal touch!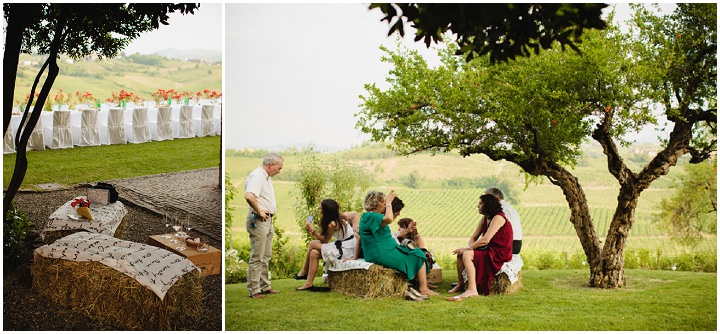 Special moments
The short trip to the location me and my daddy alone, by Fiat 500.
The ceremony, especially first steps in the church and the exchange of promises, the cutting of the cake, first steps to our song…
When my best friend Marco caught the bouquet (Marco and David you're the next!)
Biggest surprise
The emotion; to see Ivan in the church waiting for me, friend's tears (and mine too), the old priest's wishes of happiness…
Advice
I chose not to hire a wedding planner, this means a lot to do yourself, a lot of calls, a long long list of to-dos. But on the other hand, the result matches exactly your expectation and your efforts. In some cases it goes far better than expected, and this is my case. I met great people, I had a memorable big day and each single person had fun!
As a couple we advise: stick to your plan and do not be discouraged, ever! Keep an eye on time and budget! This last one is the most precious: once you put your first step in the church, forget all plans and schedule, and enjoy your day, it's your moment!
Supplier Shout Outs
For more information on Michael and Andrea's work go to
www.bohemianweddings.co.uk
www.bohemianweddings.co.uk/blog
[email protected]
FACEBOOK 
@bohemianweds
Bohemian Weddings is a wedding photography couple Michael & Andrea, they are based in London and happy to travel anywhere in the world. They offer an alternative yet natural style to wedding photography and believe in getting to know our brides and grooms before their big day.