As you know yellow is my favorite colour so I was delighted when I  received this bright and cheerful wedding from Kat Timmins  as it is full of yellow and blue details. From the bridesmaids dresses, to the bouquet ful of daisy's to the yellow wellies, this wedding is brimming with cute yellow touches that are bound to make you smile. The wedding has a relaxed, rustic feel to it and is full of homemade details and I just love it!
'Happy, sunny, with a relaxed country fete feel. Lots of yellow, red squirrels, fresh flowers and dancing.'
Hannah and Matthew were married on 6th July at St. Margaret's Church, Wythop, Cumbria, with the reception at Park House Farm, Torpenhow, Cumbria. 'Matthew grew up in Cockermouth, Cumbria and his parents still live there. It's a very special and beautiful part of the country and we were lucky to be able to share it with our family and friends. Matthew's brother and many of his friends were also married by Isobel (Cockermoth Parish Revd), so it meant a lot to also be married by her. We had 131guests and it took 18 months to plan.'
How they met
We met in our local Pub in Brixton 5 and a half years ago – which is why all our tables were named after pubs in Brixton, London.
The proposal
It was my 31st birthday and Matt made me breakfast in bed and proposed, in bed, over chocolate chip pancakes and glass of bucks fizz
How did you choose your photographer?
The amazing Kat Timmins was the photographer at our friend's wedding and soon as we met her and saw the first sneak preview of the shots on Facebook we knew she'd be perfect for our day.
The dress
My dress was Adela, by Pronovias. I was very fortunate as I got it heavily discounted in a sample sale at Mirror, Mirror boutique in London who were lovely. My daisy earrings and necklace were from Alex Monroe, my yellow shoes were L K Bennett, my veil was from etsy.com. During the day I just wore a fresh floral crown made by Michelle at the brilliant PassionFlower in Wigton, and in the evening I had a silk floral headpiece made by Bryony Ellis.
The suit and bridesmaids
Matt's suit was from Reiss, shirts from T.M Lewin and shoes from Ted Baker. The yellow ties were from Uniqlo. The bridesmaid dresses were made to measure by lovely Eleanor at Dig for Victory in Brighton. Our gorgeous Flower Girl's dress and pageboy suit were from Monsoon.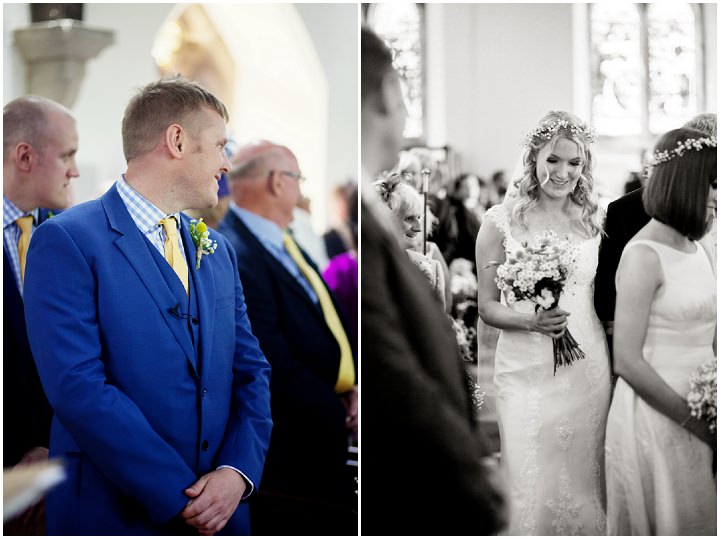 Theme or colour scheme
Matt gave me a yellow sapphire engagement ring, which led us to a yellow theme with some splashes of blue. We wanted a relaxed, rustic, homemade feel which would suit the scenery and farm venue. Red squirrels are still dominant in that part of Cumbria so I thought it was nice to have a bit of a 'red squirrel' theme, and daisies featured heavily as they are my favourite flowers.
Decoration
Matt's Mum and Dad, Hilary and Rod plus their super- talented friend, Sarah made metres and metres of homemade bunting incorporating our colours and some squirrels. We also had tea lights, lots of fairy lights and wooden boxes of flowers embossed with 'Matt + Hannah Est. 6th July 2013' on them. We had an instant guest book area, where guests could take and write messages on Polaroid-style photos and peg them to a big board. That was an idea pinched and adapted to our friends' wedding earlier in the year and was very popular.
Food
We had afternoon tea style canapés, sandwiches and scones with Prosecco on arrival, then for dinner we had a starter of 'Lakeland Tapas' (platters of local Cumberland sausage, mackerel pate, ham, vegetables and salad). Main course was Cumbrian Lamb Hot Pot and for dessert there was a choice of fresh strawberries or sticky toffee pudding with Ice Cream, Cream or Custard. In the evening we had a pork pie and cheese tower for an evening buffet.
Entertainment
We had garden games outside (giant connect four, jenga, croquet and coits). A fantastic band 'The Mustangs' who did an acoustic set outside during canapés, another acoustic set during dinner and then a couple of sets in the evening that really got the party going – everyone was dancing and said how much they liked them. I would really recommend them. We also had a local DJ playing 'Wedding Classics' to keep everyone dancing later on.
Flowers
Michelle at The Passion Flower in Wigton was an absolutely fantastic supplier and helped us so much. Michelle really listened to what we wanted and we were so happy with the final result – the main flowers were gypsophilia, craspedia, chamomile flower and double white lisianthus. Michelle provided the bouquets, buttonholes, pew ends, church entrance arch, and a gorgeous mix of colourful flowers which we used to fill jam jars on our trestle tables at the barn – and the 4 bridesmaid floral circlets, the flower girl circlet and my floral crown which I absolutely loved!
Personal / DIY touches
• I spent ages making yellow felt acorns for placeholders, and filling and stamping packets of wildflower seeds as favours.
• Between them, Hilary, Rod and Sarah made all the hessian table runners, menu boards, bunting and the awesome mini pub signs which were mini replicas of the actual pub signs in Brixton where Matt and I spent most of our early dates.
• The brilliant Alex the beetle by Clair Simpson on Folksy.com made the custom squirrel activity bags for the children which were both their placeholders and favours – they were a big hit with the kids, and Clair managed to turn around some last minute additions at record breaking speed.
• Lovely Saskia of Sassy Vintage in Cockermouth provided the vintage tea stands, cups and saucers.
• My Mum and I made the cake
• My gorgeous and talented bridesmaid Harriet Lilley made our red squirrel cake toppers.
• I made the Save the Date Cards myself and we got fantastic squirrel tea towels made up as invites from Wedding  Teatowels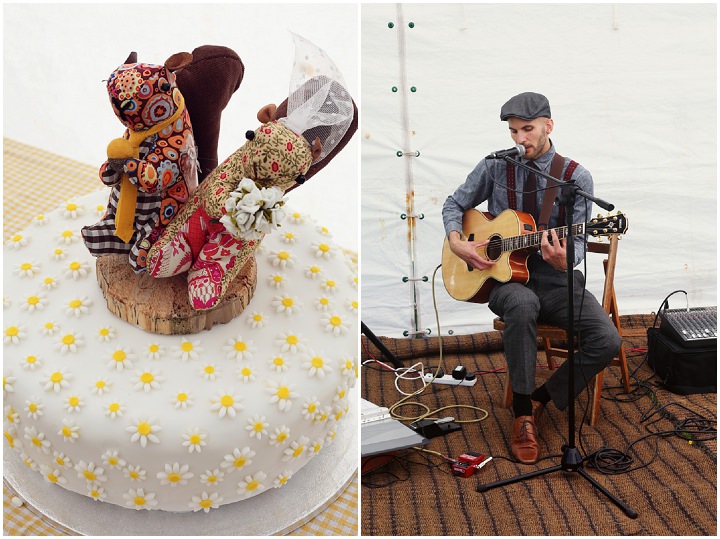 Special moments
The whole day was so much fun, the weather was amazing and it all just went so fast. But I think my highlights were the ceremony where my bridesmaids Hannah and Alice did a fantastic job of their reading 'Oh, The Places You'll Go' by Dr Seuss and despite neither of us being good dancers we had lots of fun with our first dance by getting everyone to join in after the first few bars – it was 'Home' by Edward Sharpe and the Magnetic Zeros. I have to say I absolutely loved our first night too we stayed in a Shepherd's Hut at Scales Plantation near Skiddaw and it was so much more memorable than staying in a hotel. Our Pork Pie Wedding cake was also pretty immense!
Biggest surprise of the day
I have to say the biggest surprise came the next morning. We spent our first night in a Shepherd's Hut on Skiddaw. It was really amazing and beautiful – but we didn't realise we wouldn't have any telephone reception, so we had to hitchhike home the next day with my dress wrapped in an anorak and Matt still in his full wedding attire as we'd forgotten our overnight bags!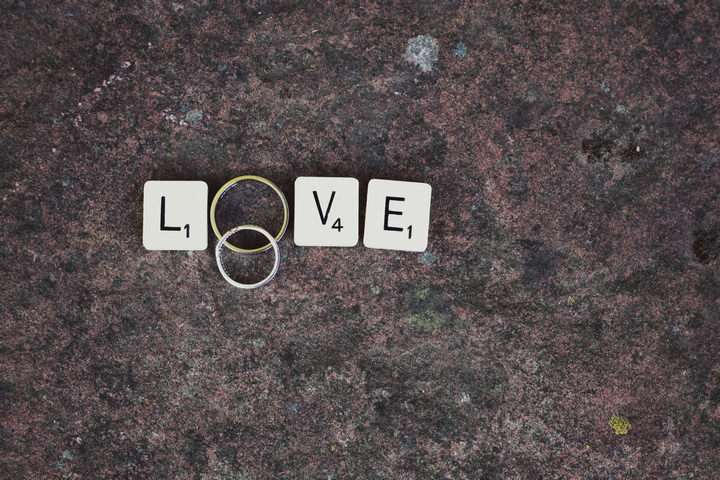 Advice
My advice would be to start planning as early as possible as there's nothing worse than stressing out on the morning of your wedding! Little personal touches such as choosing your own entrance and exit music can make a day feel more individual and cost nothing. I also think it's important to try not to stress about the little things – at the end of the day nobody but you will probably ever notice. Matt's advice would be to get your band nailed down early especially if you want something a little different. They're hard to find and get booked up fast.
Supplier Shout Outs
Photographer: The awesome Kat Timmins – we were so lucky to find her! www.ktimmins.com
Florist: The truly amazing Michelle Knight, The Passion Flower. I couldn't recommend her more highly www.thepassionflower.co.uk
Bar, Car and Marquee: All supplied by the fantastic Douglas Trotter.
Afternoon Canapes and Catering: Doreen at Keswick Outside Caterers www.keswickcaterers.co.uk
Cheese Tower: The brilliant Shill's in Cockermouth www.shillsofstationstreet.co.uk
Pork Pie Wedding Cake: Lindsay and Son's butchers in Cockermouth www.wlindsayandsons.co.uk
Band: The Mustangs via Function Central, absolutely lovely and super talented! www.functioncentral.co.uk 
Dress and alterations: Pronovias, Adela from Mirror, Mirror, London, www.mirrormirror.uk.com
Bridesmaid Dresses: Eleanor, Dig for Victory, Brighton – a fantastic supplier that also does mail order  http://digforvictoryclothing.com
Kids Party Bags: Clair Simpson, Alex The Beetle via Folksy.com, http://folksy.com/shops/FlowerPower
Vintage Crockery: Saskia Patrick, Sassy Vintage, so relaxed and lovely to work with www.sassy-vintage.com
Videography: Frances Madell, Reellovefilms, I know they will be fantastic – I can't wait to see the finished film www.reellovefilms.co.uk
Flower Girl Dress and Page Boy Suit, Monsoon, http://uk.monsoon.co.uk
Groom's Suit: www.reiss.com
Bridal Veil:  www.etsy.com/people/XolBridalBoutique
Tea Towel Invites : www.weddingteatowels.co.uk
Bridesmaids Transport: Daisy via Rainbow Camper Hire, www.vwcamperhire.net
Bridal Headpiece: Bryony Ellis
Bridal Jewellery: Alex Monroe, www.alexmonroe.com
Bridal Shoes: www.lkbennett.com
Table and Chair Hire: www.evansmarqueehire.co.uk
First Night Accomodation: Blencathra, Scales Plantation, http://scalesplantation.com
For more information on Kat's work go to
www.ktimmins.com
[email protected]
FACEBOOK
@KaTimmins