I haven't featured a styled shoot for quite some time now, ever since my readers survey last year told me that you guys didn't like them so much. BUT as today is my Birthday I can do what I like! I have decided to break the styled shoot drought and share with you this totally stunning shoot which was organised and shot by the hugely talented Zoe from Photos by Zoe.
It is an amazing Winters  tale inspired shoot, filled with haunting and dramatic images. The cold snow, adds a real eerie quality to these images, and the addition of the dogs was an inspired decision! Well done Zoe!
I asked Zoe to tell me a bit more about her thoughts behind the shoot………..
'I wanted to capture the beauty of the coldness of the winter, all the magic of the falling snow. I was lucky enough to have a fantastic team of people who were also up for joining us to tell this tale too.'
'The inspiration came from the combination of the beauty of winter, and snow, and the stunning location. I get inspiration from all sorts of places when I am planning shoots. The whole time I had two songs in my head – Nellie Furtado "Try" and "Winter Song" – Sara Bareilles/Ingrid I really wanted to pull in the elements of the wildness and nature too – which is why I asked my friend Diane to bring along her three dogs – a white Alsatian and two pups that are Alsatian/husky mix. You can see the Pinterest board I set up HERE ' 

'It was fantastic getting to work alongside so many talented people, in a gorgeous venue. I really enjoy that element of all photography, making that connection with people. Having the chance to be creative and explore ideas and concepts is what I love about styled shoots. Maybe trying out things that I wouldn't normally do, or get the chance to do!'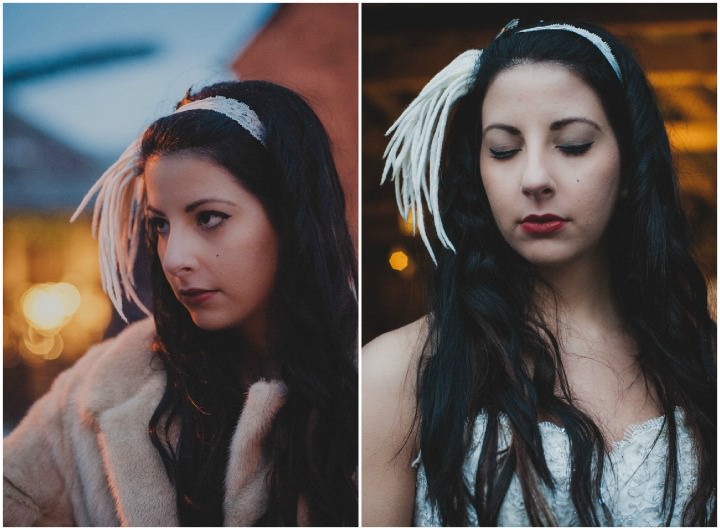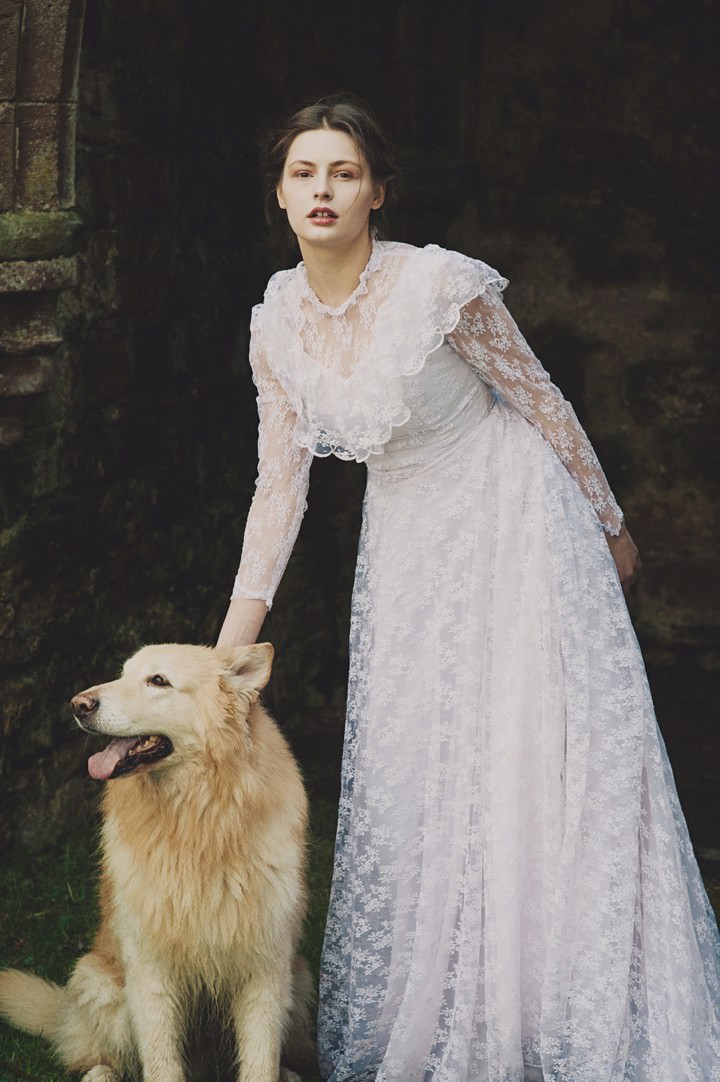 The suppliers who made the shoot possible
Photographers 
Zoe Barrie ~ www.photosbyzoe.co.uk
Laura Tiliman ~ https://www.facebook.com/LauraATilimanPhotography
Kirsty Brown ~ https://www.facebook.com/mementostudios
Models ~ Adriana Bucur (from Colours Modelling Agency) & Scarlett Gillotti
Venue ~ Lindores Abbey Weddings , Newburgh, Fife
Dresses – Adriana wore a gorgeous vintage dress from my collection. Scarlett wore Kirsty Brown's wedding dress – thank you so much for allowing us to use such a precious garment Kirsty! Other props where supplied by the lovely Helen McKenzie Smith, Kirsty and Laura Tiliman.
Hair & Makeup ~ Jillian Elizabeth Make Artistry 
Props  -Photos by Zoe, Lindores Abbey Weddings, Kirsty & Laura and ever thankful to Lou Lou from Kit & Caboodle  for the wee taxidermy squirrel – Mr Nutkin as he is fondly called. And the lovely Laura at Twist Fibre Craft Studios for lending me more props that I ended up having time to use – totally promise to organise something with you soon Laura xxxx
Cake ~ I MADE IT I MADE IT!!!! (and am a bit chuffed with the end result – email me if you want to know more)
And a massive thank you and mention to Diane & her beautiful dogs – thank you so so so much Diane for joining us on the shoot, and Helen too, for giving us free run of your gorgeous Abbey and Barn xxxx
For more information on Zoe's work go to:
http://photosbyzoe.co.uk
http://photosbyzoe.co.uk/blog
FACEBOOK
@photosbyzoe

[jprel]