Today's wedding is FULL of DIY details and personal touches, in  fact the whole wedding is DIY, even the food! Captured by  Ben Bull it's an incredibly relaxed and chilled out wedding with the reception taking place on the Grooms parents land. In fact it is the groom that has written the report, which makes a change. What makes this wedding so special besides the skate park built just for the wedding, the amazing VW camper van and the array of hay bales, is the fact  the couple found out they were pregnant just before the wedding! What an amazing wedding present that was!
'It was a perfect day, which gave us great memories surrounded by people we love! skateboards, hay bales and vintage styling all created by my amazing wife!'
The lovely couple are Naomi and Thomas who were married on 1st September 2012. 'The ceremony was held at Saffron Walden St Mary's church with the reception at Tom's parents garden. We wanted a comfortable homespun feeling where people could relax, we had 120 guests and it took a year to plan.'
How they met
We met at the metal hammer golden god awards in 2004 in hackney, London. Even though we had been to the same school for 5 years and been going to the same pubs in the same town we had never met. The only reason we were at the awards ceremony is because we both have the same favorite band HIM. Half way through the gig I saw Naomi across the venue and wanted to talk to her but couldn't figure out what to say. Then I recognised her friend from school. So I figured I would go over and speak to her and then to Naomi. I did and then bought Naomi copious amounts of beer for the rest of the evening. Towards the end of the night when I thought everything was going well I tried to go in for a kiss, just as I did so Naomi's drunk female friend decided this wasn't allowed and punched me in the face. That was 8 years ago.
The proposal
I kept coming up with different over the top romantic ideas of how to propose. Every time I tried to do it Naomi seemed to know and would say 'you're going to do it today aren't you!?'
So in the end before Christmas 2010 I got up, made Naomi breakfast in bed. After we ate I said
'Nell I have something I want to ask you' and produced the ring from under my pillow and held it in-front of her face… for about 3 minutes she said nothing, I couldn't see her face as she was lying on my shoulder, so I peered round and sure enough she was ASLEEP! So I woke her up and she shrieked said yes and put the ring on and called her mum and dad.
Why did you choose your photographer?
We know Ben through Naomi's best friend. We wanted Ben to shoot our wedding as we knew how good his work is. We really wanted someone we could relax around, someone who knew us and knew what we liked. He has a great talent to capture those moments you didn't even realise were happening and leaves you with great memories from the day.
The dress and suit
Vintage wedding dress.Not suit, just hobbit attire! It was all vintage bought from brick lane.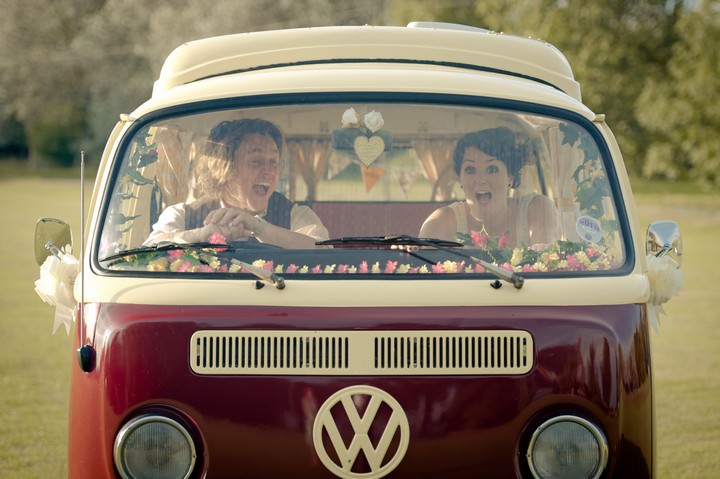 Theme or colour scheme
The theme was country vintage.
Flowers
Dried flowers, roses and corn, in vintage bottles which Naomi had been drying for over a year.
Decoration
Homemade bunting, vintage pots, suitcases and photographs.
Food
We had a massive range of food, from popcorn and candy floss to a picnic style buffet.
Entertainment
We had a photo booth which I made. A candy floss machine, a popcorn machine, live band and a skateboard ramp!
Personal / DIY touches
Everything!………….
• Self cut fabric from IKEA for tablecloths
• Hand punched brown confetti
• Sweet stall made by Naomi.
• The orders of service covers and invites
• Food all made by family and friends.
• Bunting all home made.
• Decorations all placed by Naomi.
• All vintage suitcases, bottles etc bought by bride or came from our house.
• Bar was made by Tom and his dad, two massive beer barrels bought from Chelsea Flower Show with wood placed on top and waxed to look old.
• All lighting for the night was bought and borrowed and placed within the trees.
• The skate ramp was donated by my friend who hires it out for events.
• The marquee was actually 3 that we purchased as it worked out more cost effective than hiring.
• Table plan was made by Naomi as was every place name that was a fur cone with the person's name on tea stained paper.
• The cake was made by a family friend who is a professional cake maker and it was beautiful.
• Local ales from saffron brewery topped it all off!
• Oh and our wedding car was a vintage VW camper called Delia from custard campers! It was brilliant! Especially when all of my skate mates jumped on their boards and rode down the hill after us as we left the church!
Special moments
Telling our parents, in secret, that we were having our 1st baby! We found out a day before the wedding, so all day Naomi was drinking tonic water and lime to make it look like gin and tonic!
My speech for Naomi, and watching people of all different ages on the skate ramp.
Seeing everyone happy and how everyone sang at the top of their voices to our first dance which was "stand by me" but the acoustic version by Lemmy from motorhead.
Advice
Try and do as much as you can yourself. It's more satisfying! And get your family and friends involved. And think about what you can do yourself before you throw money at something.
Biggest surprise of the day?
How everyone just genuinely looked really happy and how everyone just kept dancing!
Supplier Shout Outs
For more information on Ben's work go to
www.benbull.net
www.benbull.net/latest/
[email protected]
FACEBOOK
@BenBullPhoto
Phone: 0845 8725 650 or 01799 551 330