Unless you are hiding underneath a rock you will know that today is valentines day. I am hoping to hear some romantic valentines day proposal stories from people later on today! After Christmas and New year it is the most popular day of the year for wedding proposals, very exciting!
And to celebrate this day of love I have a gorgeous wedding for you courtesy of Steve Fuller . It's a stunning wedding where the bride has on THE most gorgeous dress made my the hugely talented Joanne Fleming and some cute Vivienne Westwood Melissa shoes.
'It was the most amazing day of our lives. We loved having all of our family and friends around us, helping us to celebrate our special day.'
The lovely couple are Louisa and Adam who were married on 18th August the ceremony was at Tonbridge Castle and the reception at Somerhill Estate in Tonbridge, where a gorgeous Jacobean mansion resides within. 'The castle was by sheer luck as our original choice didn't work out and we were left with no venue with 6 months to go. We called the castle on the off chance and there had been a cancellation on our date. The castle was an amazing venue and so much better than our first choice. Somerhill is a breathtaking venue and we were extremely lucky to have it for our wedding. We had 60 guests for the day and 100 in the evening, it took a year to plan.'
How they met
We met at work and have been together for 5 and half years
The proposal.
Adam proposed with a message inside a little Japanese wooden doll which was given to me as my last present on my birthday.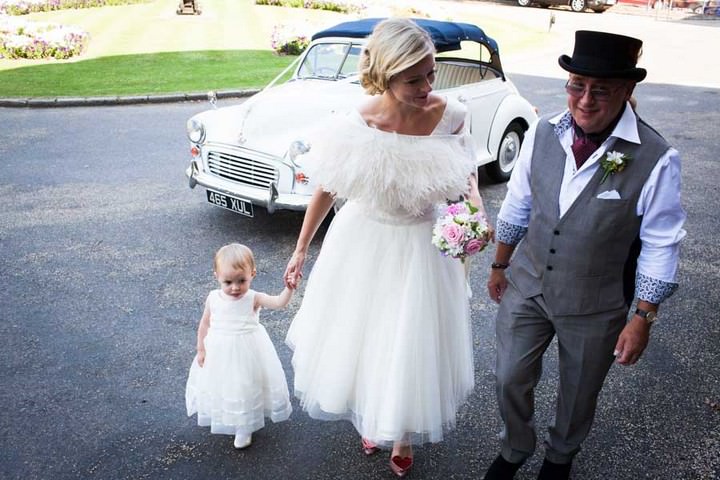 How did you choose your photographer?
We were looking for a reportage style photographer and were really struggling to find someone. My dad (our unofficial wedding planner!) found Steve's site and as soon as we saw the pictures and met with Steve we knew he was the man for the job.
The Dress
My dress was designed and made by Joanne Fleming, an amazing dress designer in Brighton. My shoes were Vivienne Westwood Melissa.
The suit and bridesmaids.
The suit was a mix of Reiss and Top Man with a little All Saints thrown in for good measure. My gorgeous niece was the flower girl and she wore a Next dress.
Theme and Flowers
1950s vintage with traditional garden flowers.
Food
Sausage and mash, followed by assorted cakes and afternoon tea.
Entertainment
A mix of magicians, swing singers and DJ
Decoration
Decoration was minimal, just touches of vintage style such as a chaise lounge, floor lamp, birdcages and jars with flowers scattered around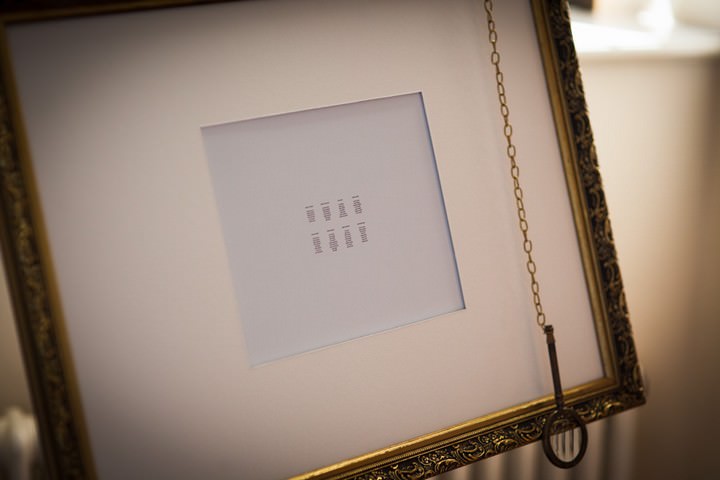 Personal / DIY touches
Adam is a designer and many of the decorative elements were his idea. Such as the invitations which were a set of luggage tags tied together, the table names, place names, signage, table planner and the typewriter guestbook.
Special moments
The whole day was amazing and went better than we could have possibly imagined. An added bonus was that we had the hottest day of the year during a summer of rain!
Advice
On the day itself, relax and go with it. I know that everyone says this but it really does go so quickly so make the most of every minute.
Biggest surprise
How calm I was. I tend to worry about things but in the week running up to the wedding and on the day itself, I couldn't have been calmer.
Supplier shout Outs
We worked with the best suppliers ever! In addition to the suppliers listed below, our families helped so much with the planning of the wedding… we really were so lucky.
Photographer – Steve Fuller – www.stevefullerphoto.com Steve is an amazing photographer. His photographs captured every moment of our day and we couldn't be happier. He is really friendly and relaxed – a great person to have taking your pictures on the day.
Dress designer – Joanne Fleming – www.joanneflemingdesign.com I absolutely love my dress. From the first meeting, Joanne captured exactly what I was looking for, in fact, it was better than I could have ever imagined. The whole process from initial consultation to picking up my dress was a pleasure.
Flowers – Adams mum. Adams mum is a retired florist who very kindly came out of retirement to do the flowers for our day, and what an amazing job she did.
Hairdresser – Vicki Lord – www.vickilord.co.uk Vicki is fantastic hairdresser. From the consultation, she captured exactly what I was looking for and the vintage style up do (Dita Von Teese inspired) was perfect.
Makeup – Kelly-Marie Makeup Artist – www.kellymariemakeup.co.uk Kelly is a great friend and amazing makeup artist. When it comes to vintage, she is the best person there is.
Cake – Creative Cakes – www.creativeweddingcakes.co.uk We loved the cake – not only did it look great but it was also very yummy.
Dressing of venue – Bellaboo and Beau – www.bellabooandbeau.co.uk Jenny at Bellaboo worked closely with Adam to supply all of the finishing touches that made the vintage theme come to life.
Magician – James Karsberg – www.kashbey.com James is a long standing friend. He wowed everyone during the day with his close up card tricks.
Evening entertainment, swing set and magic – Adam Hoffman and Tom Swift – www.adamhoffman.co.uk  Tom and Adam are all round entertainers who did a great job. From Adams magic to Toms DJ skills and finally their great live swing set, everyone was kept fully entertained all evening long.
First dance – Graham at Medway School of Dance – www.medwayschoolofdance.co.uk We couldn't not mention Graham at Medway School of Dancing who choreographed a wonderful waltz for our first dance. We even ended in a lift!
For more information on Steve's work go to:
www.stevefullerphoto.com
www.stevefullerphoto.com/category/weddings/
FACEBOOK
@sfuller_photo