As you Know it's Valentine's Day tomorrow, as a wedding blogger and someone who writes about love and romance for a living I feel I should probably make more of an effort with this Holiday than I do. It doesn't help that my Husband is notoriously unromantic and would rather forget about the whole day completely! Our valentines day used to include nights away, fancy restaurants and lashings of presents. These days the best we can do is a DVD and an M&S Valentines meal deal!
So today I thought I would enlist the help of my friends from RedSeven Leisure to give us all a few more creative ideas of how to spend the biggest day of love in our calender!
I'll pass the Blog over to Jessica from red Seven………… 
It's not just singletons who dread this date in the calendar month; it can be daunting for those in relationships too with a huge pressure to do something romantic. Valentine's Day should simply be a reminder for those in relationships to revitalize romance in a relationship.
It's too easy to fall back on flowers, chocolates and dinner; they lose the element of surprise and thought after the third year in a row! Being romantic doesn't have to conform to the surrounding advertising which tells us to spend money on our romantic gestures. Don't worry, we haven't put together an extravagant list of hot air balloon rides and trips to Venice; the most romantic ways are often the simplest! All you have to do is think outside the box of chocolates (couldn't resist!)…
♥ Spend time not money
Amidst all the advertising telling you to go out and buy flowers, cards, chocolates and other mass-produced items with hearts or the words "love" on them, lays the original premise of Valentine's Day which is to celebrate romance. Despite what has been drummed into you by external signals, you don't need to spend money to show your partner how much you love them or care; you can do this for free. Instead of buying flowers, chocolates and cards, take time out to simply spend time together.
♥ Get outside
How often is it that you take the time out together to go out into the great outdoors? These days, we're so caught up in busy work schedules that the free time with partners is likely to be on the sofa distracted by TV or in the pub. Going for a walk in nature or getting involved in an outdoor activity is reviving, fun and will bring you closer together (especially if it's cold!).
♥ Hide post-it love notes
Leave a trail of love notes around the house for your partner to discover, some obvious and some more hidden so they won't find them all at once. On each note, write something complimentary, a special memory you have of your time together or something you'd like to do together in the future; all of these will make them feel special. You may even get a surprise back when they put one of your future aspirations into action!
♥ Do something new together
Choosing to do something together that's different to the norm spices things up, whilst creating a special memory. Go to a painting class, an art exhibition, a cooking class or even stay in and cook together if you've never done that before. New experiences will liven up your relationship and will stand out from the other days you've spent together therefore, creating a unique memory. Plus, you might even discover a new hobby!
♥ Get creative and personalise
Everyone loves to receive something that someone took the time to make them. Think of something that reminds you of your partner and evokes some memories which you've shared together. You could make a playlist of songs, a photo collage or even your own card rather than a shop bought one. Don't worry if you're not artistic; this romantic gesture is all about the thought.
♥ Go away for the weekend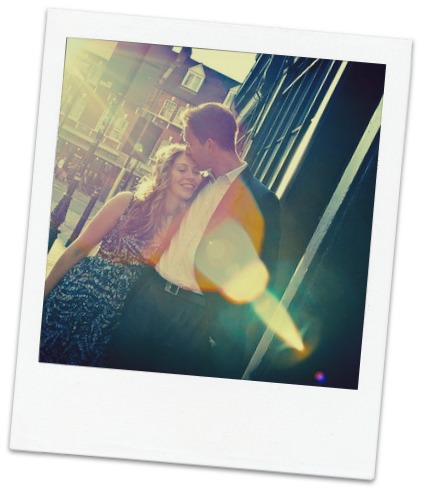 Of course, sometimes it's good to have an excuse to go away for a romantic weekend and spend some decent quality time with your partner. Whether you keep it local with a city break in London or you go further afar for a city break in Barcelona or Paris, enjoying a few days in the company of each other whilst in a different environment will bring out your romantic sides! 
♥ Make a feel good list and talk to each other
Amongst all the ideas and pressure of Valentine's Day, it's easy to forget to simply talk to each other! Turn off your phones and computers and take some time to simply talk and listen. A lovely way of triggering this is to take time to learn things about each other which we may have forgotten or we hadn't discovered yet. Make and exchange a list of all the things that make each other feel good or alternatively, a list of things you love about each other. You can then refer to these and surprise each other throughout the year thereby continuing romance further than just Valentine's Day.
Hopefully this has given you some unique and romantic ideas to celebrate Valentine's Day and prove that there's plenty of ways which you can enjoy the day without spending too much money or being extravagant. Keep it simple, thoughtful and personal and you'll be on the right track to a long lasting, happy relationship!
EXCLUSIVE BOHO OFFER
For all readers of boho-weddings, Redseven are offering brides to go free on a hen weekend! From Brighton to Barcelona, there are over 60 destinations to choose from. Simply call 01273 872200 and quote the code "BOHOBRIDES" or visit www.redsevenleisure.co.uk for inspiration and to make an enquiry.
Terms and Conditions; Only one discount is permitted per booking. Offers apply to new bookings only and cannot be used in conjunction with any other offer. Discount applies when multiples of 15* confirm their attendance; this must be done within 2 weeks of the booking being made. Offer is only applicable to two night packages. Offer expires 30th October 2013.
For more information on RedSeven go to
www.redsevenleisure.co.uk
www.redsevenleisure.co.uk/blog
FACEBOOK
(Photo credits: Spend time,  Go outside,  Do something new,  Get creative,  Go away for the weekend, Make a feel good list )