I just love todays wedding and one of the main reasons is that it takes place in Ibiza, where I was married. I do love featuring destination weddings on the blog, but when they come from Ibiza it makes them all that bit more special. The wedding of Eva and Matthew was sent into me by kick ass wedding photographer Sassy from Assassynation and I have to say she has done a fabulous job of capturing the magic of the island as well as this beautiful wedding day. With a chilled out cliff side outdoor wedding ceremony this wedding is just stunning. Followed by an amazing meal at Amante Beach Bar (which I can highly recommend) and then the evening party back at the couples Villa, I am just loving everything about this wonderful day!
Relaxed, informal, inclusive and fun. We were overwhelmed by how much it brought us together as a couple and how much everyone helped make it such a special and personal day.
Eva and Matthew were married on 29th September. The ceremony took place on the Cliffside over looking Cala Xuclar beach in Ibiza. The lunch was at Amante beachside restaurant then back to our villa for drinks. 'We had been to Ibiza on holiday many times and loved the place, the laid back beach vibe coupled with beautiful scenery and boho history. We had 20 guests and it took 4 months to plan.'
How they met
We met online although we may have passed each other in the street before as he lived just three doors down from my best friend who I was staying with at the time without either of us realising. We've been together for 4.5 years.
The proposal
We went to New York for my 30th and we went to central park one morning. He took me down to the beautiful frozen lake for a walk and where it was clear and quiet he proposed. It was totally unexpected. The worst bit was that as we had been out all morning, iceskating, walking around the park, horse ride etc I was freezing and hungry, so when he suggested a walk to the lake afterwards I grumped and moaned all the way there!! Without realising…felt bad after! He booked a hotel that had amazing views over Manhattan and the Empire State Building and he also booked a helicopter tour of NY. He wanted to make sure that he took me by surprise rather than waiting years.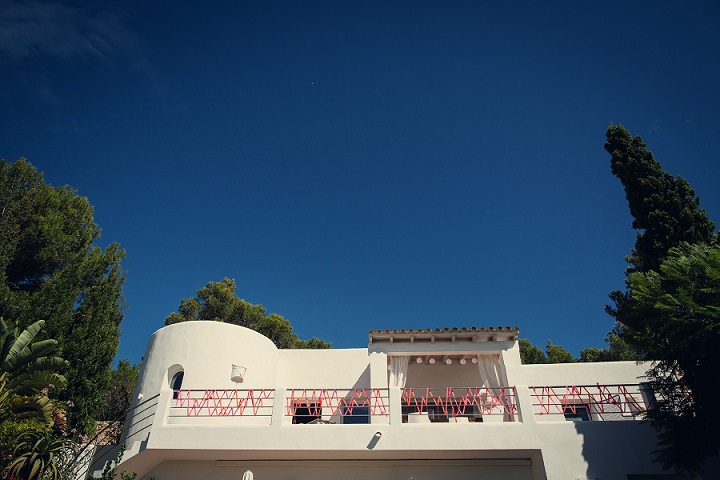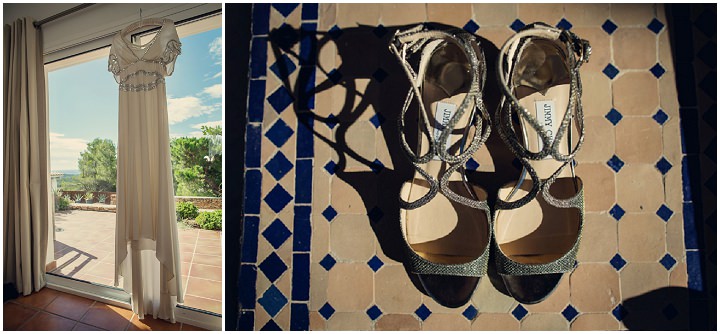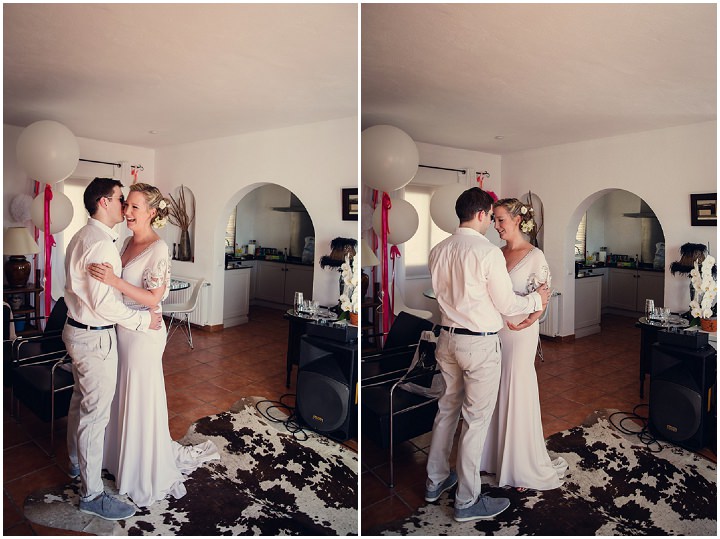 How did allocate your budget?
The main budget went on the villa hire. We realised that the equivalent of a day hotel hire in the UK for a standard wedding, we could hire an amazing villa and also get a weeks holiday, and have a reception back there for our friends without worrying about closing times/taxis etc. After that it all fell into place.
Why did you choose your photographer?
My friend recommended Sassy, I just loved the informal relaxed nature of her pictures when I looked at her work. As we're both non traditional and didn't want cliché wedding snaps that everyone has we thought she fitted perfectly. Also my husband is not a fan of photos being taken so she put him at ease quite quickly which really helped.

The dress
Dress by Temperley. Shoes by Jimmy Choo. The dress was quite bling so I didn't need anything else. I had my hair and make up done by the fab girls at Smack Ibiza.
The suit and bridesmaids
No suits or bridesmaids, we wanted informal and relaxed. The guys wore chinos from TopShop with a white shirt and the girls wore bright summer dresses.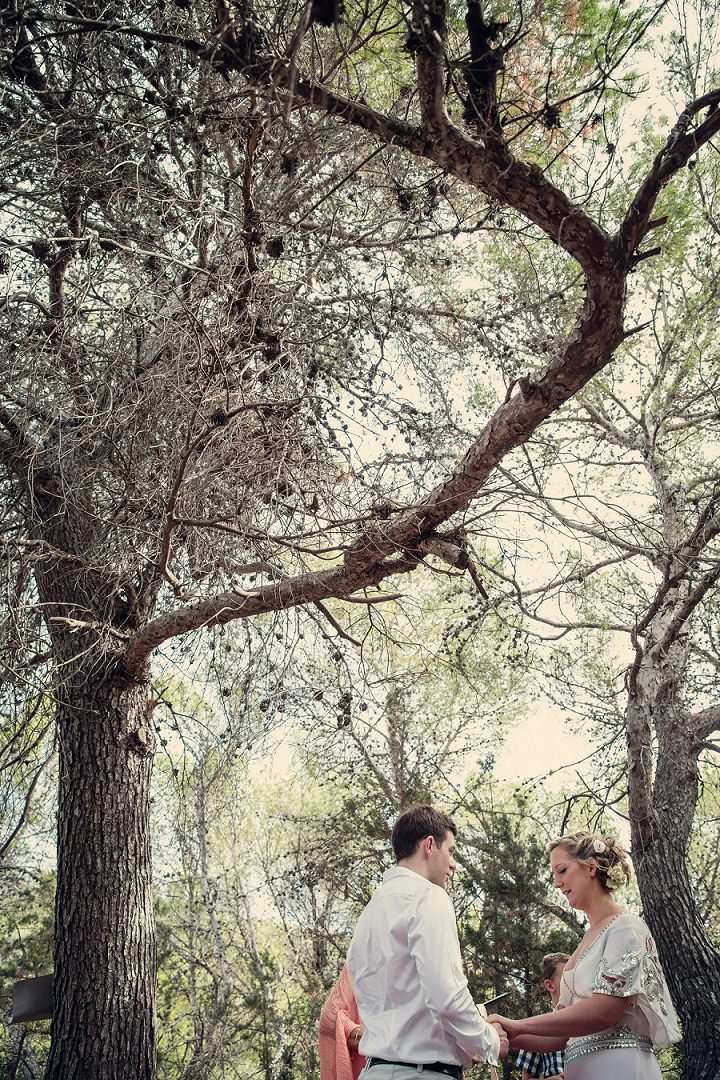 Theme or colour scheme
The theme was chilled out, bright colours/neon and white.
Flowers
I went to the florist the day before and chose from the selection they had in season. We only had 2 days before the wedding after arriving there so a lot was decided at the last minute.
Decoration
Large balloons, pom poms, neon ribbon. My friend Laura also made some other decorations. She made a selection of things including place names, gift tags, little letters, coloured garland and a Just Married sign which were awesome as they were all small and could fit in the suitcase.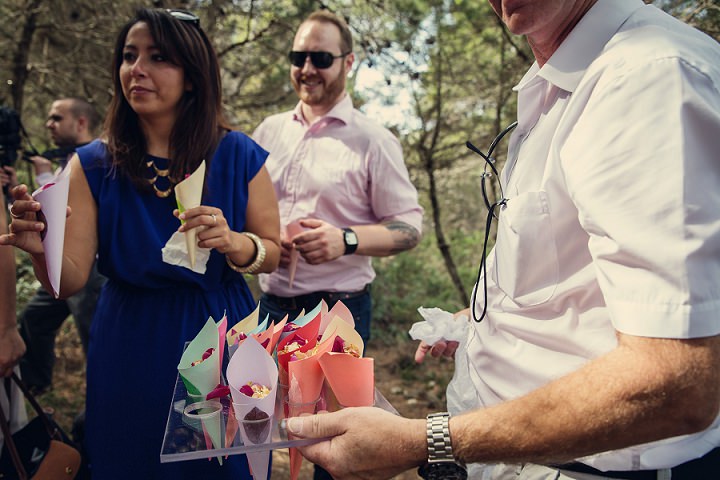 Food
Lunch at Amante was amazing, we ordered directly from their menu so everyone got what they wanted. We didn't like the way most weddings choose what you're going to eat and mostly you're disappointed. Going to a restaurant where everyone could have what they wanted took that stress away.
Wedding cake
One of my best friends Rupi organised a cake for us as a surprise present. We didn't plan on having a cake so it was nice to be given one instead.
Entertainment
Glow sticks and a hired PA system. We mixed our own music before we got to Ibiza and had the music on the iPod. We bought all the drinks and food for the villa ourselves
Buy or DIY your Stationery?
Again as it was very low key we didn't go in for formal stationary, save the date were rude postcards we had bought from Ibiza before that we decorated. They were a tongue in cheek joke for our friends who were probably expecting Ibiza to live up to its stereotype. The actual invites, well more of a wedding pack of info, were designed by my friend Dash and emailed out to everyone.
Personal or handmade touches
We had made a large wedding certificate that all the guests could sign on the day, and used my fathers pen who had passed away a few years ago that made it more meaningful. There were a lot of tears.
I also had made a porcelain candle holder which was bespoke for us with our initials and wedding date on the bottom, for all our guests, from Luna Lighting and a set with our names on and one for my dad, so I could feel that he was with us in spirit.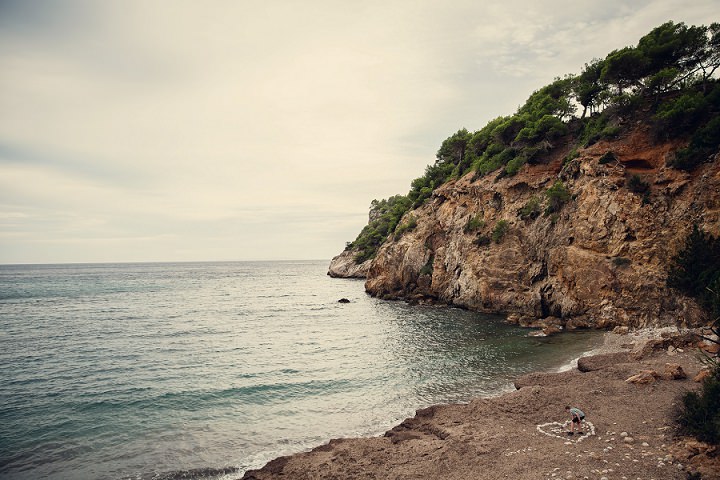 Special moments
The ceremony was beautiful and a highlight because the celebrant had found the clearing in the trees 30 minutes before we arrived so it was an amazing surprise for us as well. Swimming in the pool in the early hours of the morning was great fun and summed up how relaxed we wanted the day to be. I loved how we drove ourselves to the ceremony in our jeep
Advice for other couples
Don't stress about the small details as it's not what makes the day special. Relax and enjoy it and don't have this image in your mind of a perfect wedding day because things may change on the day. Many of the things that helped make the day so special were last minute changes or things we hadn't planned. Make sure the groom is involved. It's a day for the both of you and you should both feel part of it rather than just turning up to something someone else has organised. Make it personal and a reflection of yourselves but also make sure your guests are enjoying themselves because it's your friends and family which will help make the day extra special. If you're worrying about the shade of the napkins you've lost touch with what the day is really about. Chances are somebody, especially in the run up to the wedding, will try to interfere, make comments or generally be a pain. It's part of organising a wedding so don't stress – ignore it and make the day yours.
Tips for organising a wedding abroad– We didn't use a wedding planner or book a package which are all available, we did it all ourselves which is completely doable. However, the laid back nature of dealing with people abroad means its just best to let go and accept that some things you cant control and that everything will be ok on the day hopefully!
Biggest surprise
The venue for the ceremony which we hadn't seen before we arrived. How overwhelmed we were with emotion. It's not a feeling we have had before. How much everyone helped us prepare and just how much work is required when you do it yourself.

Supplier Shout Outs
For more information on Sassy's work go to
www.assassynation.co.uk
[email protected]
Sassy on FACEBOOK
Sassy on TWITTER
07968948114

[jprel]