This afternoon I am pleased to welcome Pablo Bran from  Dream Cake Toppers onto the blog to talk to us about his new business. Dream Cake Toppers is a new business offering fun loving couples a  unique keep sake for their wedding day. Figurines can be completely customised to look like the couples in either face or face and body, they can also include props, or anything else that will make the toppers completely unique to them!
'Business Consultant turned ecommerce specialist. Started with Personalized figurines in general and now focusing on weddings as this is the clientele that has shown the most interest on our products.  One of the reasons for this is the popularity of cake toppers and people's wishes to continuously make their wedding more personalized and less cookie-cutter style.'
Pablo has been kind enough to answer a few questions for me, as well as sharing with us some of his favourite toppers so far!…………
What made you start your business?
We noticed that cake toppers are usually just one of many products offered by companies out there.  They never get a nice website that is fully dedicated to them.
When did you start?
Our production facility has created figurines for about 15 years, the first web presence for Europe was created at the end of 2008 and Dream Cake Toppers has just opened its doors last month, September 2012!
Where are you based?
We have our headquarters in Amsterdam and a branch office in Charleston, South Carolina.  All production takes place in the Far East to keep our prices in check.
How would you describe your style?
Playful would probably describe us the best.  High quality, craftsmanship, friendly.  All words that describe us.  Things that we are NOT: Elegant, commercial, childish, vintage, classic romance.
What makes you different to your competitors?
If you compare us with mass made cake toppers the difference is quite obvious. Our product is immensely versatile.  If you look at the personalized cake topper competitors we occupy what you could call the BMW position.  The Toyotas are a number of guys and girls in their garage producing figurines. Quality and resemblance tends to be quite poor and since they mostly reside in Europe and North America the price is actually not even cheaper than us.  Then you have the Rolls Royces, they produce creations that are somewhat better than ours, but usually come at 3 times the price.
There really is only 1 or 2 companies in the world like ours and here it comes down to the style that the clients like better and superior customer service.
Having said that, Dream Cake Toppers is the first of its kind, and the company goes deeper that what you can see on the site.  We've spent over a decade perfecting our hand-craft methods and creating a website that is technically very advanced in dealing with the specific needs of couples who want to create a personalized cake topper. Our site comes with a number of 'exclusive access' pages for our clients, which help them make their selections and enjoy the creative experience.
What do you enjoy most about your job?
Definitely the contact with the client, especially given the designs that they request.  We've made couples together in their cars, shooting at each other, sitting on top of the world, and the biggest figurine so far was a 3 feet tall request from a collector.
Clients come with all kinds of different ideas and requests and they expect our advice on what can be done.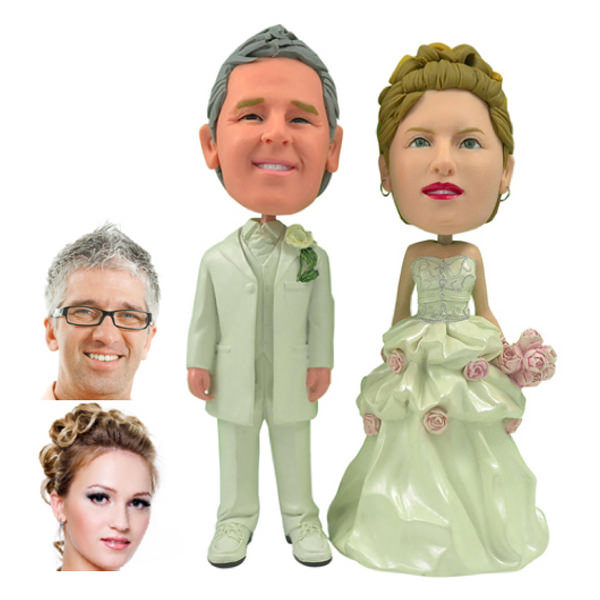 What sort of couple do you think you attract?
Most of the couples that we sell to are not obsessed with the picture-perfect wedding.  They're more about the fun factor.  This also dictates the kind of partners that we approach both media and commercial.
Can you give me some information on your pricing structure?
Prices are split in two main categories.  The first category is what we call pre-made toppers.  These are toppers where the client selects a bride and groom style from our catalogue, and only the heads are personalized.  These are about £125 including shipping.  Then you have the second category, which is the fully customized cake topper. Here the client can make any design.  The basic price is £200  for a 5 inch couple and £210 for a 7 inch couple.  This includes two figurines in any clothes.  All accessories such as guitars, tennis rackets, balls, cars, bases are estimated separately.
To find out more about Dream Cake Toppers go to
www.dreamcaketoppers.com
http://www.dreamcaketoppers.com/wordpress/
[email protected]
FACEBOOK
Phone:  0031 642702434
♥  You can read more Show and Tell articles on the Boho Blog HERE  ♥