It's Tuesday so that means another DIY Tutorial for you, and this time it's a big welcome back to the blog for regular Chloe from Adore by Chloe. Today Chloe is getting her craft on and showing us to make Glitter Cake Toppers, these can be customised for any design and you can also add in photos to your design!.
I'll pass the Blog over to Chloe……………
Sometimes the job of a crafty wedding blogger involves more than meets the eye. Today's DIY cake toppers, for example, consisted of the crafting plus two other important tasks – cake model shopping and 'disposing' of said cake afterwards… It's a tough job you know ;-)
Step 1 ~ Print out the letters of your choice, I used the font Comic Sans in Word, size 200 and cut them out (carefully!)
Step 2 ~ Fold your card in half and glue together and allow to dry, to form a thicker piece of card.
Step 3 ~ Glue the letters face down on your double thickness card then cut out to form card board letters.
Step 4 ~ For the heart I used a shaped paper punch but if you don't have one then repeat the steps above with a printed heart shape.
Step 5 ~ Coat the heart in pva glue then sprinkle with glitter and allow to dry.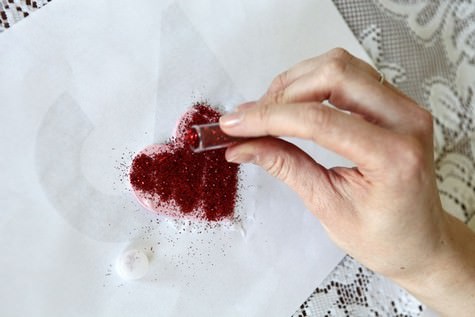 Step 6 ~ Glue bamboo skewers to the back of your letters and heart shape and you're done!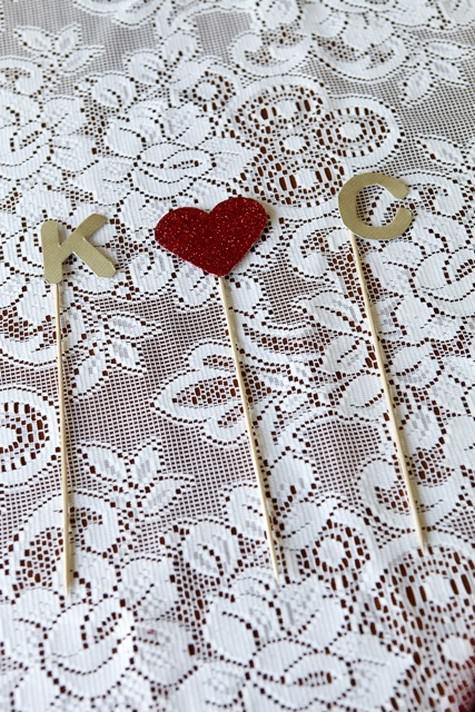 ♥  TOP TIP – trying making (in the same way) using drawings of the bride and groom!
Chloe x
A big thank you to Chloe for this fab DIY project, please show your appreciation.
For lots more DIY projects and handmade wedding ideas go to:
www.adorebychloe.co.uk
www.adorebychloe.co.uk/adoreblog
FACEBOOK
TWITTER
Credits
Photography – www.butterworthphotography.co.uk
Styling – www.darbyandjoanvintage.co.uk