As you all know I'm a massive fan of Papakata tents I really do think they are the best way to have a wedding…………If I was to do mine again, or have a blessing in the UK this is certainly what I would go for.
So I was delighted to received an invite from the lovely Papakata team for their open day on 9th and 10th October.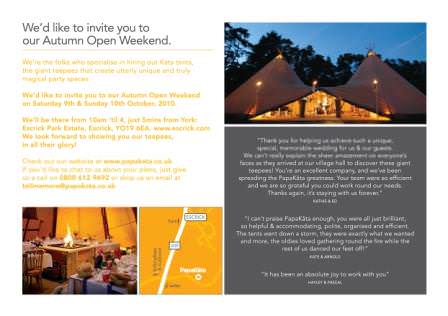 I went along to the Open day in April (see my last post on Papakata) and loved them so much.
I was then lucky enough to work with them this August on the wedding of Sophie and Tony (post to follow on Friday) I found them highly professional, and a great team of people to work with……..I really can't recommend them enough!!……………and now they recomend me (see their friends page under wedding planners)
The details I have been sent from Papakata are:
We hope that you're looking forward to our Autumn Open Weekend on the 9th and 10th October
We just love furnishing our giant teepee's in time for your arrival…..or as it's called in the business 'titivating'!
You're all more than welcome to drop in at any point throughout the weekend to come say hello, have a glass of bubbles, toast marshmallows by the brazier and warm your cockles by the fire. But if you'd like an appointment with one of the Papa Peeps then just let us know your preferred time and we'll pop it in our diary.
There will be demonstrations taking place on both days at 11.30am and 2.30pm by our operations manager Alan and the Papa crew, so even if you feel you have all of the details sorted, it may still be worth heading down to find out how to lift the sides, open the smoke flaps and have any of your logistical questions answered.
With flowers by the talented Kirstyat 'Where Angels Play' and local caterers 'Saunts' and 'Kernalls' there to tickle your taste buds with some warming winter fare, it promises to be a great weekend.
Teepees at night for the Wedding Workshop
We think the teepees are especially cosy at night and we want to show you just how lovely! We'll be opening on Saturday 9th October until 8.30pm so you can have a look around as the sun goes down.
We'll also be conducting a Wedding Workshop from 6pm with Nikki from 'I Do Designer Weddings' providing hints and tips for every bride and groom to be.
If you'd like to stay for the Wedding Workshop please just let us know, we'd love to see you all there.
Looking forward to seeing you shiny happy people!
Much love,
Team Papa x