Todays shoot comes all the way from Kansas and it is the engagement shoot of Deana and Joe who chose a Vintage themed for their Pictures which have been sent in by Brandi Tanksley 
'The goal of our shoot was to capture the "vintage" spirit of relationship, mutual interests, and Deana's family farm through fun, timeless clothing and prop sets. We tried to convey a real sense of who we are and what we love to do together: playing cards, enjoying picnics, savoring music, going for bike rides, and simply enjoying the pleasure of one another's company.'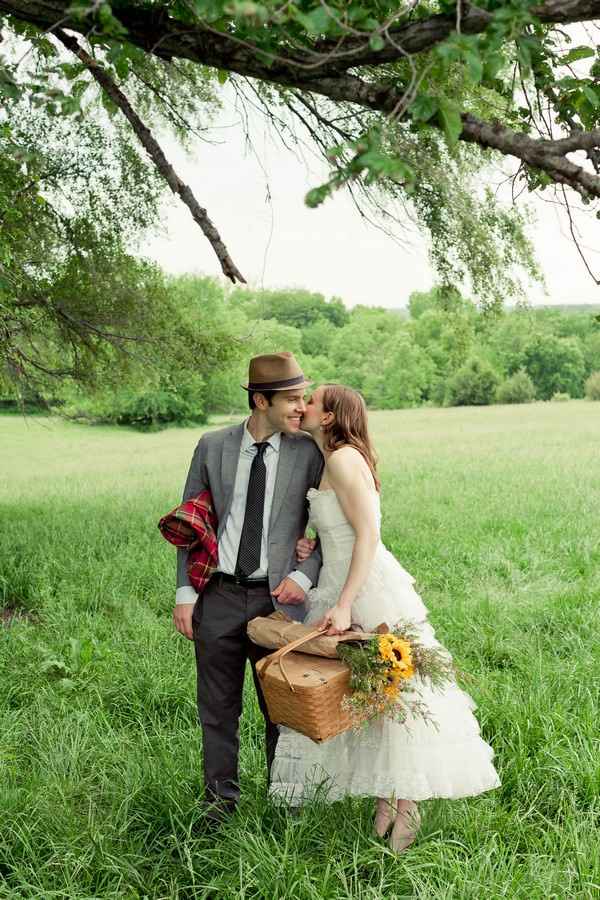 The shoot took place in May of this year.  Deana always dreamed of having an engagement shoot on the Kansas farm that's been in her family for generations. It is where both her father and grandmother were raised. Brandi, the photographer, was gracious enough to make that dream become a reality!
How they met
Joe: We met about 2 years ago at a crazy little gathering place called Match.com. This was several months before Deana moved to their present city in the Midwest. After exchanging emails for a few weeks, we sort-of fell out of communication for a while. Birthday wishes from Deana that summer got the conversations started again, and we finally arranged to meet. After a few exciting first dates, and an awkward almost-first-kiss, we were head-over-heels for each other. Since then, we have fallen more and more in love.
Deana: It's hard to believe we'll already have been together for two years as of this August! Yet, I feel like I've known Joe forever. We did meet online as Joe said, shortly after I'd found out I'd be moving to our current city following graduate school. In hopes of broadening my circles from those I knew already from high school and college, Match.com ended up being a pretty easy way to also "scope out" the male fish that were in my new pond. Who knew I'd actually reel in "the one" right from the start! Joe had just made a profile as well, with the help of his sister, and I still remember how sweet his smile was and how congenial his words were. He had such great recommendations for restaurants, neighborhoods, and thrift stores, and I could definitely sense a friendship brewing; however, between the busyness of summer travels and moving, we definitely fell out of touch. Thank goodness, though, Joe's birthday was timed just perfectly for my move! Wishing him a best last year of his 20s via Facebook, I suggested that we make sure to meet up over coffee sometime to chat about our newest favorite antique stores. Following up this suggestion with a sweet phone call, he surprisingly asked me to upgrade our meet-up to a sit-down dinner! Whenever Joe tells the story of our first date, I'm always glad he forgets about me cancelling our first attempt to get together; I ended up being so caught up in the first days of my new job that I asked to reschedule just a couple hours before we were to meet! Thank goodness, Joe is a super patient guy and happily agreed to meet the next around. However, I still managed to be a good ten minutes late, but he didn't seem to mind.
The proposal
Joe: I spent weeks selecting the perfect ring for Deana and formulating a plan for how I was going to present it to her. I had the opportunity on a Friday evening when we had no other social commitments and could have the entire night to ourselves. I had made a reservation at a quaint, local restaurant we had both been wanting to try, and I mentioned the night before that we should get dressed up for a nice dinner, which Deana loves to do. She ended up working later than expected, giving me more than enough time to clean up the house, get dressed up and put together a music playlist to set the mood before dinner. When Deana arrived home she was taken by surprise at how dressed up I was. Thus, I was given even more time to contemplate the question while she showered, changed clothes, and did her hair and make-up. Fortunately, I had anticipated a delay and pushed back our reservation.
Just as we were nearly ready to walk out the door, I asked Deana come into the living room so that I could show her something. We had been living in our house for only a short time, so it was not uncommon to discover new details we hadn't noticed before. I stood her along the wall with her back to the fireplace mantle, which held a strategically placed box with its lid popped open. I took a seat on the loveseat in front of her and asked her to turn around to face the mantle. It was only a moment before she saw the ring. She did a double-take before picking up the box. I asked the big question and she said yes. Of course, I was immediately filled with relief, and we were both filled with giddy excitement for one another as we walked, hand in hand, to the restaurant. It was one of the most romantic nights of our lives!
Deana: "So, when is that Joe going to pop the question? You know, I *really* like that guy…" Pretty much as soon as my dad MET Joe, he began asking this. However, he definitely increased the frequency of this question in the weeks leading up to Joe's proposal. Little did I know, Joe had asked both my mother and father for their permission to marry me, but left out WHEN he was planning to ask me. I love that Joe truly wanted the day to be a surprise, not even breathing a word to our sisters!
Joe isn't someone who likes to wear suits very often, so when he said he wanted to get dressed up for a nice dinner out, I figured that meant the jeans and flannel shirt would be retired for the night and I'd find Joe in khaki pants and a button-up shirt or polo. Lo and behold, he was in a full suit and tie, despite having just bounced back from the flu. I hurried as quickly as I could to make myself look more presentable, but was thankful Joe had already pushed back our reservation time! He adorably said I looked great the way I was, but if he was wearing a suit, I at least wanted to take more than the five minutes I'd left myself to change into a skirt.
His engagement was perfect. I actually had a sneaking suspicion that day that Joe would propose; he seemed almost nervous on the phone that afternoon, something which hadn't really happened since our first few conversations together. After coming downstairs and finding him on the loveseat facing the fireplace, though, I knew in my heart right away that this was the night he would pop the question. It practically brought tears to my eyes when he asked me to spin around (allowing me to "spot" the ring on my own), and I was ecstatic to say yes when he said, "Well…what do you think? Will you marry me?" The ring was stunning and was a perfect fit for my thumb (the only downside to not letting our sisters in on the secret), but he happily got the ring resized the very next day before we made the announcement in person to our siblings and my parents, grandmother, and great-grandmother. It was truly a special weekend I will never forget.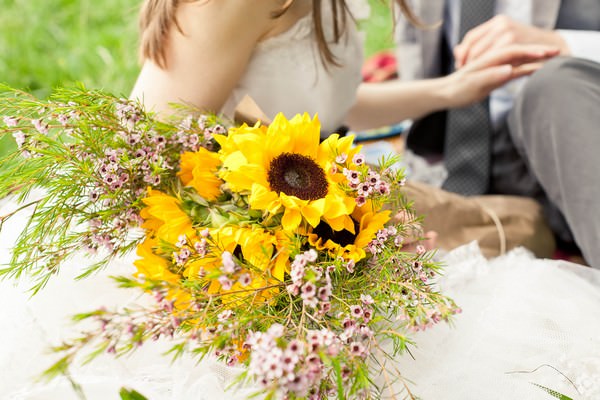 Tell me one the thing you love most about each other
Deana: Joe has the greatest work ethic of anyone I've ever met. He's so earnest to fully tackle every task he has before him, is dedicated to the principles for which he stands, and is so incredibly humble and self-sacrificing. He's also one of the best chefs I've ever encountered!
Joe: I love Deana's enthusiastic affection (she never forgets to tell me she loves me at least multiple times every day), her excitement for our lives together, and her genuine kindness.
What bit of the wedding are you looking forward to the most?
Deana: As a musician, I'm definitely looking forward to all the lovely wedding music to be performed by area musicians and special friends. However, I'm most looking forward to seeing my amazing future husband in his dashing tuxedo for the first time and dancing away the night with him alongside our closest family and friends.
Joe: I'm looking forward to drinking the home-brewed beer my father and I made together for the reception. However, I'm especially looking forward to dancing with my beautiful bride.
For more information on Brandi's work go to
Brandi Tanksley Photography
www.branditanksleyphotography.com
[email protected]
913-961-3271
Location: Kansas but also available for travel
♥  You can see more Engagement shoots on the Boho Blog HERE  ♥