Wow I have a real treat for you today! Not 1 wedding, not 2, but 11 weddings all from the same couple and THE best Trash the Dress shoot (courtesy of Dean Sanderson)  I have ever seen!……..an over exageration??? well you tell me, check this beauty out!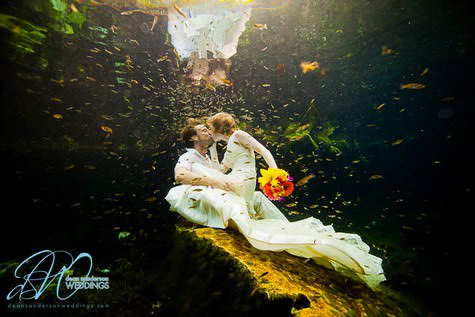 If you rember back to last June I posted the rather unsual story of Lisa and Alex who where about to embark on a two year trip round the world, with their aim to get married in as many countries as they could. BUT before they went Alex arranged a secret surprise wedding for Lisa to take part in Didsbury a few days before they were due to leave! The results of which can be seen HERE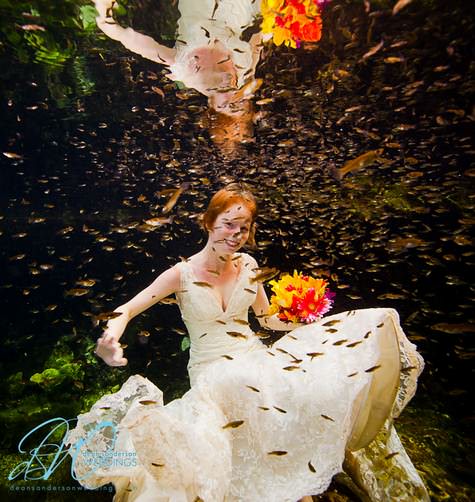 Lisa and Alex got married in Manchester and since then have been travelling the world saying their marriage vows wherever and whenever they can. Lisa took her Charlotte Balbier dress (Tabither) with her and has got a great deal of use out of it, possibly the most worn wedding dress ever!
They have been documenting their journey along he way on their 2 people 1 life Blog and via twitter and I have been following their story with great interest.
So when Lisa got in contact with some rather awesome trash the dress pictures they had just had done by the super talented Dean Sanderson I thought it was about time to revisit their story and have a bit of a re-cap on what they have been up to!
So far they have been married 11 times and Lisa has been kind enough to give us a summary of each wedding.
11 weddings all in a different country
1. As you covered already. Didsbury secret wedding. Vintage English wedding, mass collaboration from the independent businesses and all a complete surprise to me! Highlights…The community feeling of the whole day and our family and friends being with us to start our incredible journey. We flew out to Canada the next day.
(photo credit Jonny Draper)
2. Quebec. Chappelle St Agnes Vineyard. We stumbled upon the amazing European inspired vineyard complete with chapel and heart shaped lake on a wine tour. Highlights…the Québécois Vicar and his amazing service and of course the out of this World ice-wine produced by the vineyard.
3. Michigan USA. Honeymoon Lake in the UP. Whilst visiting family they insisted on a wedding out on a boat trip in a pontoon. They packed champagne and a picnic; we found a rock half in Michigan and half Wisconsin in Honeymoon Lake and were 'married' by the captain, a close family friend. Highlights…the family around us floating in boats or in the water and the tubing afterwards!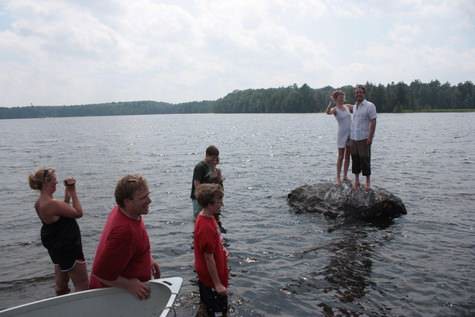 4. Banff. Warners stables. Wedding on horseback! Highlights…Alex wearing a cowboy outfit and my first ever time on a horse!
5. Nanaimo. Neck point beach. The family of a couple we met travelling arranged us a wedding on the beach with a member of the First Nations Community holding the service. This is very unusual as they do not share their ceremonies with 'the white man'. Highlights…the ritual and spirituality of the ceremony and meeting the people we now call our second family.
6. Vancouver. YVR airport. Jaeger Mah was helping the YVR airport celebrate their 80th year by living in the airport for 80 consecutive days and reporting on 'airport life'. We were following him through his blog and asked if he would hold us a ceremony in the main terminal. He agreed and we had a great time. Jaegers known for his Hawaiian shirts and we were flying to Hawaii so went Hawaii themed. Highlights…throwing the bouquet and holding the ceremony in front of the Haida Gwaii, an important Canadian sculpture featured on the Canadian dollar. (we may also be the first people to have a wedding in the main terminal but as it is not a legal ceremony will not be recognised)
7. Hawaii Big Island. Hilton Waikoloa. A traditional Hawaiian wedding with a dolphin twist. After the ceremony we waded into the ocean lagoon with the dolphins in our wedding clothes and met the dolphins. Reception included drinks and a three course meal at 'Buddah Point' at sunset and a beautiful wedding cake. Highlights…the beautiful traditional service and sending our thoughts and wishes for friends and family back home to the Ocean on Orchids.
8. Seattle. Pike Place Market. Only the second couple to marry at the market. Traditional style wedding but under a neon sign in the market place. Afterwards we walked the market and had fish thrown for us, flowers gathered for us and then pizza and beers with friends. Highlights…the strangers that had gathered around to watch humming the wedding march for me to walk down the 'aisle' and the flower exchange during the service.
9. Hollywood. Vampire Lounge on Halloween. We dressed as vampires to keep in theme with the date, the bar and the wine and all our guests were in fancy dress too. We had a spiritual blessing after been serenaded by the rock god Marino De Silva. He also played us a spooky, vampish version of the wedding march. Highlights…Marino playing, Clockwork couture providing us with amazing outfits at the last minute and having a make-up artist show up to do our make-up, the photographers (twin brothers) who were the coolest EVER with their vintage cameras AND having friends celebrate with us.
10. Las Vegas. Little White Drive through Chapel. We took a road trip from LA with some great friends/ photographers (Megan and Coco from Offbeat Bride) to Vegas and decided the only way we could get married in our camper van was in Vegas. We shared the driver's seat as the vicar leant out of the drive thru window to read us our vows! Highlights…actually having a wedding IN the van and the Irish themed reception with friends (Guinness and steak and ale pie in an Irish pub at the casino)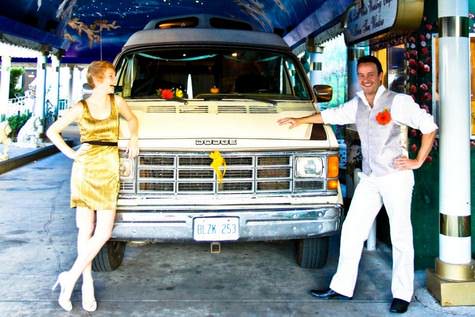 11. Mexico. Mayan Riviera, Paamul. Traditional Mayan wedding ceremony performed by 2 Shamen. The sacred ceremony was performed in full Mayan dress and with upmost respect. Highlights…being blessed with the copal, sending our offerings out to Xchel and the sea and offering thanks to the Cardinal points. (Photos by Dean Sanderson)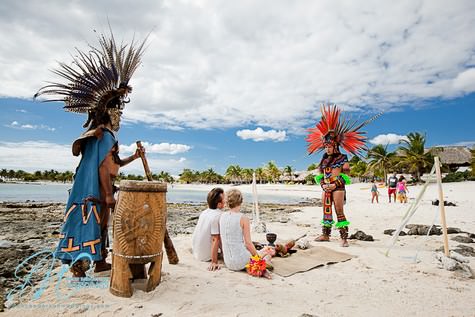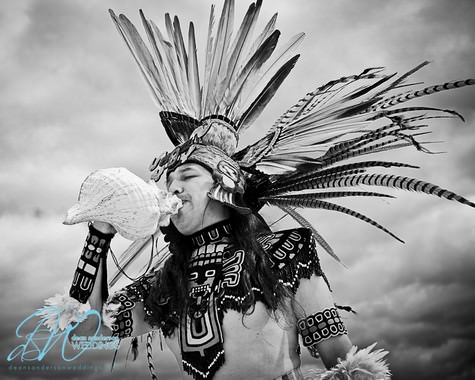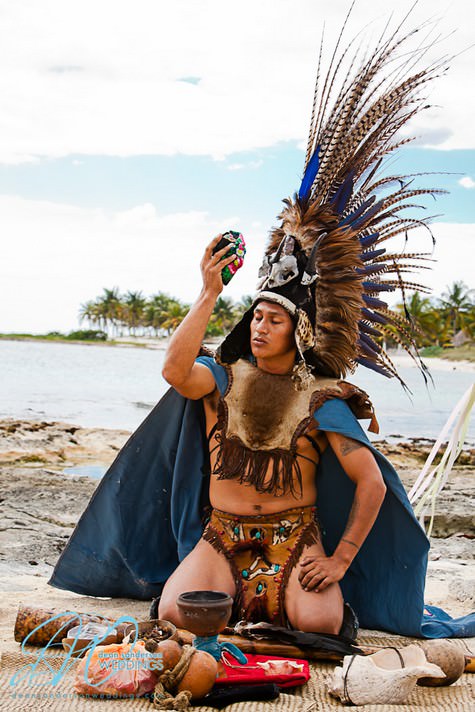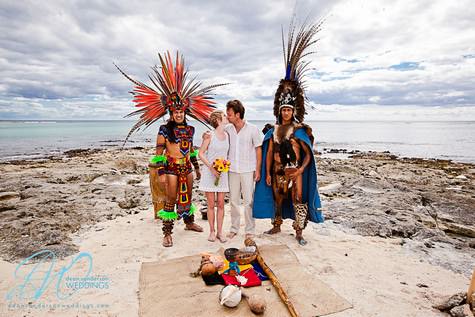 'It was while we were celebrating after the Mayan wedding ceremony that Dean Sanderson our photographer mentioned the possibility of doing a trash the dress shoot. We jumped at the chance and immediately arranged a date. Dean recently moved his successful photography business to Mexico from Canada and is loving living in Mexico. He took us to a local cenote which is a natural fresh water pool. The Mayans believed that the cenotes were routes to the Gods and would leave offerings at these sacred pools. Today some of them are protected and others are used for swimming and snorkelling. The cenote we went to was beautiful but cold but we were so excited and could see the potential for wonderful photographs. Dean got into his wetsuit and flippers, strapped weights around his waist and pulled on his eye mask…his underwater shooting kit! Alex handed him his camera encased in its very own space age suit which weighed a tonne.'
'First of all we went in in the summer dress I had worn for the Mayan wedding and after that shoot assessed if there had been any damage to the dress. There had not so I decided to take Tabitha in. The water was crystal clear and spotlessly clean apart from the obvious floating algae and the thousands of fish. We really enjoyed the shoot and being under water in Tabitha was a surreal experience. Dean was so patient with me as to start with I couldn't sink! His job was difficult as he had to sink too and therefore couldn't use any breathing equipment as to sink you have to let out all of your air. He also couldn't make any bubbles as they would also interfere with the images he was trying to take. By the time we got the hang of it we were all exhausted and frozen stiff. Dean moving about under the water to get the position of the shots was the saving grace as once we were under in that dress there wasn't a lot of room for manoeuvre!'
'It was an exhilarating experience that I think every bride should think about. You have the amazing images from your wedding day that you will cherish forever. Unless you wear your dress to do the ironing in or for special occasions you are NOT going to get your money's worth any other way! The shoot was fun and OUR chance to do what the heck we wanted in the most fabulous outfits we will probably ever own! Hell that dress deserves to be photographed!
I am very lucky that I do get the opportunity to relive my special day over and over and to wear Tabitha as many times as she will stand (and believe me I don't ever see that dress giving up!…just TRY trashing that dress!) but all brides should consider a trash the dress shoot! Let the inner model out and go crazy!'
Photo Credits wedding 11 and Trash the Dress: Dean Sanderson
www.deansandersonweddings.com
www.deansandersonweddings.com/blog
[email protected]
FACEBOOK
TWITTER
'I live in Playa del Carmen with a view of the Caribbean sea and I travel from Cancun to Tulum photographing wedding in the beautiful and spiritual land of the Mayan Riviera.'
Dress – Charlotte Balbier – www.charlottebalbier.com
To find out more about Lisa and Alex's journey into multiple matrimony go to http://2people1life.com/blog