I have been waiting to post todays wedding for months……..It is a wedding of EPIC proportions and, even though you shouldn't have favourites,  It has to be my favourite of last year! It was featured on Style me Pretty last month so I am now free to post as many photos as I Like.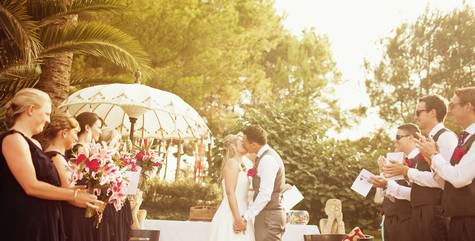 It's the wedding of Laura Halton and Tom Lissett who were married on 30th August 2011 at Atzaro, Ibiza with 63 guests, Atzaro is possibly THE best wedding venue in Ibiza, it is totally stunning as you can see from these photos. I am so proud as it's one of my own Boho Planned weddings! Between Laura, Tom and myself it took us 18 months to plan the wedding, and I loved every moment of it. I got to fly out to Ibiza for the wedding and even managed to get myself on Laura and Toms hen and stag do in Space nightclub a couple of days before!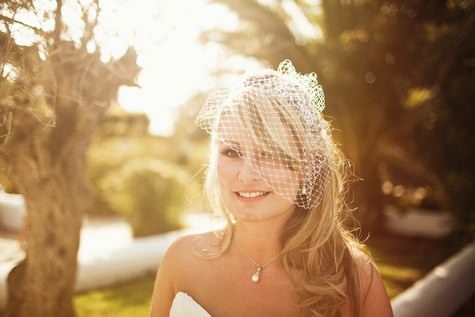 Laura and Tom are such an amazing couple, they were so easy to work with and trusted me implicitly which makes the world of difference when helping someone with their big day. We became friends during the planning process and I do miss them now they are married (although we do still keep in contact) It's couples and weddings like this that make my job worthwhile!
I was joined by Jon from S6 Photography who also came out to Ibiza for the wedding and he created complete and utter magic and a whole lot of wedding art! These photos are soooooooooooo good! and also a big thank you to my husband Nik, who helped me out on the day it must have been 35 degrees that day and he worked in the boiling sun, helping me get everything ready!
I had so many amazing photos to choose from that I have broken the wedding down into 3 parts.
Part 1: getting ready and the ceremony Part 2: the reception and portraits Part 3: The day after
Looking back on these photos brings tears to my eyes it was such a truly amazing day, I hope you enjoy them as much as I do!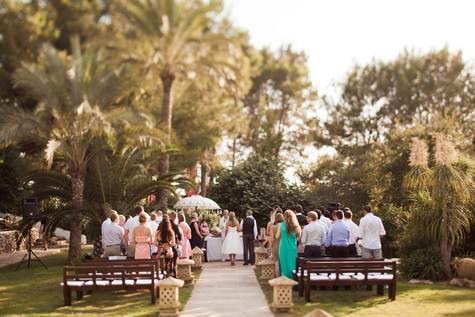 Laura and Tom describe there day 'Our wedding day was HOT in more ways than one…amazing family and friends gathered under an unforgiving golden Ibiza sun, for dancing and laughing til the small hours. It was a truly spine-tingling, magical, emotional day with a breath-taking backdrop on the White Isle, and we loved every mad minute of it!'
How They met
Tom and I have been together for 7 years. We worked together many years before that though at Marks and Spencer in Southport…but didn't utter a single word to each other in the 6 years we worked there! Years later Tom sidled up to me in a nightclub and uttered the immortal words "do I know your face from somewhere?". After much eye-rolling on my behalf, we got chatting and didn't stop until 6am the following morning. The rest, as they say, is history.
The proposal
The setting of the proposal was picture-perfect…Railay Beach in Krabi, Thailand. After a lazy day in the sun, we'd been to grab an ice-cream, and wander down to the beach to watch the locals playing football before the sun disappeared for the day.
Tom suggested we wander down the beach. But no…I'd obviously over-dosed on the Fanta-Limón that day, and was adamant we went back to our cottage to use the bathroom (romantic huh?!). Tom won though, and as we got to the bottom of the bay, Tom dropped to two knees (!) as the sun went down and asked me to be his wife! My first words – "You don't want to marry me…I'm horrible!" were soon followed by a tearful but resounding "YES YES YES", and with my beautiful marquise diamond ring on my finger and legs still crossed, we celebrated that night with a burger and a club sandwich on the beach!
The Venue
We always knew that we'd get married abroad – even before Tom popped the question. We'd been to friends' weddings in Italy and Portugal before, and LOVED the chilled out holiday vibe that seemed to fill the air once people got off the plane. Initially we had our heart set on Italy…but after numerous emails and hours spent researching, we decided that the options we had just didn't feel like 'us'.
After hitting a dead end Tom suggested Ibiza (I think to this day he was half-joking, expecting me to say no!) but after looking online that night I was head over heels, despite never having been to the White Isle in my life! A few raised eyebrows later ("what…the 'party capital of the world' as your WEDDING venue?!"), we booked a flight to go and see the Island and I fell utterly and wholly in love. Hands up – Ibiza constantly has to defend itself against the reputation-slaying documentaries of the 90's…but it is THE most beautiful, spiritual and magical place…and was therefore PERFECT for me to marry my Tom.
The Dress
DRESS: 'Honey' by Kate Sherford bought at Dreamcatcher Bridal in Kirkham, Lancashire
SHOES: 'Nova' by Jimmy Choo
HEADBAND: 'Juliet' by Ivory & Co
VEIL:from Imogens Imagination
FAN: from 'Dragonwings' based in Maryland, USA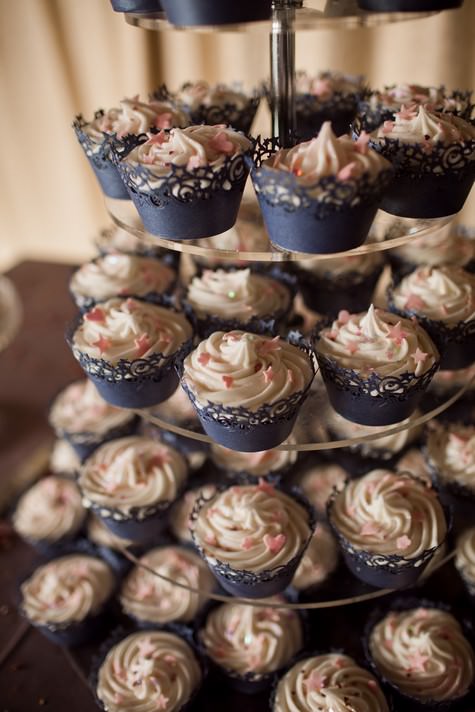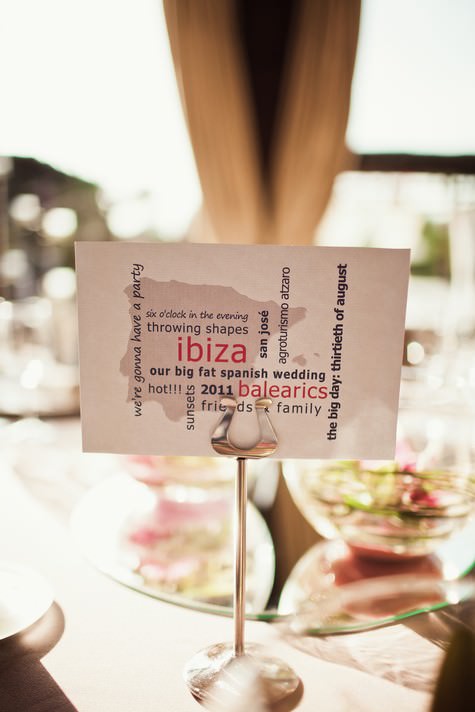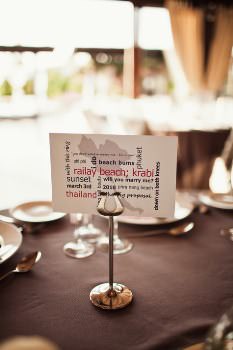 The suit and bridesmaids
SUIT: T M Lewin BRIDESMAIDS:'Mali' one-shouldered tiered dress from Monsoon
Theme
The colour theme was raspberry and navy blue
Food?
CANAPES
-Fruit trio confit in vanilla and pepper
-brochette of Iberian beef and pepper
-crunchy black pudding with apple and pine nuts
-guacamole with chicken and kilo mouse
-orange gazpacho with mujoll eggs
STARTER
Goats cheese salad with pear mushrooms and nuts
MAIN
Duck supreme with stewed seasonal fruit
DESSERT
Chocolate mousse with Atzaro orange compote
Entertainment
We had an amazing singer Jude Elliott during the canapés, accompanied by her saxophonist. Jude continued to free-style with our DJ Brian (Beezwax) after the meal. So many guests have commented on Jude's voice since the wedding…and you can see people on the photos just stood looking at her and the sax player open-mouthed! She was amazing!
And Brian…well he was a star. He spent so much time with us before the wedding (over a coffee when we were on the Island and over email) getting to know our eclectic taste in music meaning we had The Clash one minute, Vampire Weekend the next…topped off with a bit of Snoop Dogg to finish!
Flowers
I didn't have a bouquet…but had a beautiful white feather fan instead. I love flowers, I really do, but it would've broken my heart to leave my wedding bouquet abroad when I had to fly home…so I chose something I could keep. Plus, it didn't half come in handy at the top of the isle when the sun blazed down (and the nerves kicked in!) to keep me cool!
My bridesmaids had stargazer lilies (my favourites!) and raspberry pink roses. The florists, Kristen and Alex, were a dream to work with – and despite the many miles between us, they understood completely what we were after. El Ramo de Flores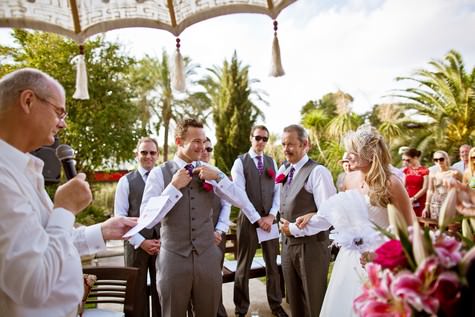 Decoration
Atzaro is astoundingly beautiful. It has a definitive oriental-vibe about it, and amidst the Buddhas, fountains, and lanterns strewn between the palms, there are flowers and pops of colour everywhere. It is a surprisingly lush oasis almost hidden in the red-soiled farmlands of the north. This meant that we didn't need to bring any of our own décor in to the venue (great from a budget point of view!) but instead we bowed down to the amazing setting around us!
However, my amazingly talented friend Bekah Dee[bekahdee.blogspot.com] did make some key decorative items like the 'happily ever after' bunting, and the decoupage letters 'L' and 'T' that we hung in key places like the guest book/signing photo.
Personal touches
-I designed and made all of the stationery myself. In all honesty this was to save money, although I do some design work and desktop publishing as part of my day job in marketing.
-The loose theme was 'travel' and started with the save the dates that asked our guests to 'pencil us in'!
-The website I created, http://hitchedinibiza.moonfruit.com/ along with the invitations, menu cards, escort cards and order-of-service, were designed in a typography-style, and although it meant I sat for hours in our office at home printing and guillotining, and gluing and stressing – I honestly loved every minute of making all of these by hand myself!
-I did joke with our guests that it was obvious our budget hadn't gone on the stationery, but I do think that the menu cards in particular were the highlight of the day! On the back of the cards, I'd typed a personalised description of every guest in a 'dictionary-style'…to remind them all of what they meant to us as a couple, and the memories we had with that person. It was a labour of love, and just a little way of us saying thank you to the many that travelled the many miles to be with us. I'm just thankful I only had 63 to make!
Special moments
Anyone who knows me, knows I love nothing more than hanging out with my girls; giggling, silly-dancing, gossiping, preening, and generally putting the world to rights for hours – so I loved the fact that our late wedding (6pm due to the heat) meant it was the perfect excuse to spend the day doing just this!
But the highlight for me was waiting at the top of the aisle and seeing all my bridesmaids off to the dramatic sound of 'One Day Like This' by Elbow, blasting out through the palms, before setting off with my dad down the aisle, under the blazing hot sun, to Tom. A lot of people tell you that the wedding day, and the ceremony in particular, is a haze…but I remember every detail so clearly…from the vows that we'd written to each other, to my sister crying uncontrollably, to my dad messing up his lines! It was magic.
The last highlight for both of us, was the final hour on the dance floor at 4am, after Instructions were given to the DJ by my bridesmaid Clare…"The bride wants hip- hop please!" The dance floor filled up again and we danced to Fat Joe, Snoop and Cypress Hill til our feet ached and the lights came on! Not your normal wedding music choices…but our guests ROCKED IT!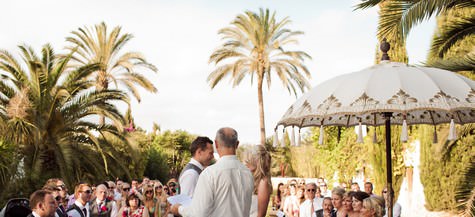 Wedding Planning advice
1. Have fun with the planning – and involve your fiancé. They shouldn't get forgotten in the midst of tulle, and stationery samples, and moodboards! But also…BOOK KELLY! She made the planning fun, stress-free and was a joy to work with!
2. Keep organised! I am a little bit obsessed with spreadsheets…they've got me through cooking Christmas dinner for 22 people, moving house, packing for a holiday, and now planning a wedding! Keeping an eye on the budget only works with a good old spreadsheet!
3. Make time to do some non-wedding-planning related things with your man. We were 'lucky' in some respects that 2011 was by far the most chocca-block year of our lives – we both turned 30, (and spent our birthdays just the two of us!) and had other weddings/birthdays/stag dos/hen dos/engagement parties to go to which kept our minds busy!
4. Forget the fact that your hair dropped the minute you got out the car. Forget the fact that you forgot to put your lipgloss on before you walked down the aisle. Forget the fact that they served the RedBull in the cans, and not in pretty glasses like you'd asked for – these little details do not matter! The photos reflect the fact that we were living the dream, for one day only…and we smiled and laughed so much we had genuine jaw-ache for days after. Plus worried, stress faces don't photograph well
5. Have something to look forward to after the madness of the wedding. It will leave a gaping hole in your life, but don't let it! Fill it with more planning and spreadsheets like we did for our belated honeymoon Down Under!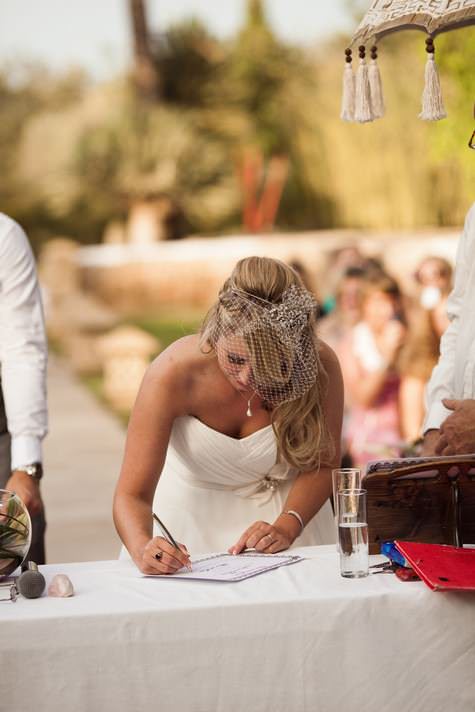 Biggest surprise
We got a real kick out of surprising our guests as there were a couple of things that that only Tom and I knew about…our first dance where we did a routine to The Wannadies' You & Me Song. My mum's face when she realised it was a routine was priceless as she thought she knew EVERYTHING about the wedding up to that point! I also wanted to do a speech to reiterate our thanks for people travelling so far, and ended it with a RedBull toast to Tom (who can't drink due to medical reasons…and is therefore infamous for his energy-drink addiction amongst his friends!)…people's faces when then saw 63 cans of RedBull being dished out was priceless!
Supplier shout outs:
PHOTOGRAPHER:  S6 Photography –  www.s6photography.co.uk
VENUE: Atzaro (Ibiza) www.atzaro.com/agroturismo-ibiza/es/
PLANNER: Boho Weddings and Events – www.bohoweddingsandevents.com
FLOWERS:  El Ramo de Flores –  www.ramodeflores.com
CAKE:  Ibiza Cakes – www.ibizacakes.com
CEREMONY: Paul – www.blessings-on-ibiza.com
SINGER: Jude Elliot – www.judeelliott.com
DJ: Brian Beezwax – www.beezwax.co.uk
DRESS DESIGNER:  Kate Sherford – www.katesherford.com
DRESS SHOP: Dream Catcher Bridal – www.dreamcatcherbridal.co.uk
SHOES: Jimmy Choo           
VEIL: Imogens Imagination' 
HEADBAND: Juliet' by Ivory & Co  
FAN: from 'Dragonwings' based in Maryland, USA  www.dragonwings.net/Fans.
SUIT: T M Lewin www.tmlewin.co.uk/
BRIDESMAIDS: Monsoon  www.monsoon.co.uk
INVITATIONS & ALL SATIONERY: DIY
For more information about Jon's photography services go to:
www.s6photography.co.uk
s6photography.co.uk/blog
[email protected]
FACEBOOK
TWITTER
01142340295