I just love today's wedding, set in the Essex countryside, on the brides parents family farm, full of the most stunning flowers, DIY details and plenty of fun, what's not to love! Danni and Jonny had 2 ceremonies, the 'official/legal one' 3 days before the main event, which is pretty common these days when holding an outdoor ceremony in the UK. This meant their main wedding day could be anything they wanted it to be. They kept it light, fun and full of personal touches, which was perfect for the laid back venue of the family farm. They took a very hands on approach to the wedding planning, with lots of elements being DIY, from the signs, to the confetti, so many lovely handmade touches which really made their day super personal. I'm a sucker for a marquee wedding and the odd hay bale, so I just love this wedding. Big thanks to Jodie Mitchell for the gorgeous photos.
The most wonderful (hot) day, full of fun, relaxed vibes and surprise entertainment.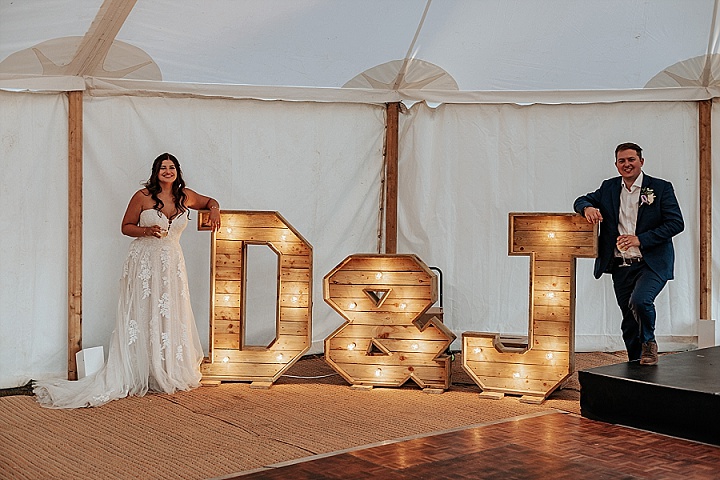 Danni and Jonny were married on 27th August  2022 (24 August 2022 official ceremony). 'The Official ceremony was at New Hall School, Essex. Ceremony with all friends and Family – Fieldhouse Farm (Danni's parents family home) Reception- Marquee at Fieldhouse Farm. New Hall was the school I (Danni) attended and where I made my closest group of friends so it was a truly sentimental venue for us. We decided to host the wedding there for around 60 family and some close friends on 24th August. We then wanted to have a really fun slightly less traditional ceremony for around 120 of our friends and family at my parents family home, they have a lovely garden where we hosted the ceremony and then a field where we had the reception, growing up we had always had big campouts in the field with all our friends so it felt like a great way to celebrate. We got engaged in May 2021 and were married in August 2022 (we had managed to book our marquee and caterer about 2 weeks after getting engaged so definitely didn't wait around!)'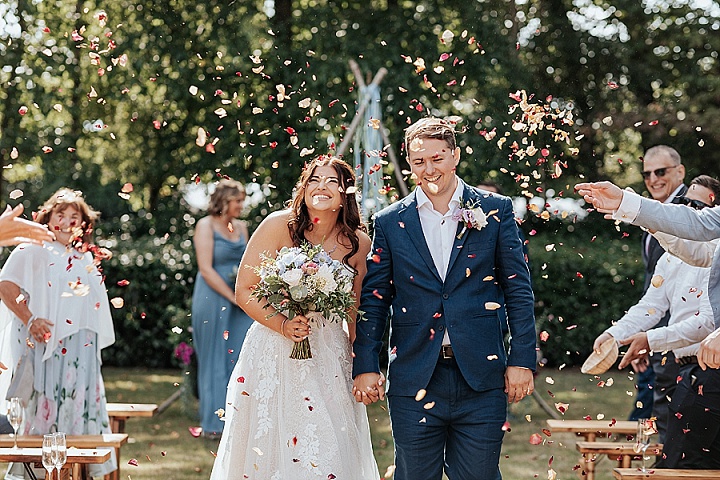 How they met 
We met whilst both attending Loughborough University and have been together for over 7 years. (6 at the time of the wedding)
The proposal
We had just adopted a rescue dog from Soi Dog in Thailand. I had just taken her out for an early morning walk and when I came in, Jonny had made breakfast, whilst I was tucking in and telling him all about our morning walk he had gotten up and gone into the other room, I turned around to find him on one knee with our new pup sat next to him also staring up at me!
How did you allocate your budget?
Food is a big part of us and our relationship so we prioritised making sure our guests had great food and lots of it! Otherwise, I work in events so had a good idea of what to expect with costs so we kept a to a tight budget.
Where did you splurge and where did you save?
We saved by doing lots of bits ourselves, for example we grew our own confetti! Our biggest splurge was probably on the alcohol where we maybe over ordered…. By a long way!
How did you choose your photographer?
We were really lucky to be able to work with two fantastic photographers, Max Turner Weddings and Jodie Mitchell.
Max is a long time friend and so he shot our ceremony on the 24th and it was so great to be able to incorporate a friend into that part of our wedding. We have always been huge fans of Max's work and the way he captures the candid moments in such a beautiful way.
We chose Jodie to capture our celebration because we instantly fell in love with her laid back style and absolutely stunning images. After meeting Jodie we knew she would fit in so well with our vibe for the day (which was just to have fun!) and delighted to say she did just that, capturing beautiful images, funny moments and was great to have around on the day!
The dress 
Dress was Essence of Australia, by Butterfly Bridal Boutique. Accessories-Earrings- Brilliant Earth as an on the day gift from Jonny. Bracelet- Mikimoto. Shoes- Charlotte Mills
The suit and bridesmaids
Suit- Hockerty Suits. Bridesmaids- Davids Bridal
Theme or colour scheme
We went with a blue tone colour scheme, steel blue bridesmaids dresses, blue suits for the boys and then lovely blue, purples and pinks through the flowers to tie it all together
Flowers
The most stunning blue, pink, purple and white flowers with dahlia's, spray roses etc- they really were beautiful
Decoration
As it was a marquee wedding we leant quite heavily on the flowers with matching flowers on the tables, at the entrances and a beautiful foliage ring above the bar, we had soft sage green running through the napkins which complemented the cross back chairs to create an elegant, bright and beautiful marquee with lovely fairy lights all across the ceiling
Food
We had delicious canapes during the drinks reception but the main meal was an incredible BBQ with family style service of salads, potato's and sides on the table and platters of freshly cooked BBQ food served to the table- it was AMAZING we then had chips for evening food later on
Wedding cake
We did a 'cheesecake' which was a tower of different cheeses that Jonny's mum put together served on a personalised board with fruits, chutneys and crackers
Entertainment
At uni both Jonny and I had organised a beer keller featuring an oompa band that had become something of a Loughborough legacy. We managed to keep them a secret until the speeches when Jonny announced to a room a predominantly Loughborough alumni that their favourite oompa band would be joining them that night! This meant the entire room was ecstatic and lead to every single person on the dance floor getting involved with an oompa band!
We then had a fab DJ – DJ Wayne Davies who provided banger after banger late into the evening
Who supplied the stationery?
We kept most things online but we had some amazing friends who helped with a lot of the signage!
Where did you go on your honeymoon?
We had a mini moon a couple days later to the lake district followed by a 2.5 week trip to Bali and Singapore in April 2023
Personal touches
We did a lot of DIY, grew and dried all our own confetti, made lots of signs, dressed the marquee ourselves etc etc- it was a very hands on wedding approach!
Special moments
Highlights were definitely being with all our friends and family, my family all live overseas and because of Covid we hadn't seen each other in over 3 years so it was a wonderful family reunion. We had guests fly in from over 10 countries which meant so much to us that they were all able to be with us.
Advice for other couples
Absolutely throw the rule book out the window if you want to – it's your wedding you can do whatever you want- even have an oompa band turn up!
Biggest surprise 
I think the biggest surprise was how many people were still there the next day….
Supplier Shout Outs
Jodie Mitchell
jodiedcmitchell.co.uk / jodiedcmitchell.co.uk/blog / [email protected] / 07887672655 / FACEBOOK / INSTAGRAM
Vibrant and alternative wedding photography in Berkshire and beyond. I love creative, alternative weddings. Throw your traditions out of the window like confetti and hit me with your weird and wonderful ideas. No dated, traditional poses and absolutely no vignettes or sepia. My favourite kinds of weddings are the ones that go with their own flow and don't listen to the unsolicited advice – just a couple that are in love and showing it in their own way.