Hello you lovely lot and welcome to this fine Tuesday on the blog. Today I am taking you off to  Arkansas for the wedding of John David and Lindsey. This stylish couple had a wedding filled with the most beautiful art deco detailing and a whole lot of good food. The wedding was sent in by their caterer Vibrant Occasions Catering and you will realise why when you see all the delicious food there was on offer. Freckled Fox Photography was there to capture all the memories, the emotional ceremony, the stunning decoration (I do love a bit of Art Deco) and of course the big old party!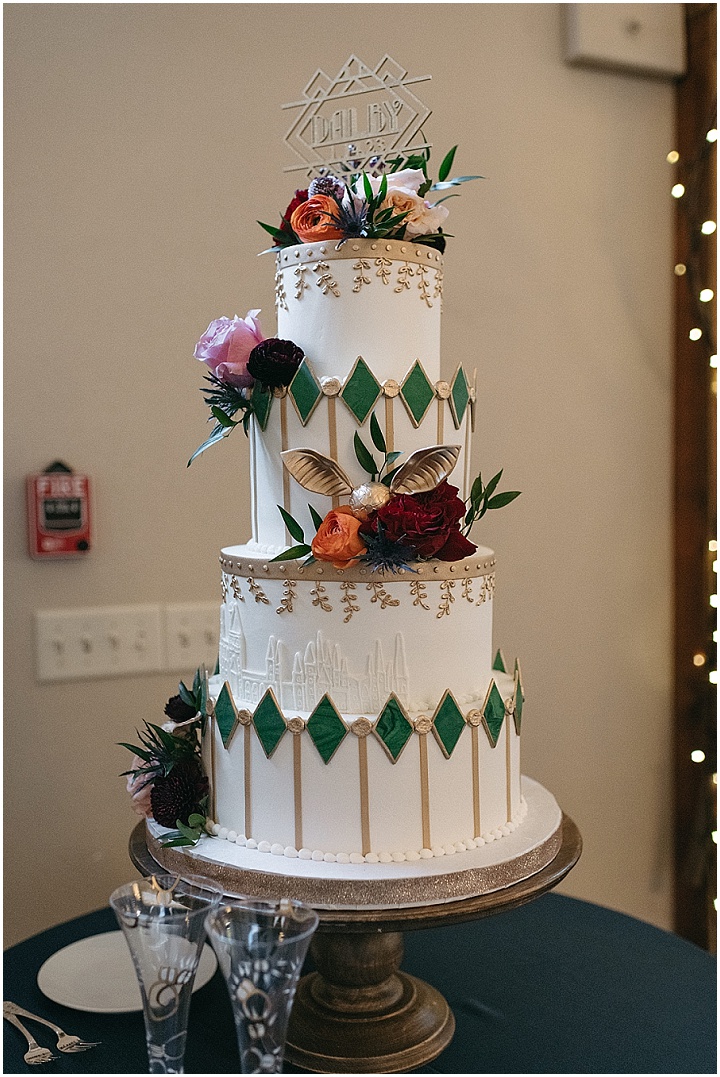 How they met
The Lord brought John David & me into each other's lives shortly after JD had moved to Northwest Arkansas (NWA) for a new job, and while I (Lindsey) was completing my Neuropsychology Fellowship at UAMS/Arkansas Children's Hospital.
Despite John David starting off one of our first interactions by asking me if I was "one of *those* obnoxious Texans" (to which I replied, "Yes, I am…and I'm not sorry"), we eventually found common ground and formed a connection that could span across geographical boundary lines and defy state rivalries.
The proposal
John David orchestrated the biggest surprises of my life and proposed to me on the top of "Ladybug Mountain" at the Pettigrew Family Ranch in Chatfield, Texas – a cherished, significant place for me while growing up. It was a beautiful, crisp February night…and with the bright light of the full moon shining down upon us, John David got down on one knee and asked me to be his wedded wife and forever bride.
Describe your wedding day.
When John David and I go engaged and initially started thinking about our wedding day, we had 2 main goals / priorities:
1) We hoped that our ceremony would not only be a joyous celebration of our love for one another, but also that it would also serve to impress upon us (and everyone in attendance) the full weight of the commitment and covenant we were entering into. Our heart's desire was that our vows would be a reflection of the sacrificial love of Jesus Christ – a firm foundation for us to build our marriage upon.
2) We wanted to use our wedding as an opportunity to show love and gratitude to our "people"…our family, friends, and all the individuals that walked alongside us during the pivotal moments of our lives – helping us to develop into the people we are today.
We kept these two things at the forefront of our minds throughout the hustle and bustle and little details involved with the planning process.
Each part of our wedding day was so very beautiful and meaningful, and we have memories from that day that will be treasured for the rest of our lives. The thing that we are the absolute most grateful for, however, is that we accomplished the two main goals we set from the beginning. Because of that, regardless of the little hiccups that happened on the day, and despite any of the ways that wedding fads or our personal styles may change in the future… I can confidently say we will forever be able to look back on our wedding day with absolutely zero regrets and full joy in our hearts.
The budget
At the last minute, we decided to cut wedding favours. We had guests traveling from far and wide, and it was important to us to make it an event worth their efforts. Since we could not financially afford to do "all the things," we decided to prioritize providing good food, music, and fun activities for all. We figured that if we had those aspects covered, our guests wouldn't miss out on a small wedding favour at the end of the night.
Food
A good meal is something highly valued in both of our families, and so we knew from the beginning that catering was going to be one of our biggest priorities when wedding planning.
We had a large wedding party and a lot of family to take into consideration when developing the timeline for pictures. I was particularly concerned about the amount of time guests would have to wait while we were occupied with the photographers. Thankfully Mary at Vibrant Occasions worked hard with us to come up with a plan and detailed menu involving Passed Hors d'Oeuvres and a Street Taco bar to keep everyone well-fed and in good spirts so there was never a "lull."
When it came to dinner, we really wanted to have a "station" style set up with different genres of food – that way there were options for all tastes and personalities.
We topped off the evening with a "late night snack" of individual sized chicken and waffles, which was perfect to get everyone re-fuelled and re-energized out on the dance floor.
Supplier Shout Outs