Hello Monday! How are you doing you lovely people? I hope you all had a wonderful weekend. What did you get up to? I had a weekend of dancing at the Woodland Disco Festival, 10 hours of dance music with my good friends. There were glitter balls, sequins and lots of fun! After a fab weekend I am now ready for a busy week at Boho HQ. I have lots of lovely weddings to share with you starting with the gorgeous wedding of Ryley & Alley who were lucky enough to get married at Alley's family's property. The day started with a beautiful outdoor ceremony, classic, simple and full of boho charm. It then moved onto the clear marquee where they had speeches a-plenty and then partied all night. The whole day had an elegant and timeless white and green colour scheme, which suited the couple perfectly. They both looked stunning and radiated love throughout the day. Big thanks to Lonely Hunter Photography for the gorgeous images.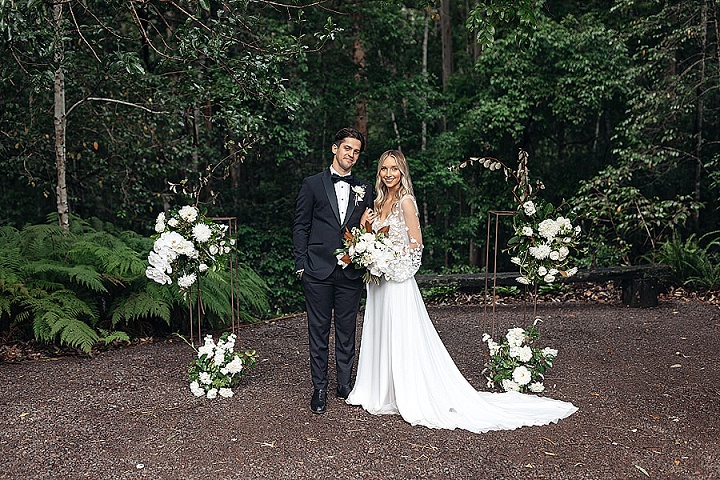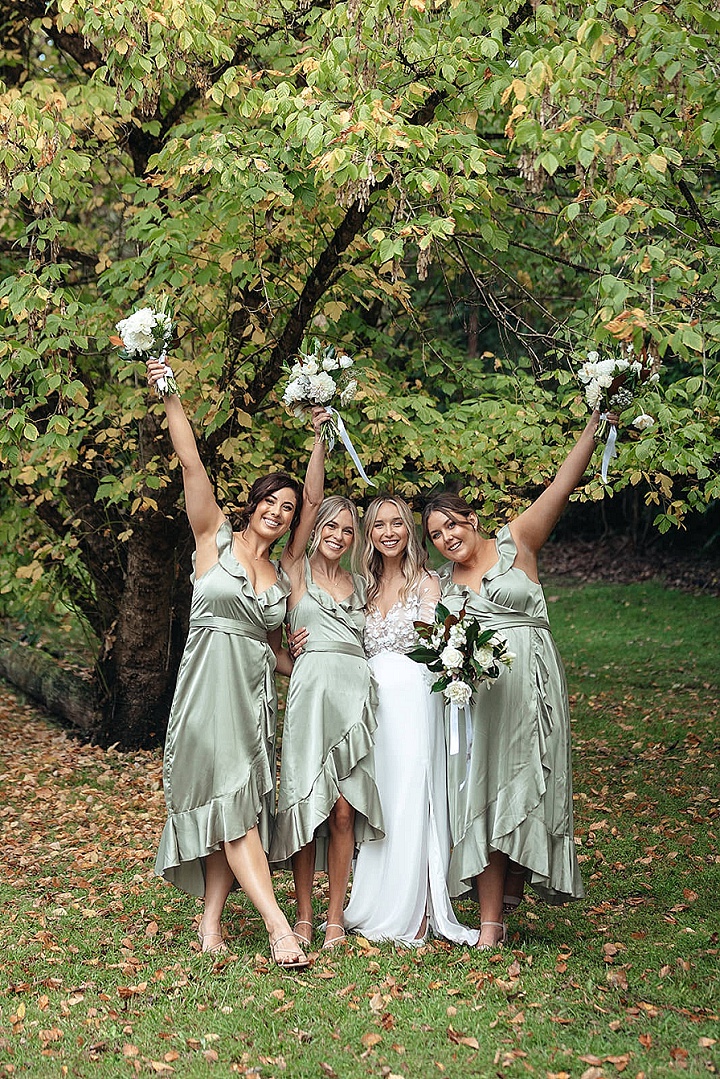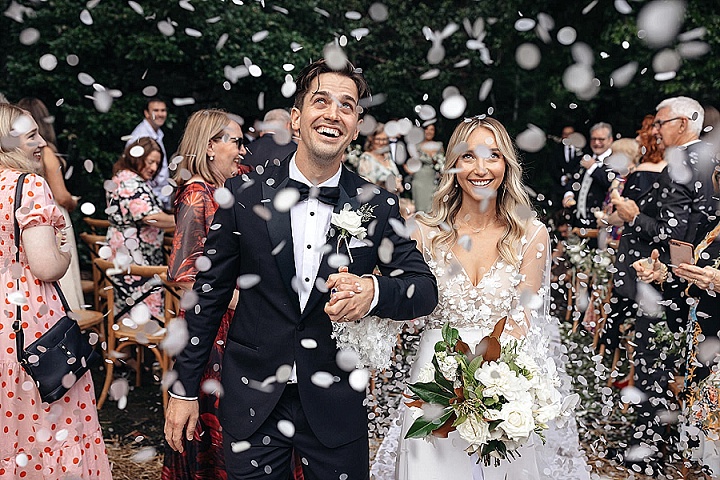 The proposal 
Ryley proposed in 2019 at our home in Sydney. I came home one night after work to find our favourite song playing on the record player (Beyond, Leon Bridges), photographs of us during our favourite moments hanging from the ceiling with beautiful words written on them, and a trail of candles & rose petals leading to Ryley. Ryley had organised for our Family in Newcastle to be together & we FaceTimed them all shortly after. Ryley then took us to a beautiful dinner on the Harbour & I was just elated. It was the most perfect proposal for us – the best night of my life for sure.
The venue and theme
'The Old Mill' is Ally's Family property, & is somewhere that her family travelled to most weekends throughout her childhood. The property holds such significance for her Family, and now for mine. The property itself is beautiful. The Family have worked over the years to transform the property into what it is today.
Whilst the dress code is formal, we wanted a relaxed yet elegant vibe. The venue is Ally's family property and consisted of a large clear marquee, fairy lights, outdoor festoon lit area, with a backdrop of a lovingly restored former mill, and a rainforest like national park with a creek that flows through the middle. We had recycled timber tables, hay bales, simple floral arrangements and soft pastel colour scheme.
Supplier Shout Outs
Photography: Lonely Hunter Photography
Make-up artist: STEVI HOPKINS – Makeup By Stevi
Hair stylist: JESS MONCK – Byjessmonck
Floral designer: DOM & TOM – The Flower Shop Dungog/Four Acre Farm
Videographer: JOHN & ELLIOT – Morelife Films
Live music: GIORGIA & DAVE – Tatts & Tea
Bride's dress: RIMEARODAKY
Caterer: TRACY – Feast Catering Newcastle
Celebrant: GEOFF GAUCI (Father of Groom)
Cake designer: LEE GAUCI (Mother of Groom)
DJ: JOAB EASTLEY  – Raavetapes (Friend)
Bride's shoes: NINE WEST
Brides ring designer: JAMES ALLEN / MATTHEWS
Groom's suit: UBER STONE
Groom's accessories: RM WILLIAMS
Groom's ring designer: SKAMPERLE JEWELLERS ARTISANS OF FINE JEWELLERY
Groomsmen's suit details: UBER STONE
Invitation designer: ELIZABETH KNAPP (Aunty Of Bride)
Richard Johnston – Lonely Hunter Photography
www.onelyhunterweddings.com  / www.lonelyhunterweddings.com/weddings / [email protected]  / +61413293147 / FACEBOOK / INSTAGRAM / PINTEREST 
Lonely Hunter is a distinguished wedding photography company based in Sydney, Australia. Led by award-winning photographer Richard Johnston, they are dedicated to capturing genuine and heartfelt moments in a timeless fashion. By employing a blend of photojournalistic techniques and a touch of editorial artistry, they create lasting memories for couples that stand the test of time.