Well what a wedding I have for you today! It's not that many people that can say they got married in their family's own woodland. Well today Flora and Ricki are doing just that! With Flora's great-grand parents buying the woods many years ago, they hold a very special place in the family's hearts, so it seemed like the perfect place for her an Ricki to hold their fairytale style wedding. They had lots of involvement from friends and family and they really brought the outside in, with their exquisite marquee decorations. The whole day is just so pretty, so serene and so magical. Big thanks to Nicola Thompson Photography for these stunning photos.
A woodland fairy tale. It was perfect for us in every single way.
Flora and Ricki were married on 9th July 2022 at Highless Woods, Birtles, UK (Flora's family woodland) with the reception Whirley Whin, Birtles, UK (Flora's family home) in Cheshire. 'I (Flora) grew up here, and the woods have been a big part of my life since childhood. My great-grandmother, who originally bought the woodland with my great-grandfather in the 1930s, used to live next door to us and so there is great emotional and sentimental attachment to these woods and the memories they hold. When I was a little girl I always dreamed of getting married on the grass overlooking the lake in the woodland, but it seemed like such a faraway dream, and at that stage, I had the mindset that you had to get married in a church, so I never believed it would really happen. Getting married here felt like a fairy-tale for me, it was a dream come true. I also always imagined I would walk back through the woods, in my wedding dress, after getting married, to our home on the other side woods. We were so lucky with the weather, and it meant that I was able to walk with my new husband through the woods that I used to run through as a child. It felt absolutely magical. We had 130 guests and it took 14 months to plan.'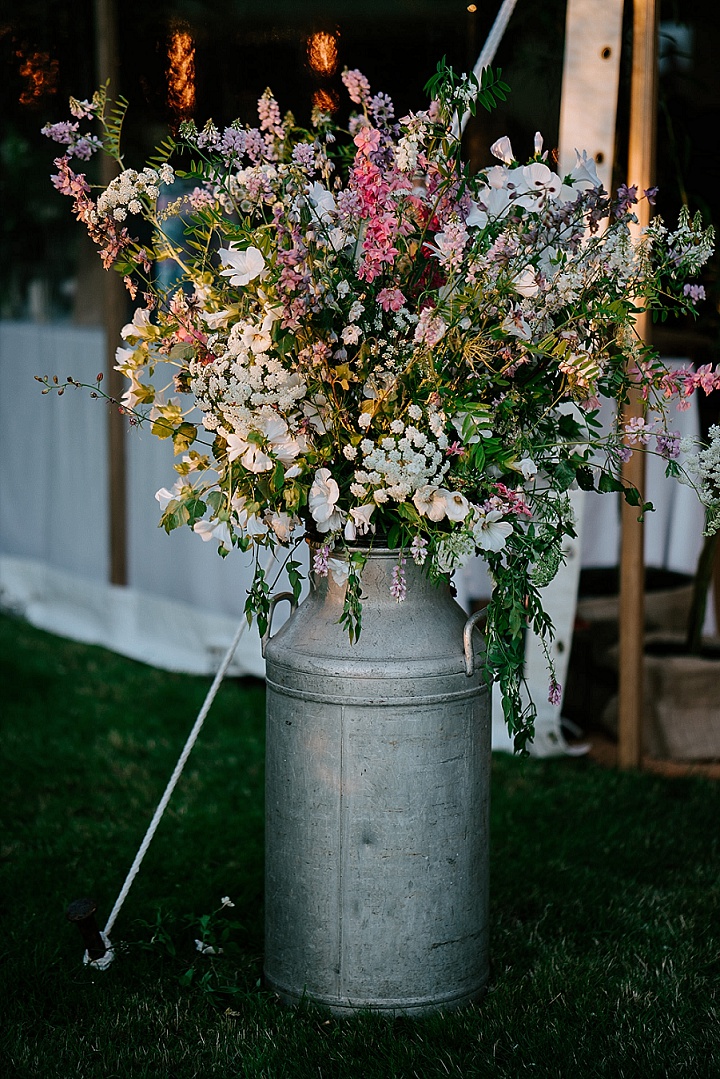 How they met
We met at a coworking space in Cape Town called Rise. We've been together for 4 years
Tell me about the proposal
It was a Thursday, I was working from the office. Ricki suggested we go for sundowners after work. We live in Cape Town and he suggested we go to the spot where we had our first date (we've been there many times, so I didn't think anything of it).
It's a beautiful spot, overlooking Camps Bay and the 12 apostles (part of the Table Mountain range. He distracted me by asking me what was going on in the distance on my left, and when I turned back round he was down on one knee.
It was the 1st April, so after the classic stunned pause I said "You know it's April Fools day?!" he said "yes…..". I said, "is this a joke?" And he looked at the beautiful ring in his hand and looked back up at me with a little smile and said "no, that would be a terrible joke".
How did you allocate your budget? 
My mum was our wedding planner. She is an artist, and a teacher, and has the most impeccable event planning & management skills of anyone I've ever met.
I am very grateful to say, she did all the budgeting.
Where did you splurge and where did you save?
Our priorities were the photographer, videographer, food, music, lighting, and flowers.
So we chose the supplies we knew we could trust to deliver our vision in those areas.
My sister is an artist and a chef, so she very kindly gifted us our wedding invitations, all the wedding branding and designs, and also our cake (which was a surprise, we thought we weren't having a cake!) My mum spent months and months working in the garden, planting flowers, and creating natural decorations like willow trees and archways that we would be able to use on the day. She also devised a clever plan using branches from trees in the woodland for decoration which looked incredible, but cost us nothing other than manual labour from her, my father-in-law, and a few very kind family friends who went on the morning of our wedding to collect them from the woods.
My dad spent months levelling and mowing our lawn so that it would be the perfect venue space for the reception. My father-in-law's partner, Claire, spent hours creating a beautiful backdrop to be used behind us while we were doing speeches. We are so fortunate with our friends and family, and how willing they were to help in any way they could to bring the day together.
How did you choose your photographer?
It took a very long time, going through many different photographers, but once we stumbled upon Nicola's photography it felt 'right'. She photographs so beautifully, but her photos stand out from other wedding photographers. She is unique, and slightly quirky with her style, which is exactly what we wanted – something a little different, a bit more creative, but still really beautiful. Nicola ended up being one of the best decisions we made for our day. She supported us and helped direct the day in a way we were very grateful for. She listened carefully to what we asked for, and she kept our strict rule that no photo sessions would take longer than 20 mins at a time so that we didn't have to take a huge chunk of the day away from our guests and the celebrations. Whenever the light was right or an opportunity was spotted, she would grab us for a few quick shots, and then we could go back to the party. As two people who don't love photoshoots, it was exactly what we wanted. And of course the photographs came out so perfectly, far better than I even thought they would.
The dress 
Dress: Anna Kara. Accessories: Earrings – I wore the earrings my auntie, granny, and great-granny all wore on their wedding days.
The suit and bridesmaids
Suit was rented from a local place in Macclesfield. Waistcoat and ties were made by a tailor in Cape Town (Rumel). Bridesmaid dresses –  Ghost & John Lewis
Theme or colour scheme
The theme was natural, woodland. The groomsmen wore forest green ties and the bridesmaids wore a soft, pastel pink which tied into the flowers in our bouquets
Flowers 
All our flowers were locally grown. I didn't know until the day what my bouquet would look like because it completely depended on what flowers were blooming at the right time. They were absolutely beautiful.
Decoration 
Lots of woodland-esque decoration! Willow trees, big urns of local flowers, a wild flower meadow
Food 
Oh my goodness. We ate the MOST delicious food.
Mine and Ricki's favourite meal is steak and chips, so our wonderful caterers, Pink Pepper, created a 'fancy' version of this. It was a style of roast beef, with dauphinoise potatoes, the most delicious array of sides you could imagine, and three special steak sauces, including chimichurri which was a nod to Ricki's South African heritage.
Wedding cake
We thought our wedding cake was the cheese cake (rounds of cheese layered up) but then my sister surprised us with the most beautiful and delicious cake. She made three layers: spiced banana cake with cardamom, chocolate, and elderflower & lemon. There was wide debate about the best layer, but the reality is they were all incredible.
Entertainment
We were so pleased by how amazing the entertainment was. We had a very talented singer called Daisy Kate who sang during the ceremony and during the start of the reception. Then after wedding breakfast we had a band called Vice play who were phenomenal, and then after Vice we had a DJ called DJ David Pullan who was also absolutely top notch.
We also had my Grandad's 'tramper' (off-road mobility scooter) which my sister and Gran rode back through the woods on after the ceremony (Grandad got a lift back in the car, don't worry we didn't leave him stranded), and we decided last minute during the announcement as we were about to enter the marquee for the first time as husband and wife, that we would ride in on the mobility scooter. I am sure this is not quite the 'entertainment' question you had in mind, but that tramper certainly entertained a lot of people. There were many people riding around on it as the evening went on.
Where did you go on your honeymoon?
Turkey, we had the best time. We rode in a hot air balloon over Cappadocia which has been on my bucket list for over 10 years. I was beside myself with excitement.
Personal touches
We did a lot ourselves/with the help of friends & family, and we had lots of little personal touches.
One of my favorite things we did, which our celebrant Linda suggested, was hiding the ring under one of the guest's chairs in the ceremony. So when it came time to give the rings she said, "you are all important in Flora and Ricki's lives, and they wanted to share that sentiment by leaving it up to fate for who would look after the ring" and then she told everyone to look under their chairs. It was fun, and a beautiful moment in the ceremony as one of my family friends who has known me since birth was sitting on the chair with the ring and it was very special to have her bring forward the ring.
After the ceremony Ricki & I planted a tree together in the woodland which was very special. It's moving to know there is now a tree there marking the occasion, and representing us, as we're not able to be there are much as we'd like (we live in South Africa).
We also did a personal touch at the reception where we put an envelope in everyones table place with a number on it. The numbers were 1-50 (repeated 2-3 times til everyone had an envelope with a number) and we put a piece of paper inside. We asked everyone to write us a letter to go in the envelope, and that the number on the front of the envelope is the number of the anniversary year when we will open the envelope. So we now have letters to open from our friends and family on every single anniversary between now and our 50th wedding anniversary. We borrowed this idea from a friend who did it at her wedding and I'm very glad we did as is such a special gift to have.
I also was absolutely adamant that we wouldn't drive to the ceremony in a fancy car (which is what my husband, mum and dad would have preferred), instead, we drove in my peppermint green Honda Jazz, the car that I learned to drive in, and that my sister learned to drive in, and has been in our family for 11 years. She is a very trusty stead, and it only felt right to arrive at my wedding in the Jazz. This was definitely one of the highlights of the day for me.
Special moments 
I have thought about this question a lot as many people ask it, and the moment that always comes back strongest for me is our first dance. I love to dance, and given the classic stereotype that often men say they 'don't dance', I knew I needed to marry a man who would always be happy and excited to dance with me. Ricki is of course exactly that, and also a great dancer. We semi-prepared a bit of a dance routine so we had a slight guide of what we were going to do, but when the moment came, there was a bit of a rush and I forgot to tie up the train of my dress. Also Ricki's shoes had given him blisters by then so he'd had to take them off… We took to the floor with my dress billowing behind me, and Ricki slipping around all over the place in his socks…. also neither of us could remember any of the routine… it was a recipe for disaster, but it was the best dancefloor moment of my life and I was so overwhelmed with gratitude that I get to spend my entire life dancing with this man.
Advice for other couples
I would say two things: Throughout the day, take a few moments where you take yourselves out of the party/goings-on, stand back a little bit, and take a few deep breaths together. The day moves so fast, and it is true what they say that it is over in a flash. Taking a few little pauses together throughout the day creates a sort of 'mental photograph', it gives you space to feel all the emotions you are feeling, and it helps to slow down time.
The day will be perfect as long as you have invited your people. Everything else can go wrong, but if the crowd are your people, it will still feel like the perfect day.
It's easy to get wrapped up in inviting the people you think you 'should' invite… but
the power of a wedding is in the energy and love that comes from the people who attend, so focus on inviting the people you know are going to be part of your journey going forward, and who are going to be truly happy to witness you and your partner marrying each other.
Biggest surprise
The biggest surprise for me was what a gift it is to be at the epicentre of such deep love.
No one told me before my wedding day how powerful it is when a group of people, your closest friends and family, spend a day directing their love and care to you.
You and your partner get to spend the day in a bubble of love, created just for you, by everyone who is there. And receiving all that love is more powerful than anything else I have ever felt. That 'wedding day high' is real!
Supplier Shout Outs
Nicola Thompson Photography
www.nicolathompsonphotography.co.uk / www.nicolathompsonphotography.co.uk/blog  / 07525233778 / FACEBOOK / INSTSAGRAM