Happy Monday everyone and how are you all? How was the third weekend in lockdown? Mine was pretty standard, it's hard to get up to anything exciting at the moment, but we all had a lovely time, eating, drinking, walking, baking, playing games. Only one more weekend to go and then hopefully the lockdown will be lifted and we might get a bit of freedom back! I am starting off the week with this delightful country wedding from Tunbridge Wells in Kent. It's an absolute joy of a wedding, full of rustic chic detailing and the most adorable couple. Adam and Victoria had a whopping 180 guest to the ceremony and over 200 to the reception so they needed a pretty big marquee to accommodate them all. They filled their day with rustic detailing, gorgeous flowers and made the entertainment a priority. A fun filled day was had by all, which was captured perfectly by Matthew Scott Photography.
Adam and Victoria were married on 7th September 2019 at Langton Green Church, Tunbridge Wells, with the reception at The Beacon, Tunbridge Wells. 'We knew we may need a marquee as we had a large number of guests. We both have big families! We looked at a lot of venues around the South, including hiring a field where we could set everything up ourselves. We were about to go down this route but then we found out that The Beacon had just built the most amazing marquee/pavilion in their grounds. The venue has the most exceptional views and had the relaxed out door feel we wanted. It was also located less than a mile away from Vicki's family home. We immediately knew it was the one. We had 180 guest for the day (25 of these were children) and over 200 for the evening. It took just over a year, to plan which was perfect.'
How they met
We met six years ago at work and got to know each other on a work trip to Paris. We've been together ever since!
The proposal
We were attending a family wedding in Washington State, USA, and we decided to make a summer holiday out of it, by spending the first week travelling through California. We rented a convertible to do the drive down Highway 1 from San Francisco to LA. The drive took us through some pretty special places and the most amazing costal route, Big Sur. Adam was really keen to stop somewhere nice but whenever we pulled over it was so windy that we had to get back in the car. It eventually calmed down and we found a beautiful spot on the coastal path to get out and explore. Adam went back to the car to "get his phone" so we could take a picture… next minute he was down on one knee with a ring! At lot of tears followed, happy ones!!
How did you allocate your budget?
We limited it to as few suppliers as possible. The Beacon supplied most of the big things, which really helped. Where could, we try to do things ourselves.
Where did you splurge and where did you save?
We knew the music was important to us and didn't mind spending more on the band, so they could play throughout the day, not just a set in the evening. They really made the day and got the party going!
We made a lot of decorations ourselves, which helped us make some savings. Vicki's Dad found huge frames and blackboards in a skip outside a pub (he did ask permission before taking them!). We upcycled them to make signs and our table plan, they were brilliant.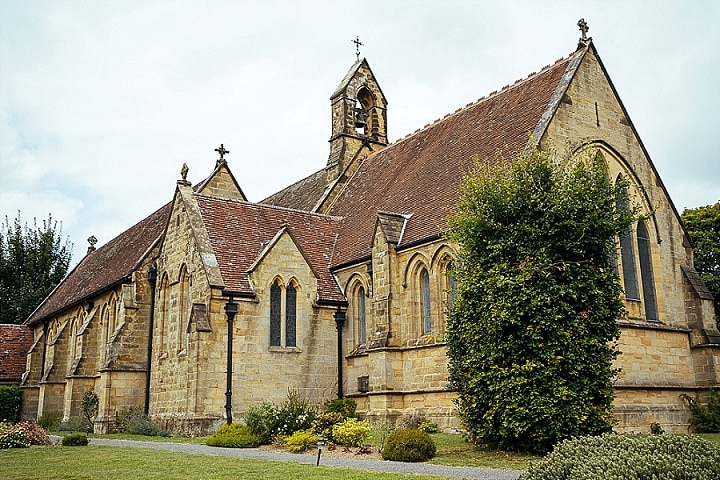 How did you choose your photographer?
Matthew Scott (Matt) came recommended to us by my cousin and wife. We liked that his photos captured the fun of day in a natural way, not too posey.  He was amazing and took some wonderful photos that we will cherish for the rest of our lives. He is also a genuinely nice guy, super relaxed which is exactly what you want on the day.
The dress 
My dress was by Catherine Deane. It was actually made up of a separate skirt, bodice and the lace top. I was very lucky and got it in the Black Friday sale! The shoes from the Wedding Gallery in London, they had a nice selection in there.
The suit and bridesmaids
Suits for Adam and the groomsman were hired from Anthony Formal wear in Billericay. Bridesmaid dresses were from Monsoon.
Theme or colour scheme
The bridesmaid dresses and the boys pocket squares were a dusty pink. We pulled this colour scheme into the flowers a little but we kept it quite natural and had lots of white and green from the plants.
Flowers 
Have to admit, we weren't very good with names of flowers but knew the style we wanted. We saved all the photos we liked on Pintrest and showed them to our lovely florist, Ivy & Lace Floral Designs. She is so talented and suggested loads of great ideas, including the milk churn displays.
We also sourced some extra greenery ourselves. The venue had loads of rosemary growing around it, which we loved and brought into the wider theme. We bought loads of rosemary pots and dotted them around all the tables.
Vicki also made the flower crown's for the flower girls, using gypsophila.
Decoration 
Everything had a bit of a relaxed, rustic feel. We used a lot of plants, flowers and pots of rosemary as decoration. This meant there wasn't loads of waste at the end. In fact, we encouraged everyone to take the rosemary home with them.
We kept it cosy outside the marquee, with firepit and blankets. The blankets were a last minute ebay purchase but a complete god send as the evening got quite chilly!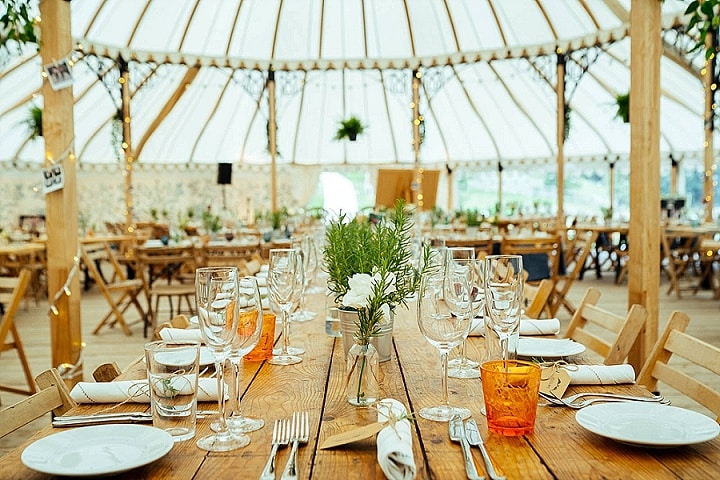 Food 
The reception venue served canapes on arrival and we had a three course meal later in the afternoon. We wanted to keep it relaxed and asked for the meal to be in a sharing style. For desert, each table was served a huge pavlova! In the evening, the venue served street food style bowls and brownies.
Wedding cake
The cake was made by Adams friend from university. Her business is called Cake & Bloom London and she makes the most amazing cakes! She made us a naked sponge cake, with a light buttercream icing and fresh flowers. It had three tiers, all different flavours, including passion fruit, lemon and raspberry.
Entertainment
Vicki's brother, Will Scott, is a professional classical guitarist and he played during the ceremony. He's played at many weddings before but he learnt some of our favourite bits of music, which made it really special.
MK & the Misters were our wedding band. Their guitarist was a friend from Vicki's school. A small group of them played a roaming set during the cocktail hour and then extended to a 9 piece band during the evening. They played pretty much the whole night and the dance floor was packed from start to finish.
Who supplied the stationery?
Adam's cousin owns a printer in London called Printalicious, who helped us out with a lot of stuff. They were awesome!
Where did you go on your honeymoon?
On the Monday after our wedding, we flew to Malaysia for 16 days. We travelled around the country, getting to experience a bit of everything, from the bustling streets of Penang to the deep jungle of Borneo and the paradise beaches in Langkawi. Such an amazing place and the food was incredible! However, we probably should have hit the beach first as we were shattered after the wedding!
Personal touches
Following the rosemary theme, Vicki painted her own Rosemary design for the wedding invitations and other bits of stationary.
Our table plan was based on countries we've travelled together. We used a world map as the background and luggage tags for the names. On the tables, we had polaroid style photos of us in these countries, which we pegged onto the rosemary pots.
After the speeches, we had a cocktail hour with His and Her favourite drinks. The rum punch was lethal!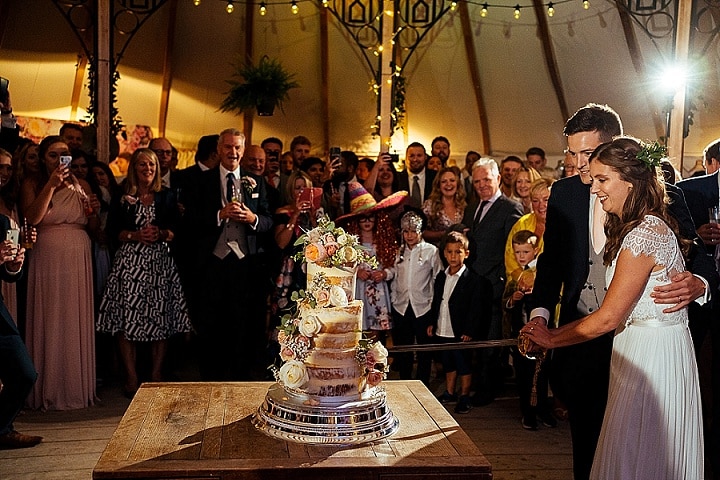 Special moments 
It might sound obvious but the actual ceremony was so special. From the moment it started, we couldn't stop smiling. Being able to have all of our friends and family together made the whole day truly amazing.
Advice for other couples?
Make sure you eat before the photos and someone saves you a plate for canapés!
Biggest surprise 
Vicki's family dog turned up halfway through the photos. He is now in the wedding album and one of our favourite shots.
Supplier Shout Outs 
For more information on Matthew Scott Photography go to
www.matthew-scott.co / www.matthew-scott.co/blog / FACEBOOK / INSTAGRAM / PINTEREST

I'm a documentary wedding photographer based in Brighton. My photography style is relaxed, natural and is very much about capturing the moments and emotions of your wedding day. My goal for every wedding is to create images that will not only remind you of the amazing day you had but take you back to what it felt like to be there.

[jprel]