Hello you lovely people and how are you all? Today is a double blog post kind of day, as I spend the morning taking you to Portugal for this super cute intimate wedding of 35! Katherine and Darren wanted a low key wedding, where their nearest and dearest could spend the whole weekend celebrating in a chilled, relaxed way. They decided a destination weeding was the way forward and then planned this stunning wedding in beautiful Portugal. The wedding was planned in 6 months then took a bit of a breather due to Covid, but it was certainly worth wait as the day is super pretty and full of rustic chic charm. I just love the colour scheme in the reception area, so so pretty! Big thanks to Maria Rao for the gorgeous images.
Katherine and Darren were married on 18th June 2022 at Luz Houses, Fatima, Portugal. 'We wanted something small and intimate, with a natural setting that wasn't too formal. We wanted the weekend to feel relaxed but special, with everyone able to stay together. It's difficult to have a wedding without inviting 100 people nowadays and having it in another country is an easy way to do that! I would have happily eloped, but Darren didn't want to, I'm glad now that we didn't and we were able to share our day with our closest friends and family. We had 35 guests. Originally it took around 6 months to plan, when it was arranged for 2020. The pandemic forced us to change our date twice and so we ended up marrying almost 2 years after. Up until the pandemic it was really stress free and easy! But knowing if our wedding could go ahead or not added a lot of stress.'
How they met 
We met online dating around 8 years ago, we had our first date in Bristol, UK where we were both living at the time. Darren moved to London for work shortly after and we had a long-distance relationship for almost a year. After that, I moved to London and we have been together ever since, we bought a house a couple of years ago.
The proposal
In 2019 Darren took me to Sicily for my 30th birthday. On the first day we spent a long time walking around and little did I know it was because he was trying to find the perfect spot to propose! Everywhere was too busy, so later that day we were having a wine on our balcony of our Airbnb and we were dancing. Darren twirled me and when I turned back around, he was down on one knee. Of course, I cried. Then we tried to facetime our families to tell them, and nobody picked up! So, we went out for dinner instead to celebrate.
How did you allocate your budget?
The bulk of the cost was for the venue, but that included a lot of things and so we didn't have many budget items. I wasn't too fussed about a dress, and we had long time (a couple of extra years!) to budget.
Where did you splurge and where did you save?
The majority of costs were included with the wedding package from Luz Houses – they took care of the decorations, flowers, accommodation and staff etcetera. Food was important to us, but we didn't have a lot of guests and so that wasn't too difficult for us to decide on where to save/splurge.  That really only left us with photographer and DJ, both of which were important to us.
How did you choose your photographer?
She was recommended to us by the venue, we had seen a previous wedding Maria had photographed and loved her style.
The dress 
Honestly don't remember, it was off the rack from a high street bridal store. I wore earrings which my sister had gifted me that morning, and my shoes I had owned already. I did my own hair and makeup.
The suit and bridesmaids
Darren's suit was Hugo Boss. My sister was a bridesmaid, and her dress came from a supermarket chain in America (Target), like me, her shoes were pre-owned.
Theme or colour scheme
We didn't have too much of a theme, and we knew we would be happy with whatever Luz Houses provided so we let them decide mainly. We had a Pinterest board which had lots of natural foliage, eucalyptus, and rosemary – as well as some dusky pinks and peaches. We didn't want anything too bright, and we wanted the decorations to be in keeping with the natural surroundings.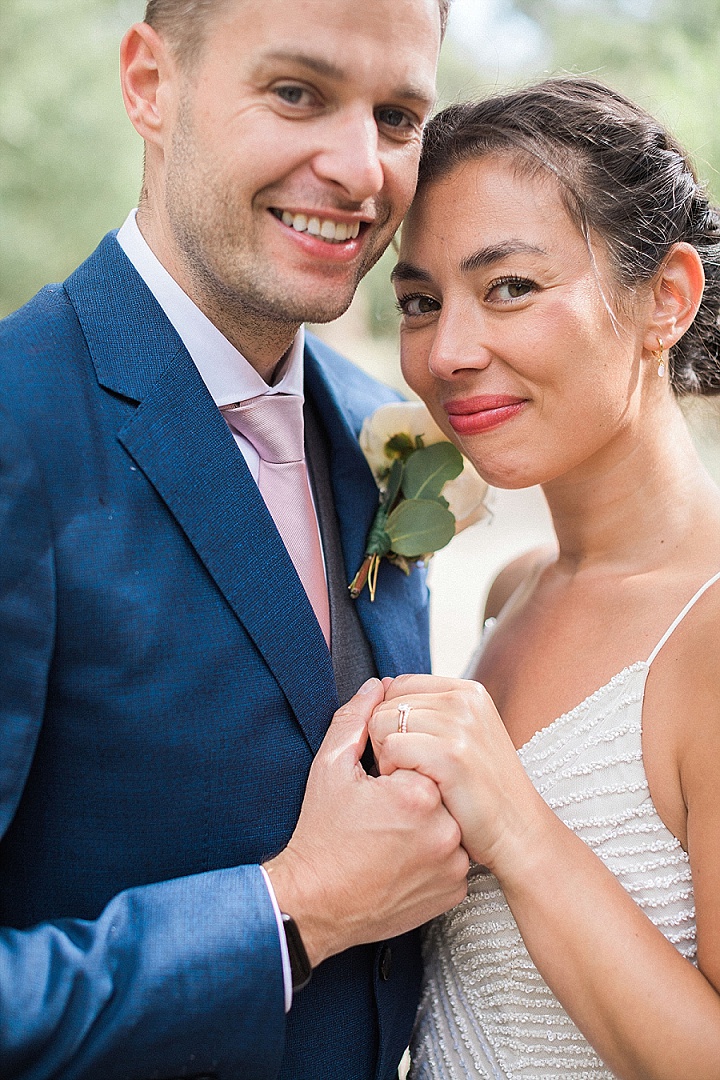 Food
We wanted our menu to be inclusive of dietary requirements for everyone but also traditional to Portuguese type of cooking.
On Friday we had a barbecue with Portuguese cabbage soup, grilled sardines and salad. It was super relaxed with people turning up as and when.
For the wedding breakfast:
Starters: Tuna Steak / Portuguese Cheese Tart
Main: Portuguese Seafood Rice/ Lamb/ Risotto
Dessert: Fresh Fruit/ Mini Pastel de nata/ wedding cake
Entertainment
www.fixthemusic.com
Who supplied the stationery?
Luz Houses the venue
Where did you go on your honeymoon
Sicily -where we got engaged
Personal touches
We had left special notes in everyone's bedrooms for when they arrived, with pastel de nata as a snack. One of our best friends was our wedding celebrant and that made it very special.
Special moments
Every moment was special, we both loved being able to spend the whole weekend with our friends and chill out in the pool before we all went to get dressed and get married!
Advice for other couples
Try to soak up every minute of the day, forget the things that go wrong and just go with it.
Supplier Shout Outs