Today I am taking you off to gorgeous Devon for this bright and beautiful garden wedding which is just bursting with colour. Anna and Matt wanted a fun, relaxed day, holding as much as they could outside. They found the beautiful gardens at Monks Withecombe in Devon and set to work creating their gorgeous day. Matt's mum performed the ceremony for them, which made it even more special. I just adore the flowered table cloths, they really make the marquee come to life and add that extra pop of colour with the gorgeous flowers. Big thanks to Emma Stoner for the lovely images.
We felt completely enveloped in love and joy from our friends and family – it was an amazing experience.
Anna and Matt were married on 7th September at Monks Withecombe in Devon. 'Matt absolutely loves Dartmoor, having spent much of his childhood in Devon, and he has family who live near Dartmoor as well. It's such a beautiful part of the country and a place we both love to visit. We ha around 120 guests and it took a year to plan'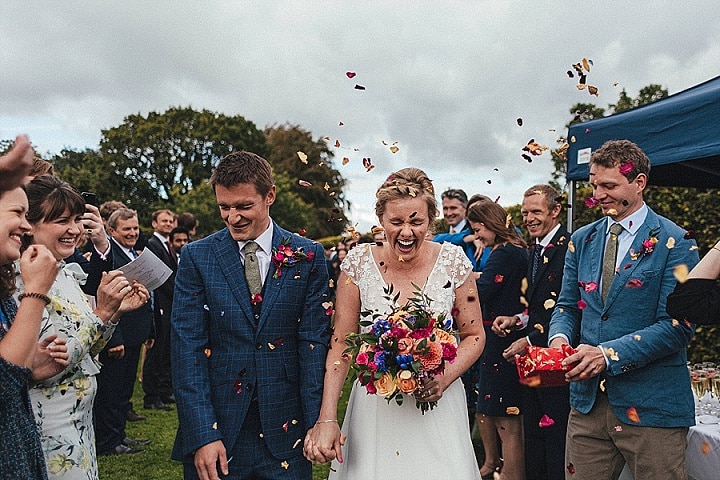 How they met
We met the new-fashioned way – online! – back in 2015.
The proposal
Matt proposed in our local London park, Highbury Fields, with a beautiful picnic on a hot August day. It's a place we've spent a lot of time together and it felt very personal and low-key.
How did you choose your photographer?
We loved Emma Stoner's photos online and felt they would really fit the vibe of the day – she captures such vivid colours, textures and natural moments and we couldn't wait to see her creative approach to our big day at Monks.
The dress
I loved my dress by Rembo Styling, an amazing boho wedding dress brand designed in Belgian and made in Portugal. It was hard to pick a single dress, I wish I owned them all – but sadly not many daily opportunities to wear a formal white dress!
The suit and bridesmaids
Matt's lovely blue suit was from Moss Bros, and the sage tie was intended to match the bridesmaids' dresses, which they picked themselves, with the only ask being that they broadly fit the sage theme!

Theme or colour scheme
Sage for bridesmaids' dresses/groomsmen's ties and then as many bright colours as possible for the flowers and tablecloths.
Flowers
Sophie Millington supplied the gorgeous blooms for the wedding, picking a range of brightly coloured flowers for the bouquet/buttonholes, ceremony and dinner afterwards.
Decoration
We were set on having flowery tablecloths for the tables but couldn't quite find what we wanted and within budget, so ended up buying yards of fabric at a shop in London and using those as tablecloths – we love how they brightened up the marquee and made it feel festive. We also bought gold garlands from the House of Pom Poms Shop on Etsy, and adorable flower tea lights from Hana Blossom Candles on Etsy which were left on each guest's place setting. We also had a prayer tree and invited our friends and family to leave prayers and good wishes for us as part of the wedding ceremony, which we've now saved in a scrapbook that we'll enjoy re-reading in years to come.
Food
We had delicious food by Posh Nosh in a family-style arrangement where everything was put out on the tables in big bowls, which added to the relaxed country vibe we were going for. What made it really special was that they were willing to create our favourite Hungarian dishes (a tribute to Anna's family) to serve as the mains on the day. We also unexpectedly found a wine called Anna's Way at Majestic Wines which we knew we had to have on the day.
Wedding cake
We had a trio of cakes from Posh Nosh, and also a beautiful homemade cake from Matt's sister Judy, complete with icing figurines of us. It felt very special to have a homemade cake to enjoy on the day.
Entertainment
A family friend played the keyboard during the ceremony, which was very special, and we then had The Pause, an acoustic duo from Devon, do a beautiful performance during the pre-dinner drinks. London band Vinyl Beats brought lots of energy with their upbeat wedding classics after dinner.
Who supplied the stationery
We knew we didn't want to spend a lot on invitations, so we did an e-card save the date and then designed our invites on Vistaprint. We managed to find a lovely, sage floral design which worked perfectly with our colour scheme.
Where did you go on your honeymoon?
We were extremely lucky to spend a few weeks in Chile in January 2020 before the world shut down.
Personal touches
We had framed photos of both of our parents on their wedding days (which coincidentally is the same day, although in different years!) and loved having those on display in the marquee. We admire their relationships so much.
Special moments
We were extremely lucky to have Matt's mum perform the wedding ceremony for us, which was beautiful and very personal to us. The ceremony took place in the garden of Monks Withecombe, where Nicky and Simon made us feel so welcome and Nicky takes such good care of the garden that for most of the year there are beautiful flowers and it really gave the ceremony such a natural and relaxed feel. We loved the messages that our guests left on the prayer tree during the ceremony, which also gave us a chance to greet everyone during the ceremony when they came up to put their tags on the tree. Moving from ceremony to the reception was a simple walk from the garden to the marquee in the field next door (keeping things simple and easy was something we wanted), which had incredible views over Dartmoor National Park. We were lucky with the weather too, and facing west with a clear side to the marquee meant we had a wonderful sunset as a backdrop for the meal. The speeches were incredible, a great mix of good humour and also really heartfelt – a big thank you to Anna's dad, Matt's best man Tim and Matt himself! We just loved having our friends and family all there and couldn't have asked for a more magical place to have our wedding – a huge thanks to Nicky and Simon at Monks for making us feel like family!
Advice for other couples
We wish we'd started the day earlier as time just flew by, and it was over way too quickly! Also we hadn't liked the idea of a video, but in hindsight wish we had some snippets to watch back.
Biggest surprise
Seeing the sun come out and having golden light shine down on us right as we were saying our vows – an amazing moment!
Supplier Shout Outs
FOR MORE INFORMATION ON EMMA STONER
www.emmastonerweddings.com / www.emmastonerweddings.com/blog / FACEBOOK / INSTAGRAM