Today I have a real treat for you as I welcome my good friend Tracey from Campbells Flowers onto the blog. Tracey is a Sheffield florist, who is not only super talented, but is one of the nicest people you will ever meet. She knows EVERYTHING about flowers and will do an amazing job for you if you book her for your wedding. Tracey is here today to talk about the ever popular flower trend of mixing dried and fresh flowers together. Having dried flowers as part of your bouquet or floral arrangements is something I am seeing so much of at the moment. It is super popular and looks amazing! There is so much scope when you look at mixing both together and the results can be really stunning. Tracey is here to tell us all about this fantastic trend, so read on for some full on flower inspiration.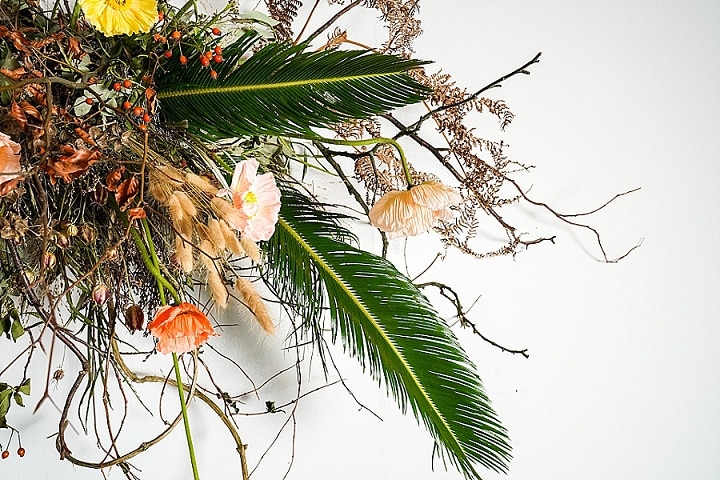 I'll pass you over to Tracey……..
Hello everyone, I can't tell you how lovely it is to be back working with Kelly, and huge thanks to her as always, for entrusting me with her wonderful blog for this post.  It's awesome to be talking flower trends after what's seemed like a really awful time away from doing the thing I love most – designing your beautiful blooms,  rocking up on your wedding day with your bouquet and transforming your venue into an otherworldly wonderland.
So, today I wanted to talk about floral trends.  I'm sure you can't have missed the explosion of popularity in dried flowers during lockdown, they're pretty much everywhere at the moment.  Dried flowers can be absolutely  gorgeous in terms of colour and texture, but for weddings might just  leave you hankering for the scent, vibrancy and beauty of fresh blooms.  Fear not, because combining both fresh and dried flowers is one of my favourite trends at the moment and I'm here to bring you lots of ideas, hints and tips and absolutely bags of gorgeous inspiration!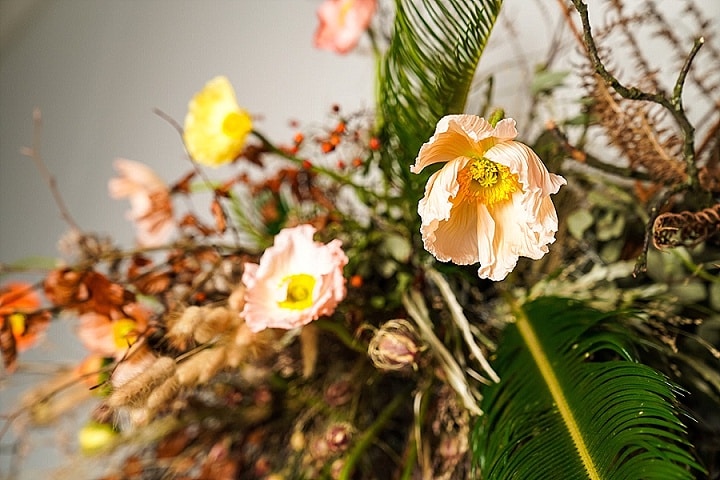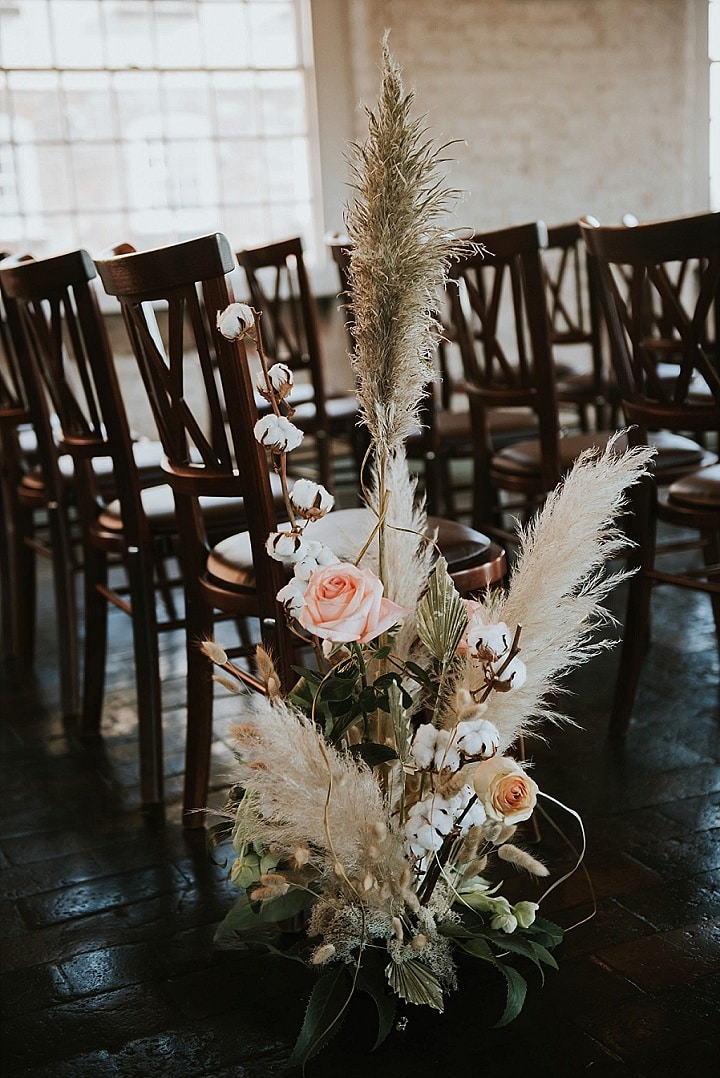 Bouquets
Love it or loath it, pampas is most decidedly here as a major trend at the moment.  Full of texture, it works brilliantly in oversized, unstructured, asymmetric bouquets, adding volume and drama too.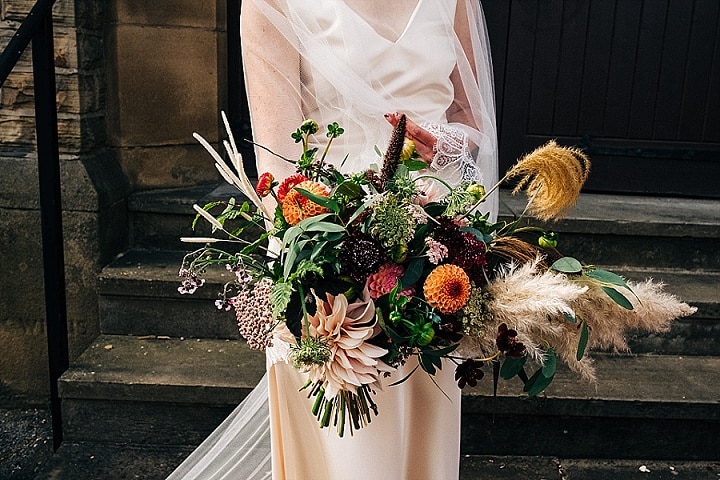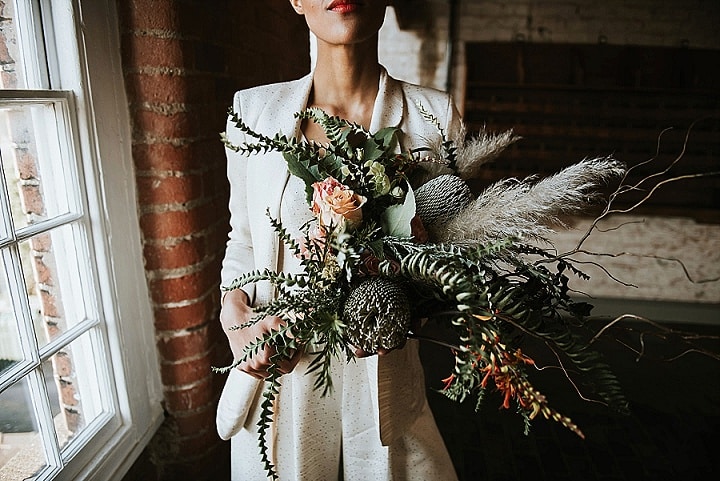 There's also a slightly less full version of pampas grass available nowadays in a myriad of different colours to really tie into your colour scheme, so if you love the idea of dried and fresh but still want that extra pop of colour, this might just be the design style for you.
Installations & Venue Design 
I've got to be honest, I do so love designing large scale installations for venues.  When thinking about your budget, I'd really recommend one or two statement pieces, they look absolutely brilliant on your photos and really add a wow factor to any styling too, whether you're going rustic or uber-cool.
I particularly love the versatility of large scale designs using dried and fresh flowers – they work really well to frame you both during your ceremony and then, of course, can be moved and used together or singly to add focus to a top table in a say barn, warehouse or even an ultra-modern gallery and then moved to welcome guests at the entrance of say a marquee or tipi.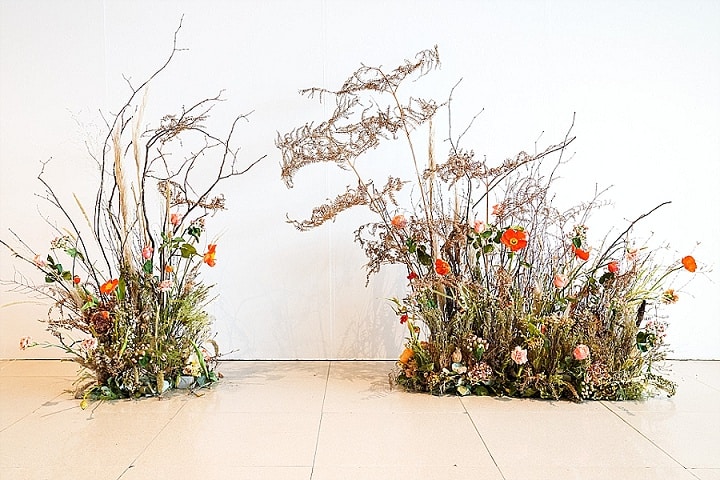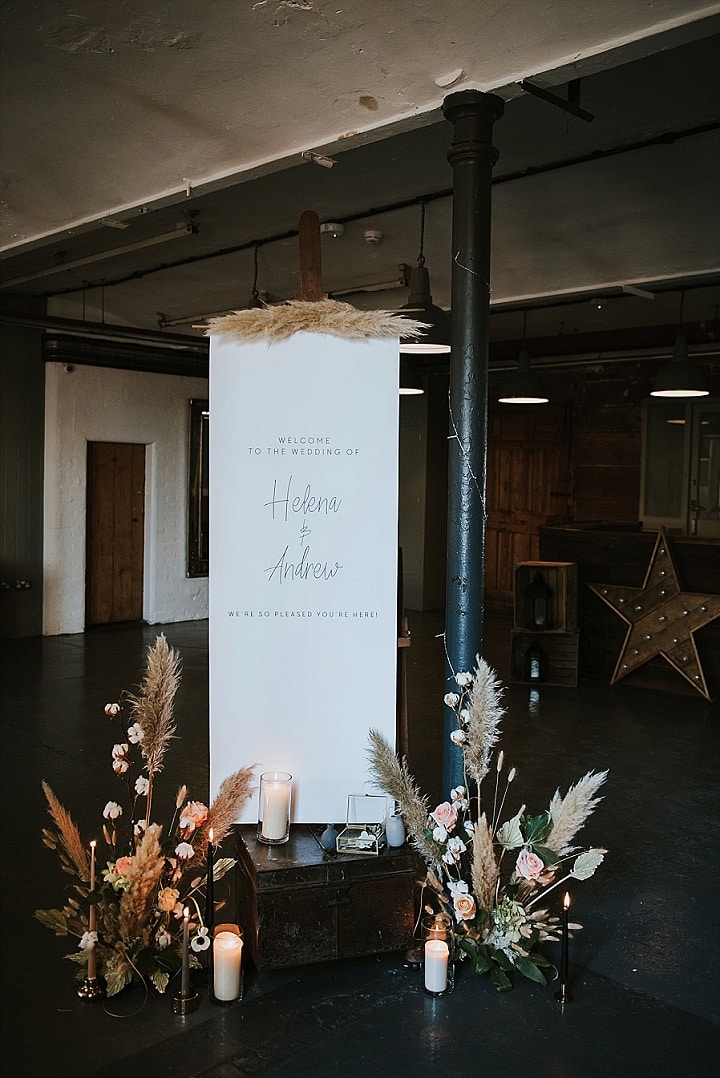 If your venue has a super high ceiling, but you want to make it feel a little more cozy for your guests then, think about hanging designs, they won't spoil the grandeur of the architecture around you, but they will create a focal point.
If you're a fan of pinterest, you just can't have missed the current trend for large scale hanging designs.  Whether they frame your top table or create impact and a focal point at end of your ceremony aisle, we just love how adventurous our couples are and how they can't wait for us to construct stunning hanging designs full of tumbling foliage and amazing blooms.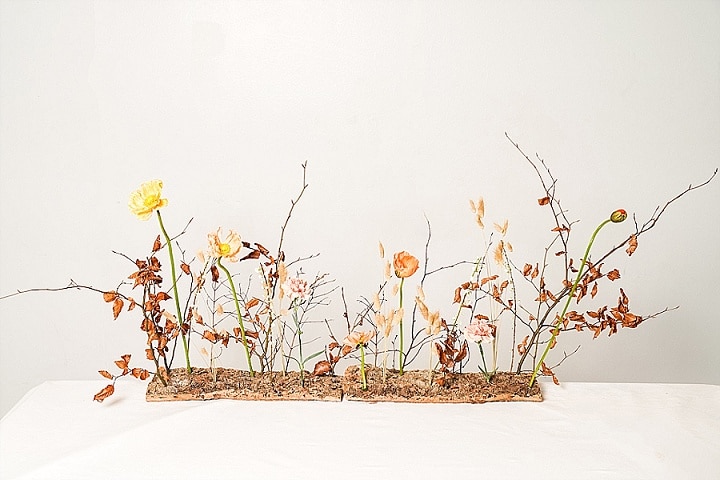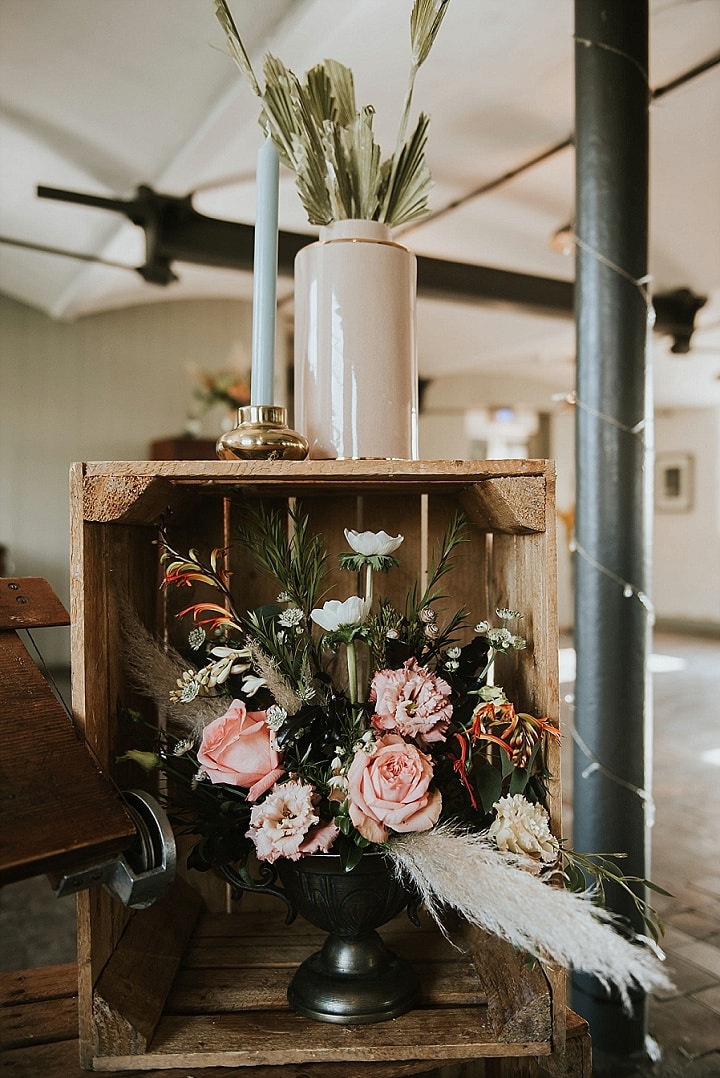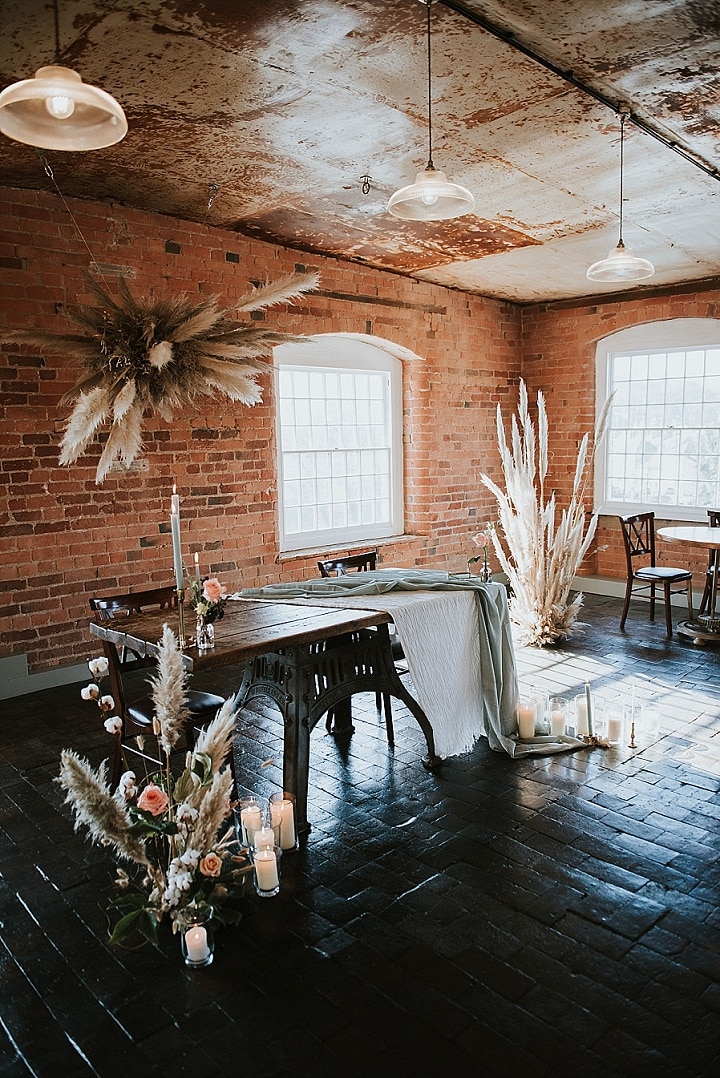 So, as always. I hope this feature has inspired you to think about combining gorgeous delicate fresh blooms with textural dried materials in your own way.  Massive thanks to Kelly, as always for asking us to contribute, it's always such a pleasure to pass on inspiration and guide you through your wedding choices, using the benefit of our experience.
If you have any questions or want some specific advice on all things flowery, then do leave a comment at the bottom of this post and Kelly and I will be sure to get back to you as soon as possible. Tracey x
As always you can find Campbell's Flowers on all the usual channels
website, Instagram, facebook, twitter, pinterest, YouTube