This afternoon I want to talk to you about photo sharing. Weddings are all about enjoying the day and celebrating with friends and family. What follows are those all important memories. These memories are normally the photos taken by your professional photographer as well as those taken by your friends and family. But how do you share all those photos that everyone has taken and store them in one safe place? With Turtl! Turtl is the most private photo and video sharing app out there. It's the best photo sharing and storage app to privately share photos and videos with friends and family, perfect for weddings, engagement parties,  hen and stag do's and much, much more. What's more it's FREE!!!
What's the easiest way to privately share your photos and group selfies that everyone wants you to send them? No it is not by texting or WhatsApp. The easiest way to share your photos with people who matter most is on the Turtl app. It's free and lets you share, store, and backup your photos from a wedding, event, trip, or daily photo journal at once with friends and family right from your iOS device. 
Turtlphotos is free to download with secure registration.
Now for those doubters I can ALREADY HEAR you saying, 'why not just use WhatsApp, email or text?' Here's just a few reasons why Turtl really is the way forward!
Turtl is simple and easy to use. You just create an album, choose from a selection of privacy features, select your group, and start taking or adding photos/videos.  The whole process is incredibly quick and simple!The photos or videos taken are automatically and simultaneously shared LIVE in real-time with only the groups(s)you selected.  So instead of going home, searching through the photos taken that day and then sending them to one person or a group of people, you can send them to your group while out and about and in REAL-TIME!
A few added extras! 
Members of an album can comment on all the photos in the album.
You have an option to edit your own photos right on the app.
Crop, add filters, stickers, texts and emojis.
You have the option to allow for popup notifications for each time someone adds or comments on a photo in your albums.
Privacy
Turtl is the most private photo and video sharing app out there.  It's an amazing app for people who value their privacy and don't want to share their photos and information with the world on social media.
Turtl is simple and easy to use with exceptional privacy features with a HUGE emphasis on PRIVACY and clean user experience.  Unlike other apps that sell their users' personal information and data, Turtl doesn't index and collect its users' data to build comprehensive profiles to use and sell.  This means your private information remains PRIVATE!
Privacy Features – You can only download and save photos that you have taken.  The same goes for screenshots. And with options like locked albums, only you can access your albums with your FaceID
Saves Time
Turtl saves users loads of time by taking the hassle out of attaching photos and videos to text messages and emails, as all the sharing happens instantaneously in real-time right on the app.  So no more forgetting to share photos or figuring out which ones you already shared and which ones you still need to send.  What's more, once everyone in your group is using the app there will be no need to chase people to send you their photos.
And because all the action happens right in the app, you don't need to worry about the size of the photo or the video that you are sending, as they stay in the app.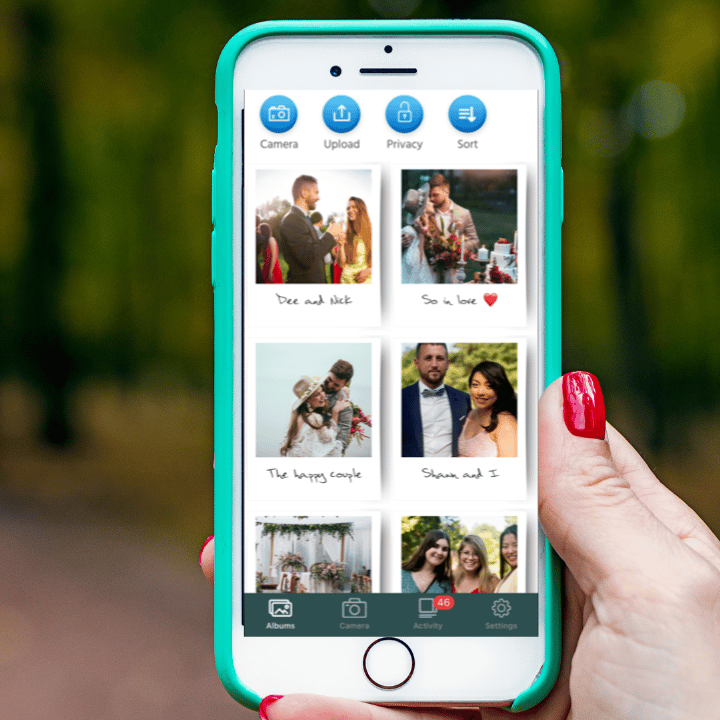 Perfect for Weddings
Your wedding photos are going to be some of the most treasured photos you ever have taken.  Keeping them safe and sharing them with your friends and family is going to be something you want to do after your wedding.  With Turtl, you don't even have to wait till after your wedding, you can store them in your own custom made wedding album in real-time right as your wedding happens.  And if you add your wedding party and guests to your wedding album you will all have immediate access to all of the wedding photos being taken on the app as the wedding happens.This also means those friends and family members that are unable to make it to the wedding will also have complete access to all the photos in real-time as the wedding happens.  They can feel like they are right there with everyone.
What's more, the bride or groom can upload their professional photos once they get them back from the photographer, meaning all of their wedding guests get access to the photos without having to send them via email or text messages.
This is an excellent feature for couples holding an unplugged wedding.  Often guests feel they are missing out on the important moments of a wedding when they are told by the couple to put their phones down during the ceremony.  This way they can get access to the professional photos and not miss a moment!
TURTL SIMPLIFIES OUR LIVES BY ORGANIZING AND SAFELY STORING THOUSANDS OF PHOTOS AND VIDEOS THAT WOULD OTHERWISE BE FLOODING OUR PHONES.
TURTL ALSO SAVES USERS MONEY – NO MORE HAVING TO PAY EXTRA FOR PHONES WITH MORE SPACE OR HIGH COSTLY CLOUD STORAGE WITH OTHER COMPANIES.
For more information on Turtl go to
 www.theturtlapp.com / FACEBOOK / INSTAGRAM / TWITTER / DOWNLOAD HERE 
this is a sponsored post